Azores, one of Europe's most spectacular and unknown natural paradises
The ideal getaway for September and October
Although there are 9 islands that make up the Azores archipelago, in this article we are going to talk about one in particular, São Miguel. São Miguel is the largest and easternmost island, located just two hours by direct flight from Lisbon or Porto.
We travelled to its capital Ponta Delgada, a small and easy airport, as is often the case in less crowded places.
I was lucky enough to go to the Azores in April to see an old friend for her 40th birthday. There is no greater privilege than to be introduced to a place by a local and if that person's name is Joana Damião Melo then hospitality is more than catered for in every detail. She organised a full programme of activities for all her guests, who came from different parts of Portugal and some from Spain.
One of the first things that surprised me was the weather… all four seasons in one day. The climate is temperate all year round, and it can be rainy and closed at dawn, or the day can end with sunshine and higher temperatures. The temperature in winter does not drop below 15 degrees and in the rainy season, from November to April, the rains are temporary and do not last long, always giving way to the famous anticyclone.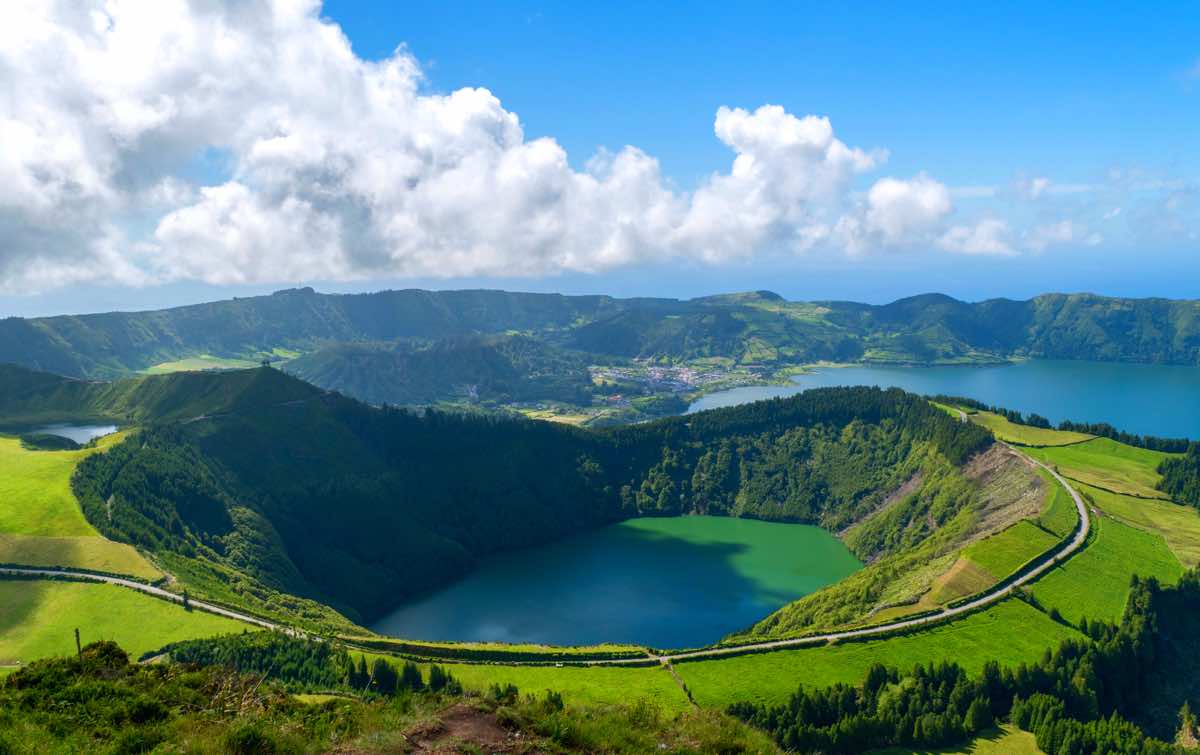 Another thing that caught my attention is the vegetation of this "lucky island", which is part of the so-called Macaronesian islands. On the one hand, endless green meadows reminiscent of Galicia or Cantabria with a cliffy coastline. Hydrangeas are in their natural habitat, growing wild in the foothills of every road like exultant weeds.
Here there are at least two meadows per cow… they roam freely and happily. Milk production is one of the island's strong points, and of a quality that we in the big cities have already forgotten. There are no dairy farms, the cows are milked directly in the meadows.
These Atlantic or oceanic landscapes are mixed with lush tropical and volcanic landscapes whose contrasts leave you speechless.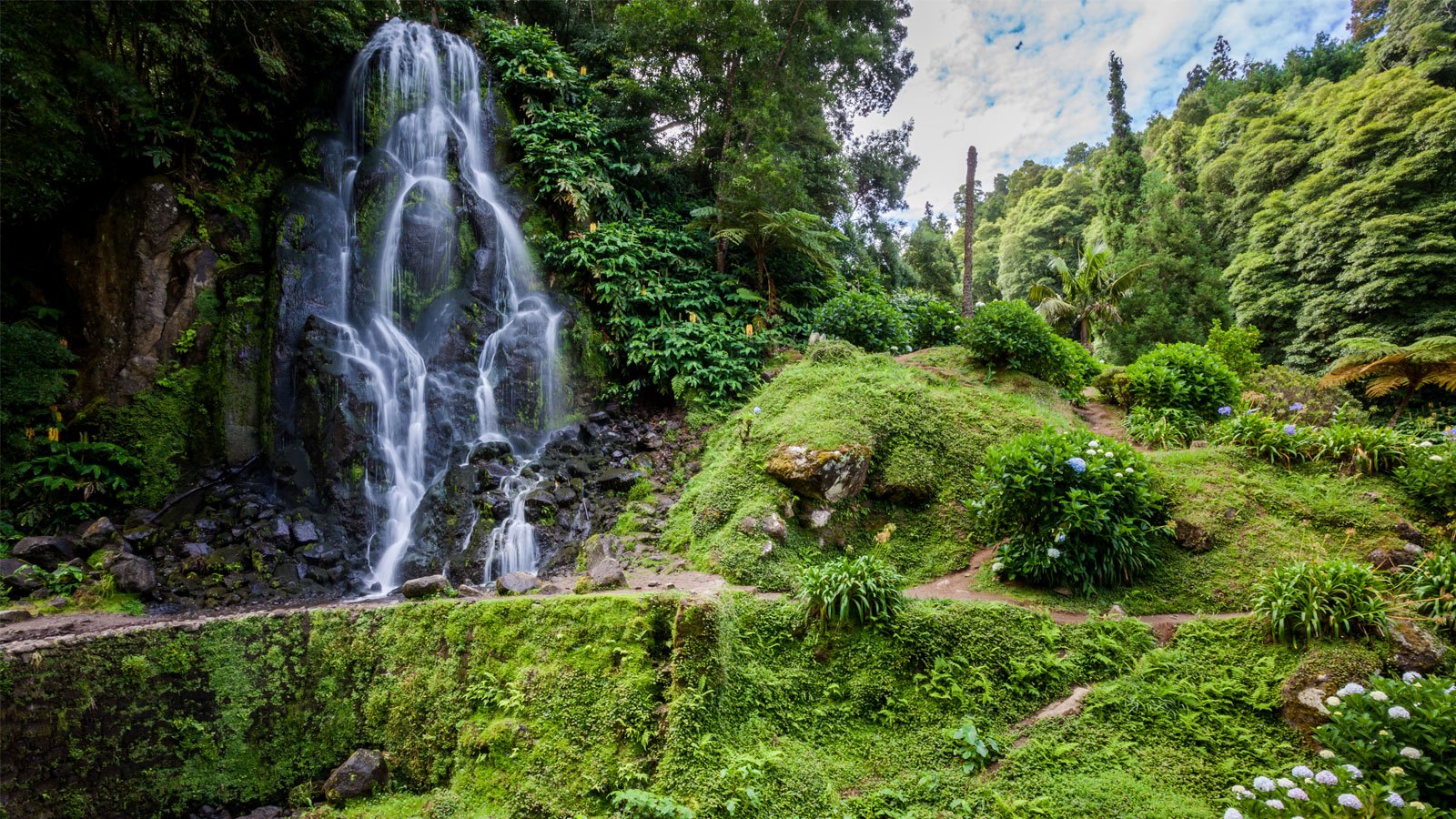 Joana's family welcomed us into their home, a former pineapple plantation near Ponta Delgada that has been in the Damião family for several generations.
On this property is THE APARTMENT where I stayed, and I say that in capital letters, as it is probably the house with the best panoramic views of the city, and even of the island. Built on top of an 18th century defensive tower, this glass box welcomes you with its breathtaking 360 degree views, from where you can see the sea, the plantations as well as nearby mountains and traditional buildings of the area. It is well worth the effort to climb each of the volcanic stone steps that lead up to the flat. Once there, all the comforts… a timeless, neutral and well cared for decoration signed by Joana's mother, the interior designer Lili Damião, which transmits warmth and good living to the guest. Perfect as a reference point to get to know São Miguel, if you like private houses… and if the light bothers you early in the morning, the electric blinds can be lowered and you have a blind at your disposal in case you are one of those who need total darkness.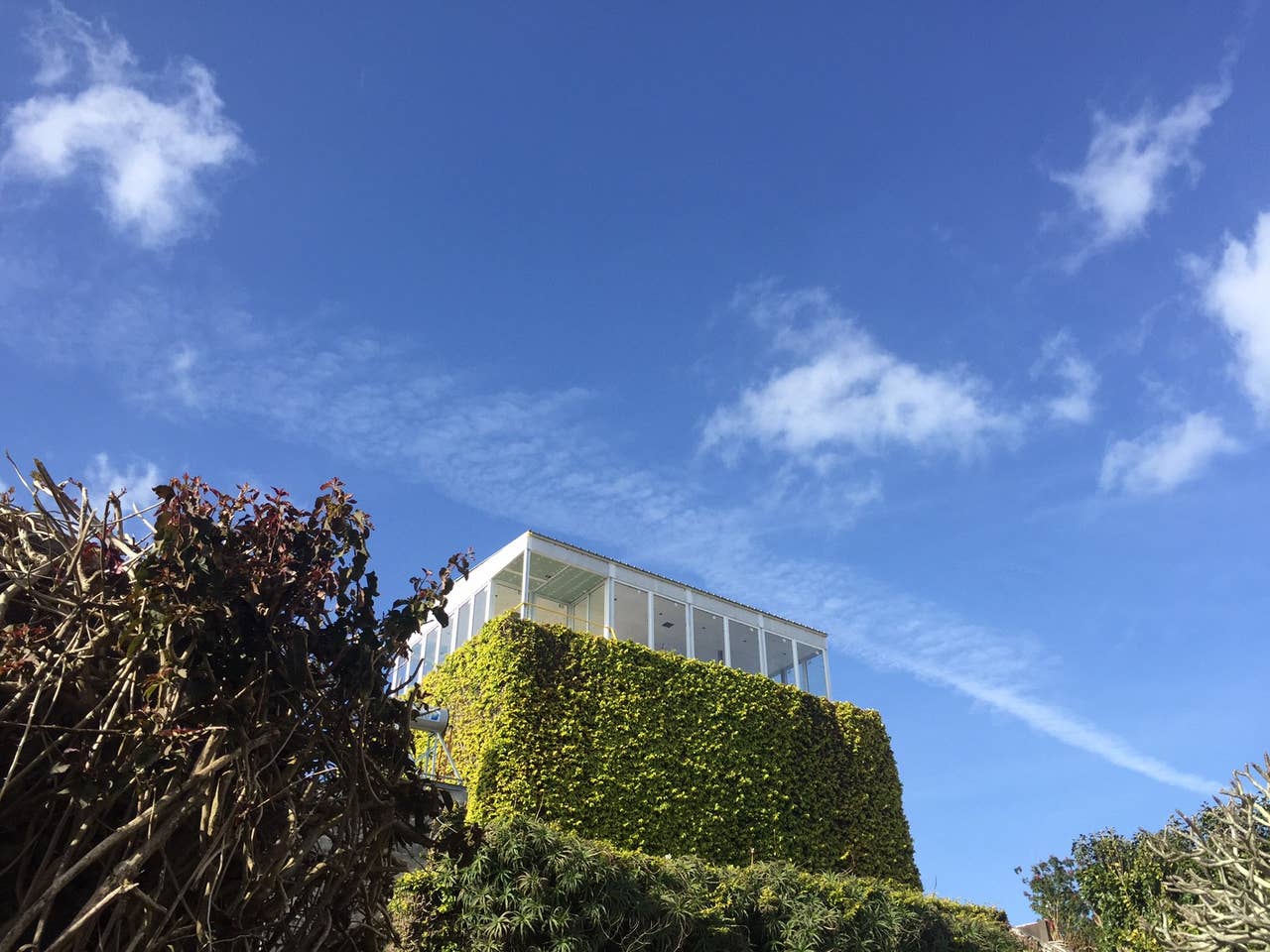 Mirante Loft
Our first dinner was in a typical Azorean tavern, where we had some of the island's specialities: delicious limpets, a variety of cheeses produced in the different Azores islands, cod fritters… and finally a stroll through the cobbled streets of the beautiful historic centre of Ponta Delgada, whose origins date back to the 17th century, where we had a drink in a lively cocktail bar which, together with other establishments in the same area, is home to the city's nightlife.
We started life on the island very early. For what was my first foray on the island, we woke up at 7.30 am to an overcast and very rainy day. Just getting up in this flat with such scenery and breathtaking views does not make you feel lazy at all. To my disbelief, but following Joana's instructions, we packed a bag with swimming costume and beach towel… while we left the house with a jumper, mackintosh and leather boots to protect us from the rain and the cool humidity.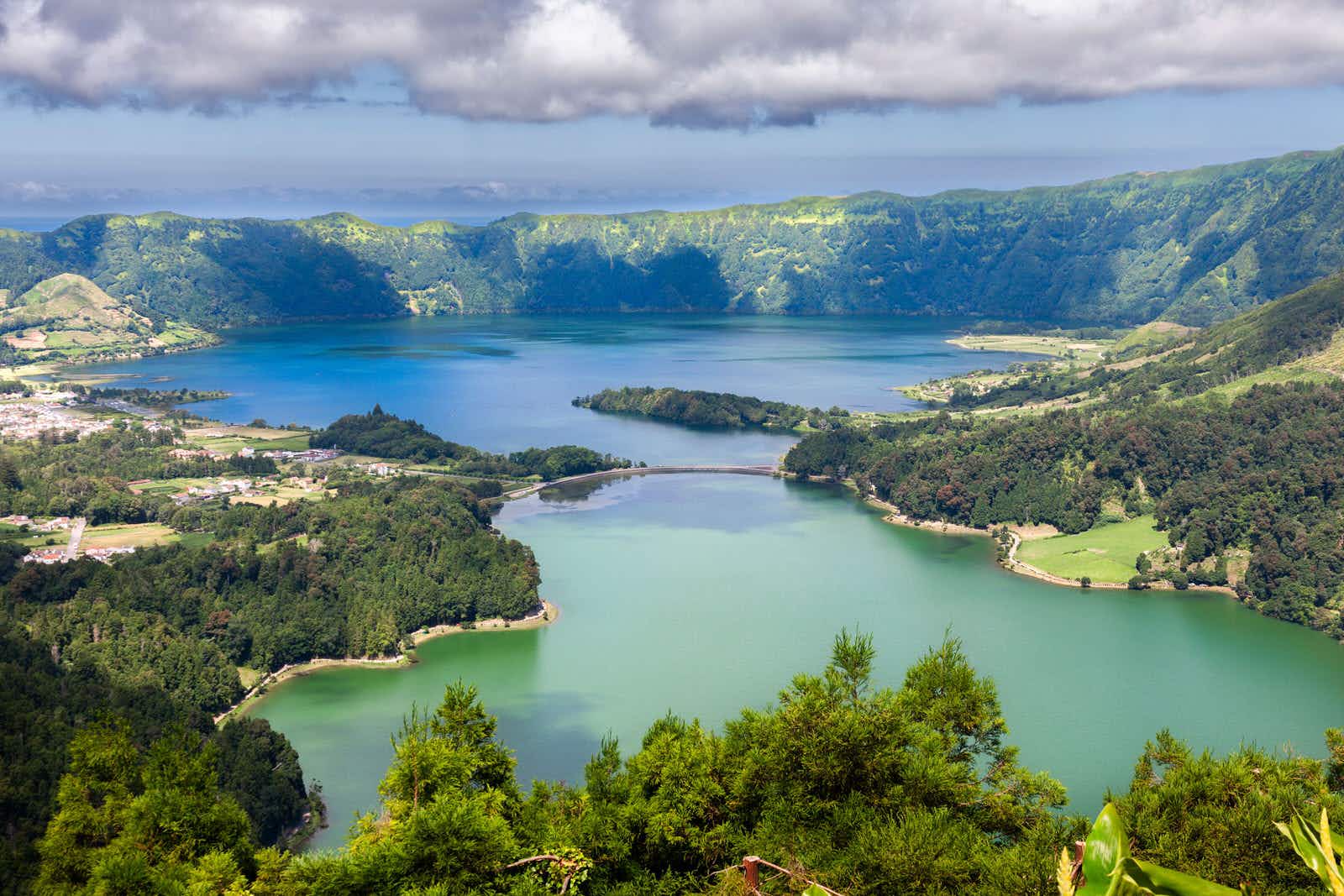 We start a buggy excursion to Sete Cidades. A village built at the foot of a lake that was formed by the collapse of a crater during a major eruption. As we climbed the mist and the rain dissipated until we could see an extraordinary landscape that from the Vista do Rei viewpoint allows us to see the lake formed in its crater. In reality there are two connected lakes of almost equal size, one with crystalline greenish waters (the colour adopted by some type of algae) and the other with amazing blue waters. An absolutely hypnotic landscape.
It is said that the name Sete Cidades is due to the fact that after the eruption of the volcano, the seven cities that stood there were razed to the ground.
We walked down to the shores of the lake inside the crater, along its green "beaches", endless hedges of hydrangeas and bougainvillea mixed with tropical vegetation. Here the day rewarded us with sunshine and under the shade of the trees we enjoyed a copious picnic and were able to lie in the sun in short sleeves.
If you look to one side you might think you are in Switzerland and yet another part of the landscape with Amazonian vegetation transports you to more tropical areas.
All in the same place.
I can say that it is one of the most beautiful and surprising places I have ever seen in my life, and I confess that I have not travelled little.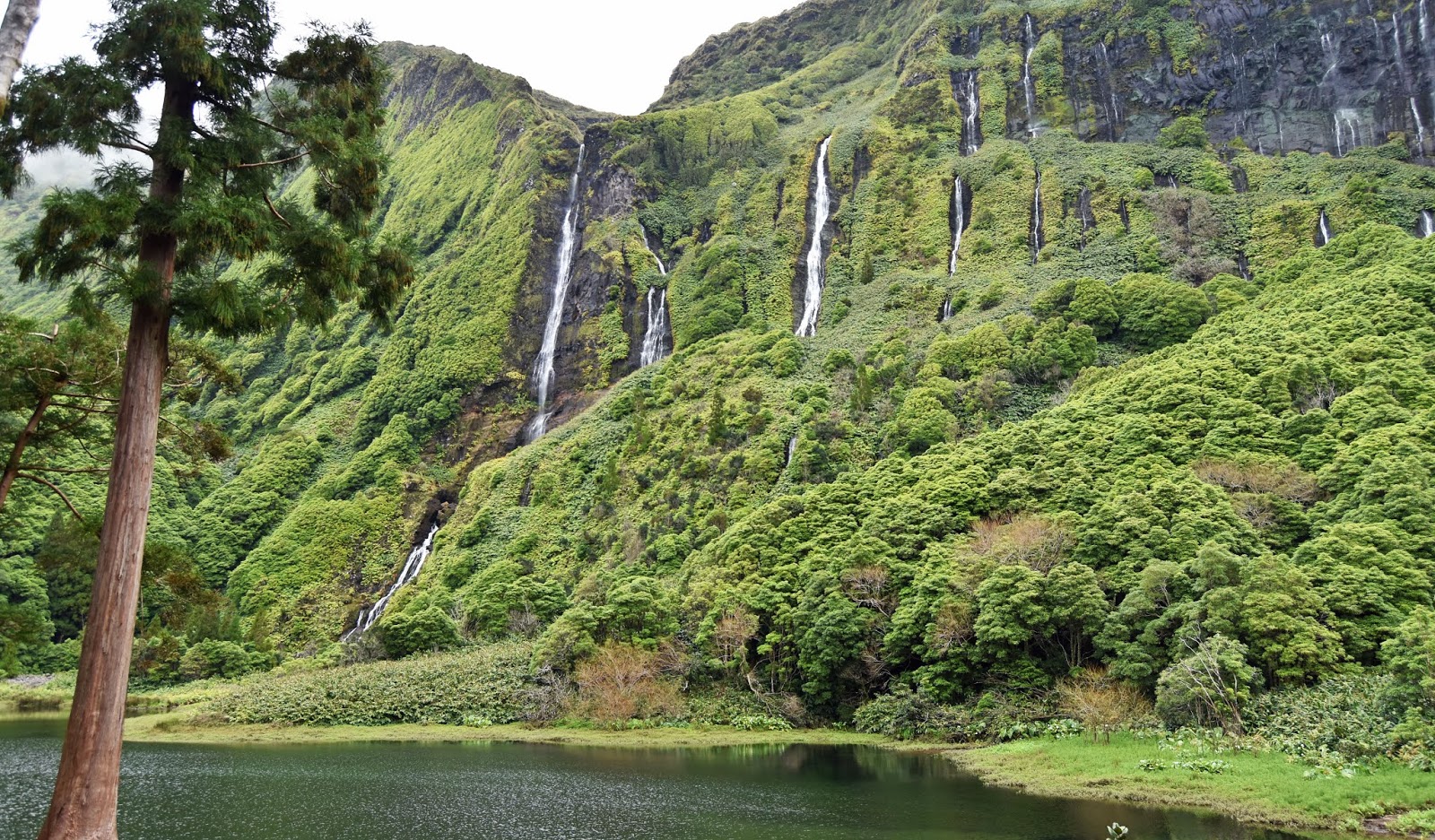 From here Joana suggested a swim in the sea, in a cove where the water is warm thanks to the volcanic origin of the island. It wasn't too hot either, the temperature was great, but from there to bathing in the middle of the Atlantic, it takes your breath away just to think about it… but as the old Spanish saying goes "where you go, do as you please".
This place is called Ponta de Ferraria, located in the westernmost part of the island. We went down a cliff with spectacular views until we reached a natural pool where the sea comes in very strong and where there are ropes to hold on to so as not to get carried away by the strong currents. Even so, we waited until 8pm for the tide to go out, otherwise the experience could be dangerous, and so we ended the day, bathing in this natural pool where the hot thermal waters mix with the cold Atlantic, resulting in a very pleasant temperature. This at 8am, while I was wearing a mackintosh and a jumper, I didn't think it was possible.
And wonderful the temperature at 20h and the light. Remember that it is two hours earlier there than in Spain.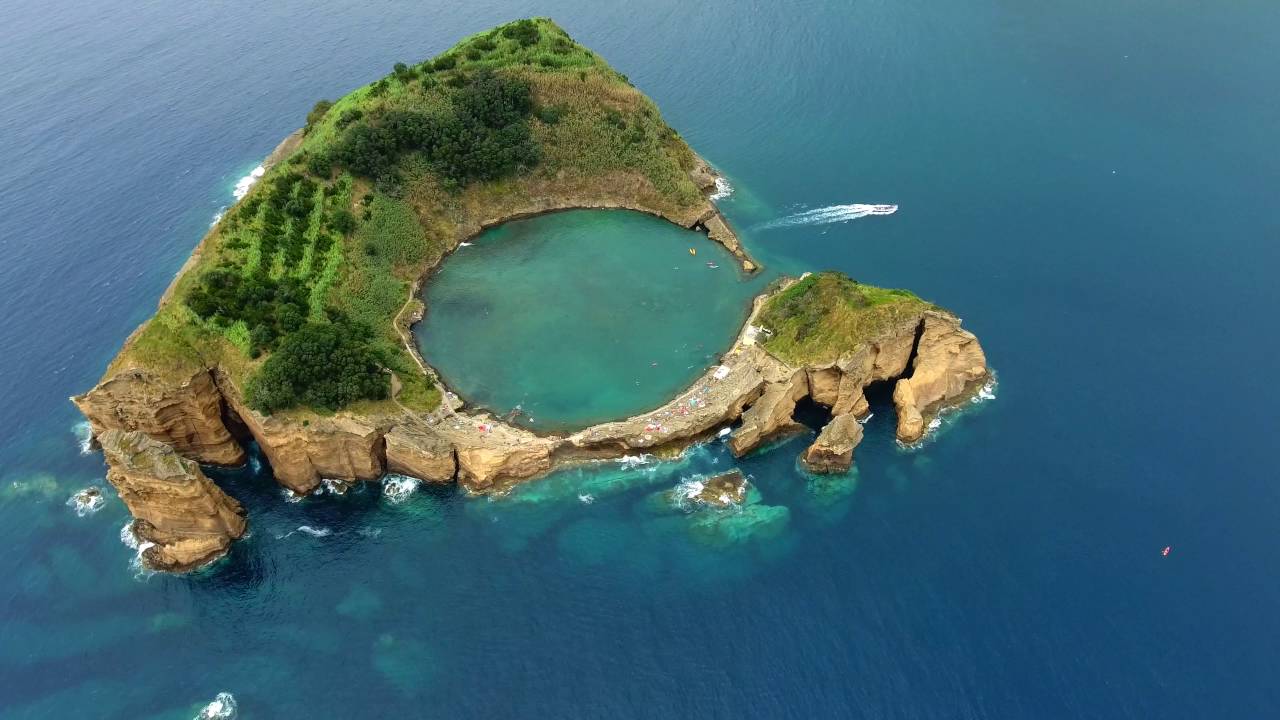 To end the day Joana took us for a drink at a boutique hotel that is setting the new model for tourism development on the island of São Miguel, the Santa Bárbara Eco-Beach Resort. A privileged small hotel composed of studios and villas, where every detail is taken care of. Built with natural materials from the area, it faces the sea and has direct access to one of the best beaches on the island where you can practice sports such as surfing, diving, as well as birdwatching, bike tours… the best sushi on the island can be found in its restaurant.
Following my professional hotel training I couldn't help but ask Joana about the type of tourism on the island and the quality of the accommodation. Joana told us how tourism on the island is starting to pick up in a sustainable and responsible way, so hotels of this style are springing up that offer quality, careful design and unique experiences that aim at a tourism with a higher purchasing power interested in enjoying this last natural paradise with all the comforts.
Thanks to the vision and investment of different entrepreneurs, both local and from other parts of Portugal, including Joana Damião herself, São Miguel is betting on quality rather than quantity of tourists with a boutique, different and unique product.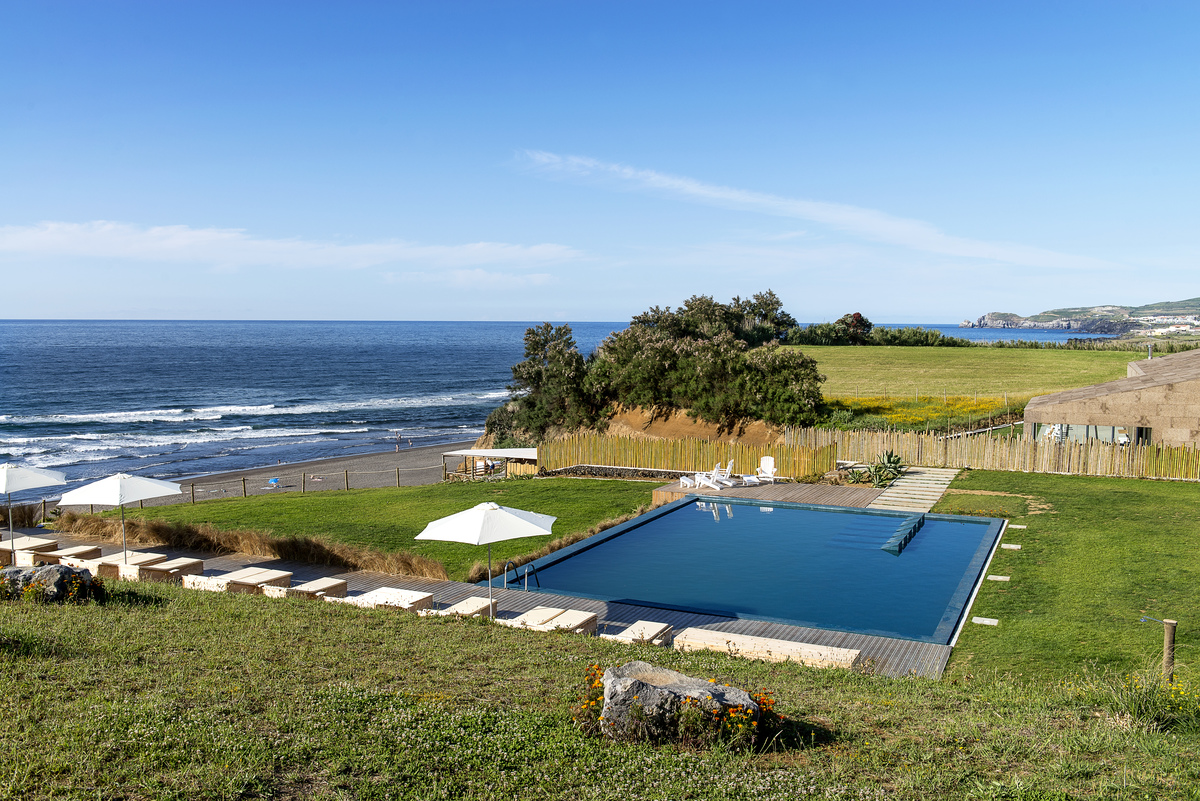 Santa Barbara Eco Beach Resort
Among the hotels that fall within this philosophy and are highly recommended options to enjoy an unforgettable stay on the island, in addition to the Santa Bárbara Eco Beach Resort, the White Exclusive Suites & Villas, on the seafront next to the new Sul Villas & Spa, both in Lagoa, which opened its doors on 7 June, is one that will be very special and which we will be following closely is the Senhora da Rosa, Tradition & Nature Hotel in Ponta Delgada.
The Senhora da Rosa, Tradition & Nature Hotel in Ponta Delgada, located within the Damião family's traditional pineapple plantation, will be very special and one we will be keeping a close eye on.
A boutique hotel with 35 rooms surrounded by rich vegetation and sports facilities, it will be a cult of relaxation, meditation and wellness in capital letters.
During my stay I had the privilege of visiting the old quinta which had been a hotel for many years but after eight years closed and now with the resurgence of tourism in São Miguel, it will reopen with a new positioning in March 2020. We are definitely aiming for that date.
From the outside it is clearly rural Portuguese architecture, with the typical charm of its country quintas. On the inside it has high ceilings and opens onto large light-filled courtyards with tropical vegetation and large windows that inevitably remind us of Brazilian architecture.
We are looking forward to seeing in operation what I dare say will be one of the best accommodation options off the coast but within walking distance of the city and which pays homage to another of the island's typical industries, the production of pineapples. At the helm of this hotel will be Joana Damião Melo, trained in the best hotel chains in the world such as Starwood Hotels & Resort (now Marriott) and Ritz-Carlton, who after many years away from her homeland returns to her roots to lead the new era of quality tourism that will position the island in the place it deserves, whose objective is to maintain its nature intact, offering tourists the best quality while maintaining its authenticity and personality.
Tourism yes, but not at any price. The good things have a value and the product that will mark the future of the island is already underway.
Another highly recommended plan, no less impressive than the Sete Cidades, is to visit the Furnas, an area where you can be captivated by its lake, its botanical garden, its hot water pools and relaxing therapeutic muds with sulphur smells. On the shores of the lake we can appreciate the volcanic activity, approaching its steaming fumaroles where, in addition to the vapours they give off, they keep boiling water with temperatures that can reach 100 degrees.
And for lunch, don't miss the famous cozido açoriano, a delicious stew with vegetables and cod that is cooked inside a fumarole. A hermetically sealed pot is placed underground and then buried, and left for about six hours. The result is spectacular.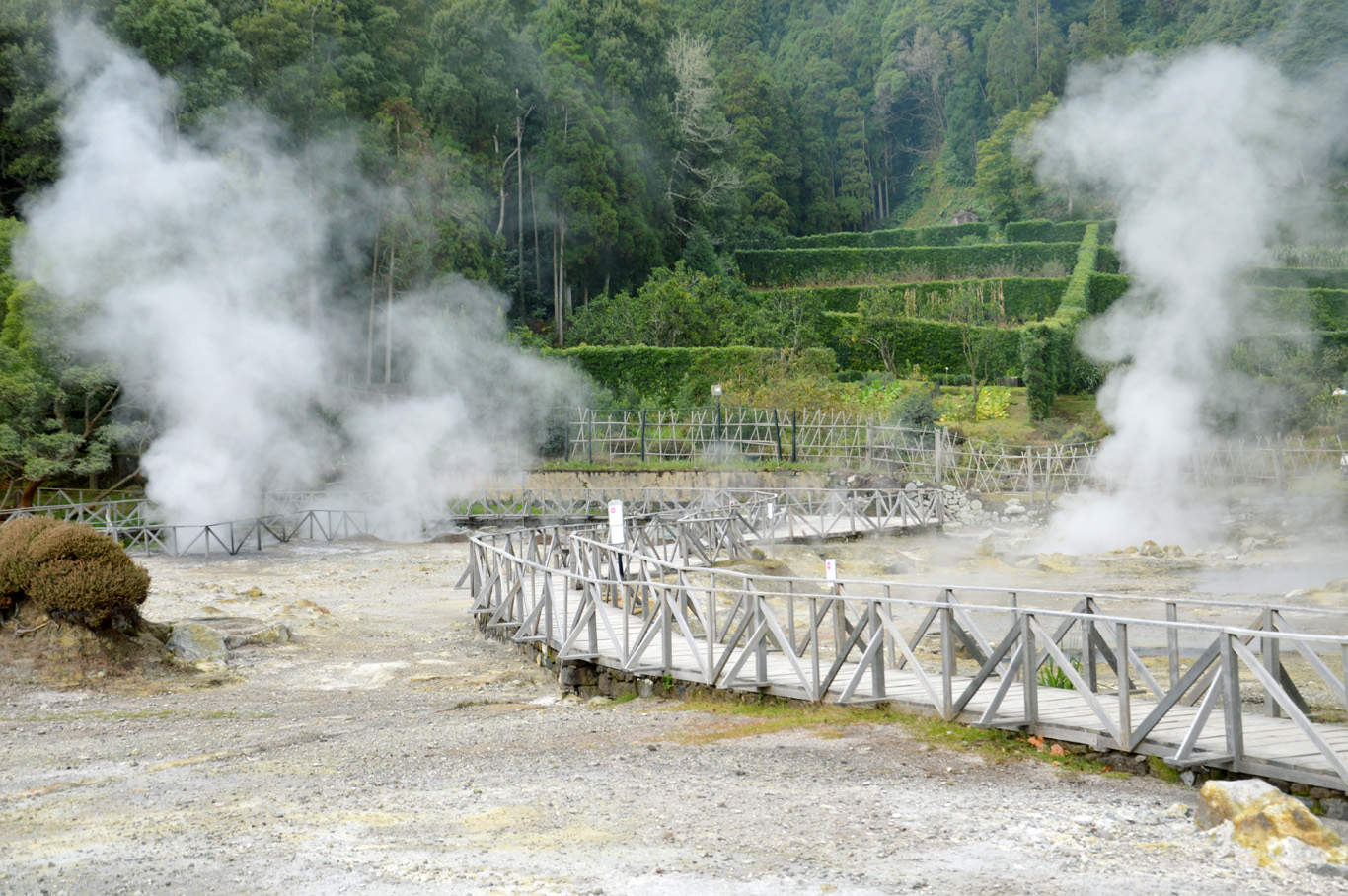 Another route is to go to the Lake of Fire where, if you have time, you can lose yourself in long walks along the different routes. It is so called because its waters turn reddish in the sunlight. For this tour, as we were 40 friends Joana organised the excursion in several fun Big Trucks, stopping at the Caldeira Velha for a hot bath.
The last visit I was able to make was a walk through the Northeast area, where I could see incredible natural areas of tropical vegetation with hot waterfalls where you can bathe, passing through the natural park Faial da Terra and visiting Povoação and Vila Franca do Campo, the former capital of the island from where you can appreciate its islet, the result of the crater of an ancient submerged volcano that inside houses a perfect circular natural pool, emerald green in colour connected to the sea and has a small beach. Truly idyllic.
Also worth a visit is the Chá Gorreana green tea plantation, which follows traditional methods of production and harvesting, where there is a museum and where you can taste and buy the different products made from the tea. Apparently it is the only tea produced in the whole of Europe.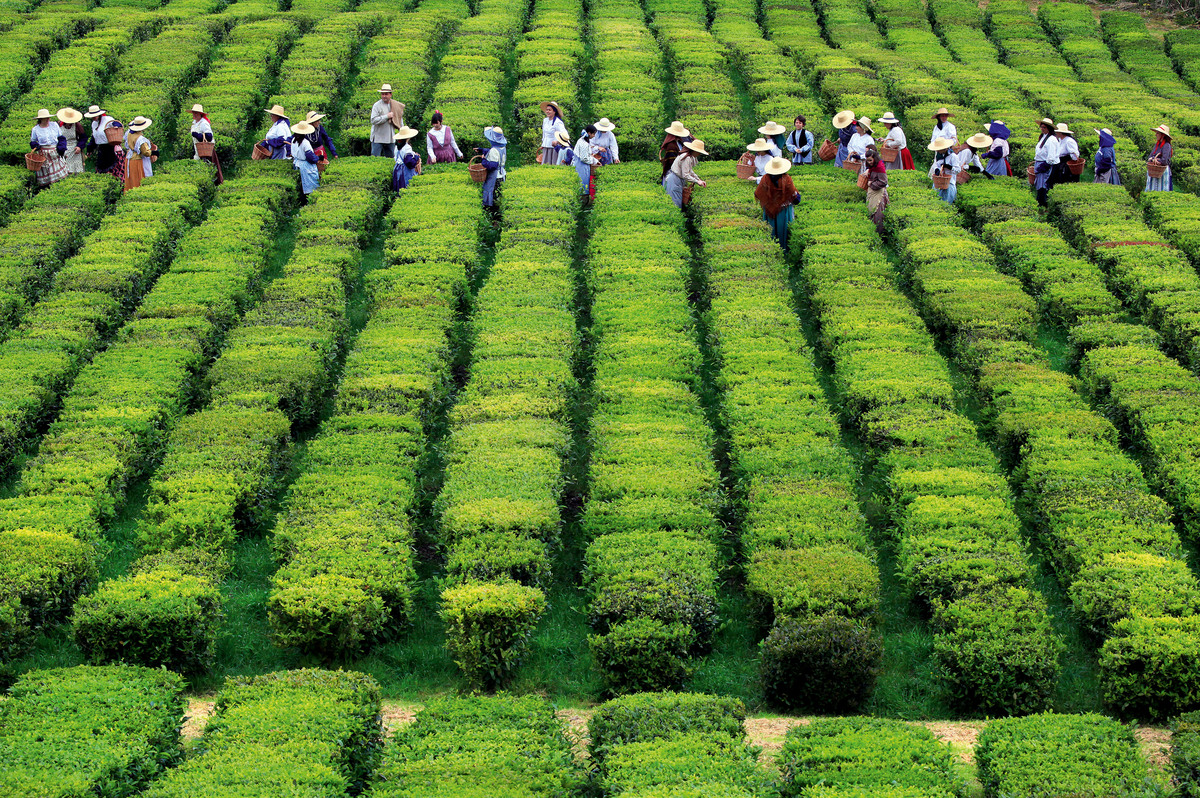 I would highlight the religious architecture of the island, of great beauty, it seems magical, like something out of a fairy tale. The number of churches and hermitages that you can find in each of its villages in proportion to the number of houses and/or inhabitants is high, which shows the fervour of the Açorian people and their faith, traditionally dedicated to the sea, where risking one's life on a daily basis is part of everyday life. There is also a tradition of livestock (especially milk production) and agriculture (bananas and pineapples).
And I could go on and on… this green island has completely enchanted me during my six-day stay and I still have so many things left to do.
As our friend Marta Aguilar said during the trip, everything is unbeatable!
If you like nature, hiking and outdoor life, this island offers you everything. My Portuguese friends say that you can spend up to a month making different plans every day and not repeat any of them… and of course visit the rest of the islands that have so much to offer.
When the writer Raul Brandão visited the archipelago in 1924, he identified each island with a colour. São Jorge, brown, for the light reflected by its rocks; Terceira, lilac, for the wisteria; Santa Maria, yellow, for its summer vegetation; Graciosa, white, for its rocks; Flores, pink, for its azaleas; Corvo, the most distant, small and solitary (only 17km and barely 400 inhabitants), a black spot bathed in lava, the black one. São Miguel is the green island.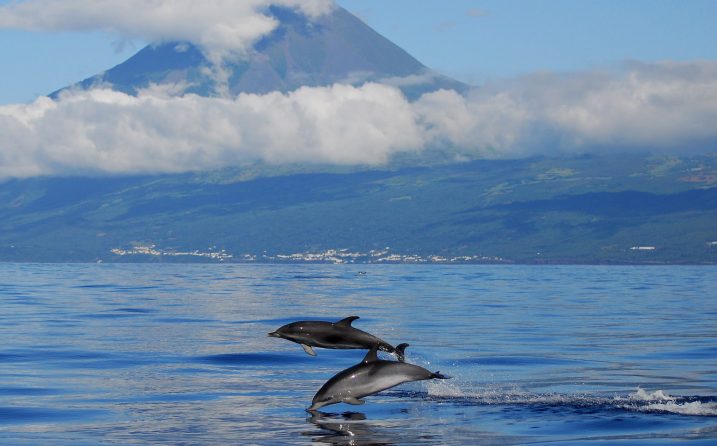 What they promise is that we will continue to see volcanic crater lakes, volcanic vineyards, beaches, natural pools, tobacco and tea plantations, hot springs, waterfalls, cliffs, valleys, dozens of viewpoints, numerous churches, black basalt stone houses (in the case of São Miguel you will see more in the northern or northeastern part of the island).
Above all, there are some things that you can only do here compared to other places in the world, such as thermal baths, excursions to its paradisiacal places, whale and sperm whale watching (I'll save this for my next visit), local bird watching, its special gastronomy: cozidos, local cheeses, natural milk, home-grown bananas as well as pineapples and the delicious desserts they make with them, such as sorbets, ice creams, pineapple flambé, their typical breads, desserts (they love sweets and have delicious options)….
São Miguel is an island that avoids the overcrowding that other destinations have experienced. They know that preserving their essence is and will be their differentiating value for a sustainable future.
The Azores are probably one of the last natural paradises in Europe.
Guide to boutique accommodation with hotel & restaurant services on the coastline
Santa Bárbara Eco Beach Resort
White Exclusive Suites & Villas
Mirante Loft, part of the Senhora da Rosa in Ponta Delgada.Glass house located in a former 18th century volcanic stone tower. Ideal for a couple's getaway.The best time to visit the Azores is from April to October.

If you still don't have a destination for these dates, we definitely recommend it.