Cadiz. A paradise on the Andalusian coast
Discover the captivating charm of Cadiz, the hidden city on the Andalusian coast that will transport you through centuries of history and delight you with its dreamy beaches.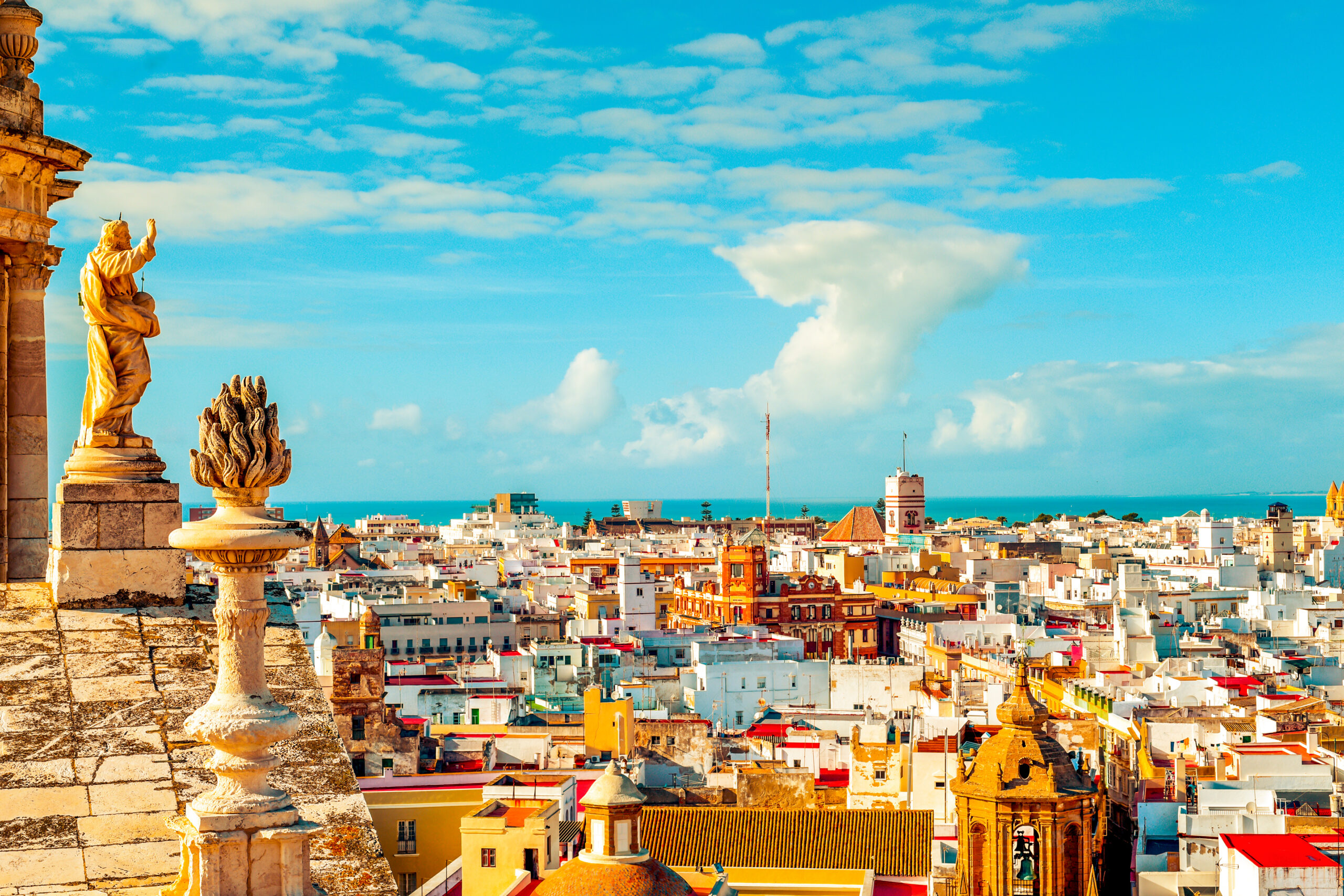 With a rich cultural heritage and a privileged coastal location, Cadiz has become a must-see destination in the south of Spain. It holds many treasures to be discovered that would give us endless articles; with this one, we would like to recommend a few places for a summer getaway.
We invite you to explore the wonders of this ancient city, where historic architecture blends with contemporary vitality and the welcoming spirit of its people.
Welcome to Cadiz, a true treasure on the Andalusian coast.
A journey back in time through its history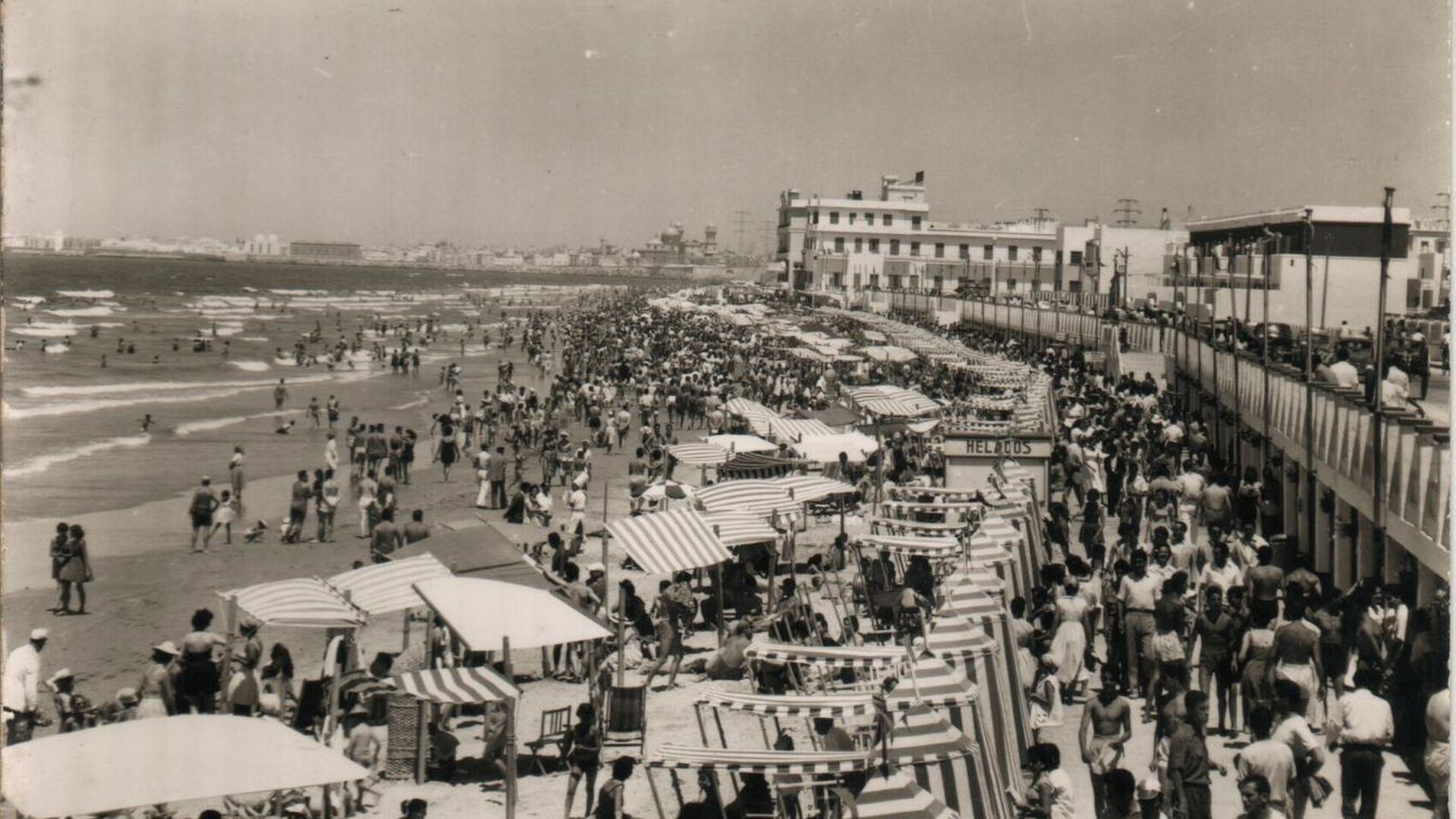 The history of Cadiz dates back more than 3,000 years, making it one of the oldest cities in Western Europe. Since its foundation by the Phoenicians in the 12th century BC, Cadiz has witnessed the presence and influence of Romans, Visigoths, Arabs and Christians over the centuries.
In the Middle Ages, the city passed into the hands of the Arabs, who fortified it and turned it into an important defensive enclave. The Moorish influence can be seen in the architecture of the town, in the layout of its streets and in the mosque that was erected at that time. However, it was during the 16th and 17th centuries that Cadiz experienced its golden age. Thanks to its trade with the Americas, the city became an important centre of the Spanish economy. Great riches flowed into its ports, and the city was filled with imposing palaces and elegant squares.
Its history is also marked by historical events of great significance. It was from the port of Cadiz that the expedition of Christopher Columbus set sail on his second voyage to the New World in 1493. Moreover, during the War of Independence against Napoleon's troops, Cadiz became a bastion of resistance and was the scene of the promulgation of the first Spanish Constitution in 1812.
Walking through the streets of Cadiz is like strolling through an open-air museum, where history becomes tangible. Every square, every building and every narrow alleyway has a story to tell, and it is precisely this unique atmosphere that makes Cadiz a must-see destination.
Cádiz gastronomy
The Cadiz coast is a region full of authentic flavours and deep-rooted culinary traditions. It is a true feast for the senses.
Seafood has a prominent place at the table. Fried fish (pescaíto frito) is one of the region's most emblematic culinary jewels. Among the most popular options is cazón en adobo (marinated dogfish). Other seafood delicacies not to be missed are puntillitas, tender fried squid and tortillitas de camarones (shrimp omelettes).
But Cádiz is not only famous for its seafood delicacies, it also has a terrestrial treasure: retinto beef. Known for its intense and juicy flavour, thanks to the natural diet the animals follow in the countryside.
We cannot talk about gastronomy without mentioning its famous wine cellars and wines. The palos cortados and amontillados are two world-renowned styles of fortified wine produced in the Cadiz region. If you are a red wine lover, you can't miss the tintilla de Rota. This indigenous red grape variety is grown in the Rota area and has gained recognition for its intense aromas and balanced structure.
Cadiz's gastronomy is a true richness that combines the best of the sea and the land. Immerse yourself in this delicious culinary tradition and let yourself be seduced by the authentic flavours and captivating aromas that await you on the Cadiz coast.
What are you waiting for?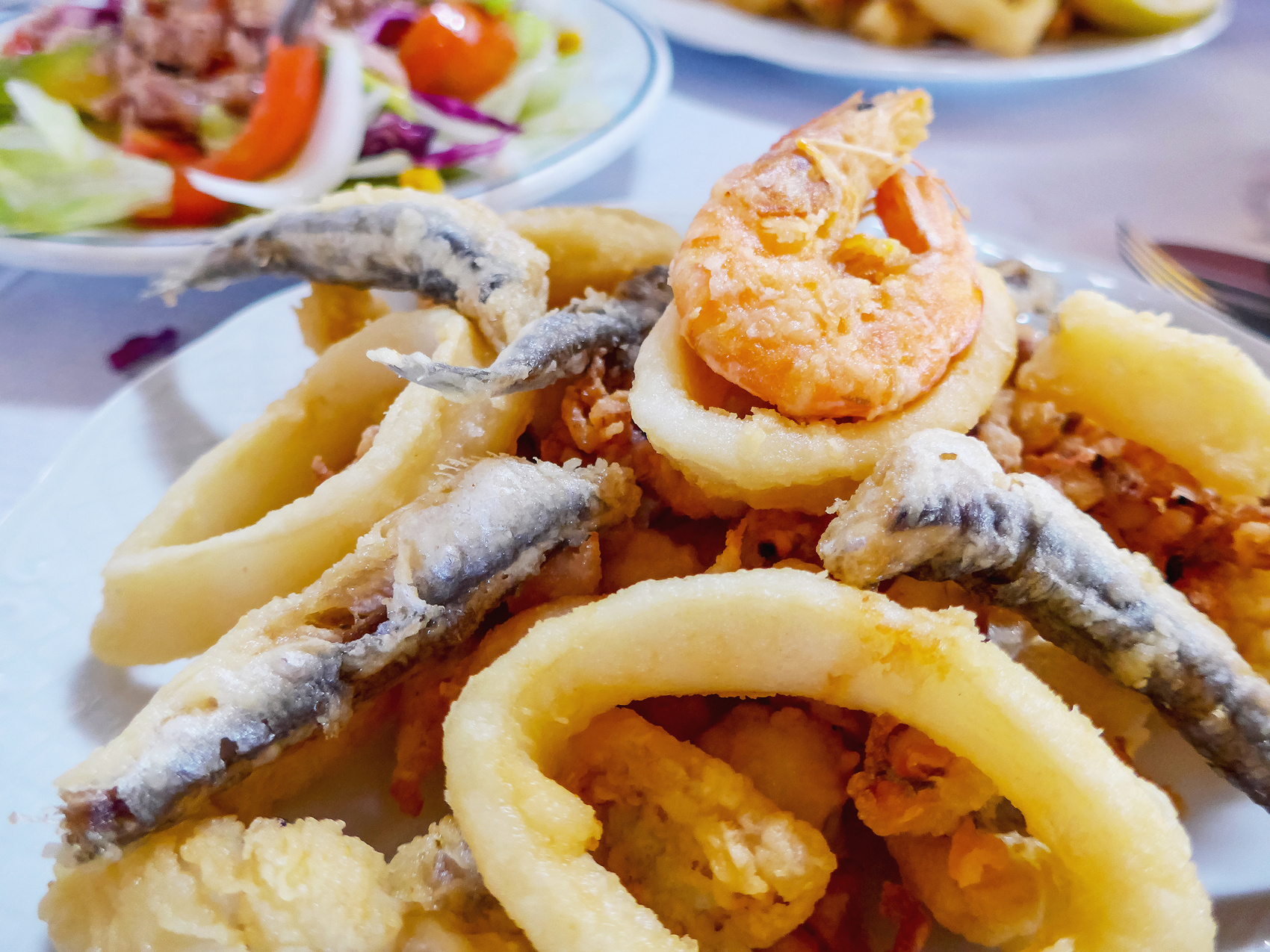 Discovering Cádiz
On the coast of Cadiz, a stretch of land bathed by the sun and caressed by the sea, a picturesque and charming route unfolds: the route of the whitewashed houses. With its whitewashed houses gleaming under the blue sky, this coastal route invites you to discover the beauty of the villages that dot this region of southern Spain. We explore the charms of each stop along the way.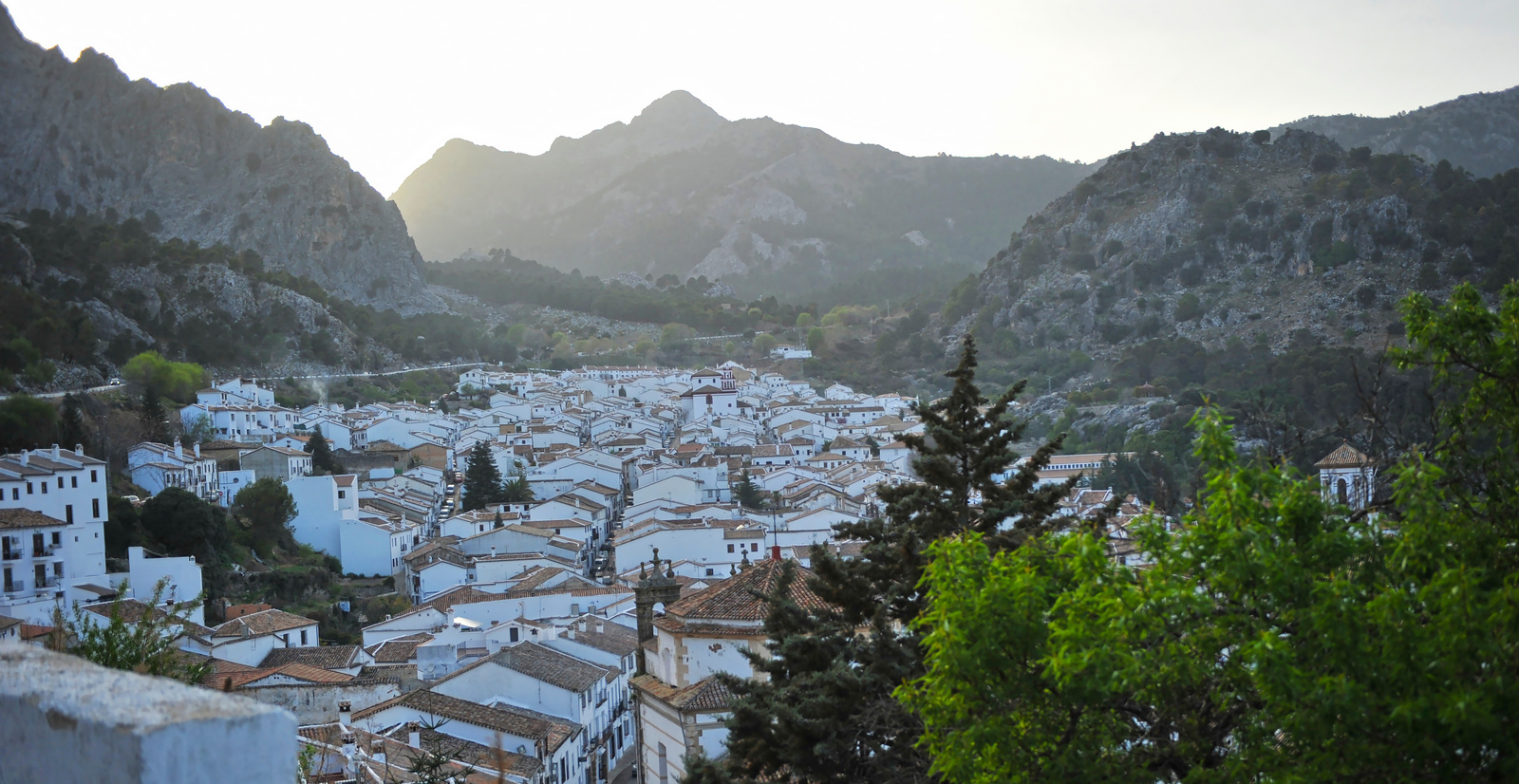 Conil de la Frontera: A coastal paradise
Our journey begins in Conil de la Frontera, a charming coastal town that attracts visitors with its golden sandy beaches and relaxed atmosphere. The narrow cobbled streets lead us to picturesque squares where we can enjoy a delicious meal in the local restaurants, while its beaches invite us to sunbathe and enjoy the warm waters of the Atlantic Ocean.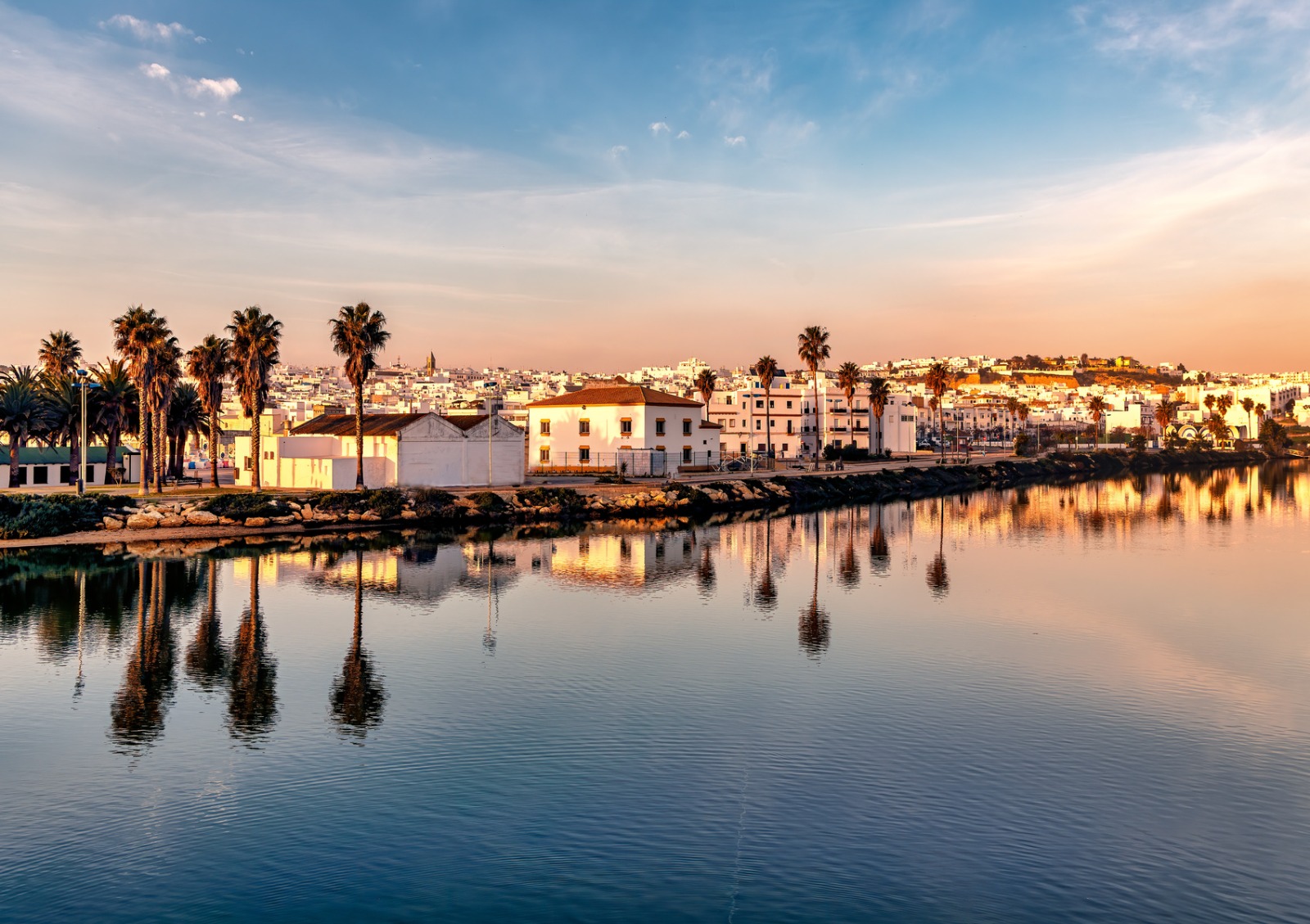 Conil has stunning beaches that attract sun and sea lovers. They stretch for several kilometres, offering golden sand and crystal clear waters. Among the highlights are Los Bateles beach and La Fontanilla beach. These coastal havens are the perfect place to relax, sunbathe and enjoy the sea breeze.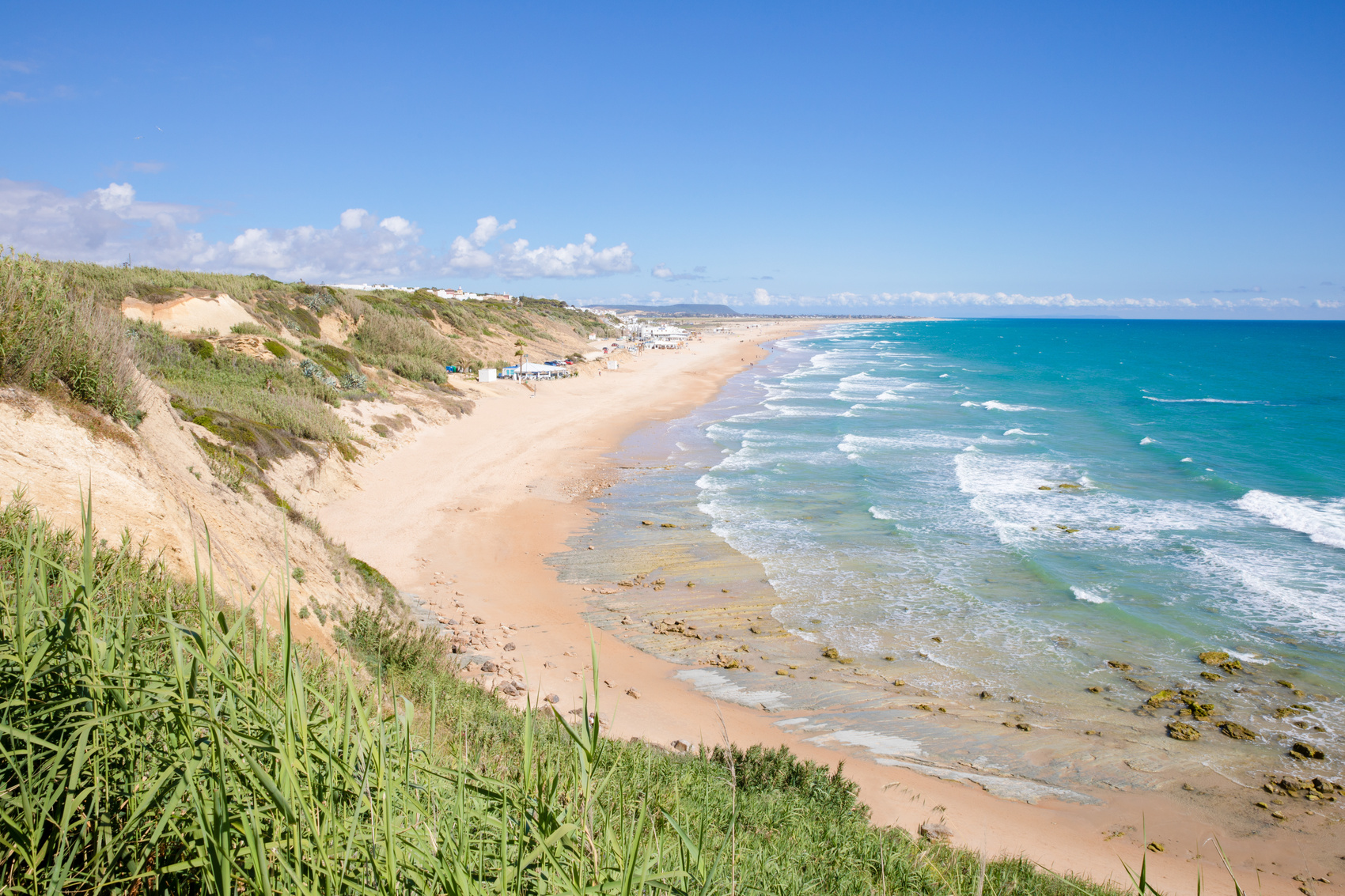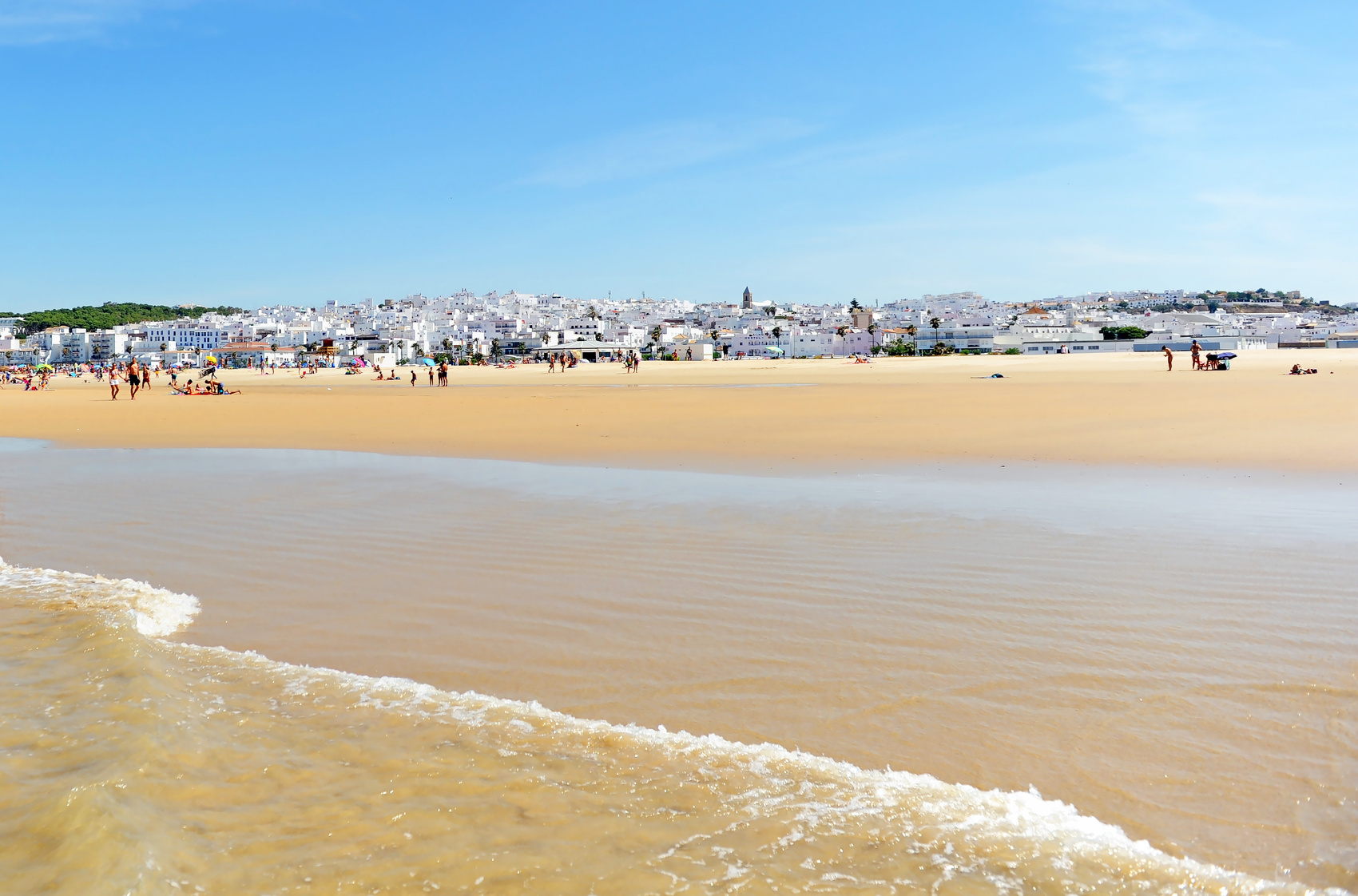 Where to eat
– Malabata Conil. Undoubtedly, an obligatory stop and one of the best restaurants in Conil de la Frontera. Let the staff advise you and it will be a sure hit. We recommend you book, especially at weekends and in high season.
– Bar El Portillo. This has become another of the most recommended restaurants and also one of the cheapest. With a menu that focuses on tapas, half portions and whole portions, we recommend you order several options so you can try different recipes. If you're lucky and they have coquinas, be sure to try them!
– Feduchy Playa. In a privileged location, on the Fontanilla Beach, we find this place which is another of the most recommended restaurants, as well as an institution in the town. We recommend you try some of their rice dishes, which are one of the house specialities.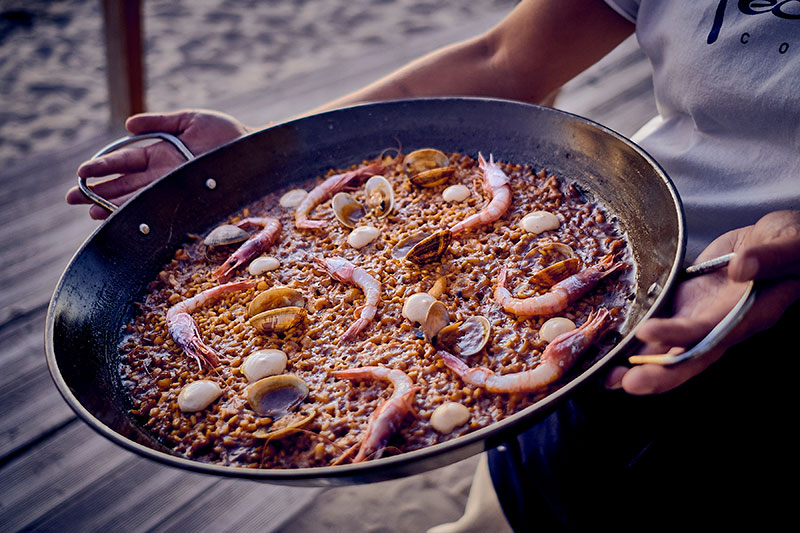 – MaMa, specialising in meat and red almadraba tuna, this is another restaurant in Conil de la Frontera that is a sure hit and that we'll put our hand in the fire, will leave an indelible memory on your palate.
– El escondite de Conil. With a very special charm that we are sure will not leave you indifferent. It is usually full, so it is advisable to book especially for dinner on weekends and in high season.
Where to sleep
To sleep, we suggest our villa, an Andalusian farmhouse with sounds of the sea. Without a doubt, this is the ideal place to enjoy a holiday with family or friends. The perfect balance between harmony and comfort. Listen to the sound of the waves from the terrace, to enjoy peace and relaxation.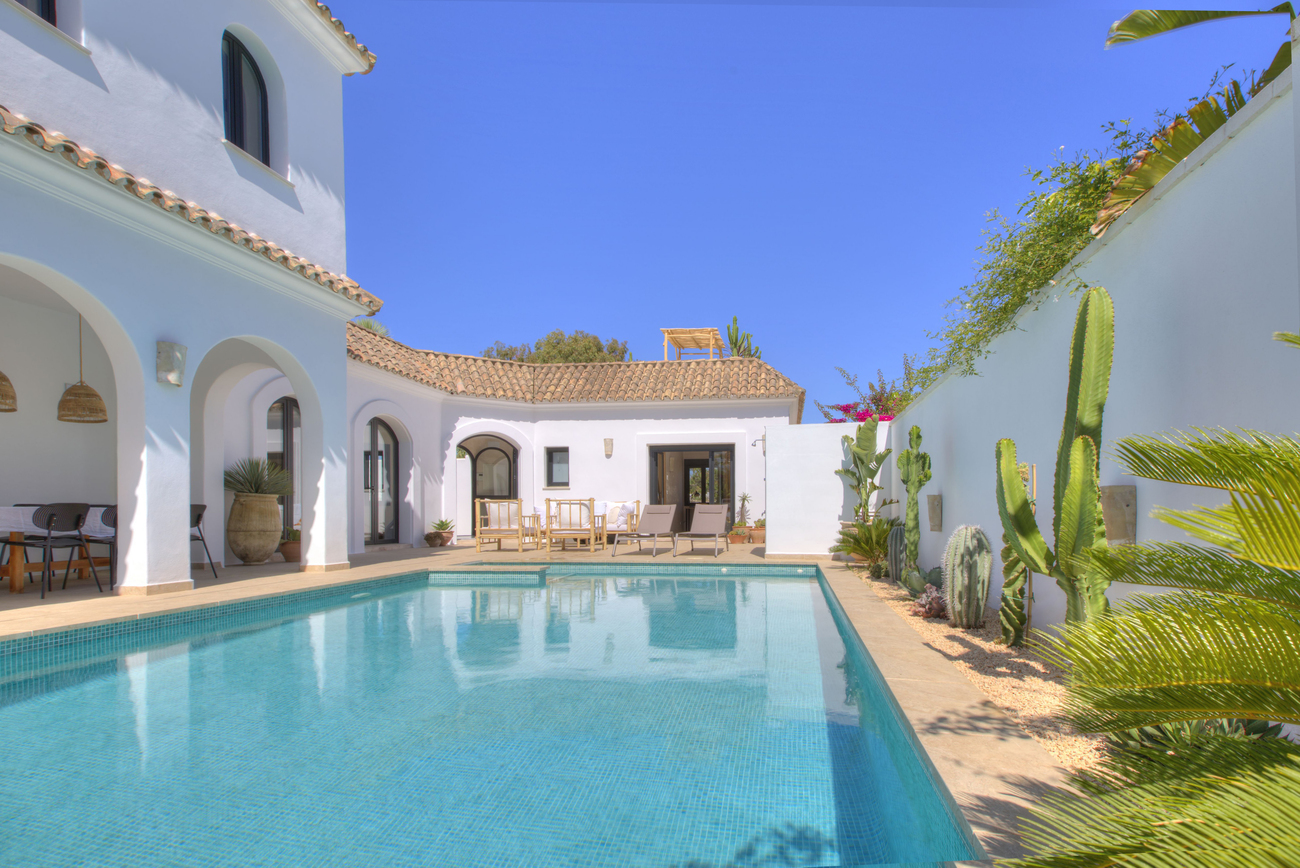 Vejer de la Frontera: A mediaeval treasure
We continue our journey to Vejer de la Frontera, a white village that looks like something out of a fairy tale.

Its steep, narrow streets lead through a maze of whitewashed houses adorned with pots of colourful flowers. From the heights of the village, you can enjoy breathtaking panoramic views of the sunflower fields and surrounding vineyards. The old town of Vejer is a real historical treasure. Its narrow, steep streets take us through centuries of history, from its Moorish origins to its later Christian influence. As you wander through them, you will discover monuments and landmarks, such as the Church of the Divine Saviour and Vejer Castle, which offer a fascinating insight into the region's rich heritage.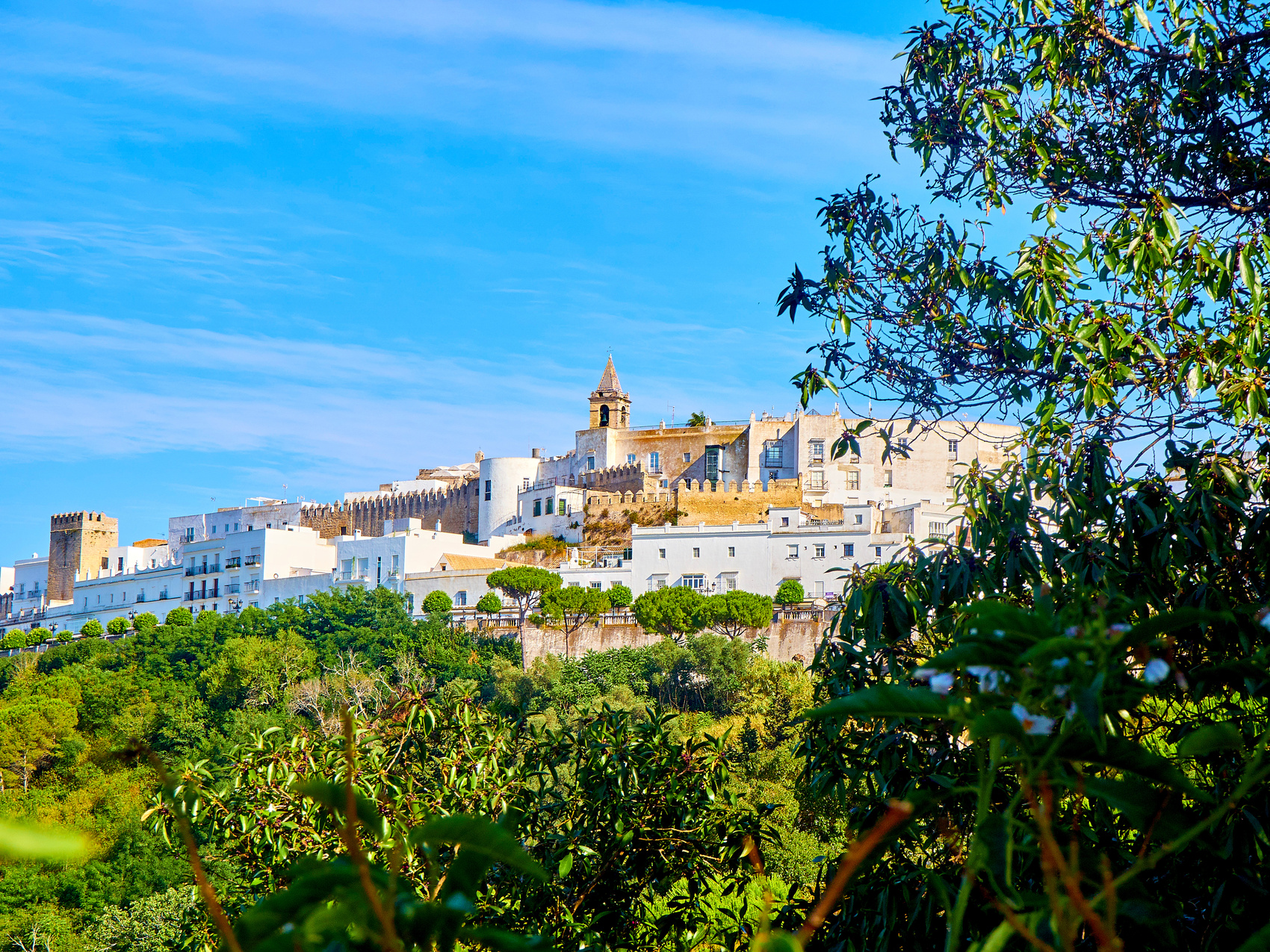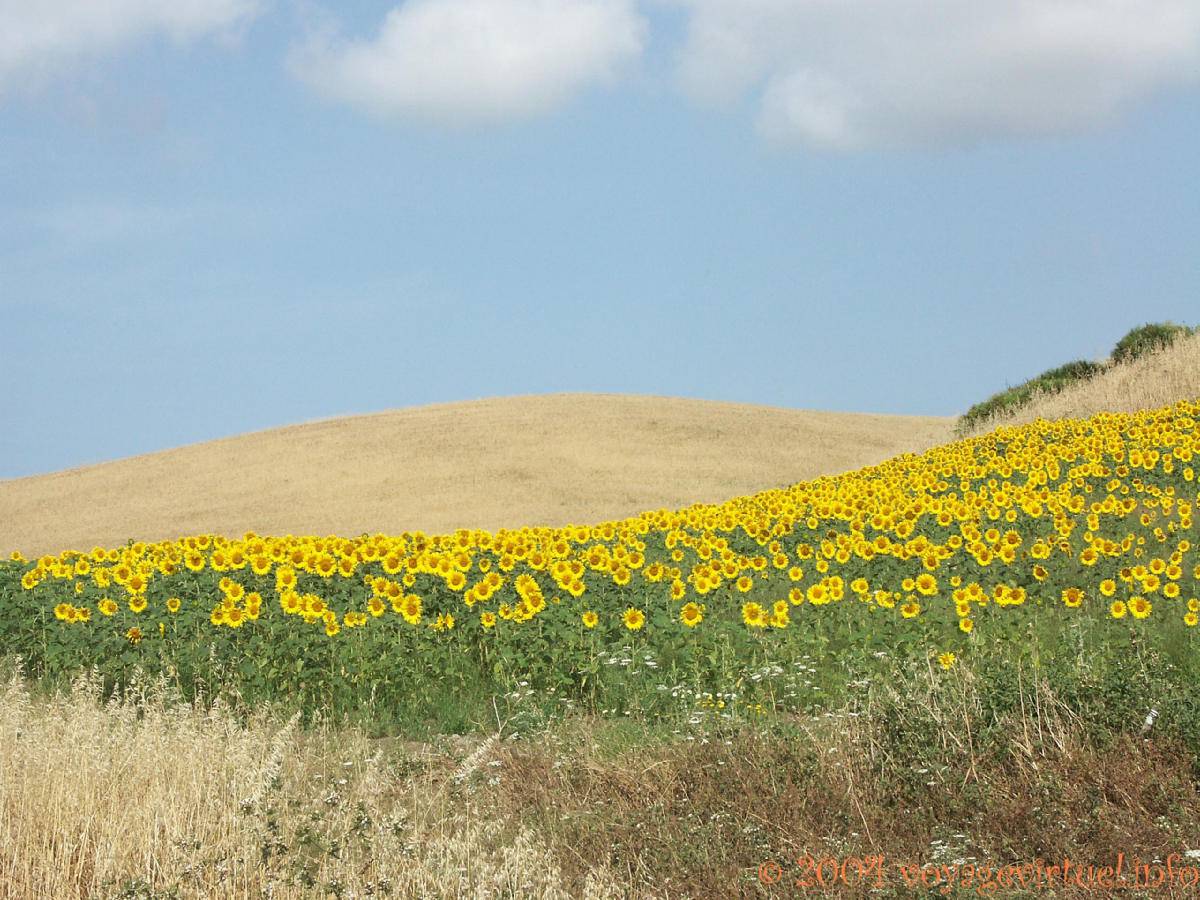 Vejer's strategic location makes it an ideal starting point for exploring the nearby beaches. Just a few kilometres away are some of the best beaches on the Cadiz coast, such as El Palmar and Zahara de los Atunes.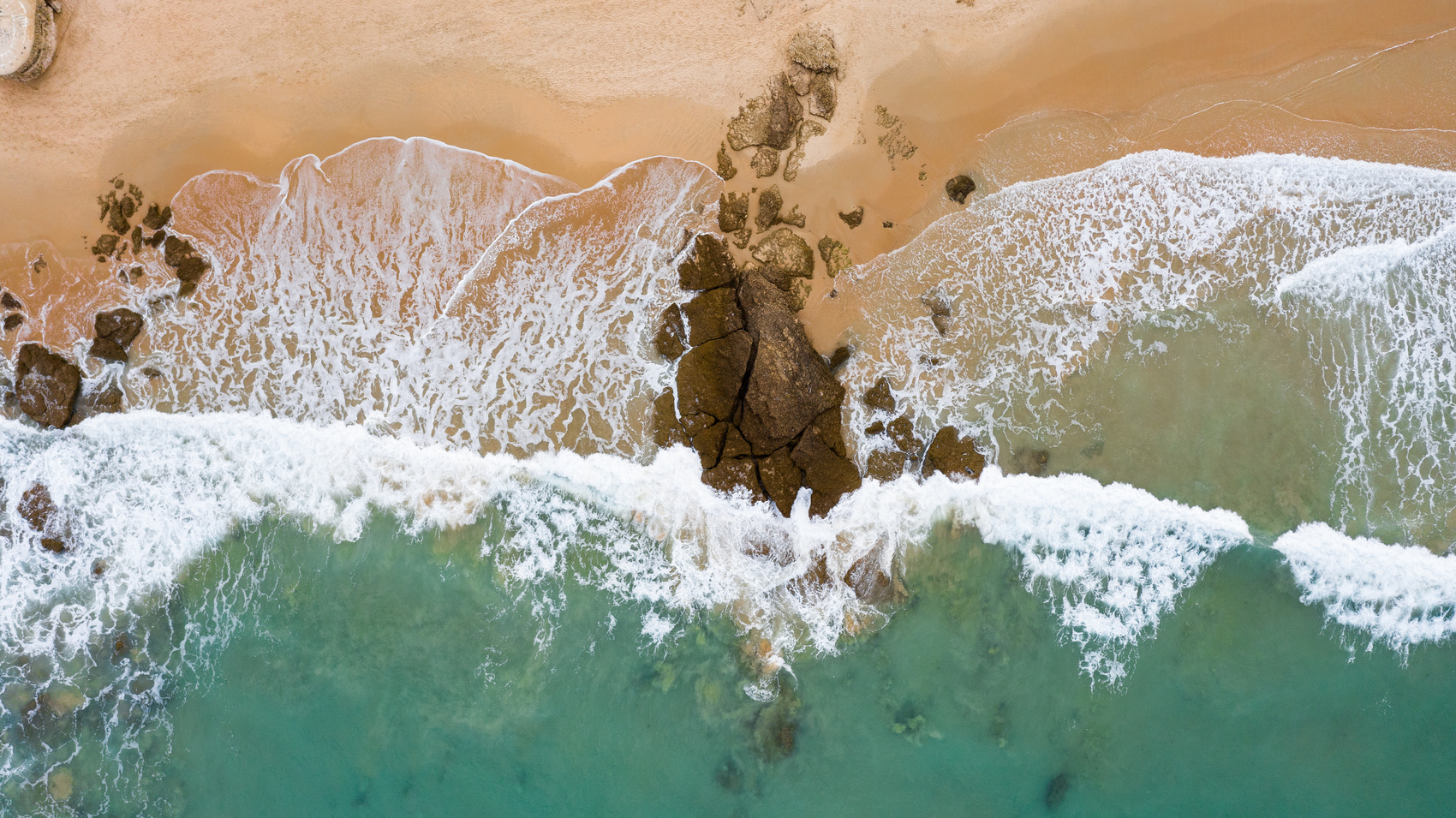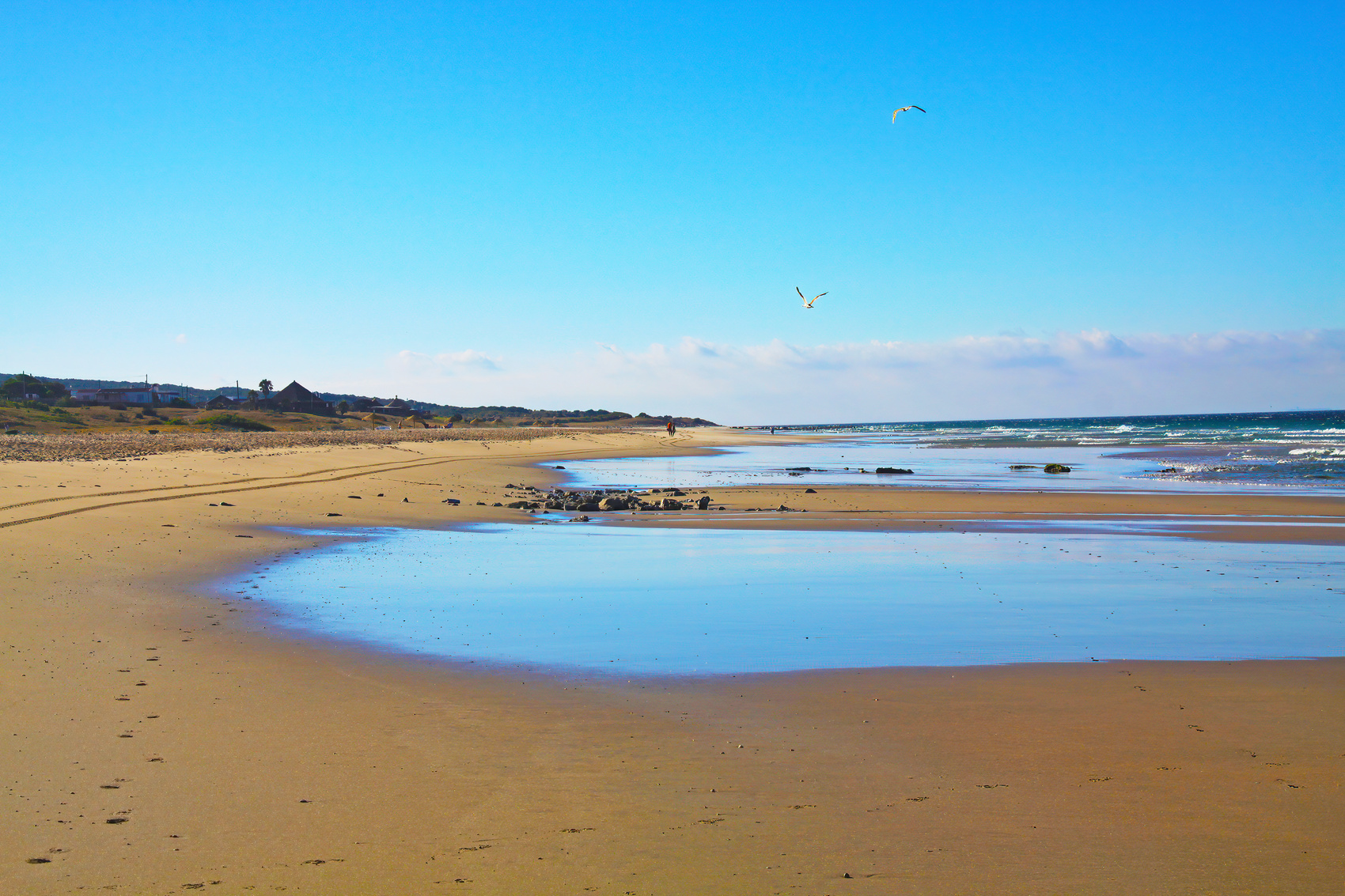 The inspirational Montenmedio Contemporánea Foundation is dedicated to promoting contemporary art through exciting exhibitions, artist residencies and educational programmes in a unique natural setting. It has established itself as an international benchmark in the art world, thanks to its commitment to the avant-garde and its ability to foster cultural dialogue.
Immerse yourself in this artistic oasis and let yourself be captivated by the fusion of contemporary art and the charm of Vejer de la Frontera.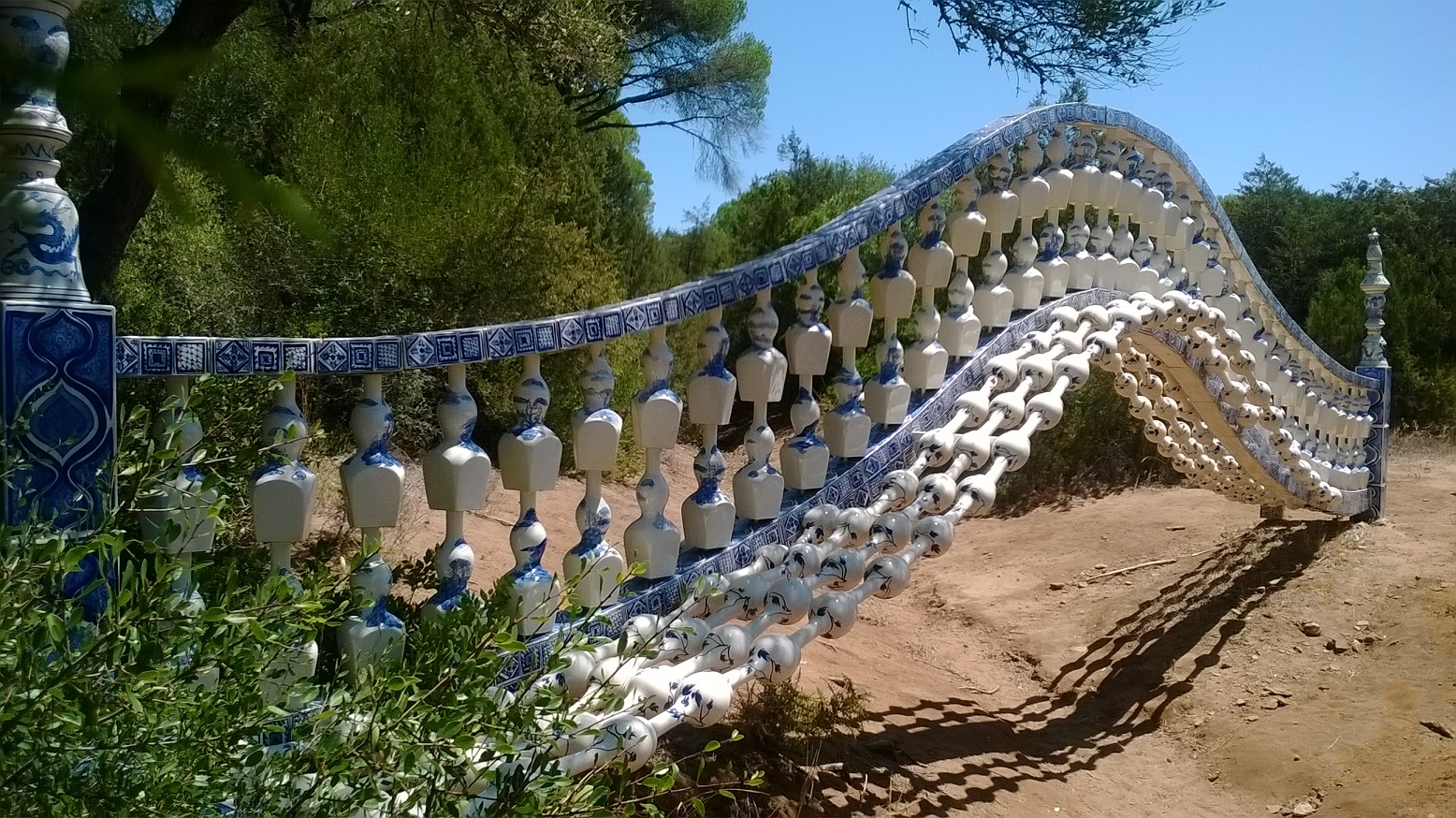 Where to eat
– El Jardín del Califa. Located in an old Andalusian courtyard, it offers a unique gastronomic experience. Its cuisine is based on the fusion of Arab and Mediterranean flavours, with dishes such as couscous, lamb tajine and lemon chicken.
– The Jewish Quarter. In the centre of the town and with unique views, this restaurant is one of the best known.
– Trafalgar Restaurant. Located in the heart of the old quarter of Vejer, this restaurant is known for its traditional Cádiz cuisine.
– Restaurant Garimba Sur. Located in an Andalusian courtyard, it offers a fusion of Mediterranean and Asian cuisine.
– Casa Varo. With a privileged location and panoramic views of the surrounding area, this restaurant offers traditional cuisine with modern influences.
– 4 Seasons Vejer. This is the perfect option to enjoy a lunch or dinner based on dishes prepared with quality products, with an avant-garde touch. We recommend ordering 3-4 to share between 2 people.
– Don't miss the San Francisco gastronomic market where you can enjoy a lively atmosphere.
– In the evening, the best place to cool off is El Claustro, a garden terrace with spectacular views of Vejer, from where you can enjoy live music and contemplate the rooftops of this beautiful town.
– Strolling through the streets you'll find countless shops that are well worth a stop, and if you like wine we recommend a stop at Bodegas Gallardo, where you'll taste delicious local wines, which you can also find in the town's taverns.
– Just a stone's throw away, in the town of Barbate, you will find one of the most famous restaurants in the area for tuna tuna and almost a must stop, which is El Campero. In Zahara de los Atunes there is another establishment. You'll have to book in advance if you don't want to miss out on this experience.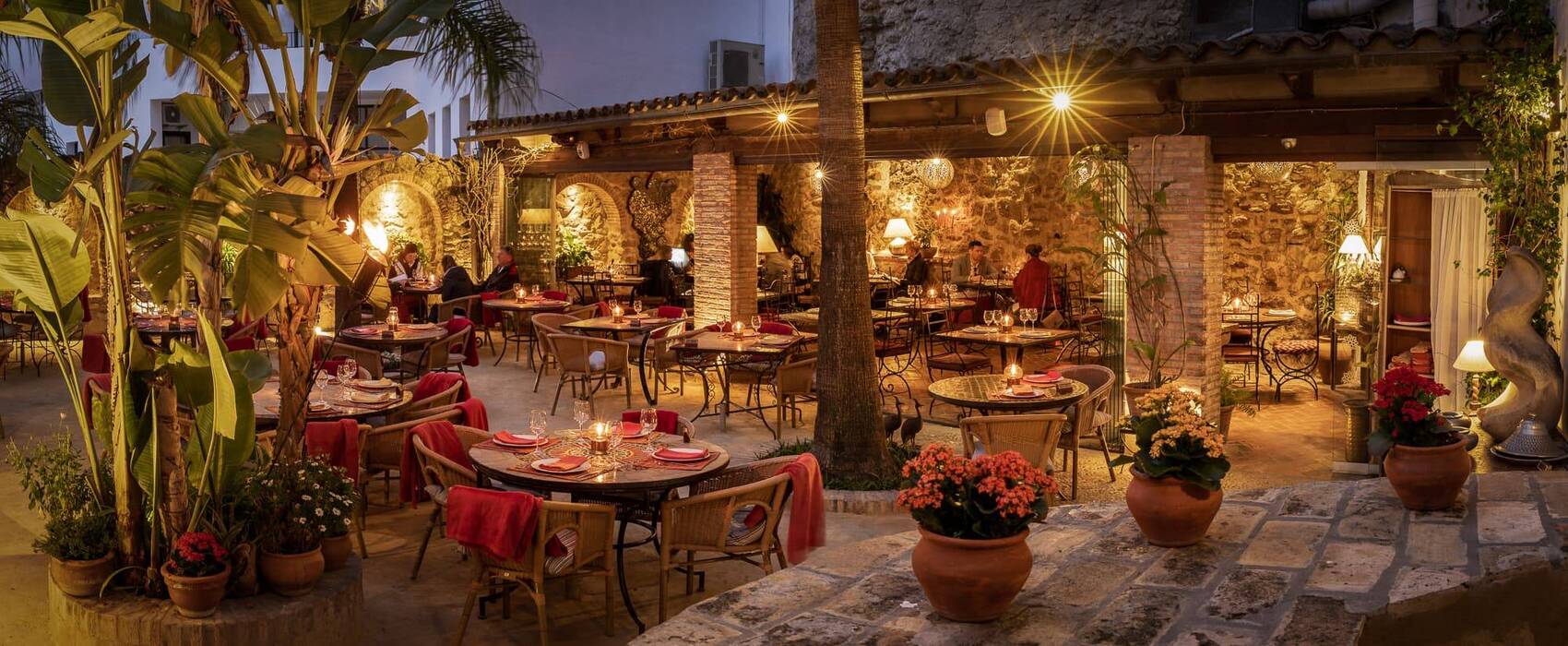 If you like live music on the Palmar beach you will find different options. The beach bar par excellence is Gran Baba. From here you can enjoy the beauty of the wild beaches of La Mangueta, stopping at the Trafalgar Polo Club, by the sea, until the Trafalgar lighthouse itself, where we reach the legendary Caños de Meca.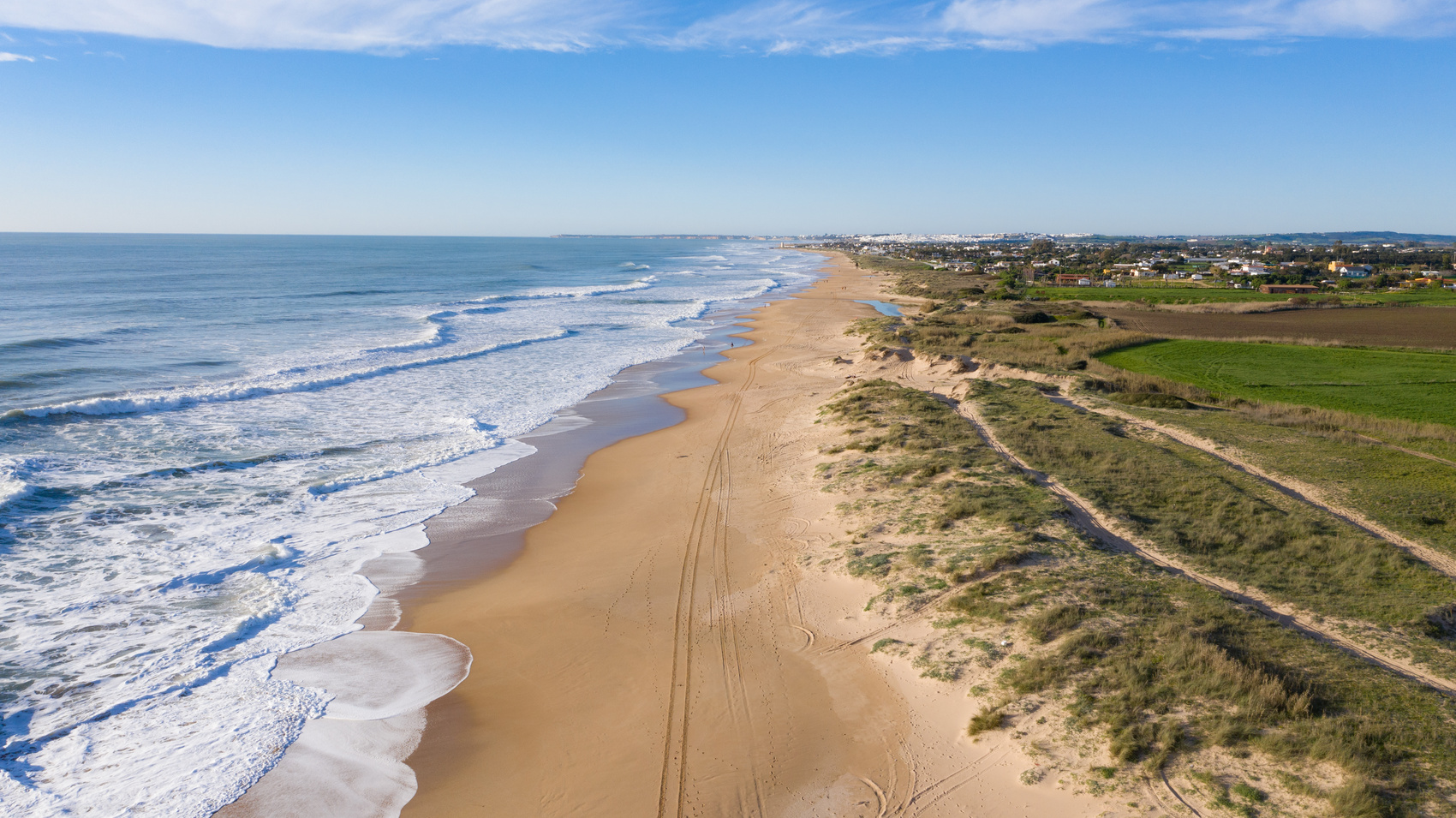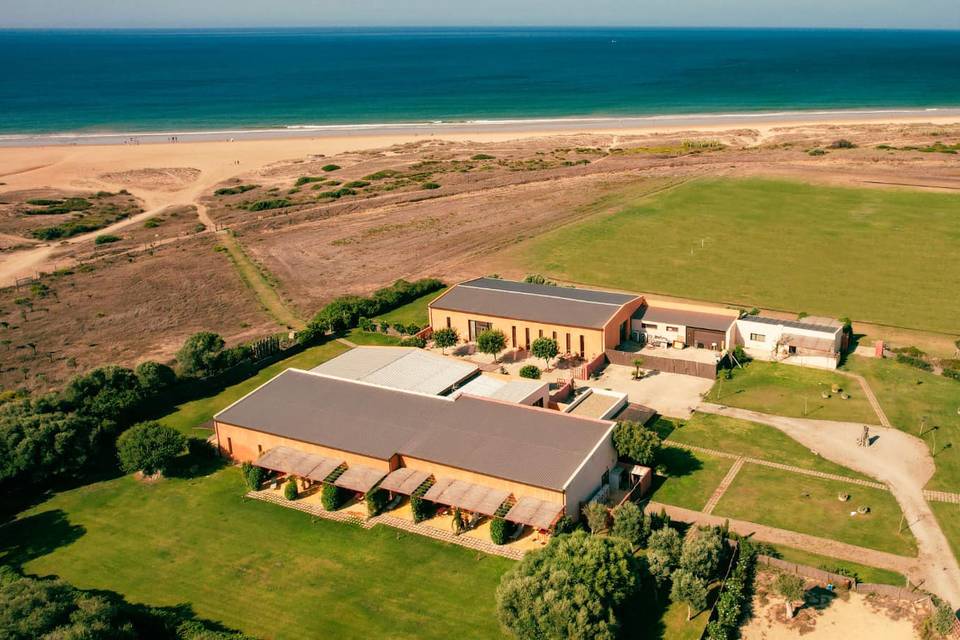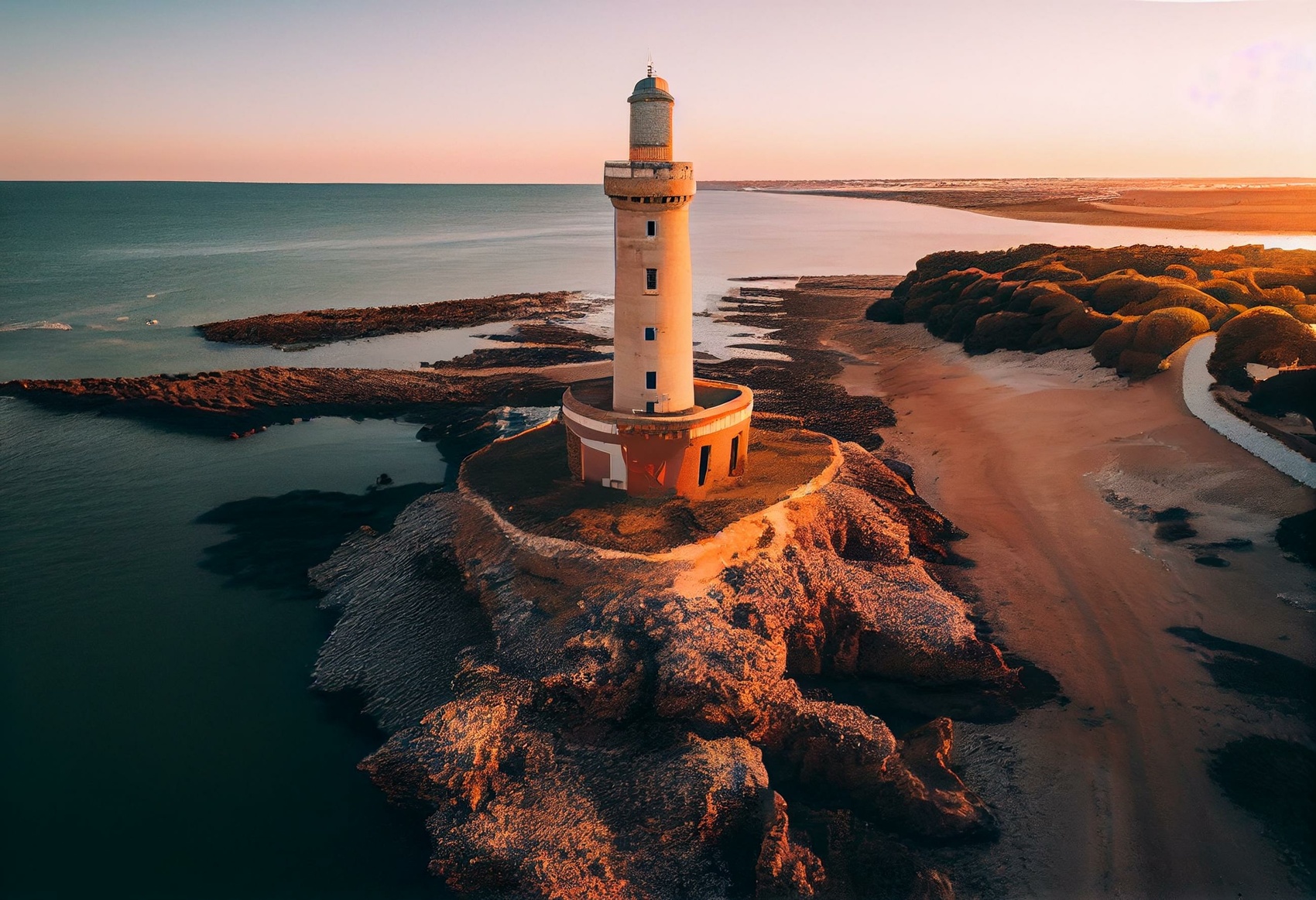 Zahara de los Atunes: Natural beauty and gastronomy
We continue our journey to Zahara de los Atunes, a picturesque coastal town that combines natural beauty with fishing tradition. Its fine sandy beaches and crystal-clear waters are ideal for relaxing and enjoying the sun, while its fishing port offers the opportunity to sample fresh fish and seafood in the local restaurants.
Zahara de los Atunes is also an ideal starting point for exploring the surrounding area. A few kilometres away is the Parque Natural de la Breña and Marismas del Barbate, a protected area with beautiful trails and panoramic views.
The name Zahara de los Atunes honours its rich history related to tuna fishing. For centuries, bluefin tuna has been an integral part of the life of this town, and the traditional almadraba, a fishing technique dating back to the Phoenicians, is still practised. This rich tradition is reflected in the local gastronomy, where tuna is the undisputed protagonist.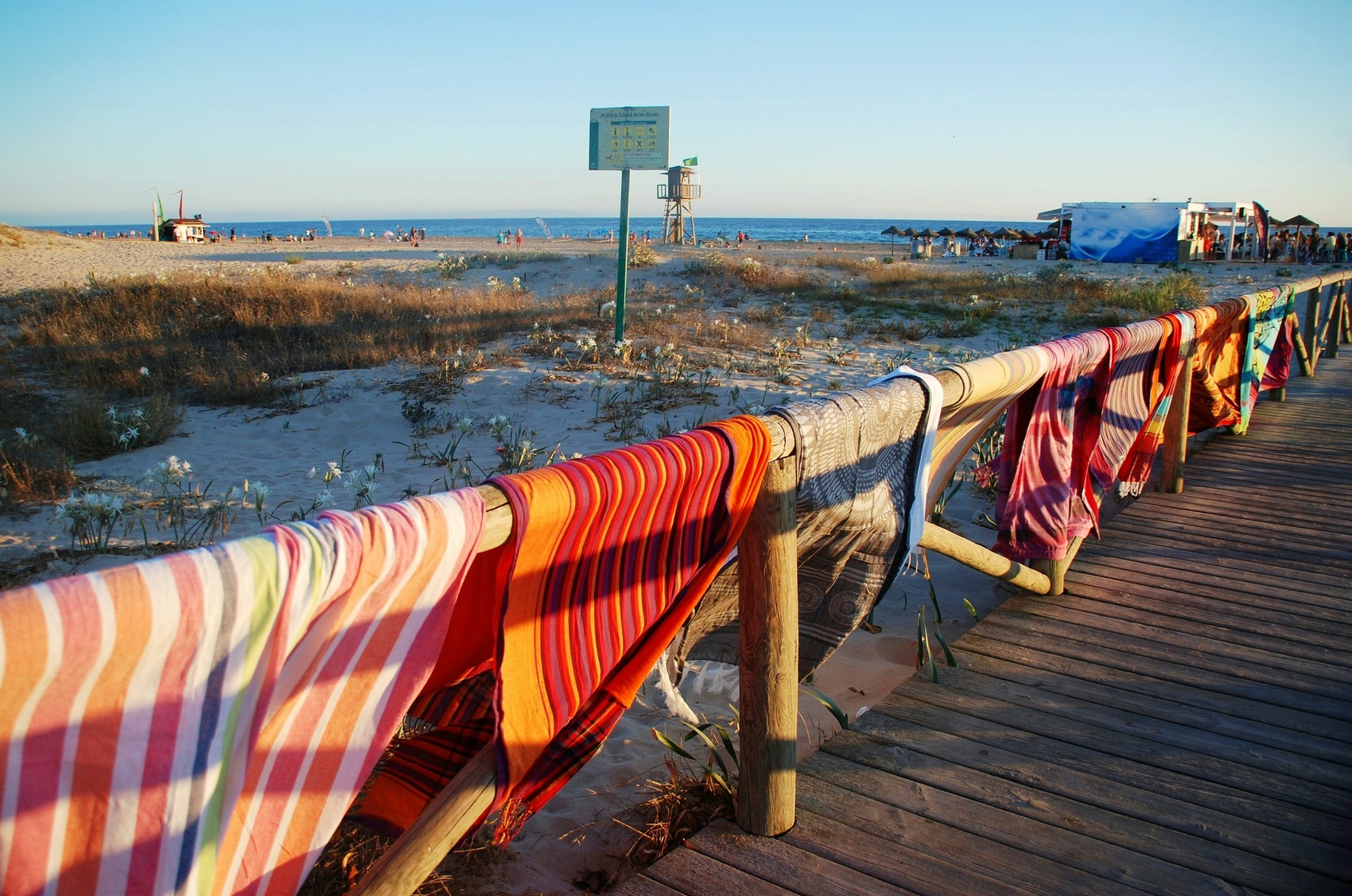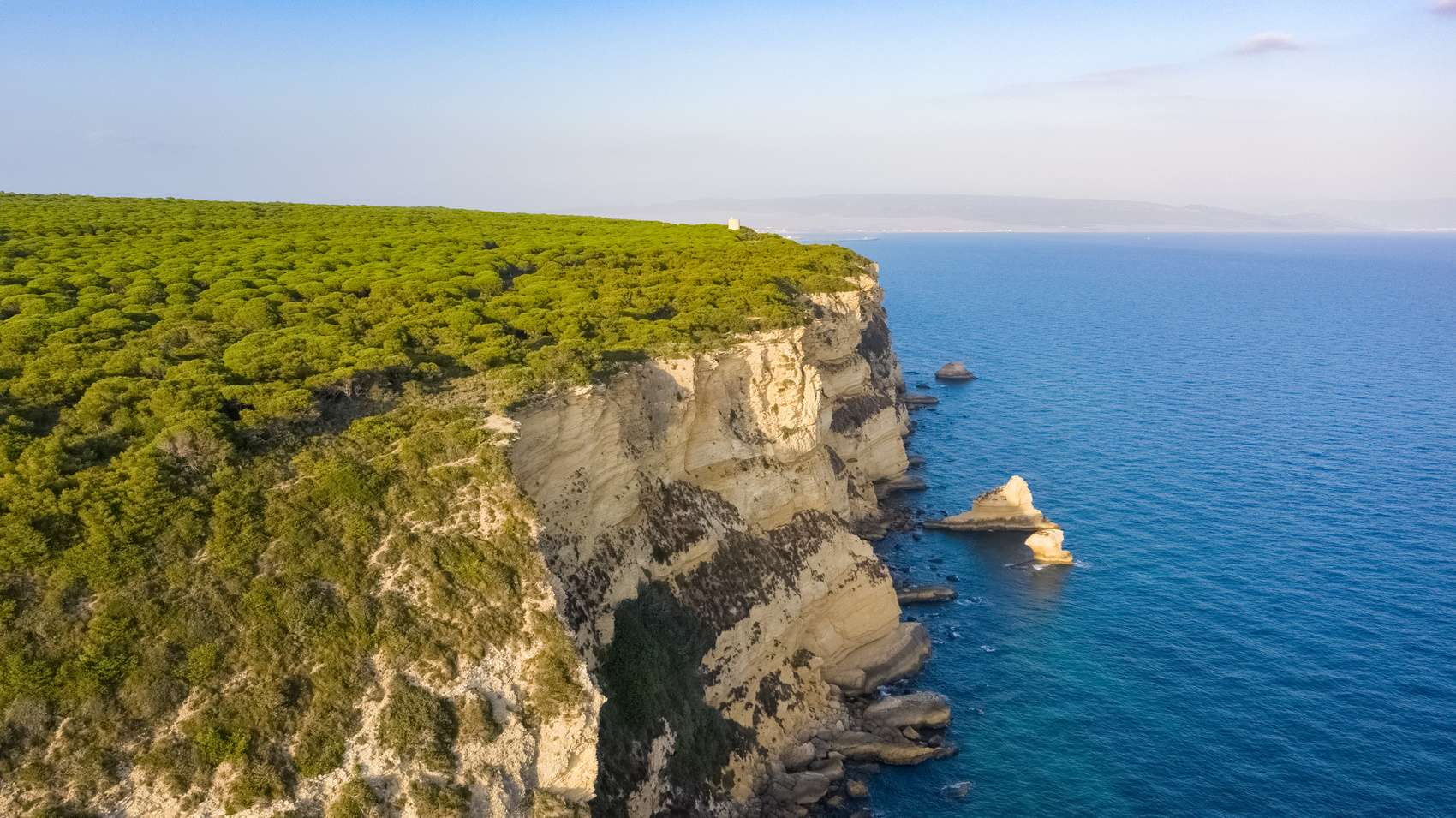 Where to eat
The most iconic and representative dish of Zahara de los Atunes is "tuna with onions". A mouthful full of flavour and texture that you can't miss during your visit. Another traditional dish you will find in the local restaurants is "almadraba tuna".
– Ramón Pipi. This is one of the local standard-bearers for fresh fish. As soon as you enter, you will find a large display case with the daily fresh fish available to customers, who can choose the one they like best. Our recommendation is to ask the waiter about the fresh fish and let him recommend it to you, as he is sure not to disappoint!
– El Refugio Restaurant. You can find it right at the foot of Playa del Carmen, so the views are truly marvellous.
– Casa Juanito el Costero. You can find two places: the beer garden (where you can have tapas) and the restaurant. We recommend you book a table, because it is one of the most popular places in Zahara.
– El Campero. A benchmark. With a long tradition of tuna fishing, it offers a variety of creative and exquisite dishes made with almadraba tuna. From sashimi and tartar to grilled dishes and onions, here you can enjoy authentic seafood delicacies.
– La Botica. Located in a renovated former pharmacy, it offers a unique gastronomic experience. Its cuisine is characterised by its creativity and fusion of flavours. You can enjoy innovative dishes that combine local ingredients with international influences. Its careful selection of wines is also worth mentioning.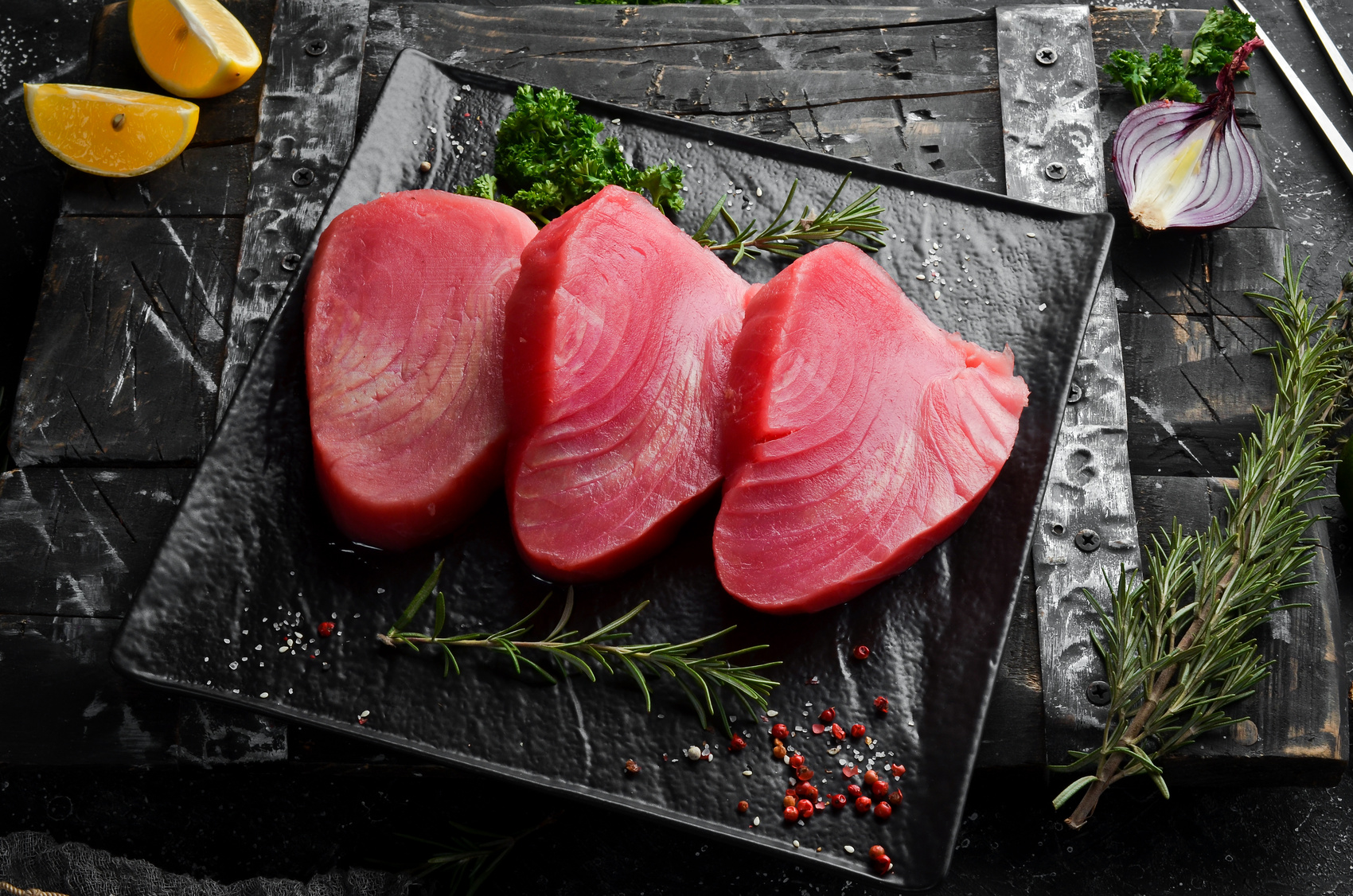 Tarifa: Where the wind blows free
Our route takes us south to the vibrant town of Tarifa, famous for being one of the best water sports destinations in Europe. Windsurfers and kitesurfers find ideal conditions in Tarifa thanks to the constant winds that blow in the area. Its constant winds and wide beaches attract adrenaline lovers from all over the world, making it a true paradise for sportsmen and nature lovers.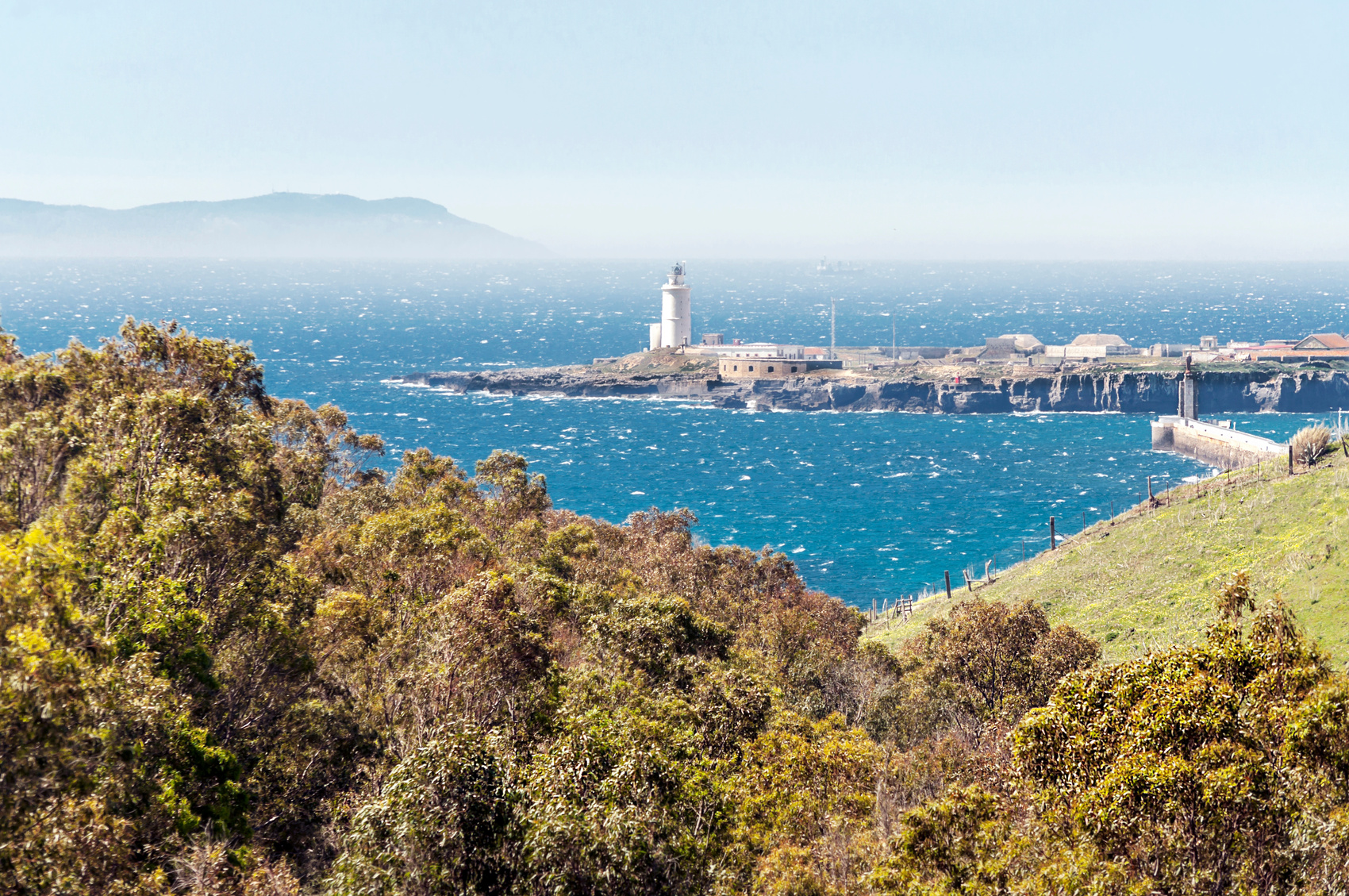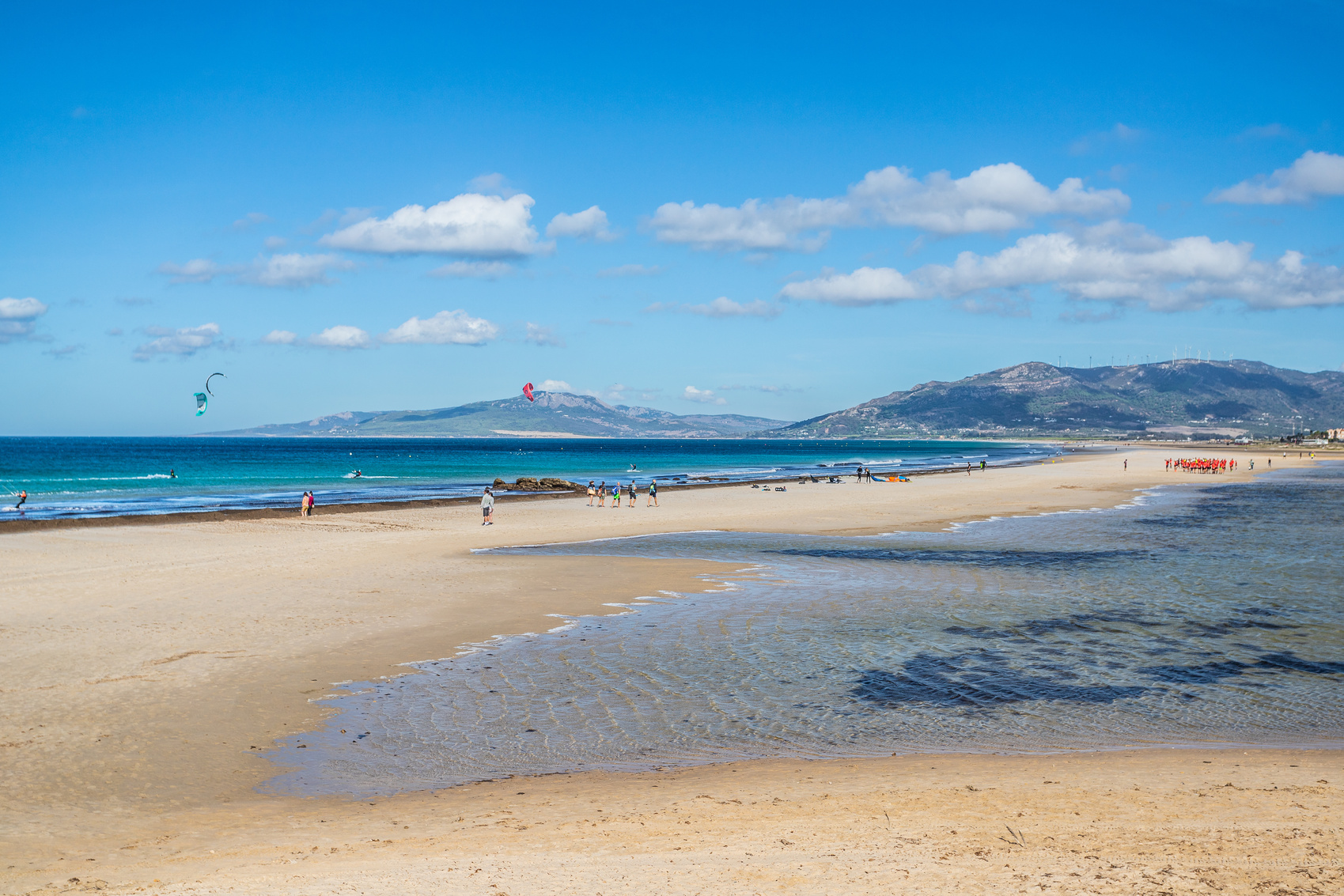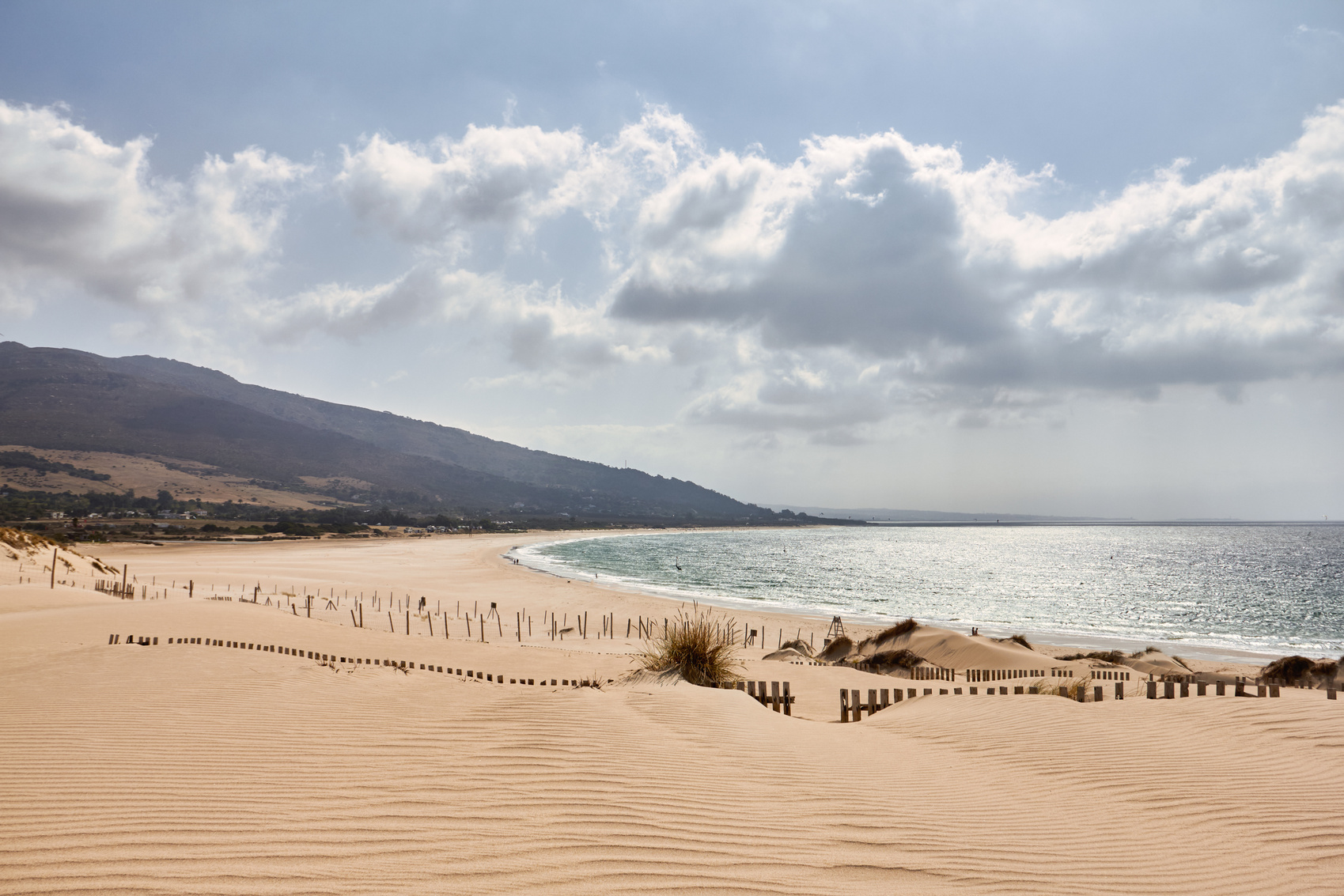 The beaches of Los Lances and Valdevaqueros are especially popular with surfers and kitesurfers, offering stunning scenery and perfect conditions to enjoy these exciting activities.
It is a destination that captivates travellers with its bohemian charm, dreamy beaches and adventurous spirit.
Where to eat
Tarifa's gastronomy is another of its attractions. The restaurants and beach bars along the beach offer delicious seafood and fresh fish dishes, as well as tapas and typical dishes of the region.
– Raízes. The perfect option to enjoy signature cuisine prepared with quality products, a cuisine made with love and an unbeatable service and presentation.
– Bar El Francés. Located right in the centre, it is one of the restaurants in Tarifa with the most tradition and tradition as well as being one of the most recommended, so it is always full and it is highly recommended to book in advance if you want to ensure a table.
– La Favela. Known for its atmosphere and decoration as well as its cuisine, where good produce and good cooking are the main ingredients.
– La Venta del Tito. On the outskirts of Tarifa, an idyllic place to enjoy good food. Its menu includes a combination of Mediterranean dishes with typical local products and a grill where you can taste local meats.
– Otero Restaurant. Specialising in traditional Andalusian cuisine, it will take you on a journey of authentic flavours. Enjoy an authentic gastronomic experience in a cosy and familiar atmosphere.
– Surla: They offer sustainable gastronomy that respects the environment and promotes responsible food production.
– Silos 19: With a fusion cuisine combining excellent local ingredients and dishes with international influences.
Tarifa's beach bars are a non-stop classic. Places where you will spend a large part of the day during the summer season due to their pleasant facilities, proximity to the sea, gastronomic and leisure offer. And in the evening sunset and concerts. The sarong is your best ally. We recommend some places you shouldn't miss, such as El Arte y Vida, Afrikana Beach Bar, Hurricane, Gaia Beach Club, Carbones 13, BIBO Beach Club by Dani García…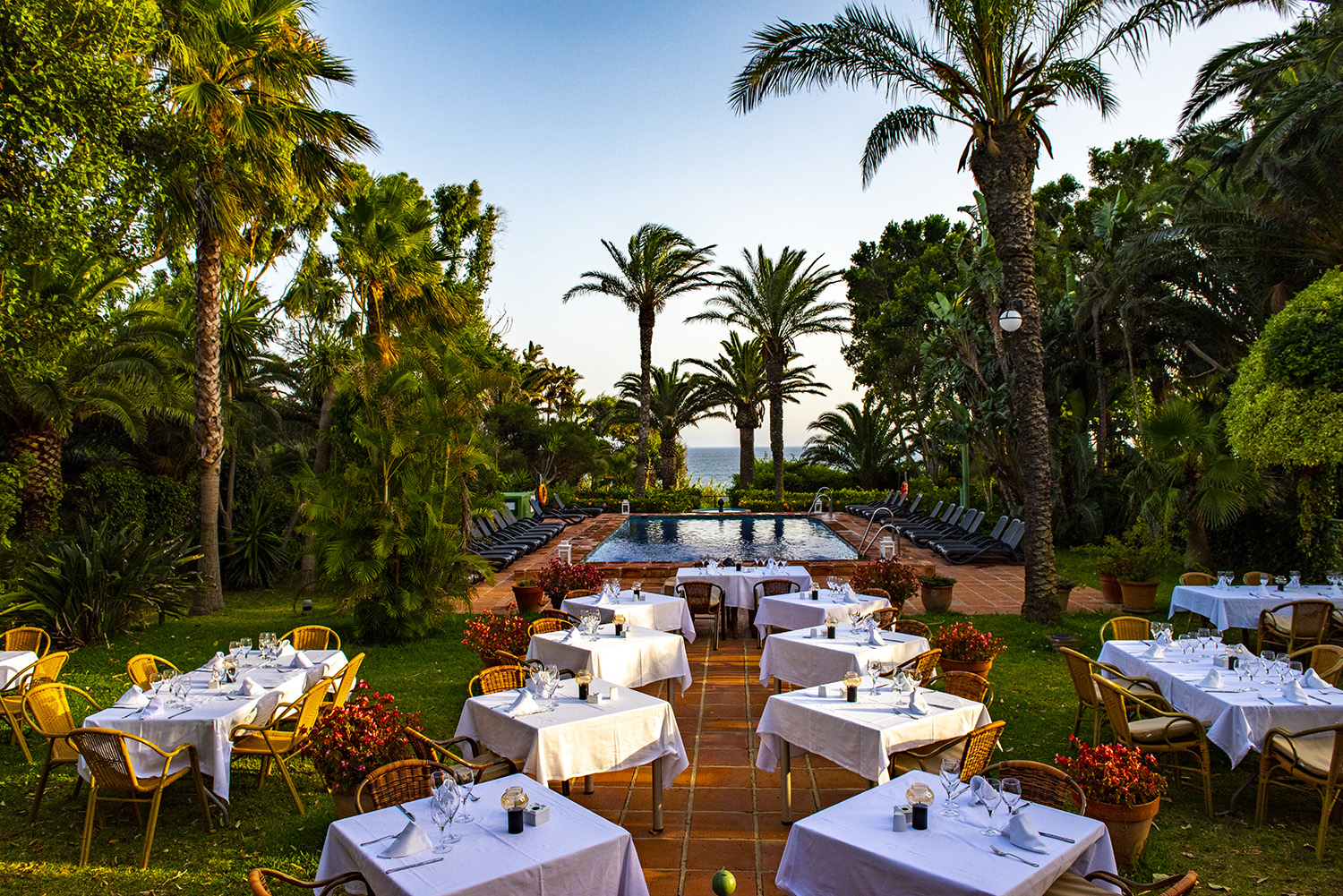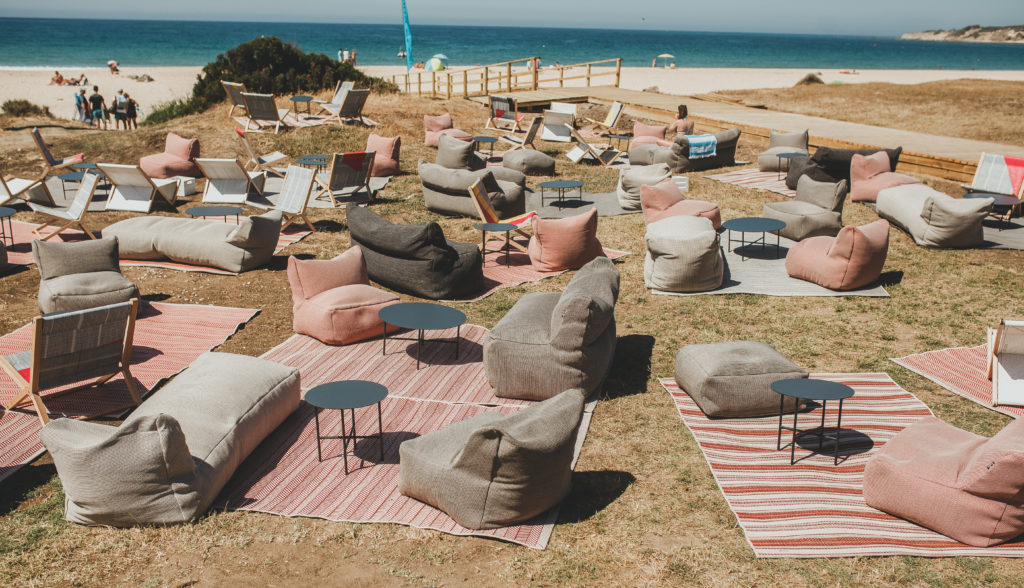 Sanlúcar de Barrameda: the seafaring essence of the coast of Cádiz
One of the main attractions is its old town, which preserves its traditional charm. Its cobbled streets, welcoming squares and historic buildings bear witness to its rich and diverse past. The Plaza del Cabildo, with the church of Nuestra Señora de la O as a backdrop, is one of the landmarks of the historic centre.
Sanlúcar's architectural heritage is impressive. Of particular note is the Ducal Palace of Medina Sidonia, an imposing Renaissance mansion that now houses the Archive of the Ducal Household. Other places of interest are the Castle of Santiago, a medieval fortress located at the mouth of the Guadalquivir River, and the Gothic-Mudejar style Church of Santo Domingo.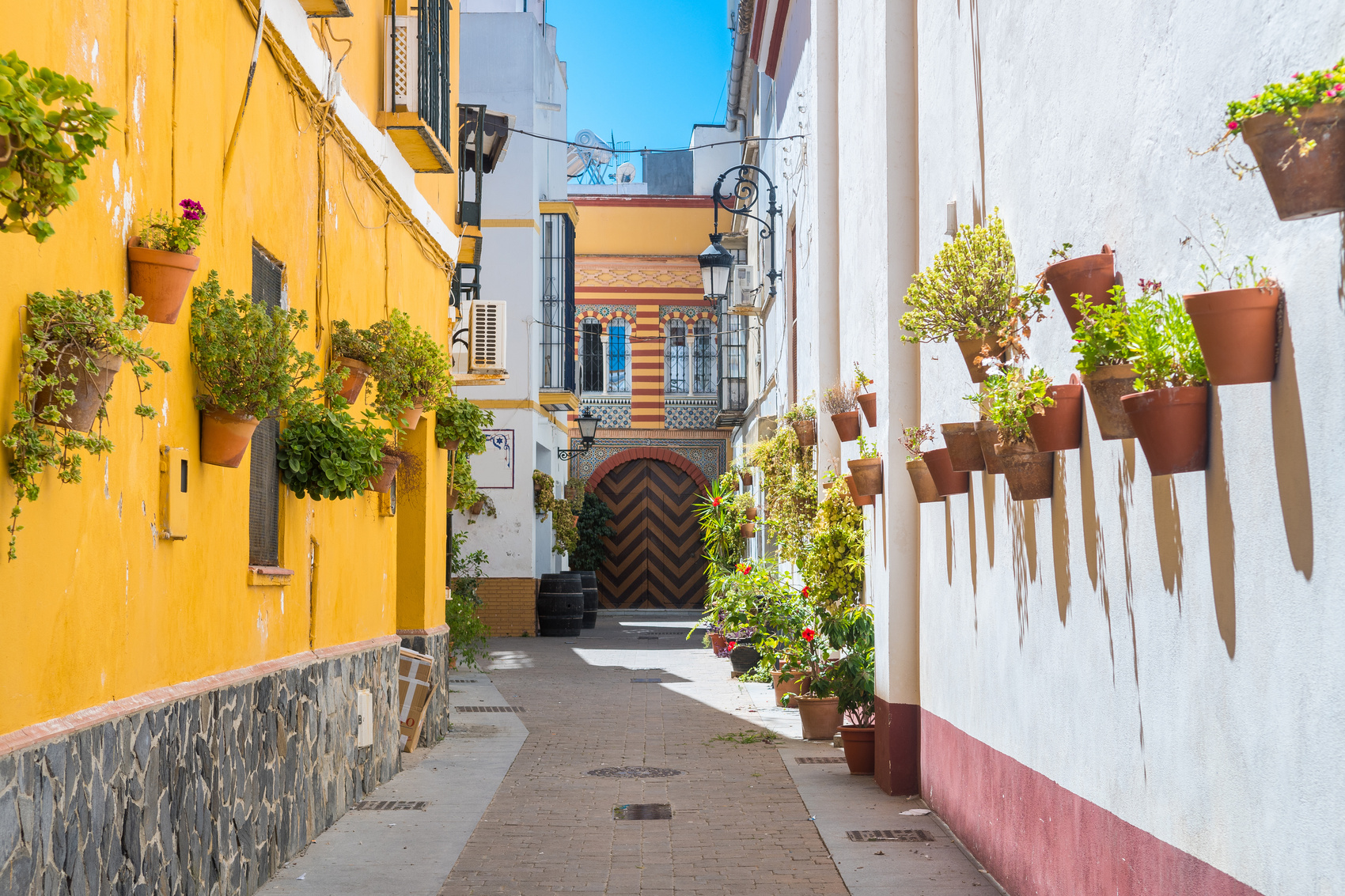 Sanlúcar's beaches are another outstanding attraction. The long golden sandy beaches, such as Playa de la Calzada and Playa de Bajo de Guía, offer a relaxing environment in which to enjoy the sun and sea. The town also has a marina, from where you can take boat trips on the Guadalquivir River.
Sanlúcar de Barrameda is also famous for its traditional horse race on the beach. Every summer, in August, this unique event is held in which the jockeys compete on the sand while the public enjoys the spectacle.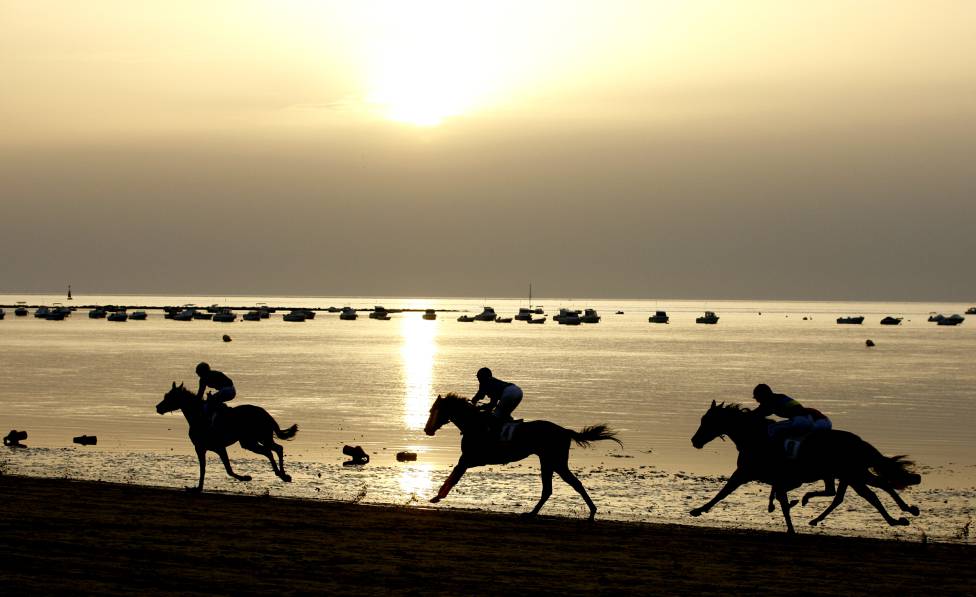 Jerez de la Frontera is world renowned for its famous sherry wine. Known as one of the oldest and most appreciated wines in Spain, sherry is a true oenological jewel. In addition to its wine, Jerez is also famous for its flamenco culture and its equestrian tradition, where Andalusian horses and dressage are the main protagonists. Its cobbled streets and beautiful historic architecture invite visitors to immerse themselves in the authenticity of Andalusian culture.
The immense cultural offer is enriched by the aromas of the regional gastronomy, in which the Denomination of Origin Jerez-Xérès-Sherry Manzanilla-Sanlúcar de Barrameda stands out.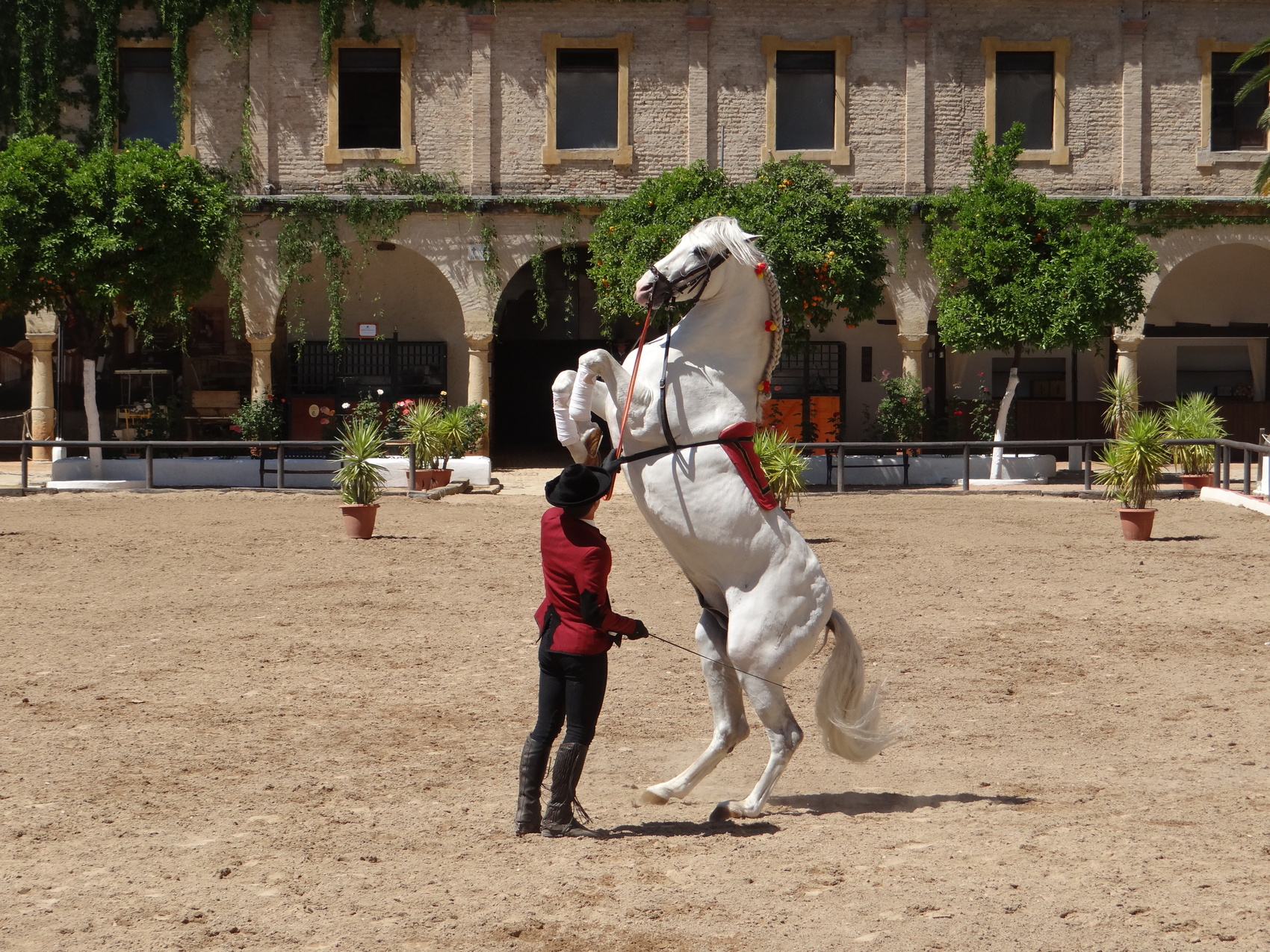 Doñana, declared a National Park and Biosphere Reserve, is a unique ecosystem that encompasses a wide diversity of landscapes, from virgin beaches to marshes and forests. This natural wealth has a direct impact on the local gastronomy of Sanlúcar de Barrameda, as Doñana's native products are used prominently in the region's cuisine.
Where to eat
It is famous for its gastronomy, especially for its fresh seafood and fish. The prawns of Sanlúcar are highly prized. The city is also known for its specific climate and degree of humidity, which makes it possible to produce a unique wine in the world which is manzanilla; a dry and light white wine produced in the region. The town's bars and restaurants are the perfect place to sample these local delicacies.
Excellent options include Casa Bigote overlooking the Doñana beach, Casa Balbino in the Plaza del Cabildo, El Comunista in the Barrio Alto, the oldest part of Sanlúcar where you can enjoy authentic taverns with spontaneous flamenco, such as the bar El Manicomio. It is interesting to visit one of its famous bobegas and do a tasting. Barbadillo is one of the oldest and best known.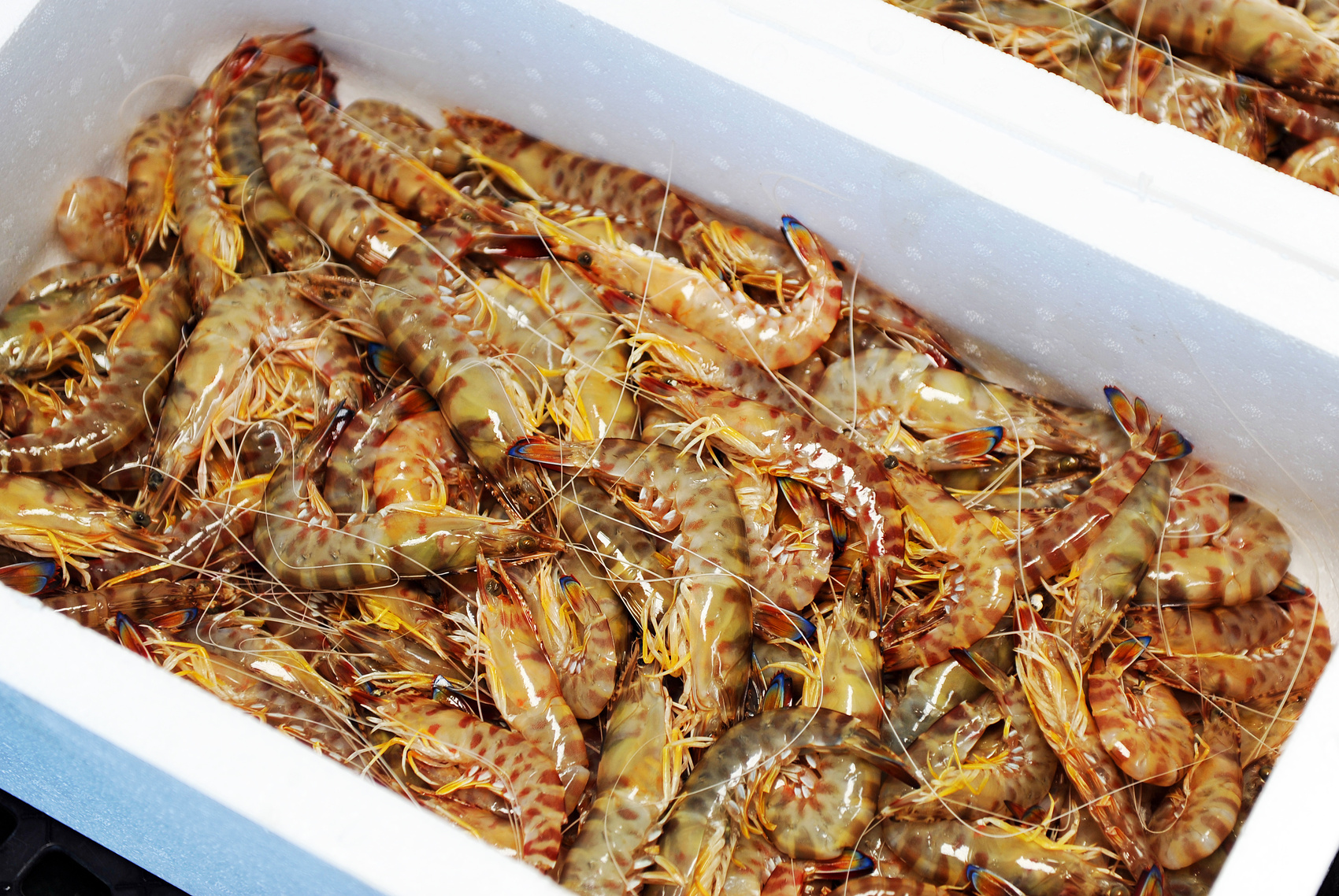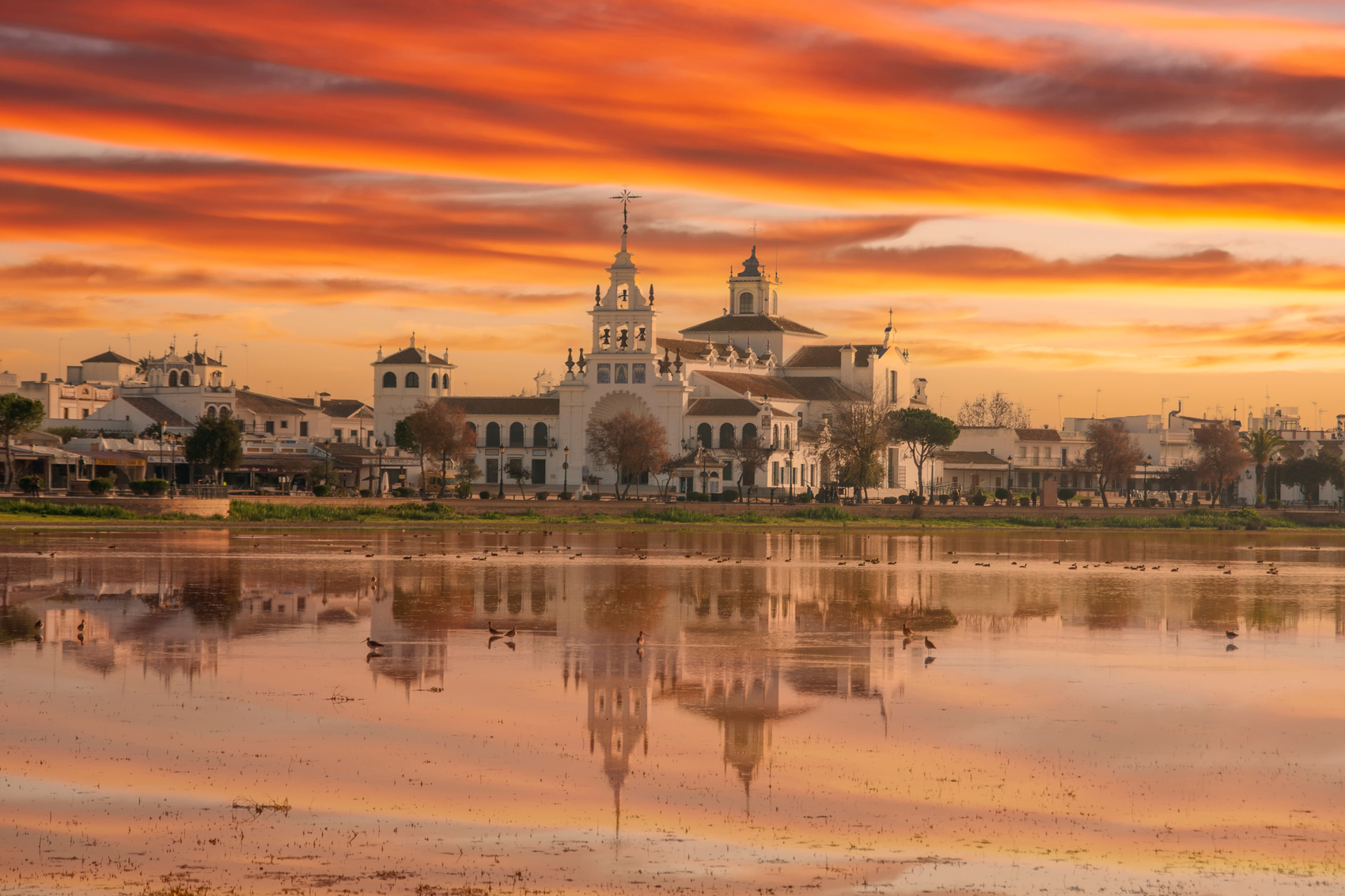 The charm of inland Cádiz
Beyond its famous coastline, the province of Cádiz is home to an inland area full of charm and natural attractions that deserve to be explored. The interior of Cádiz offers a unique and fascinating experience for travellers seeking to explore its lands.
One outstanding destination is the Alcornocales Natural Park, a place of great ecological importance and natural beauty. This park is home to one of the largest cork oak forests in Europe and offers a variety of trails and routes to explore. Here, nature lovers can enjoy bird watching, outdoor activities and immerse themselves in an environment of tranquillity and serenity.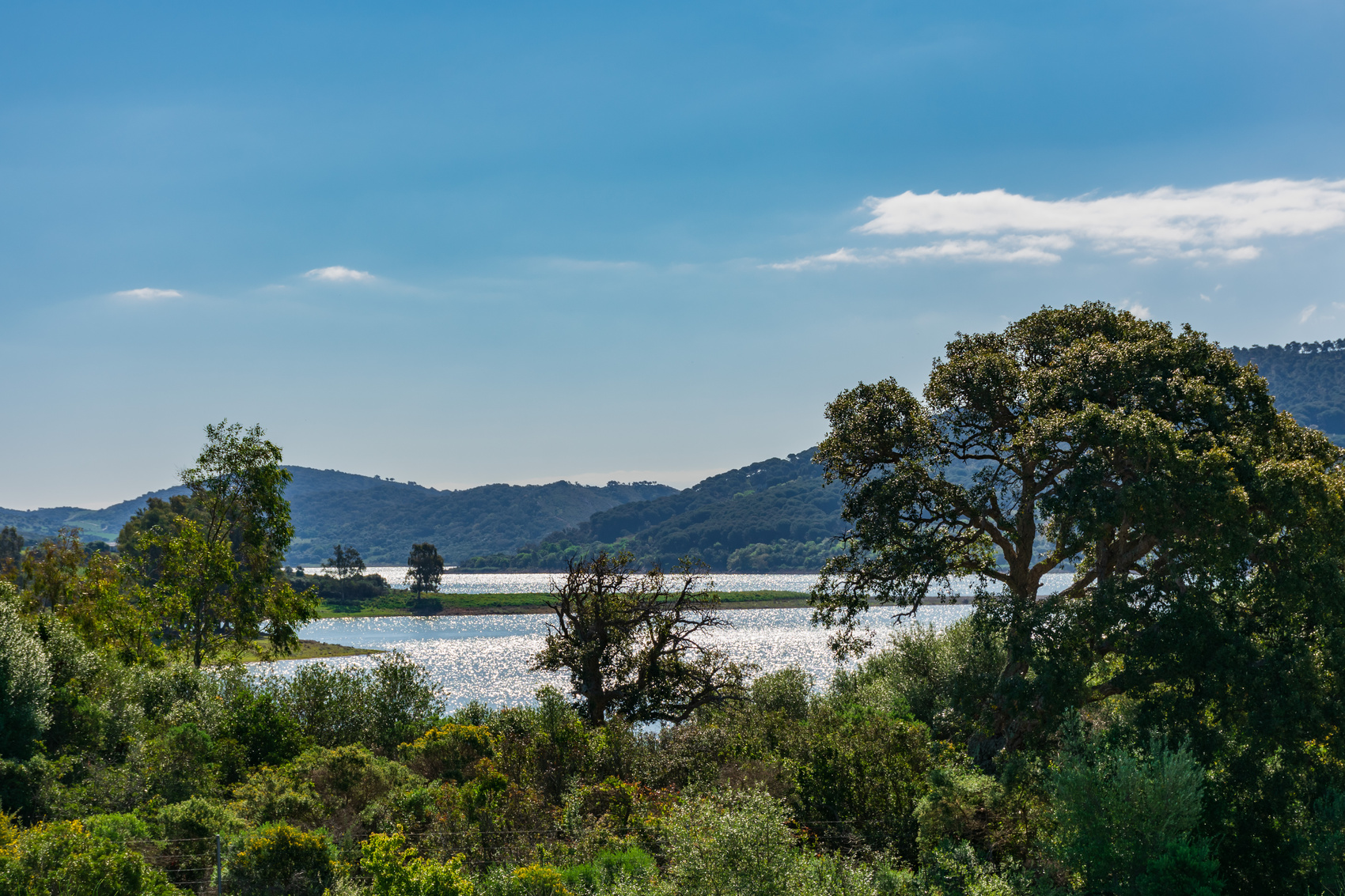 Located in the heart of the Alcornocales Natural Park, Alcalá de los Gazules is a paradise for nature lovers and hikers. Its surroundings offer a wide variety of routes and trails that allow you to explore the mountainous landscape, cork oak forests and crystal-clear rivers. The Mirador del Tajo del Águila viewpoint is a highlight, from where you can enjoy breathtaking panoramic views.
The Baroque church of San Jorge is one of the most outstanding monuments in the village and is well worth a visit. You should also take a stroll around the Plaza Alta and Plaza Baja, where you will find bars and restaurants where you can enjoy the local gastronomy.
You should not miss Grazalema, located in the heart of the Sierra de Grazalema Natural Park. This village is known for being one of the rainiest in Spain. Its typical Andalusian architecture, cobbled streets and natural surroundings make it an ideal place for hiking and nature lovers.

Known as the balcony of the province of Cadiz, Medina Sidonia offers stunning panoramic views of the countryside and the coast. Its old town has a rich history and its gastronomy is famous for its sweets and traditional dishes. It is full of narrow, cobbled streets that invite you to lose yourself in its historic charm. As you stroll through its streets, you'll discover whitewashed houses with beautiful wrought-iron gates and balconies. The Plaza de España is the heart of the town and the perfect place to enjoy the lively local life.
One of Medina Sidonia's greatest attractions is its historical heritage. The Castle of Medina Sidonia, built in the 13th century, dominates the town from above and offers exceptional panoramic views. The Gothic-Mudejar Church of Santa María la Coronada is another outstanding monument worth a visit.
Where to sleep
To sleep, we suggest our villa, a country house surrounded by nature designed for enjoyment and disconnection. It offers breathtaking views of the horizon and landscapes, and its construction, far from any other, guarantees privacy and tranquillity.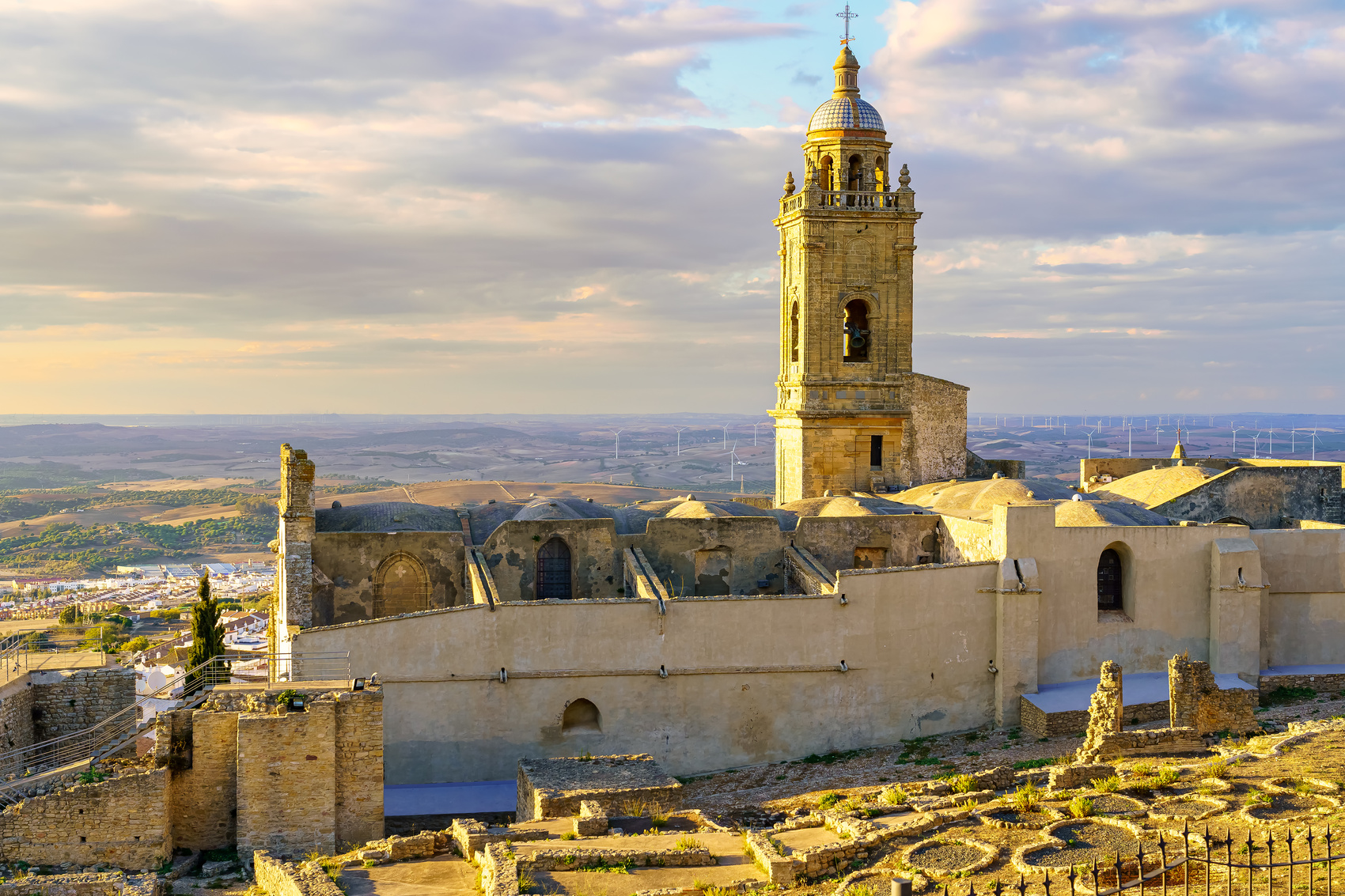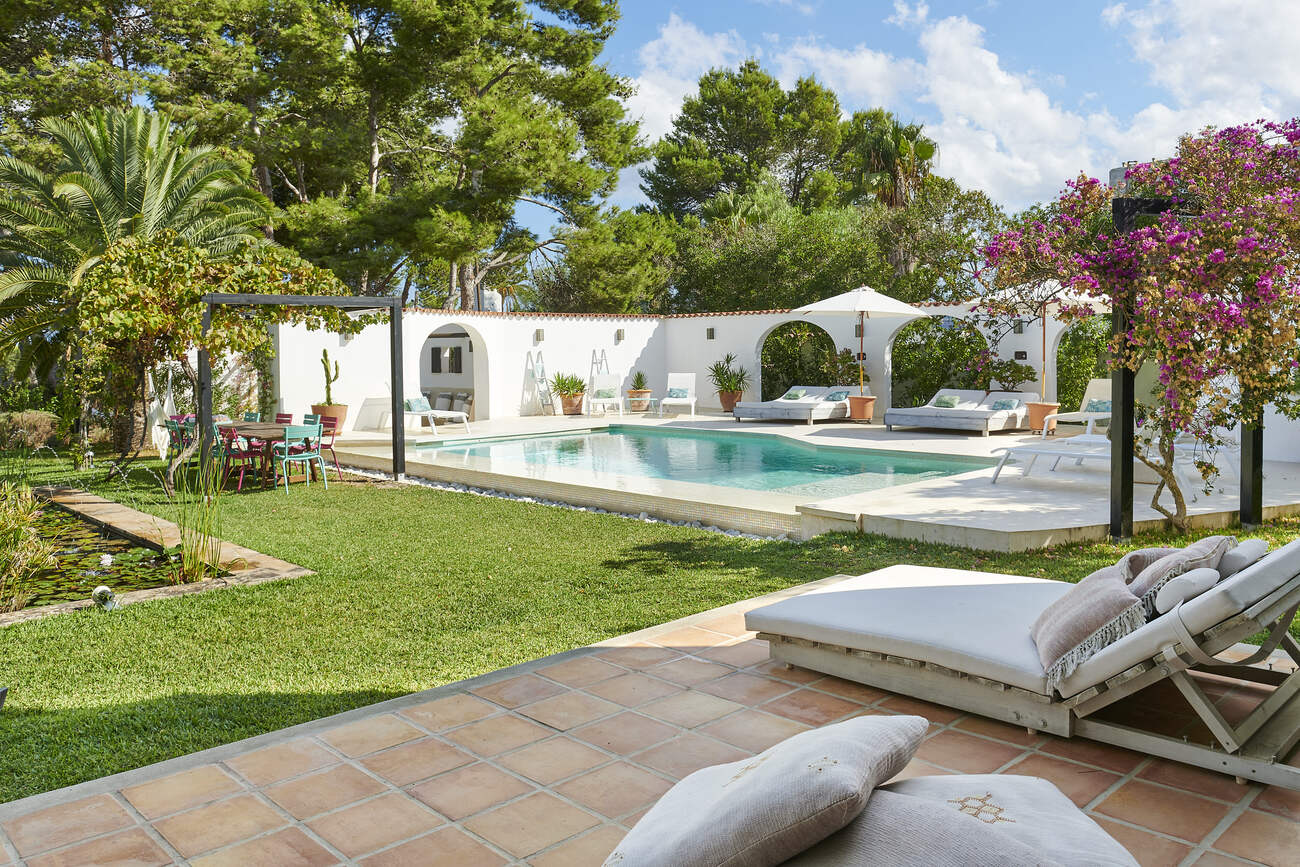 Located in the heart of the Alcornocales Natural Park, Ubrique is known for its tradition in leather goods and leather production. A stroll through its streets will allow you to discover craft workshops and enjoy its peaceful and friendly atmosphere.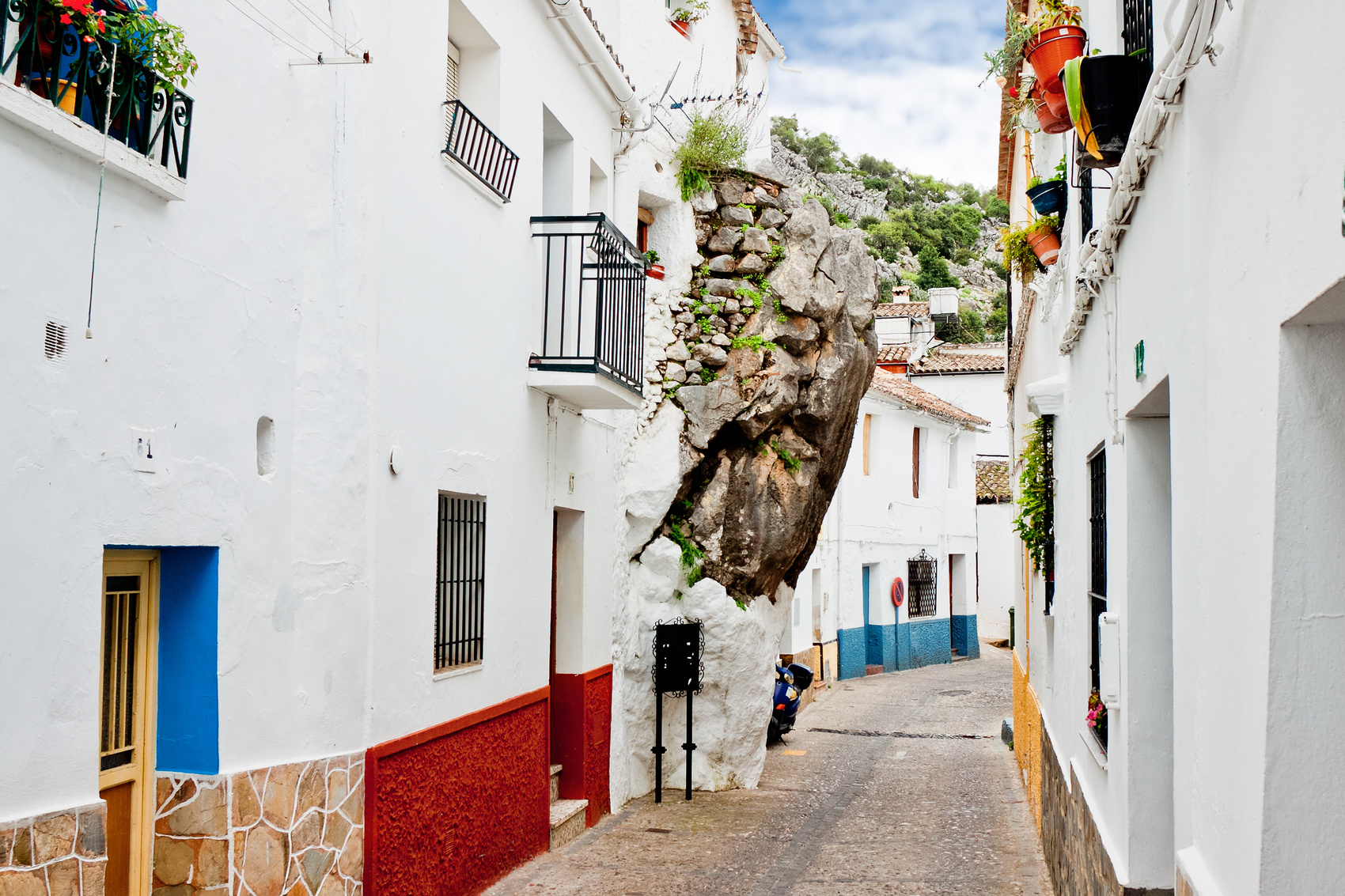 The Castellar Castle is an impressive fortress located in the village of Castellar de la Frontera. It is located on top of a hill and offers spectacular panoramic views of the surrounding area.
It was built during the period of Arab domination and played a strategic role in the defence of the area. Over the centuries, it has undergone several architectural transformations and has witnessed important historical events. Today, it has been restored and converted into a charming medieval village. Its cobbled streets and white houses create a picturesque and captivating atmosphere. Strolling through its narrow streets and discovering its nooks and crannies is like stepping back in time and immersing yourself in history.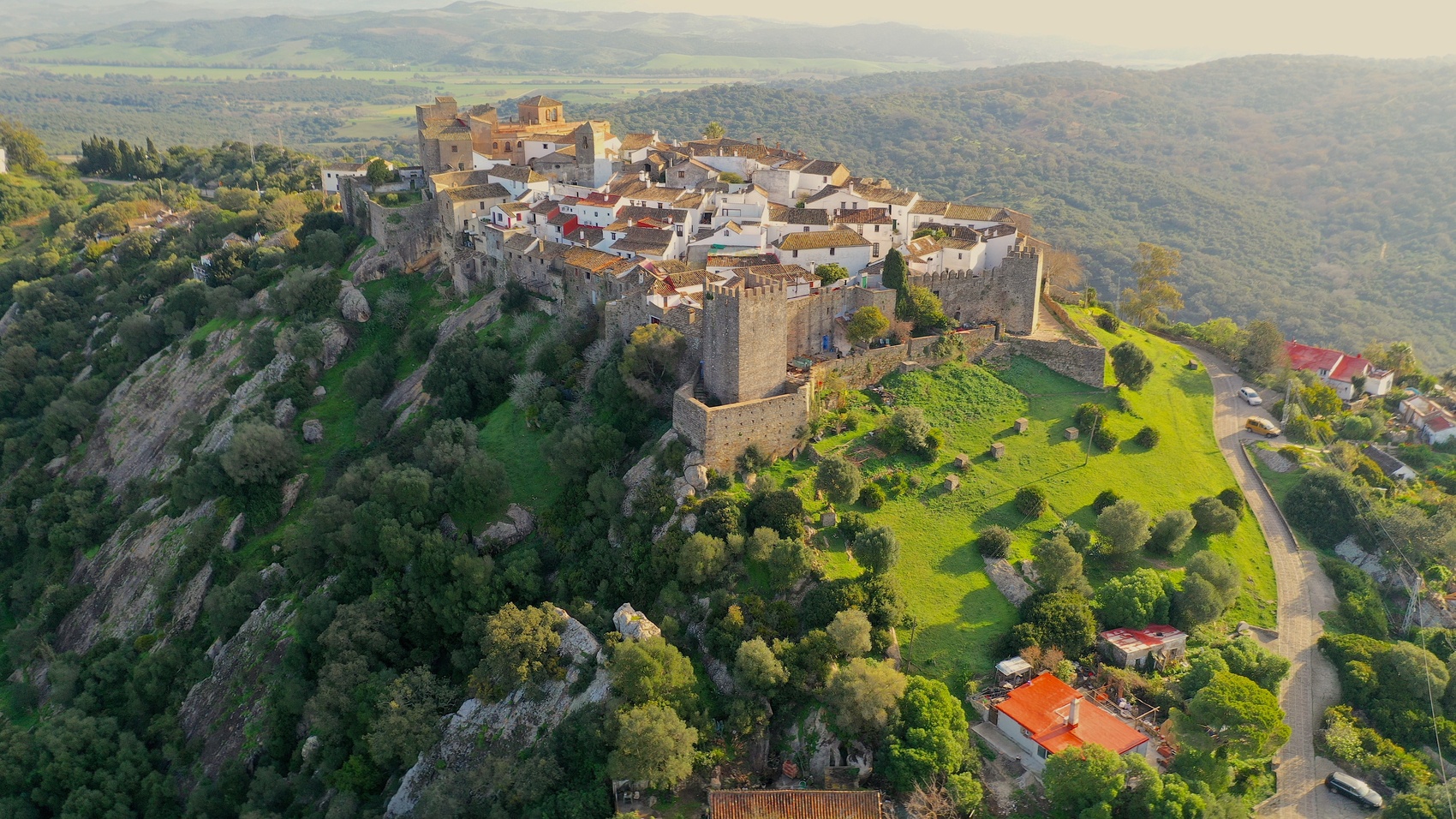 In short, the province of Cadiz is a destination that has it all: history, culture, gastronomy, nature and fun. Every visit to this region is an opportunity to discover its hidden treasures, immerse yourself in its rich history and let yourself be carried away by its charm. Cadiz awaits you with open arms, ready to surprise you and make you fall in love with its magic.