Escape to the spanish Serengueti: Cabañeros National Park
Autumn getaway: Pure nature and the comfort of an exclusive private estate
With the arrival of the first autumn rains we start to think about escapes to the countryside, walks, excursions, home-made seasonal gastronomy, gatherings next to big fireplaces, the smell of holm oak wood, wet earth…
If you are planning to organise a getaway to nature with friends and family, we propose a perfect destination that will provide you with rest, comfort, fun, as well as a more than educational experience, especially if you are travelling with children, who will love to get to know one of the most important protected areas in our country, the Cabañeros National Park, located in the Montes de Toledo, in the province of Castilla-La Mancha.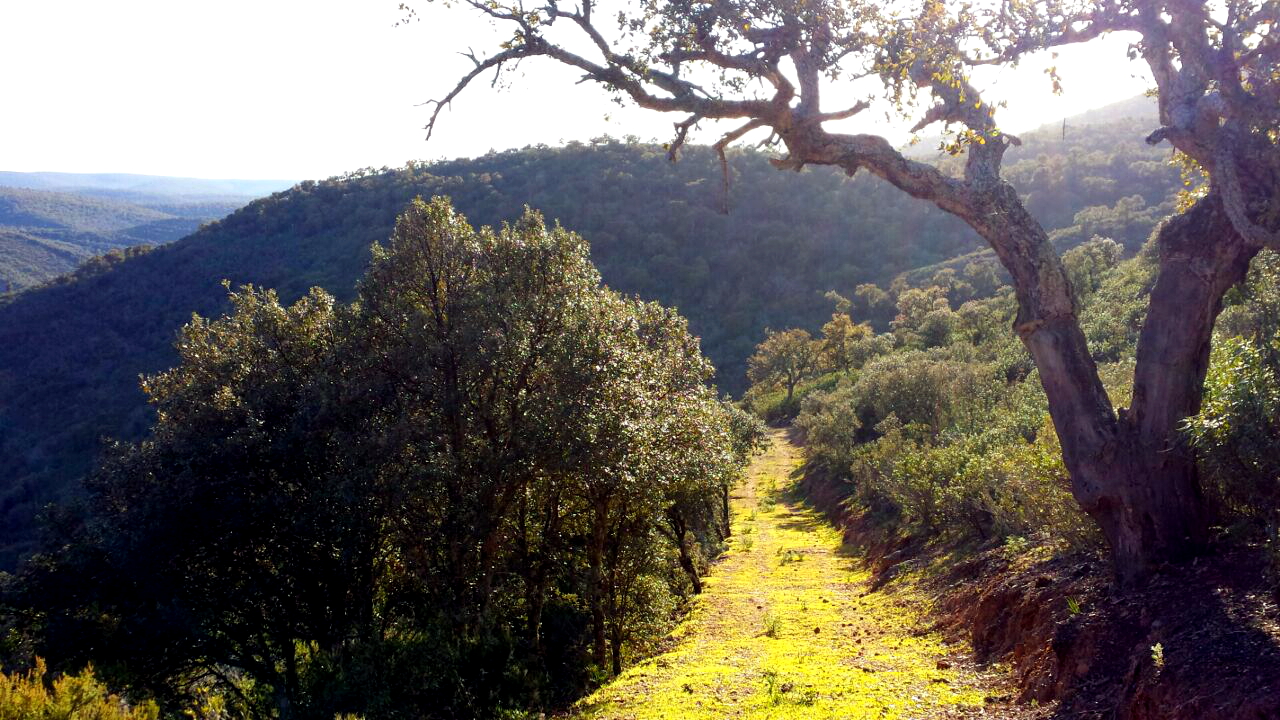 Photograph: Cabañeros National Park
It is the representative of the natural systems linked to the Mediterranean mountain and a place of geological interest that in 1995 was catalogued as a National Park. It has a large number of endemic species and others from different periods thanks to the orography of the terrain, which allows other non-native species to grow in wetter areas. Next to streams we can find redoubts of subtropical vegetation more than 70 million years old such as ferns or from the last glaciation such as birch and yew trees. In Cabañeros we can appreciate the past of the Iberian Peninsula, which today has become a refuge for endangered species.
Young and old alike will be able to enjoy this spectacular park, covering some 45,000 hectares, where we can take a guided 4×4 route and get to know all its peculiarities. During this walk we will see some of the most representative species of this National Park, such as the large birds of prey, like the Iberian imperial eagle, the black stork, or the black vulture, mammals such as deer, roe deer or wild boar among other species, and a rich flora with a great variety of trees and bushes typical of the Mediterranean forest and a wide range of microclimates, gallery forests, trap woods, bohonales, or redoubts of Atlantic forests of great botanical interest thanks to being spaces unaltered by the hand of man. Nature in all its splendour.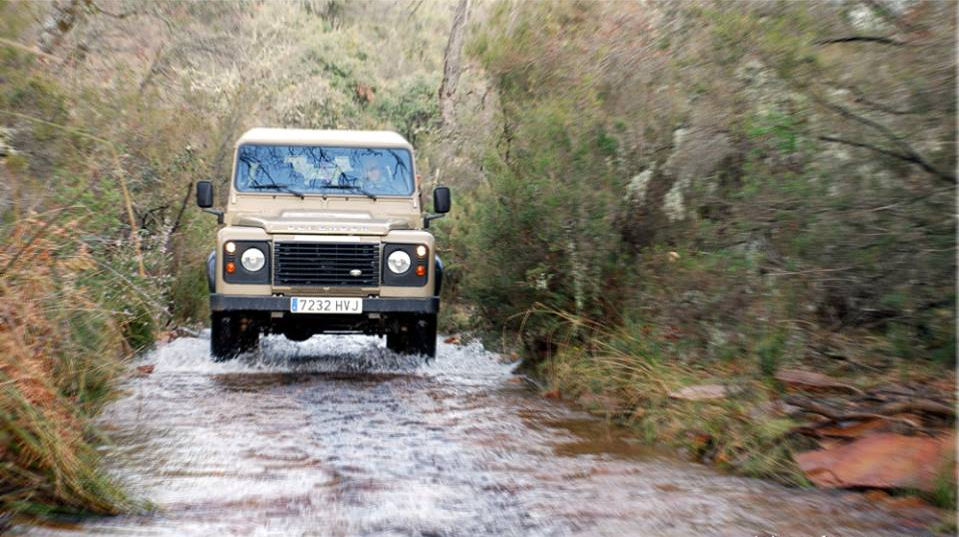 Photo: Cabañeros National Park
The park is home to the second most important breeding colony of black vultures in the world, only surpassed by the Monfragüe National Park.
Throughout the four seasons we will see different species.
The golden grass of autumn gives way to the unique courtship, the "berrea" (the sound of the males chasing away rivals).
We will be able to appreciate the rutting especially in the area of La Raña. October is the ideal month to see this natural phenomenon that attracts many visitors every year. Autumn is the highlight of the park, and as we enter it we can see lynxes, imperial eagles, black vultures and large 500-year-old cork oaks in all their splendour. Moving further into winter we will see the arrival of the cranes, which begin in October, and then in the most mountainous part of the park we can see mountain goats and spectacular panoramic views. The birds we see in winter come from northern Europe to hibernate, and can come from Finland, Greenland and Sweden.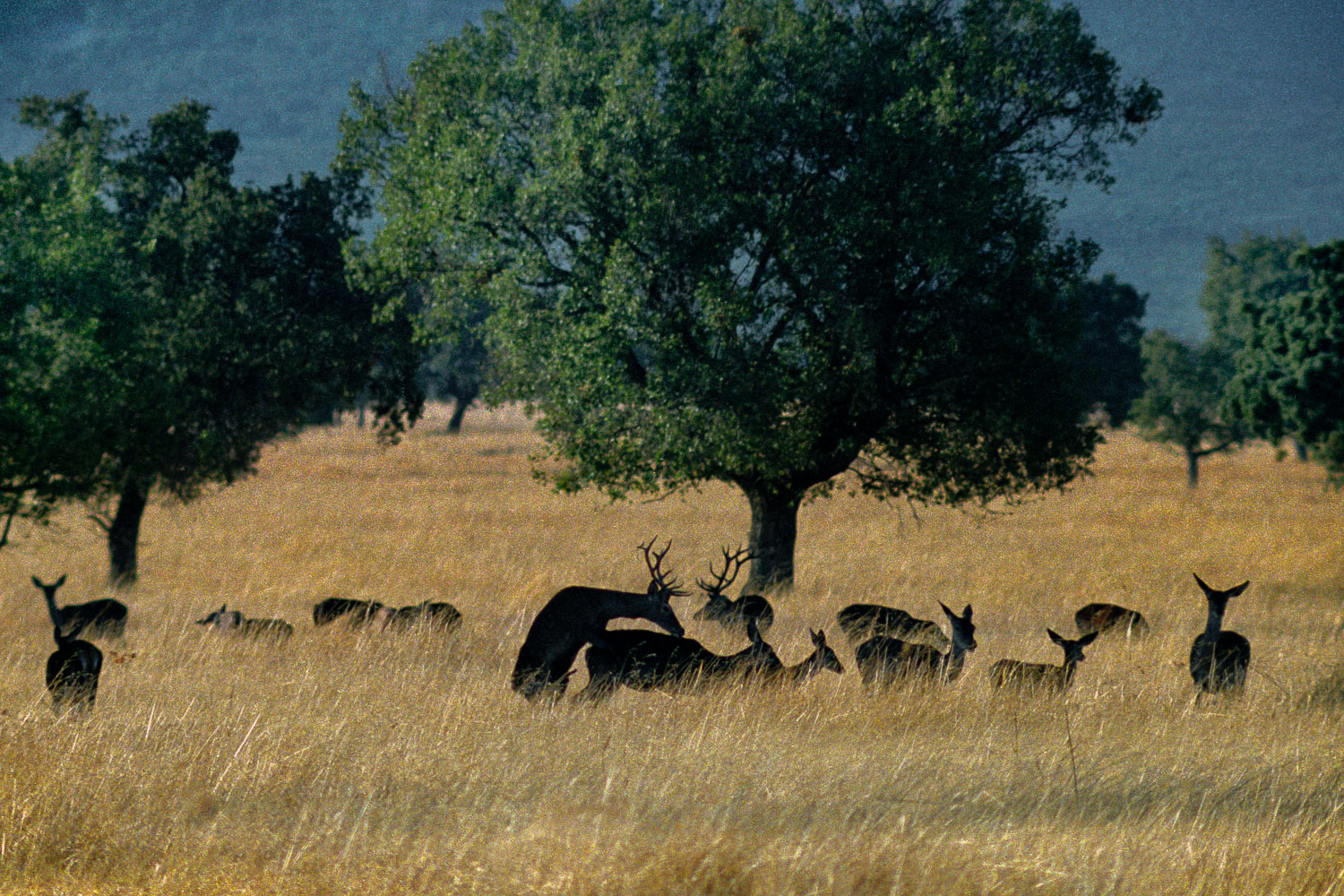 Photo: Cabañeros National Park
If you like nature the plan is more than appetizing but if we also stay in a private estate located in a privileged hunting enclave at the gates of the park even better for this immersion in nature. To do so, we will enter this exclusive private estate of 2100 hectares.
The main house, a unique building from the beginning of the 20th century, looks even older as it was built with parts of an old 16th century monastery in Valladolid.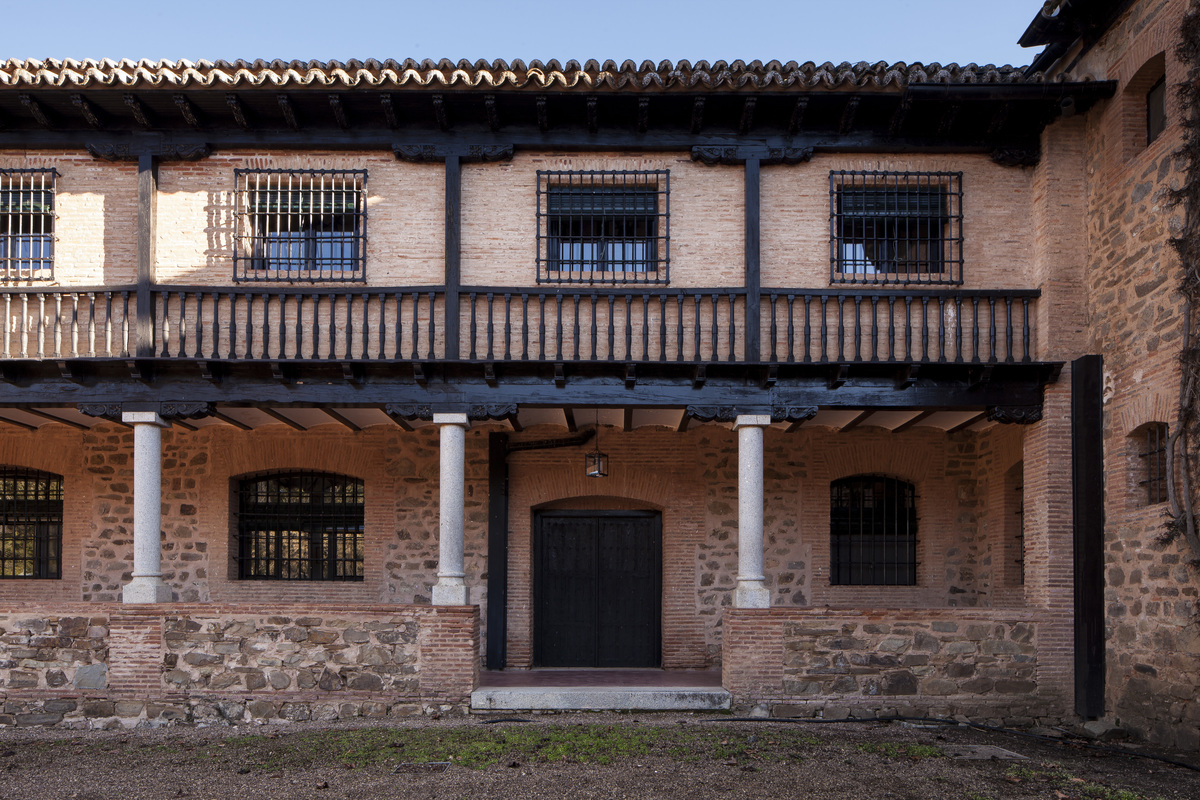 The six-hectare manicured French garden welcomes us, surrounded by numerous sports facilities that will delight all guests.
Once inside, this noble house surprises us once again. A cosy family house with a strong hunting tradition, lived in each of its corners and designed for group enjoyment, being able to accommodate up to 30 people during the winter season. Comfortable rooms for adults and fun options for children, as some of them have several beds and even bunk beds. Inside the house there is a cinema room, plenty of board games for everyone and large fireplaces that will hypnotise you at night.
The finca offers a daily cleaning service and will arrange homemade menus for your entire stay, which is an advantage for group getaways.  The ideal plan is to arrive in the afternoon and if it is still daylight, take a stroll around the estate, before the delicious homemade buffet dinner prepared by the estate. In the evening, cinema, games or gatherings by the fireplaces.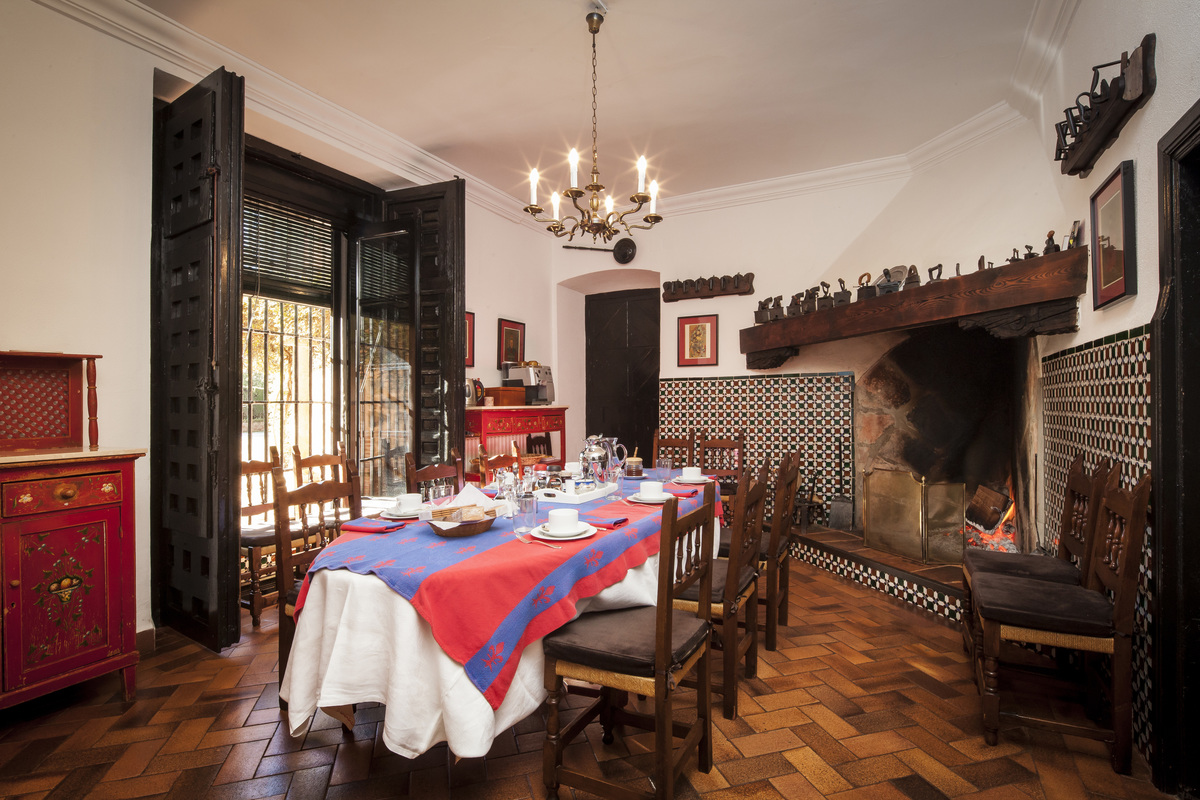 We got up early, not forgetting to have a hearty country breakfast, which included some delicious migas with eggs, and then we set off to visit the park in a 4×4. The trip takes about three hours.
We can return to the house to continue enjoying typical dishes of the area, game stews and casseroles, pisto manchego, or tasting mushrooms that at this time of year, thanks to the humidity accumulated in the ground, will gradually give rise to the appearance of chanterelles, macro lepiotas, amanitas or boletus among others, which sprout everywhere among the leaves and wood stumps. This phenomenon is well known by the inhabitants of the nearby villages. After lunch we can leave the afternoon free for contemplation or practice sports in groups, organising gymkhanas or even paintball. The children will enjoy the many entertainments in the house: football pitch, basketball, ping pong…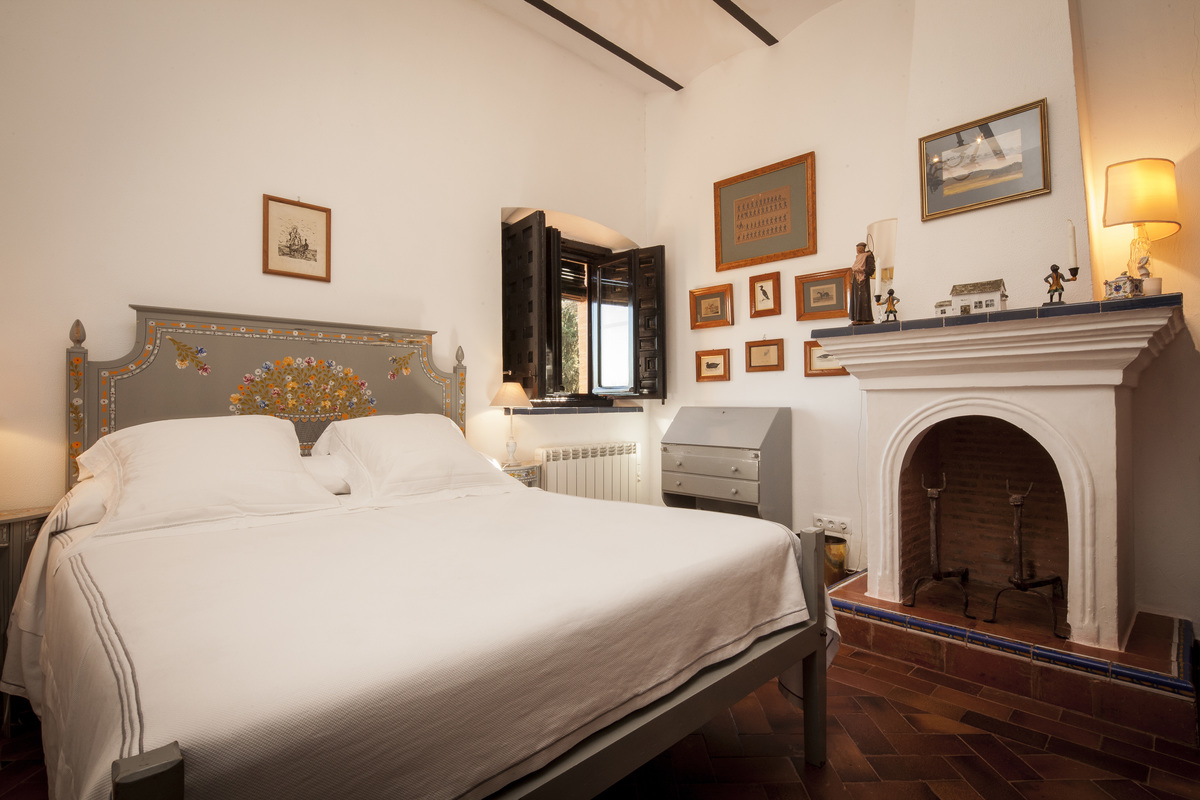 More interesting activities within the park, we can go bird watching with expert guides who will show us from the largest birds of prey in Europe (black vulture, griffon vulture, imperial eagle, short-toed eagle, booted eagle…), as well as steppe birds (sison, great bustard, calandra lark, Montagu's Lark, Montagu's Harrier, Hen Harrier and Montagu's Harrier). ), as well as steppe birds (sison, great bustard, calandra lark, Crested lark, Montagu's harrier, Hen harrier, Montagu's harrier…), wintering and summer birds, a large number of river birds (black stork, grey heron, purple heron, kingfisher… and migratory birds (7000 cranes roosting in Cabañeros…). This is a three-hour activity that can be adapted with a route for photography and ornithology. Lovers of hiking and horse riding will also find special routes that can be guided.
In addition to all these activities, we propose some special activities that will make us live a complete experience, such as watching an exhibition of birds of prey flying inside the farm itself. Hand in hand with authentic falconers we will get to know these spectacular winged predators up close, in the perfect environment, to enjoy their elegant flight in freedom and to learn more about the functioning of ecosystems, through these ambassadors of nature. With birds originating from different regions of our planet and whose presence is fascinating for everyone.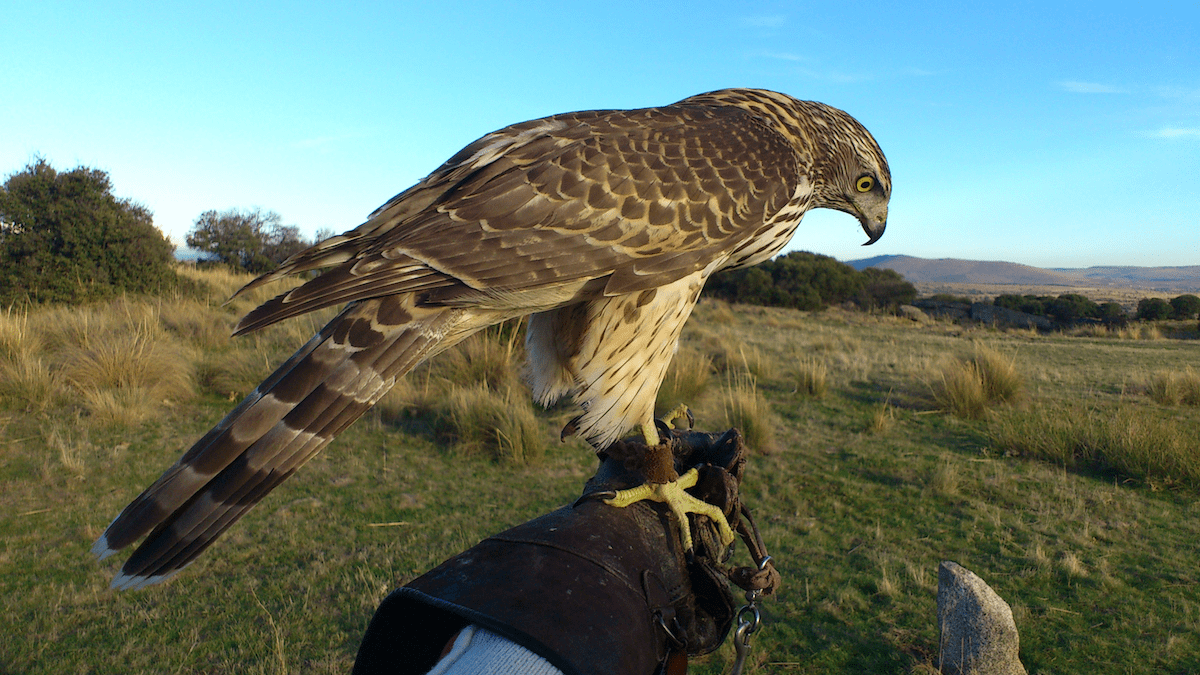 Photography Grupo Aviar
Falconry was declared Intangible Heritage of Humanity by UNESCO, for being one of the oldest traditional hunting methods, selective with hunting prey, non-polluting and respectful with the environment.
One of the world's leading experts, Félix Rodríguez de la Fuente, defined it as "the first time that man did not subject the animal to the yoke and the whip".
And for those who like to contemplate the stars, you can also organise a night-time activity with an astronomer.
As a final touch we propose a hot air balloon ride with departure from the farm itself, ideal if there is a minimum of 12 people in the group who want to enjoy this activity. An exciting trip to appreciate from the air the beauty of the natural terrain in which we find ourselves, at the foot of the majestic Montes de Toledo. Nobody better than Jules Verne, in his novel Five Weeks in a Balloon, could describe the sensation:
"Truly it was a delightful ride, a real cruise on that sea so green, almost transparent, with gentle undulations caused by the blowing of the wind". Jules Verne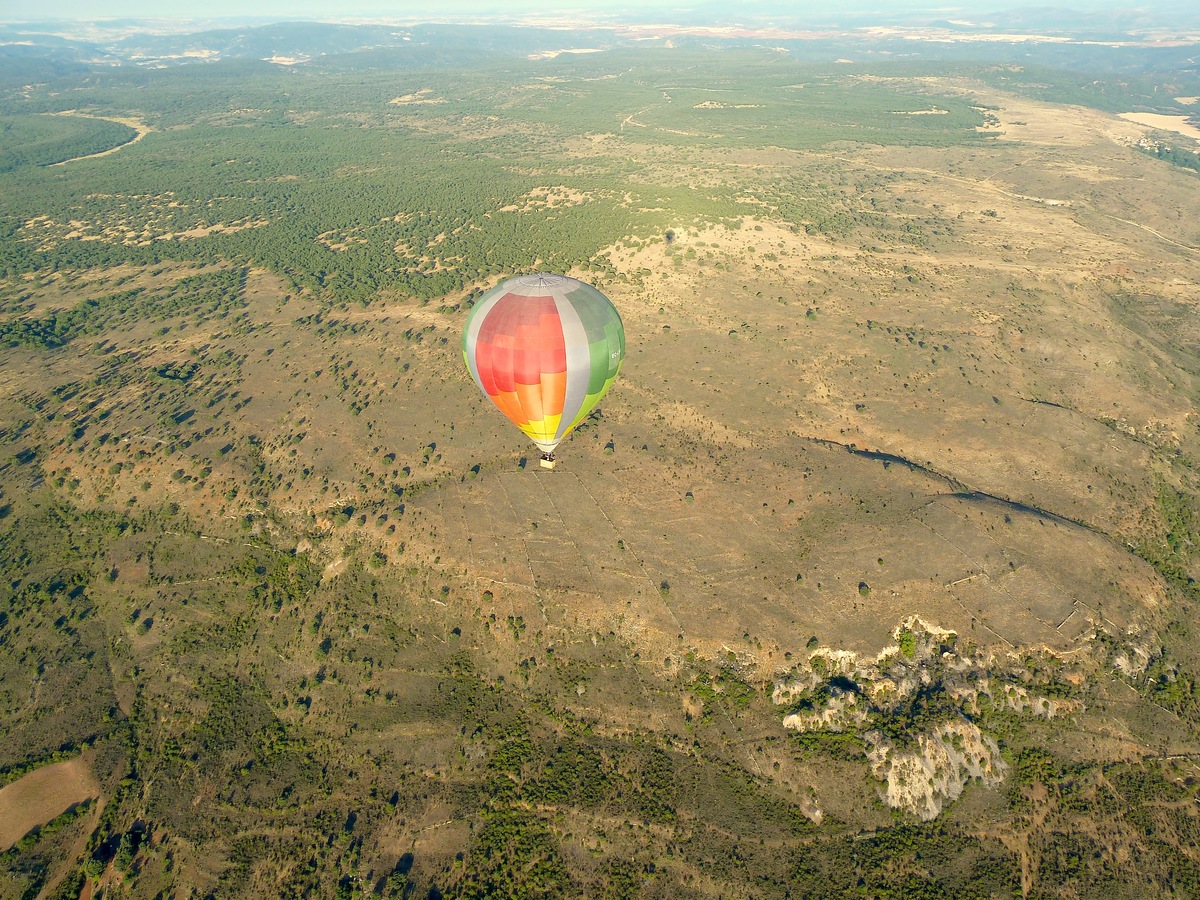 Photography: VZ Balloons
An immersion in nature for an experience you won't forget.
More information and reservations: booking@thesibarist.com