Interview with Beatriz Fierro
An appointment with Beatriz Fierro to talk about fashion, architecture and, in short, beauty. Her studio produces one collection a year because this fashion designer and architect likes to start from experimentation and follow a slow process for the sake of quality rather than quantity.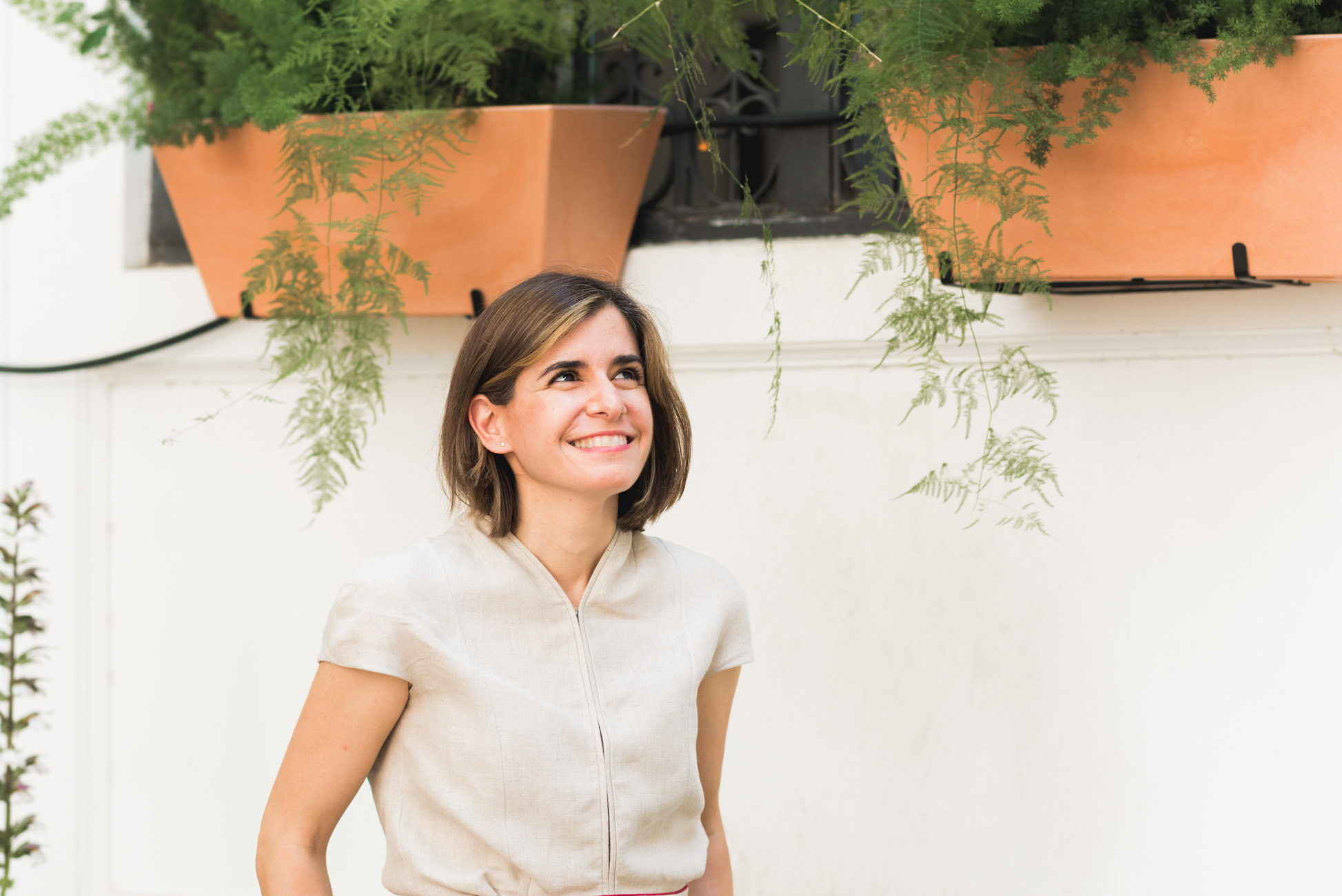 This is the idea behind her latest ephemeral production, a fashion film held at the Hexagons Pavilion in the Casa de Campo where she showed with a high dose of beauty the confluence between architecture and fashion and she did it through dance. In this interview, she reveals the spirit behind her brand, its trajectory and plans for the future.
What are the origins of Fierro Studio Madrid?
They come from my training as an architect and my interest in design, which has been with me for as long as I can remember. After almost 17 years of training and after working as an architect I realised that there was something in me that asked me for something more personal, something on a much smaller scale and, in 2019, I decided to launch the brand. I had already been involved in the world of fashion for some time because I had been training in pattern making and tailoring and I had the idea of launching a fashion brand that brings together all my vision of design applied to garments. That's how it all started.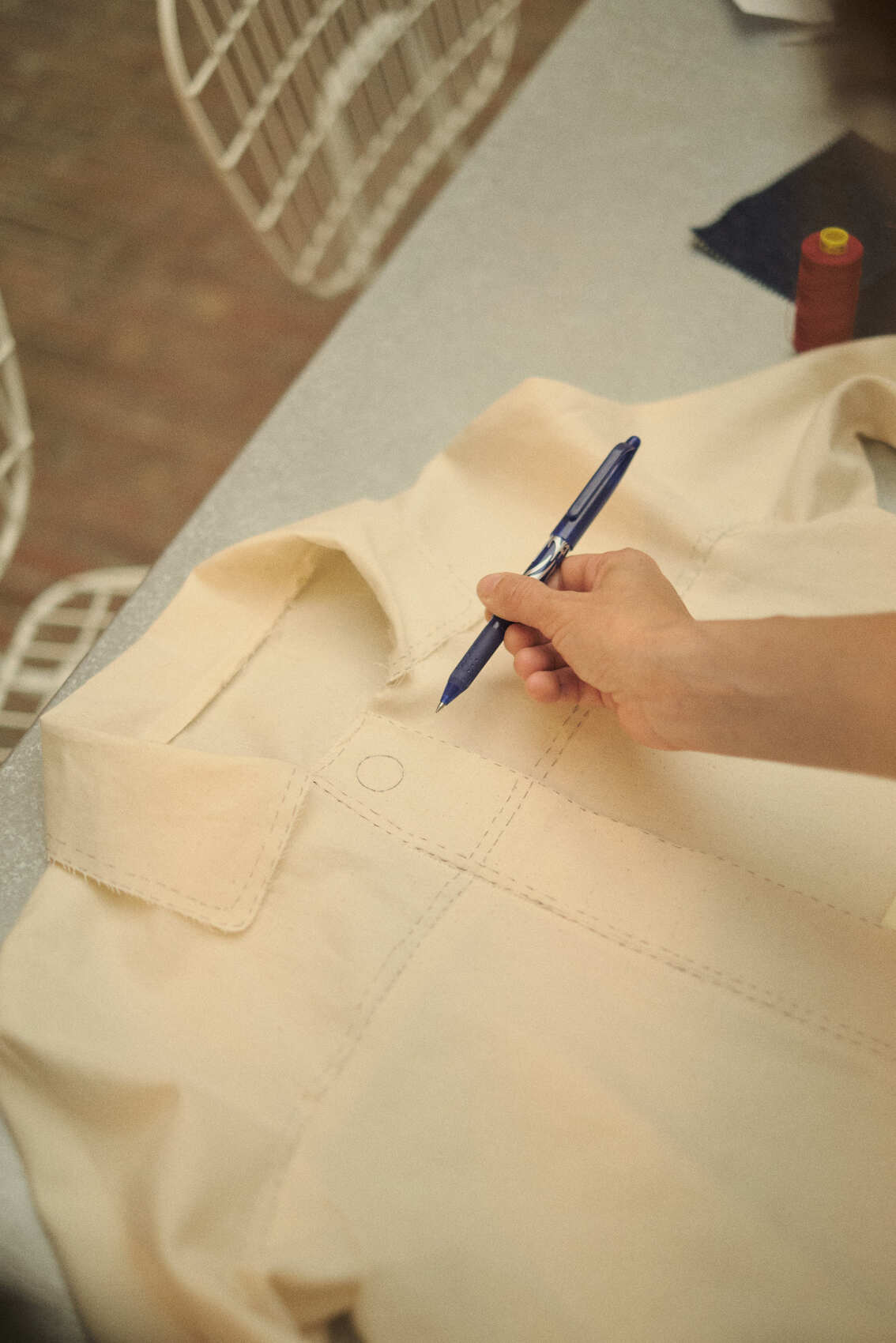 Define your atelier in a few lines.
For me Fierro is more than a fashion brand. It is a new way of understanding how we dress and why, focusing on the person who is going to wear our garment and taking care of the smallest detail of the whole process, which means less quantity and more quality.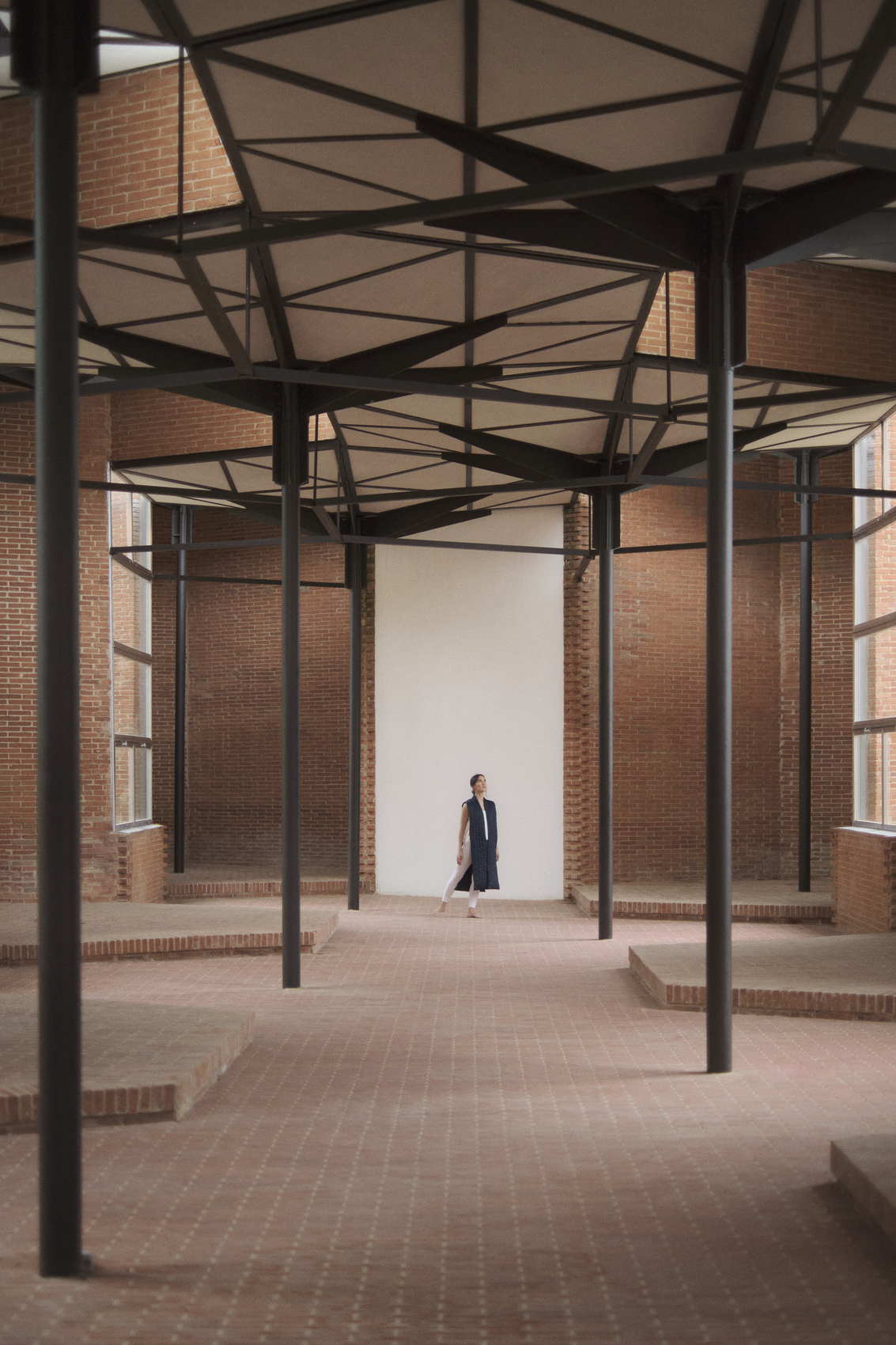 What do you see as the convergence of such apparently disparate disciplines as architecture and fashion?
Well, to tell you the truth, for me they have many more similarities than differences. The scale from which you approach them at first changes, but the elements you handle in the creative process are almost the same. Structure, Material and Colour, are perhaps the three pillars with which I approach an architectural project and also with which I work when it comes to designing a garment. I really like the idea of thinking that just as we "inhabit" the spaces in which we live, we "inhabit" the garments on a plane closer to our skin.
Do you have a range of colours that you identify with?
The colours that are in connection with nature, neutral colours because I think they always work better with seasonality because in the brand we pursue ease of combination but also to include a strong colour that brings identity to the collection. In the first collection we introduced blues, in the second we introduced yellows and in this third, last year's collection, which we presented at the racecourse, we introduced reds. In this exhibition that we have presented in an ephemeral way and that has been a preview of next year's autumn-winter collection, there is a bit of everything because in reality we have collaborated with different people and each one has contributed their own colour, although the tendency is towards blue and neutral tones, colours that suit everyone and that you don't get tired of over the seasons.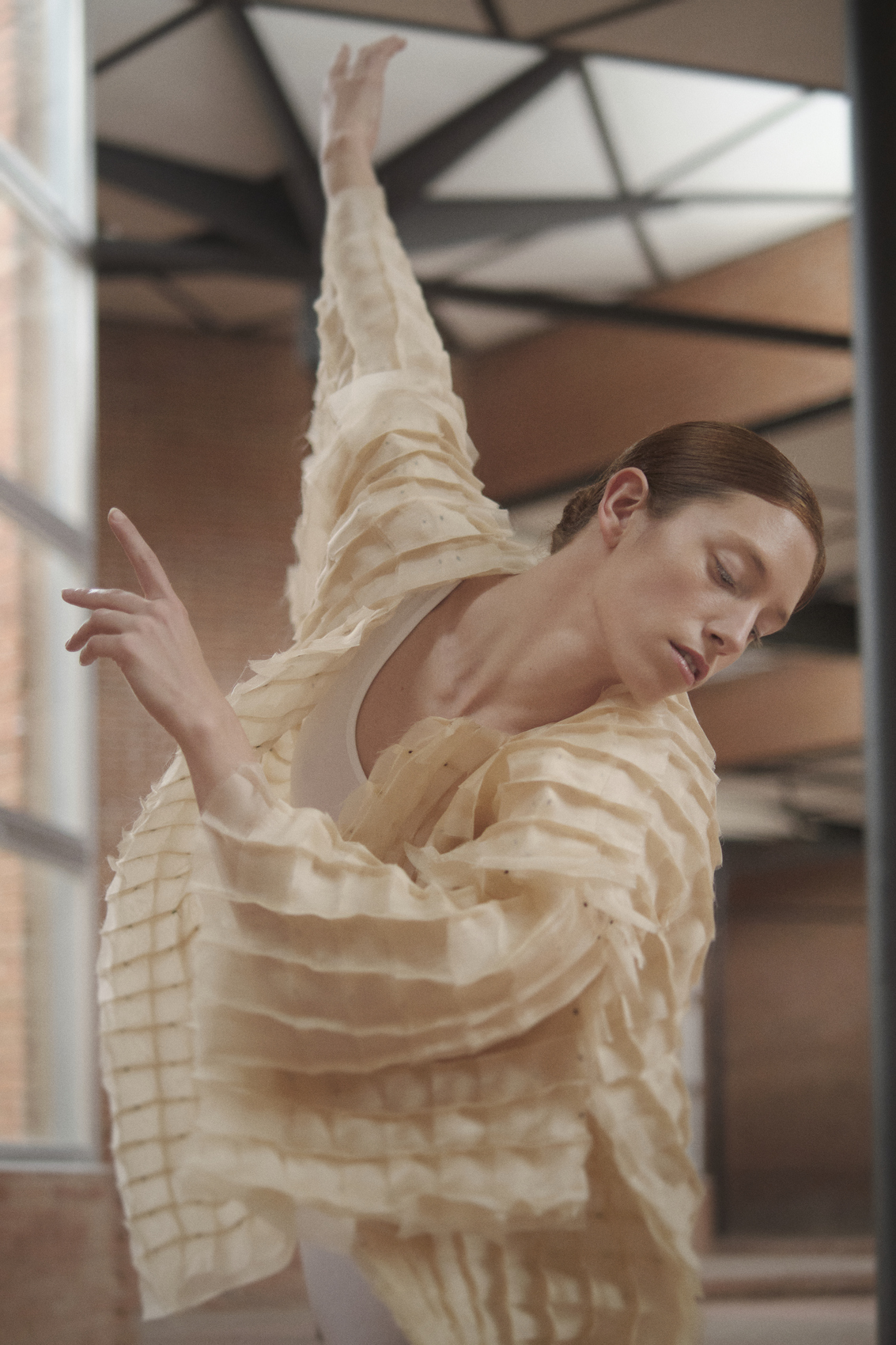 And if we were to talk about fabrics?
I would say that natural fabrics are the basis of our brand, however, I don't want to close myself off to other types of recycled fabrics, for example, which I think are also very interesting and which provide certain things that perhaps you can't develop with natural fabrics, such as pleats, for example. If we were to resort to synthetic fabrics, they would be recycled or with some technique that is built on an environmentally sustainable basis. I am very interested in this and in experimenting with new materials that come from nature. Natural fabrics are our insignia because they have values that others don't have such as drape, feel…, people like to dress in cottons, silks, it's something that is in their DNA and I appreciate it very much.
What is your relationship with architecture because it is your training, why did it derive towards the world of fashion? Tell us about it.
I studied architecture at the ETSAM and then I worked in various studios and construction companies that gave me a fairly broad vision of what it is to be an architect. I think that, in general, architects, because of our training and because of what they teach you over so many years at the School, tend to develop a special sensitivity because from a very young age we are taught to look at the world with other eyes, from other perspectives. I also believe that my years of study and my first years working managed to create in me qualities such as perseverance, willpower… which have been of great help to me in recent years. There are many people who were surprised when I decided to jump into the world of fashion and start my own clothing brand. However, my friends who are architects and those who are related to more artistic disciplines didn't find it so strange. This is because for us design is something more global from which a multitude of manifestations can emerge. In my case it was fashion, but it wasn't by chance, I had been trained for many years in pattern making and tailoring, and what was initially just a hobby became what it is today.
Why did you choose these four architects to design garments and exhibit them in an ephemeral exhibition? Have you done it on other occasions?
It's the first time I've done a collaboration of this kind, although I've had it in mind for a long time. I've always liked teamwork and I find it very enriching to include in my work more people who contribute their artistic vision, I think this adds value to the design. In this case, I was very happy to be able to count on these four talented colleagues: Lorenzo Gil, Ernesto Sierra, Pedro Magro and Eugenio González. I have known them for many years, some of them even studied with me at university, and I knew that each of them would contribute very different and interesting things to their designs.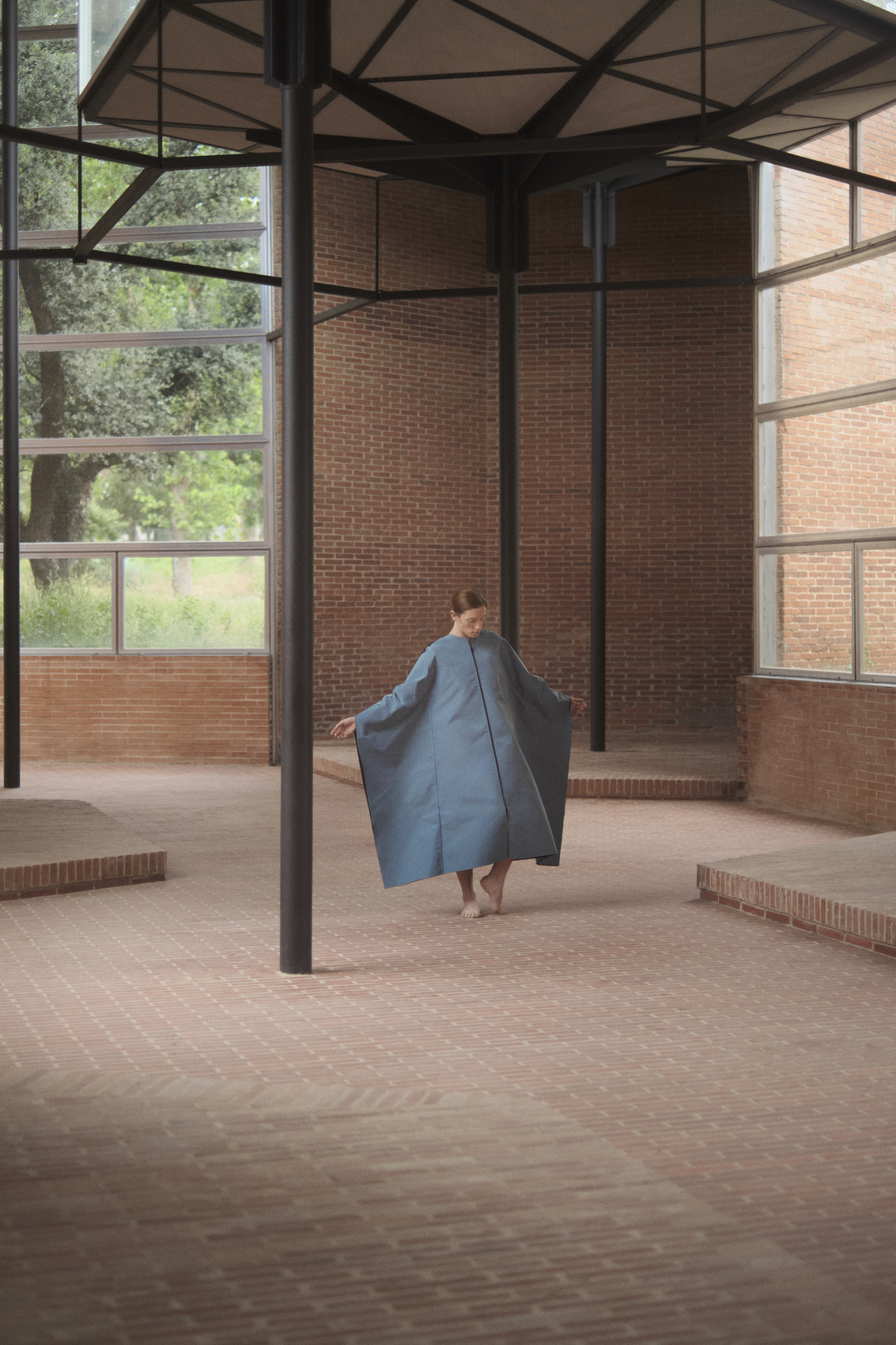 What is beauty for you and how do you apply it to your profession or your daily life?
Beauty for me is emotion. It is precisely the search for it that motivates me to get up in the morning and get to work. In any case, it is something that I find not only in my work, but in every detail of my daily life. There are many beautiful things that inspire me, colours, textures, geometries?
What are your sources of inspiration?
Well, I could tell you that anything, no matter how insignificant it is. There are times when I'm simply struck by a colour I see and it leads me to the garment I want to create, geometries I see in architecture or in nature, even a texture I find in an object. It happens to me constantly that I always need to carry a notebook with me to remember all the ideas and put them in order, I even have to keep it on my bedside table because there are nights when I come up with the best ideas when I'm sleeping and it makes me furious to forget them in the morning.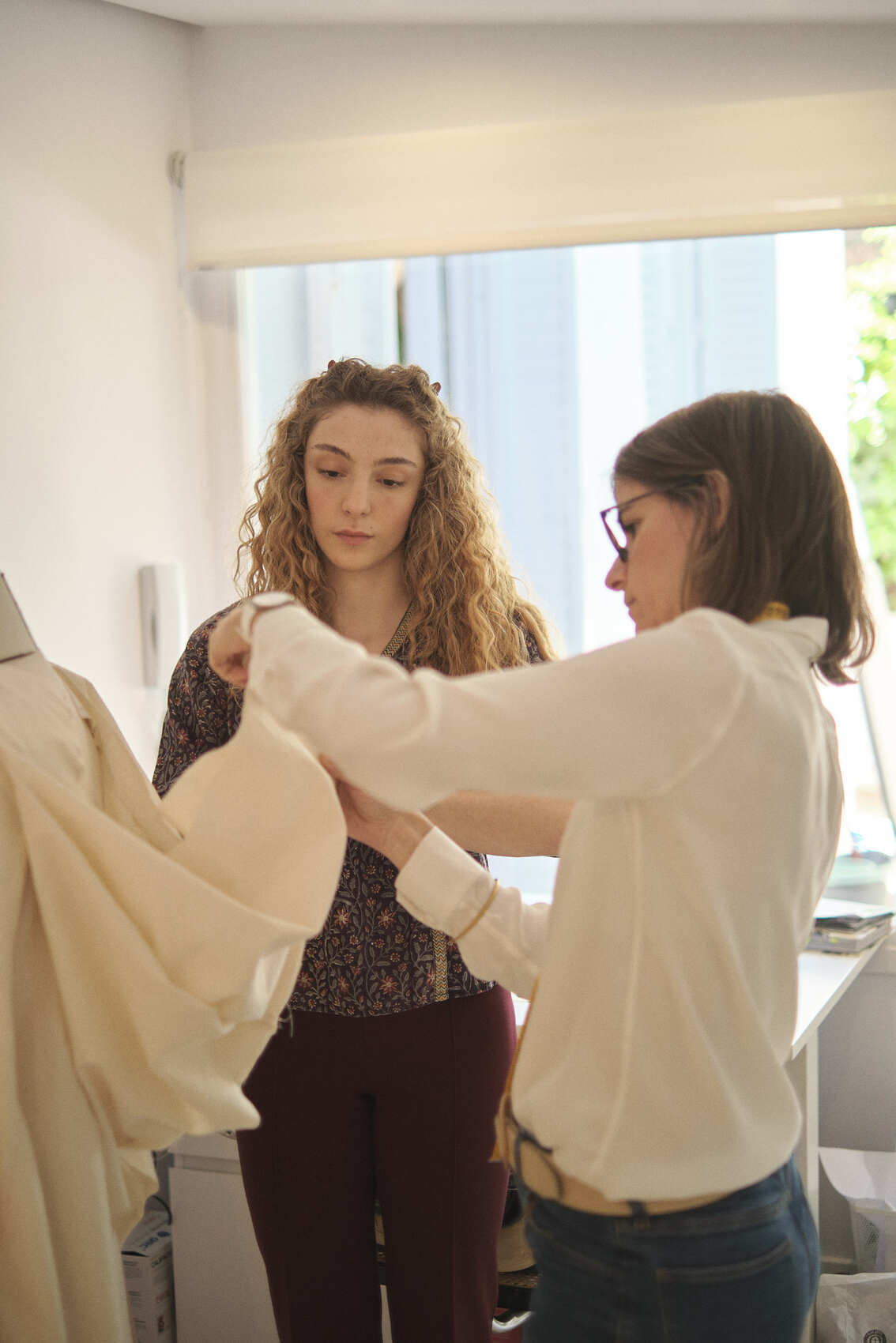 In your Instagram profile you include a quote from Issey Miyake, you have productions made at the Torroja, Arniches and Domínguez Hippodrome, which are the masters that you follow or that enlighten you when it comes to creating in the world of art, fashion, architecture…?
The great masters of fashion like Balenciaga, Jesús del Pozo, Pertegaz… and I could tell you a few more international ones like Issey Miyake among others, although I especially like the Spanish ones because they have been able to transmit a lot of our history and tradition.
Much of the reason for my dedication to fashion was a visit I made several years ago to the Balenciaga Museum in Guetaria. I was so impressed by his figure, his history and what he contributed to the history of fashion that I was hooked almost automatically.
There are days when I spend hours and hours trying to work out the patterns of his garments, apparently so simple but extremely complex in their structure. That's what good architecture and a good pattern are like for me.
As far as architecture is concerned, I have many references that I apply to my designs. I am especially interested in Nordic architects such as Asplund, Lewerentz, Aalto, who had a special sensitivity for materials and details in all their works. In this line, although with a more marked minimalism, there is also Peter Zumthor whose early works such as the Vals baths and the chapel of St. Benedict are for me true works of art.
In general, I am very interested in architects with a broad vision of the world of design, such as the Eames couple, who were able to transfer their conception of design in architecture to furniture and everyday objects.
What materials do you use in your garments and why?
In general, I am interested in natural fabrics or fabrics that are not strictly natural, but come from recycled fabrics. It is important for us to have as little impact on the planet as possible, even though fashion is already the second most polluting activity.
On the other hand, using natural fabrics gives the garment a structure, drape and feel that is unmatched by other synthetics, which gives the garments unique qualities.
What part of the work process is your favourite or what do you enjoy the most?
Without a doubt, the initial design phase. It is in this creative part where I could spend hours and hours drawing or looking for the ideal fabric or colour.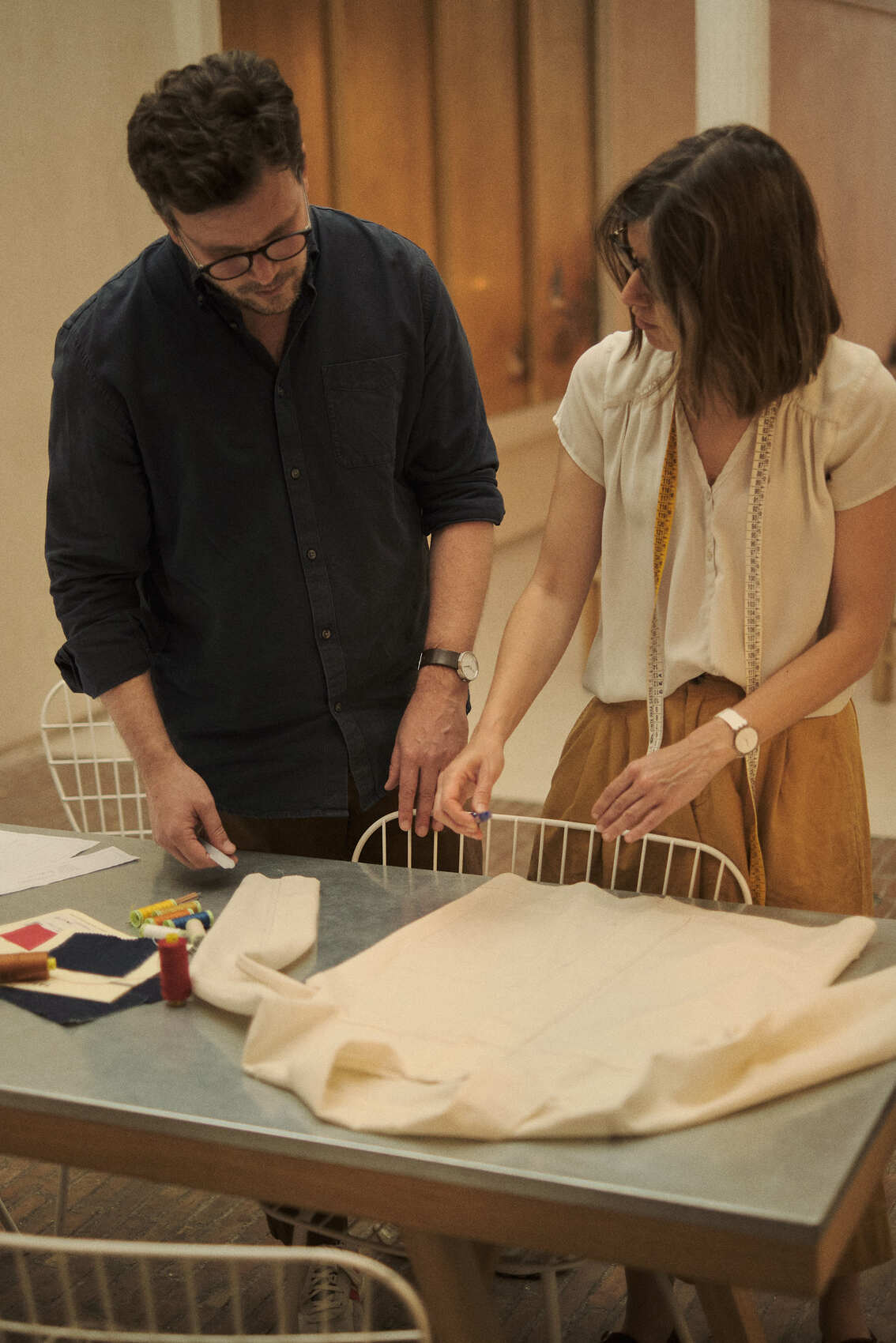 What is Fierro's style?
A design with very marked lines and structures and at the same time a simplicity and harmony in the whole. Pattern making is perhaps my hallmark.
What are the keys to making the garments you make comfortable and sophisticated at the same time?
Well, the main one is the timelessness of the design and choosing natural fabrics with a range of colours that are very comfortable and easy to wear. For me, wearing a garment gives a very marked character to the person who wears it and that's what I try to do when designing.
How important are 2D and 3D digital tools for you right now?
I think that nowadays they are fundamental to shorten and improve the productivity of processes. By this I don't mean that craft techniques should be replaced by these, in fact in many of our processes, especially in the initial phase of study and research, manual techniques such as hand drawing, modelling techniques… are necessary to find the design we are looking for. But once this initial phase has passed, the processes can be mechanised and shortened with the technological advances that are now available to us.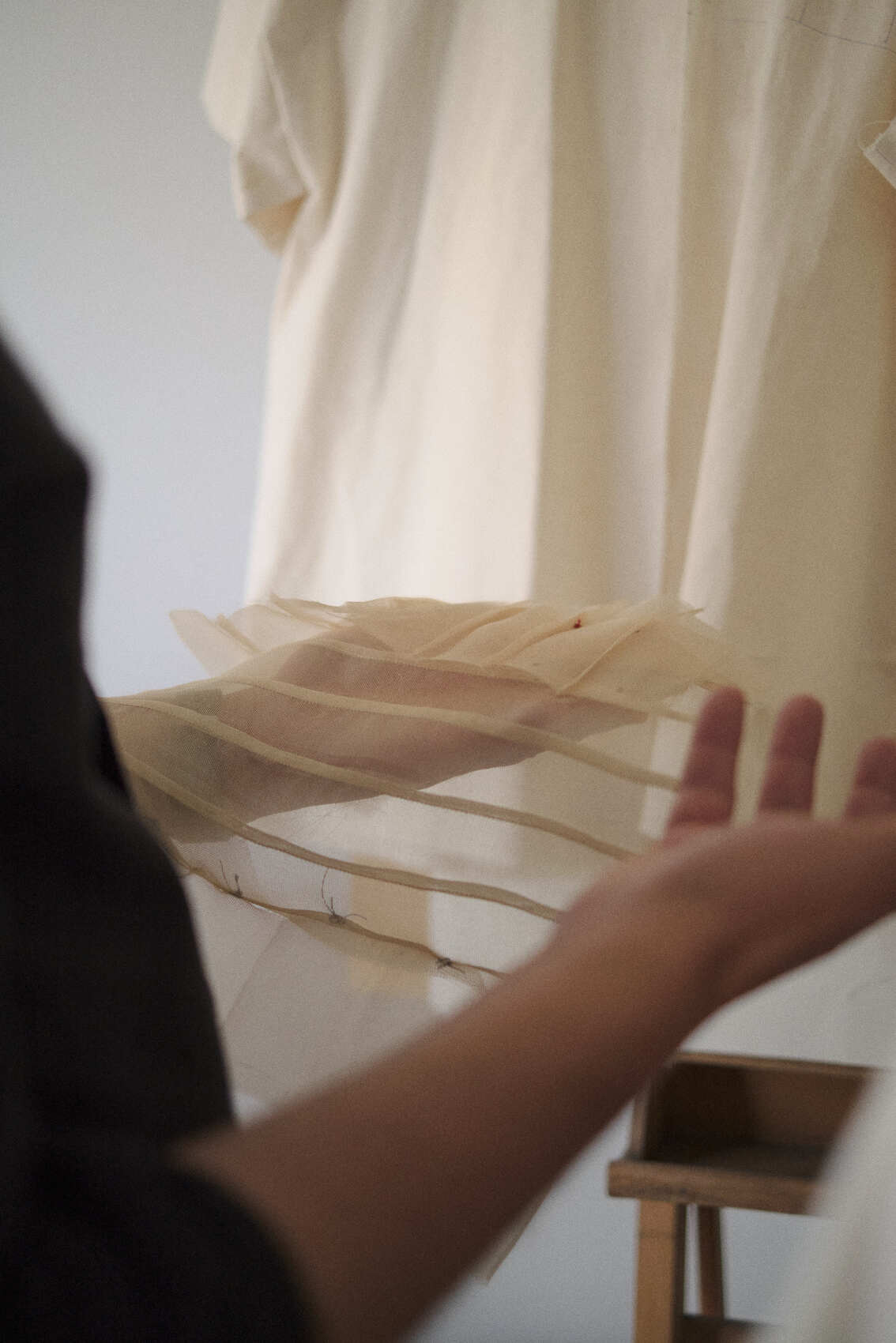 How committed are you to the impact of what you do on the environment?
From the beginning I was very clear that I didn't want my relationship with the world of fashion to follow the same patterns as many of the brands on the market. The excessive consumption of clothes, following "fashions", overproduction and all that this entails in terms of poor quality garments, mediocre working conditions for workers, negative impact on our planet… More than anything, because our approach goes beyond pure consumerism, we are a brand that sells design, yes, but not at any price.
That's why we make capsule collections of very few garments to order, we prefer more quality and less quantity.
What professional dream would you like to achieve?
I would love to be able to contribute to embellishing any artistic work such as creating costumes for film, theatre, dance… It would be wonderful to imbue other arts with the personality of the brand.
In addition to this ephemeral activity in the Pavilion Room, you have created a fashion film in the mythical Hexagons Pavilion, why? What does this action consist of?
This fashion film is the culmination of this project, where we wanted the garments we had been developing over the last four months to come to life. There is nothing more beautiful than watching the garments moving in a space as spectacular as the Hexagons Pavilion, which for us architects is one of the most emblematic buildings of 20th century Modern Architecture in Spain. It was built by the architects Corrales and Molezún for the Brussels Universal Exhibition of 1958 and was awarded the Gold Medal at that exhibition. A year later it was rebuilt at the Casa de Campo Exhibition Centre in Madrid and some time later it fell into oblivion, like so many masterpieces of architecture. This year, a part of this complex has been remodelled and that is why we wanted to show the public the beauty of this space, unknown to most people. It is partly a tribute to the good Spanish architecture of the 20th century.
And who better to shoot this fashion film than the director Derek Pedrós, with whom we worked on our previous campaign at the Hippodrome in Madrid. From the beginning there has been a perfect harmony between the two of us, it is simply wonderful to have a person by our side who knows how to capture that "beauty" we talked about before as sensitively as he does.
What are you working on at the moment?
On bringing out the new collection for next season, incorporating the prototypes that we have developed in this exhibition and some new ones, such as some garments more focused on the male public, which is something that we have been asking for for a long time and we are very excited to be able to bring out.
At the same time, and in parallel to the clothing line, we are working on another facet dedicated to design objects, faithful to Fierro's philosophy, which will include both furniture and accessories for everyday use.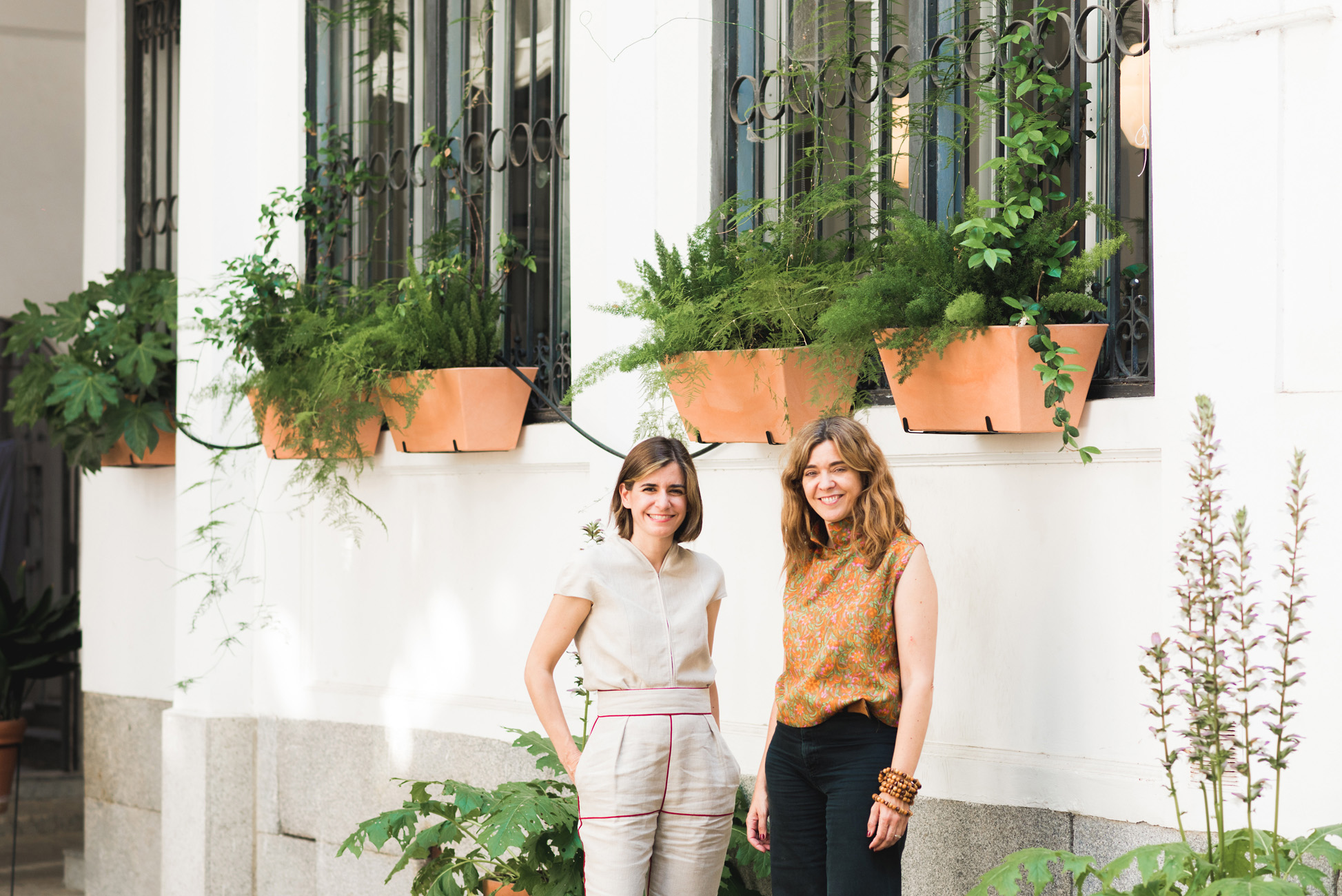 Editor: Beatriz Fabián
Beatriz is a journalist specialising in offline and online editorial content on design, architecture, interior design, art, gastronomy and lifestyle.
Photographer: Nieves Díaz.