Life reusing posidonia: architecture in search of meaning
Winners of the FAD Award 2018 and selected for the Mies Van der Rohe 2019
SUSTAINABILITY AND SOCIAL INTEGRATION
Today we would like to talk to you about this project that we are passionate about and that shows that another way of building is possible. Sustainability and design with a social purpose.
The Life Reusing Posidònia project built 14 social housing units in Formentera, recovering traditional and sustainable construction techniques, such as the use of posidonia, a native marine plant, as insulation material.
They take advantage of the resources of the environment by using local materials and incorporating local craftsmen.
All these attributes have earned it numerous awards such as winning the prestigious FAD 2018 award and being one of those selected for the Mies Van de Rohe 2019.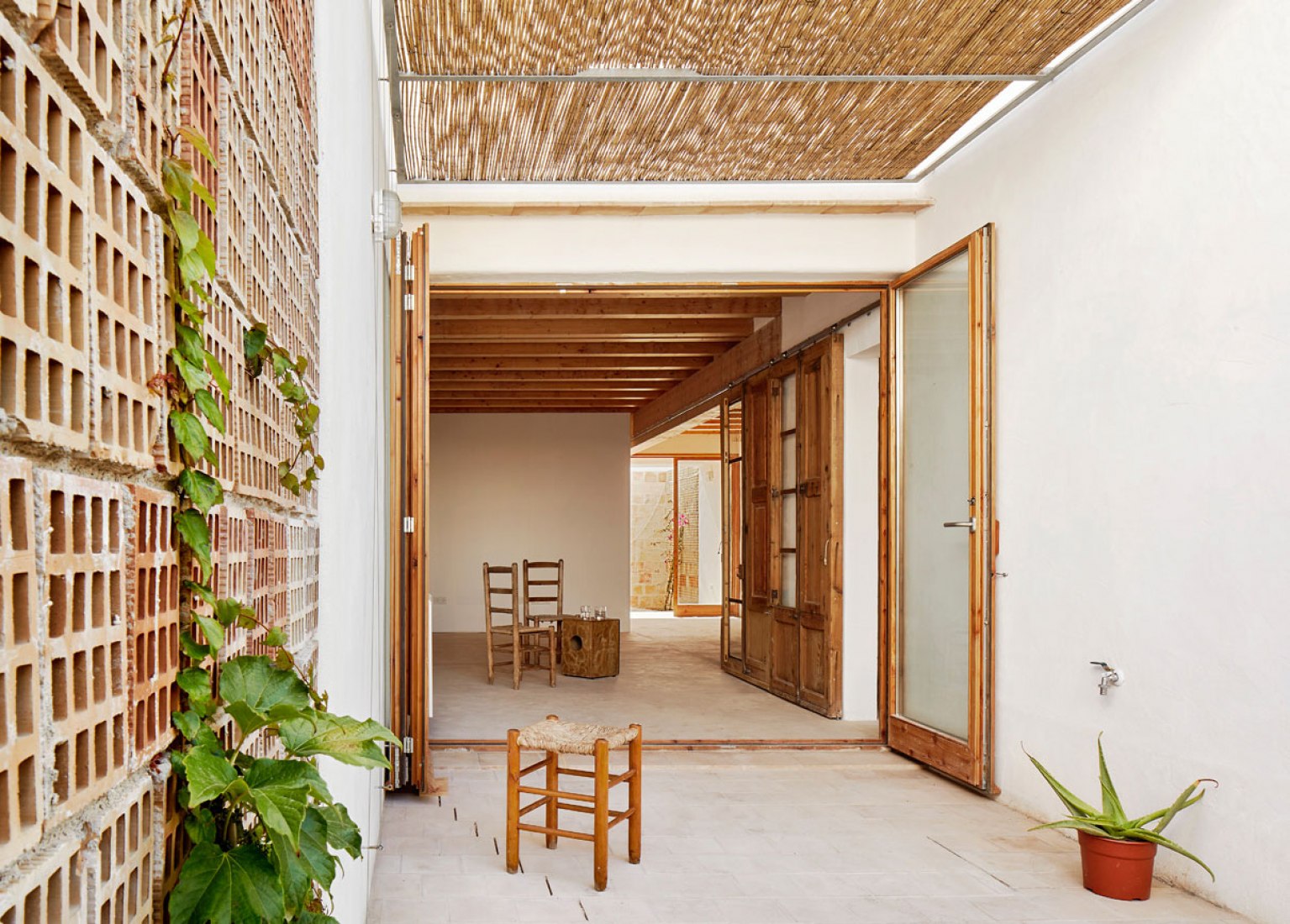 This architecture designs each space with special care, always thinking about the life of its occupants.
Buildings pollute and even more so in the Balearic Islands, especially because of transport. So their objectives with this project are:
To reduce by 50% the pollution of its manufacture, by 50% the production of construction waste, and by 75% the energy for heating or cooling.
To achieve this, they are using traditional architectural techniques and materials, and low-tech systems, without sophisticated devices that break down.
Not only for environmental reasons. But because, in fact, it is much better to live much better and costs almost the same. This multi-family housing building has been able to reduce the associated ecological footprint by the following percentages:
50% Energy consumption during its MANUFACTURE.
75% Energy consumption during its USEFUL LIFE.
60% WATER consumption.
50% WASTE production.
The main innovative aspect is the reduction of 50% of CO₂ emissions during the execution of the works, for which an appropriate selection of materials is proposed, in which biospheric materials take precedence, recovering techniques typical of vernacular architecture, according to the following hierarchy:
1 Waste-local raw materials with insignificant industrial processes.
2 Renewable raw materials, of controlled origin.
3 Recycled materials or materials subjected to insignificant industrial processes, from other areas.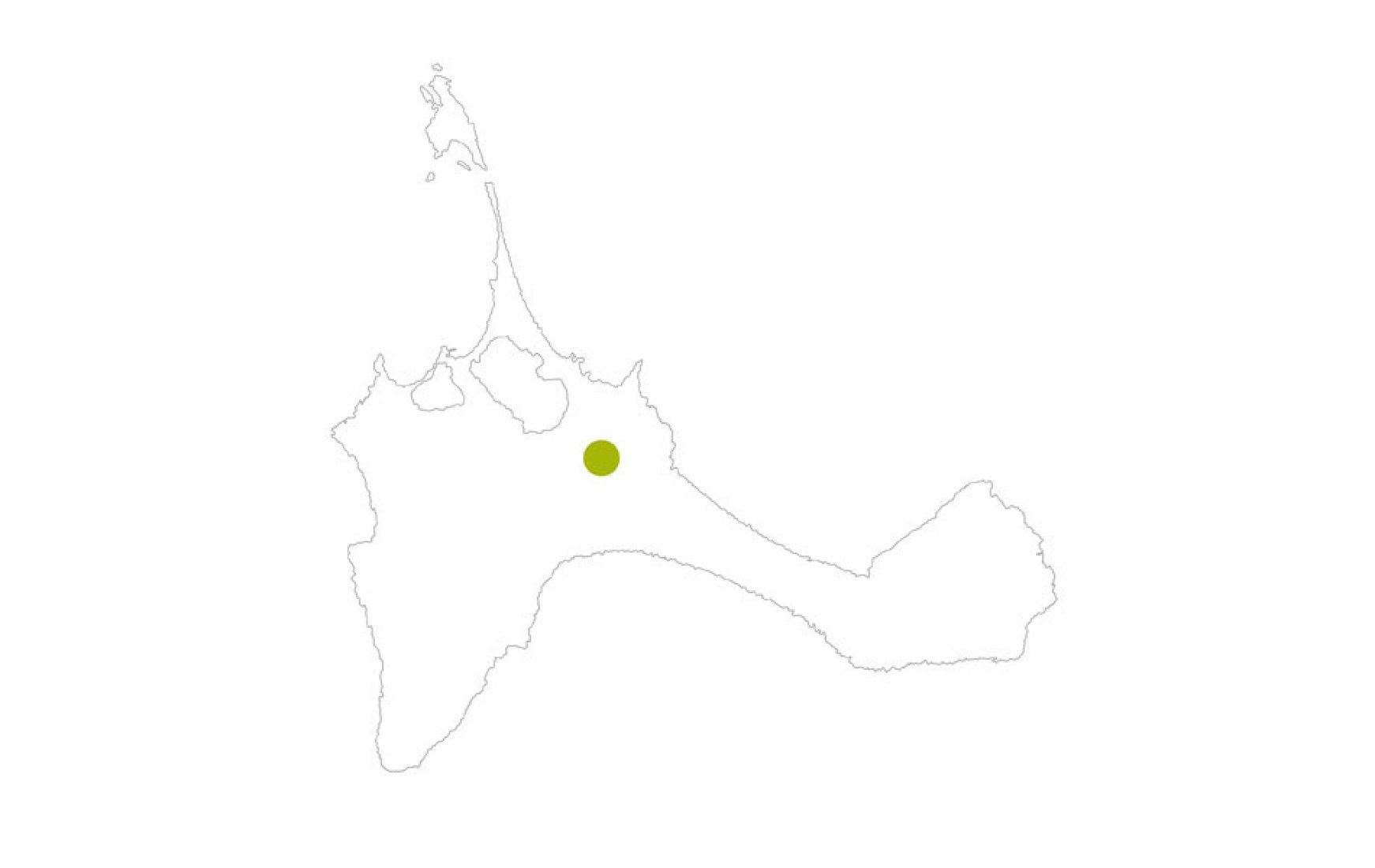 It also highlights, among other construction solutions, the use of dried Posidonia Oceanica as thermal and acoustic insulation, thus promoting the use of Posidonia for practical purposes, as long as it is used appropriately, increasing its social interest and presence in the media.

The reduction of CO₂ in construction contributes directly and positively to its protection, due to the danger posed to Posidonia meadows. According to the Consejo Superior de Investigaciones Científicas -CSIC-, during the 21st century, they will lose 90% of their density, in a process that would begin in about 40 years, resulting in a functional extinction of the species, with a moderately optimistic scenario of greenhouse gas emissions.

Traditional architecture has been a constant reference, not as a form, but as a way of working, the scarcity of resources and the use of whatever is at hand. The juniper trees, which were used in the past to build the floor slabs, are fortunately protected. The sandstone quarries are exhausted and the little straw that is produced is used for livestock. Therefore, the only thing left is what comes in from the sea: posidonia and boats. In addition to the construction pallets, which remain on the island because they have to be shipped back.

So they propose a change of concept:

"Instead of investing in a chemical industry located 1,500kms away, we will devote the same budget to a low-skilled local workforce, who must spread the posidonia in the sun to dry it, and compact it on the pallets, getting 15cm of insulation on deck. In addition, it turns out that the sea salt will act as a natural biocide, and the product will be completely environmentally friendly."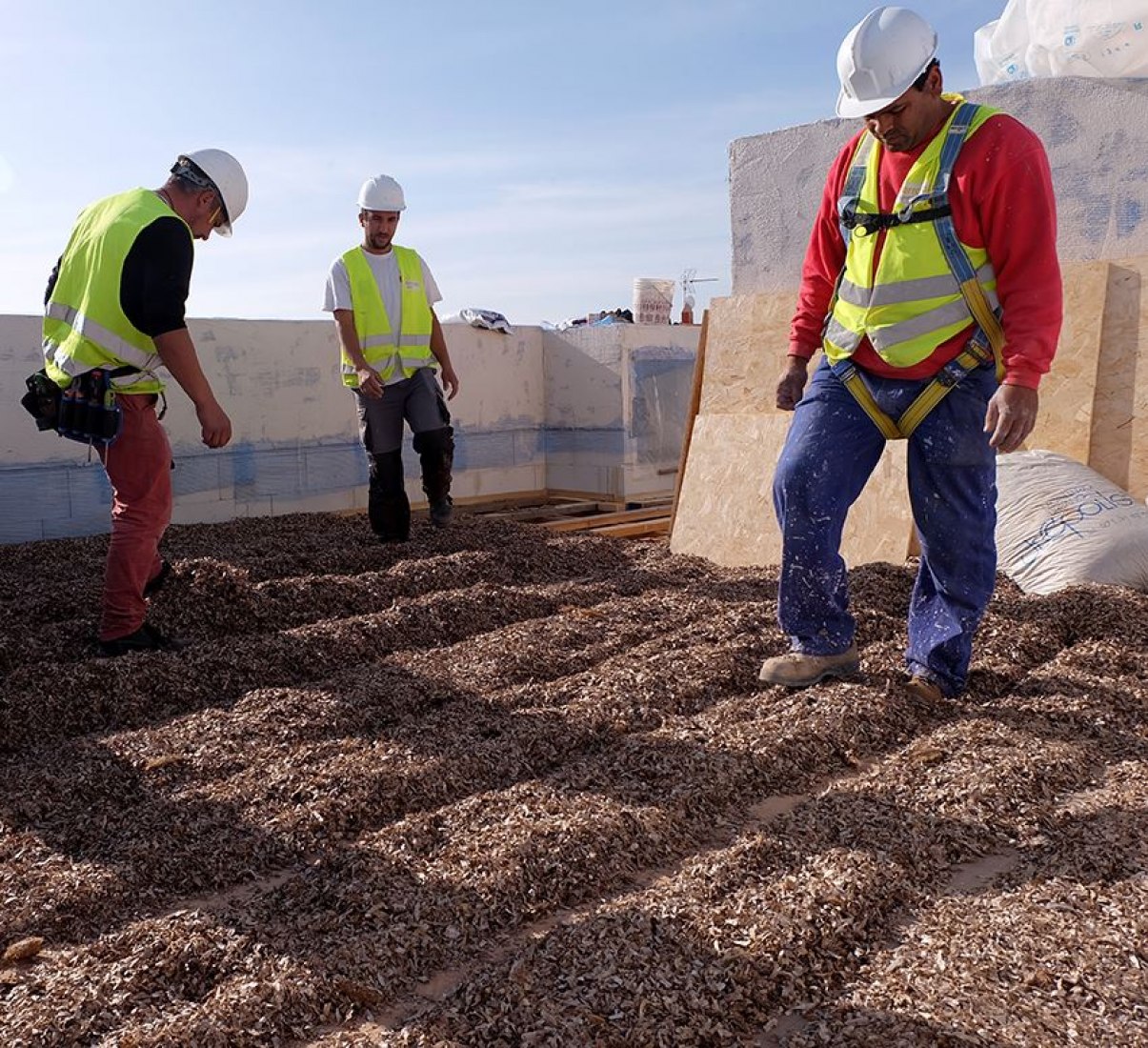 They only resorted to other islands such as Mallorca when they needed a material that was impossible to find on Formentera, always trying to get as close as possible.
We especially highlight the reuse of materials such as wood, which through the Deixalles Foundation (they manage objects that nobody wants, promoting the employment of people at risk of social exclusion), through which they recover old doors and wood that are subsequently restored and adapted for this project.
The bricks used have been made using an artisan process (clay created as in the olden days, earth, water and fire), baked in a traditional oven like those of yesteryear (metal box lined on the inside with adobe made by the artisans), and as materials for combustion they use biomass (it does not produce sulphur), based on almond shells, vegetable biomass, pine needles and pine wood chips.
For the "piedra de marès" they use quarries in Mallorca.
The tiles are glazed by hand by artisans from Felanitx and the lime, now almost obsolete, is also brought from there, which is also fired with recycled oils.
Under the motto "think global, act local", they propose a model of hyper-local architecture, in which each project becomes a map of the territory's resources. This approach makes it possible to link the environmental issue with the cultural tradition of each region, achieving not only the prevention of global warming and an improvement in air quality, but also a recovery of the landscape quality of the cities.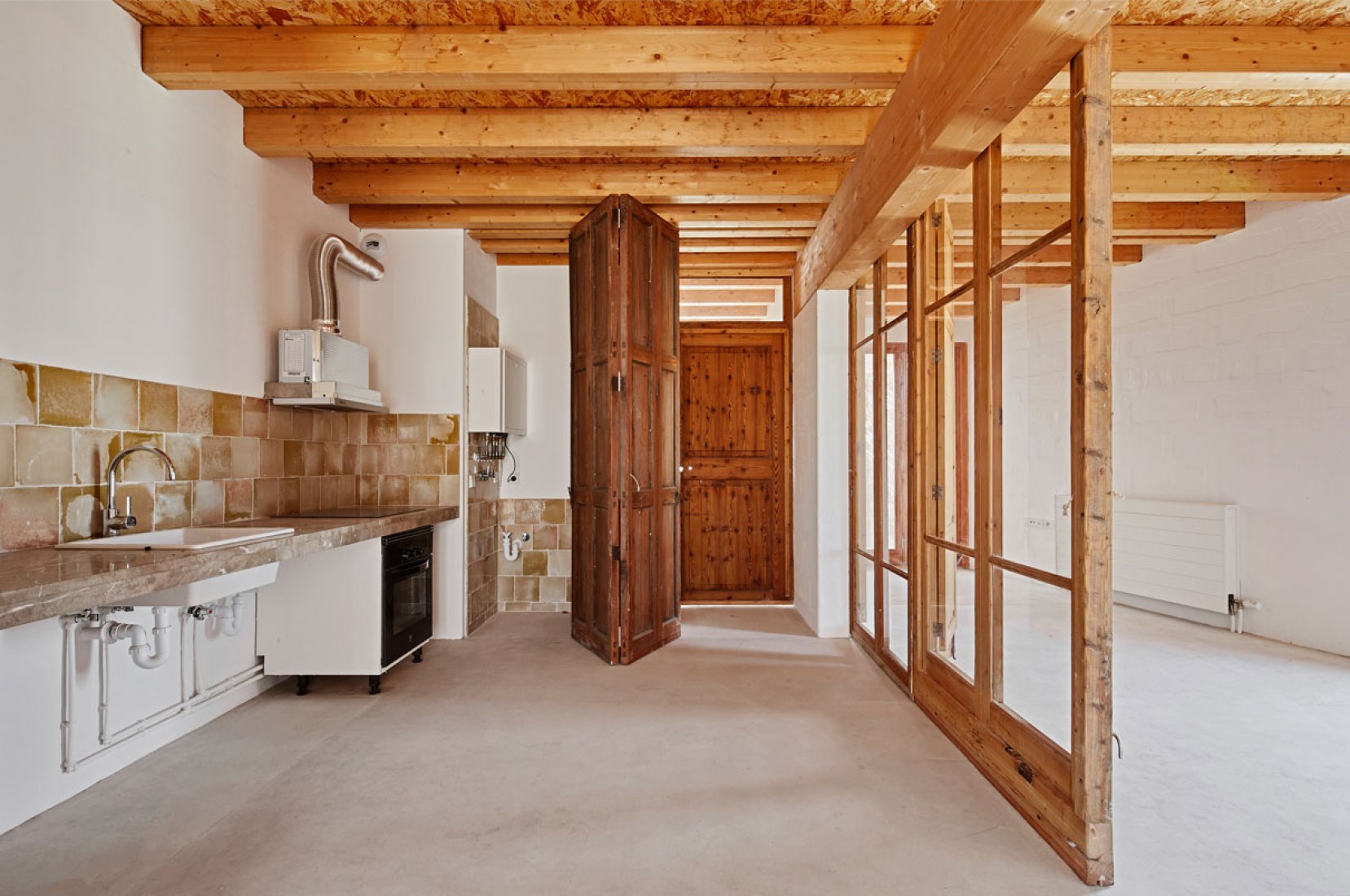 Other bioclimatic measures used include a natural suction ventilation design, protection of the windows with porches and pergolas with vines and bamboo canes, shutters, interior wooden shutters, white fishing nets on the façade to facilitate the growth of climbing plants, thereby reducing solar radiation. Passive air-conditioning is supported by a biomass boiler, and for water management, cisterns have been installed to collect rainwater for watering all the plants planted with a bioclimatic function (11 trees and 40 climbing plants). In the central courtyard, a grey water phyto-purifier has been installed to clean the water coming from the showers, to be used in the toilets.
This development was selected as a Pilot Project in which to test and determine the real unit cost of a multi-family housing development that complies with the requirements proposed by the Guide to Environmental Measures for Building in the Balearic Islands, developed by IBAVI itself in collaboration with Societat Orgànica Consultoria Ambiental SL. The extended application of this model would make it possible to open up new additional avenues to achieve the Europe 2020 Strategy. Monitoring in collaboration with the University of the Balearic Islands.
A meaningful architecture that thinks about the future.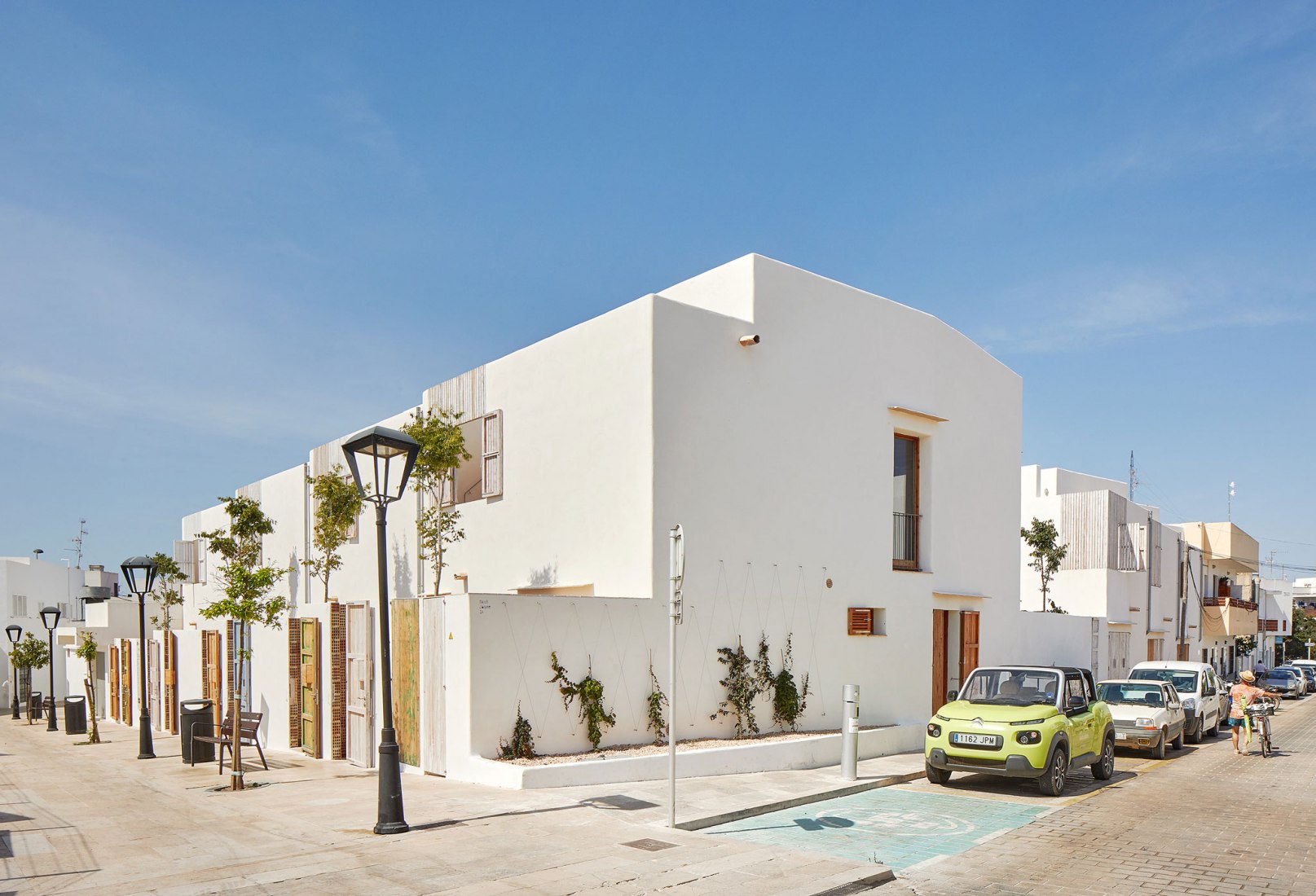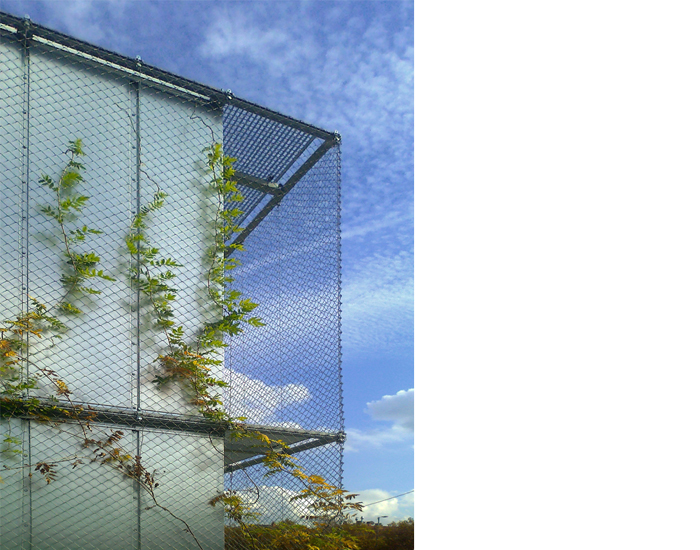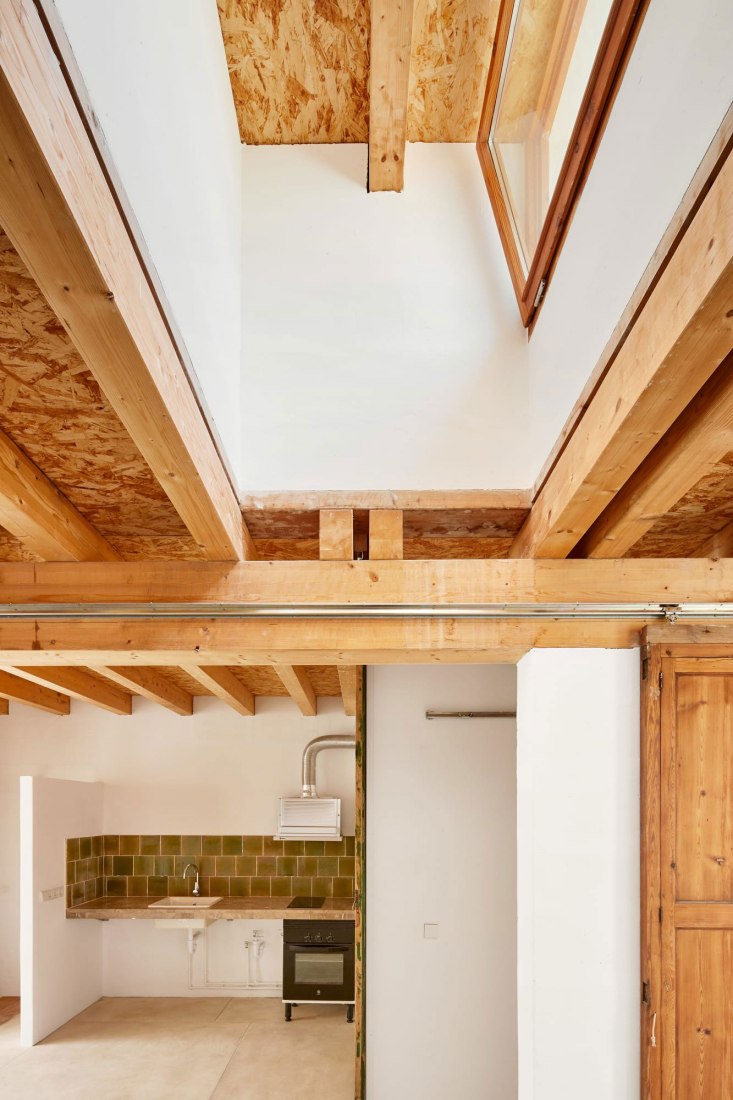 La importancia de la Posidonia Oceánica
Respecto a la Posidonia es una planta marina y no un alga, que tiene raíz, tallo, hojas, frutos y flores. Forma praderas entre la superficie y los 40 metros de profundidad en aguas de gran calidad como las de Formentera. Es una especie endémica del Mediterráneo y, desde el año 1999, concretamente, la pradera del Parque Natural de las Salinas de Ibiza y Formentera fue declarada Patrimonio de la Humanidad. La Posidonia representa uno de los valores naturales más importantes de la isla, ya que ejerce una importante función en la filtración de los sedimentos, dando así una transparencia única. También contribuye a mantener la calidad y oxigenación del ecosistema submarino donde se alimentan y reproducen más de 400 especies de plantas marinas y 1.000 especies de animales marinos, muchas de ellas usadas en la gastronomía balear. Finalmente, las barreras de posidonia en la arena evitan la erosión de las playas.
La Extensión de la Posidonia
La Posidonia crea extensas praderas que tapizan el fondo marino y constituyen a un ecosistema de gran belleza, que posibilita el desarrollo de actividades recreativas como el submarinismo y el snorkel. Por todo ello, se puede afirmar que la contribución de esta especie, tanto al mantenimiento de la calidad ambiental y de las aguas, como su contribución a la economía del archipiélago balear, es vital. Las Islas Baleares tienen una extensión de 55.795 hectáreas de pradera de Posidonia, de las cuales 7.650 hectáreas corresponden a las aguas de Formentera. Esto se traduce en 76,5 millones de metros cuadrados para proteger sólo en Formentera.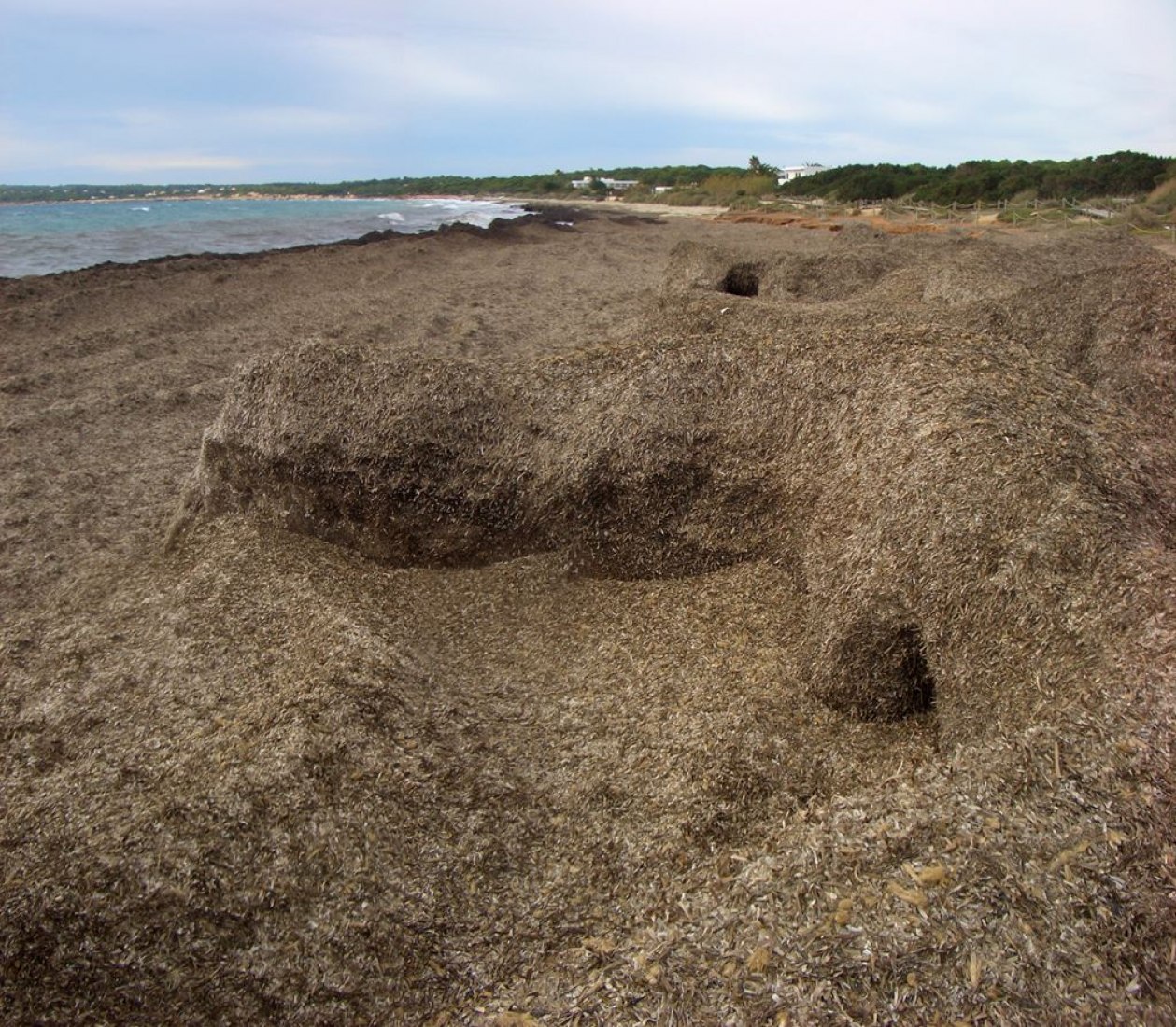 Measures to protect Posidonia in Formentera

Use of ecological buoys: In the northern part of the island are the field of 51 ecological buoys in the bay of s'Alga on the islet of s'Espalmador, and 26 in Caló de s 'Olí. Among other actions, the installation of 77 ecological buoys has prevented boats visiting these coves from mooring without their anchoring systems causing the degradation or destruction of the Posidonia meadows. The buoys are for small boats (up to 25 metres in length) and can be booked online. The implementation of the fields of buoys in Formentera has been very well accepted among sailors.
Anchoring assistance and surveillance service: In 2013, the Balearic Islands government set up an anchoring assistance and surveillance service in the Ses Illetes beach area in the Ses Salines Natural Park. The watchmen are responsible for informing and raising awareness among sailors about the importance of anchoring on the sand and not on the Posidonia. They help the captains during the manoeuvre as there are a large number of boats anchored in Illetas during the high season. The watchmen also check that there is no dumping or other activities that harm the quality of our waters. Both small sailboats and the largest yachts in the world want to enjoy the crystal clear waters of Formentera.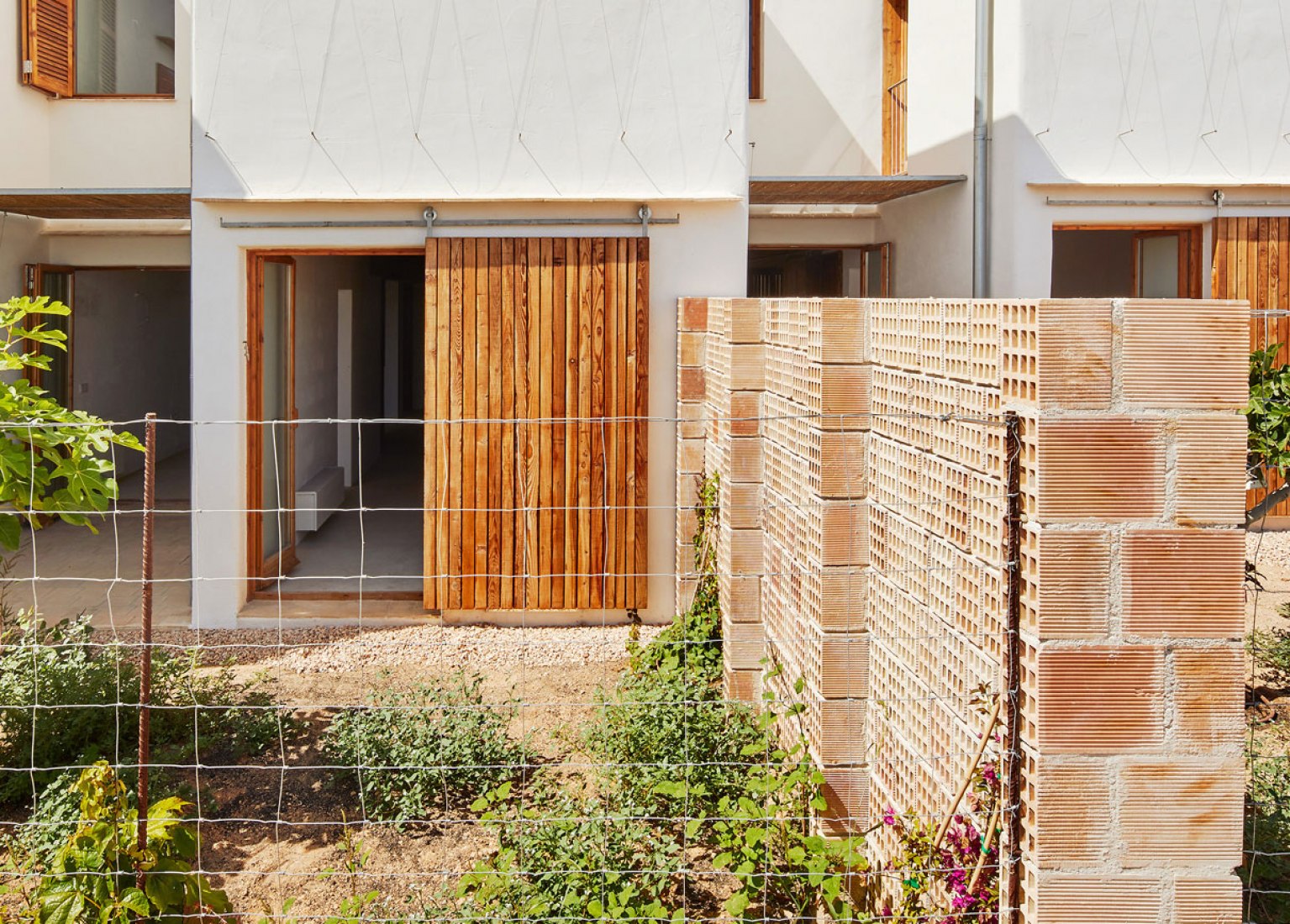 Life Reusing Posidonia has been designed by Carles Oliver Barceló, Antonio Martín Procopio, Joaquín Moyá Costa, Alfonso Reina Ferragut, Maria Antònia Garcías Roig.
Project description by IBAVI. Instituto Balear de la Vivienda
The project received a grant of 754,012 euros from the European LIFE+ 12 programme in the category of Environmental Governance for projects against climate change.
All the dwellings are rented and have two bedrooms with living room, kitchen and dining room with double glazing.
orientation.
Life Reusing Posidonia: More information.
Save Posidonia Project: More information.
Photographs: Life Reusing Posidonia.