Sergio Femar's Arquitopía from 11 to 19 December, with the special collaboration of Acciona
ART U READY 2019: Humanised Planet
The exhibition will take place at ART U READY's headquarters, The Sibarist Greenhouse, a unique mid-19th century space hidden in the courtyard of an emblematic building at 11 San Lorenzo Street.
In Arquitopía, pieces of metal, cardboard, fabric, wood blocks and other construction waste are transformed into powerful compositions that inspire us and at the same time invite us to reflect on where the waste that has no use ends up.
The exhibition argues that buildings should not just be a simple shelter. It seeks an ethics of the built, where constructions are more ecological, more intelligent, more friendly, more efficient, more sustainable and more adaptable to the people who live in them. It also claims that it is necessary to build with a greater awareness of sustainability, reducing the resulting waste. In Spain alone, 45 million tonnes of construction and demolition waste are produced, just over one million tonnes per inhabitant, according to the EU.
We will be privileged to have the support and collaboration of ACCIONA, a world leader in sustainability and innovation whose goals are to meet the needs of today without compromising those of future generations. The exhibition will include a display of pieces printed using 3D technology, the use of which reduces the amount of waste during manufacture thanks to the recycling of raw materials and uses less energy and resources in the production of construction elements.
Sergio Femar, Galicia (1990) is an emerging Spanish artist who works with a wide range of aesthetic strategies and supports that are part of his everyday life. Influenced by the changing nature of street art, his work is very conscious of the material that composes it as well as its provenance. In his work, these acts are transformed into powerful paintings that reflect the present moment and the constantly changing society in which we live. She likes to integrate her works into the urban landscape, becoming part of everyday nature.
With his work he tells the story of his generation and an urgent need for recycling. He calls for a rethinking of consumption and our responsibility to the world. To build again with what is already there. To go back to the origin of everything, to re-understand nature, to reconnect again. Graduated with merits in Fine Arts from the University of Salamanca, specialising in painting. After years of work in Madrid and participation in various international projects, in 2020 he will begin a new phase in Berlin.
"The spirit of reconstruction arises from the deep instinct of the human being as a realistic protest and as a symbol of his will to live".  Alvar Aalto
Opening: 11 December from 5 p.m. to 10 p.m.
Exhibition opening hours from 12 to 18 December: 11:00 h to 19:00 h
Exhibition opening hours on Thursday 19: 11:00 h to 18:00 h
Location: El Invernadero. San Lorenzo, 11. 28004. Madrid.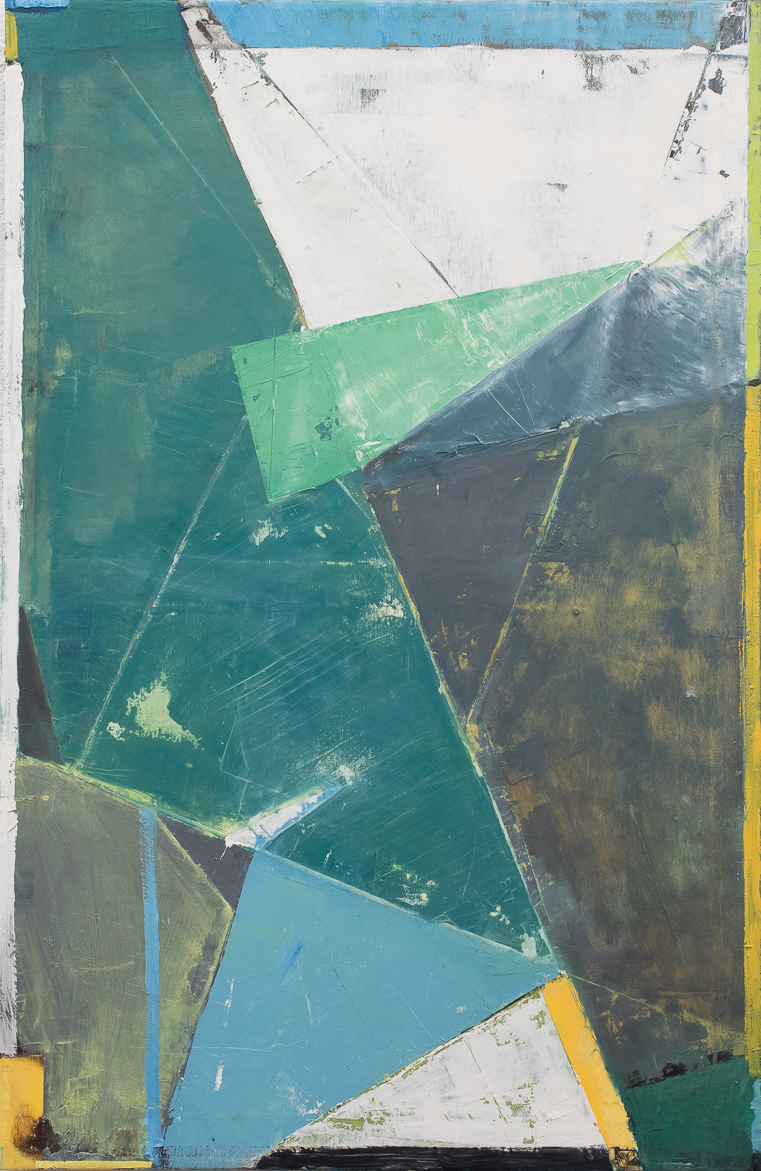 Work by Sergio Femar: MAD Summer (65 x 100 cm) oil on canvas. 2019
ABOUT THE GREENHOUSE
Its origin dates back to the middle of the 19th century. It is believed to have been built by a great lover of botany, the Marquis of Casa Jiménez. Located in the courtyard of what was once his residence, a stately building from the beginning of the 19th century, its two large chestnut trees bear witness to its past. Converted today into a contemporary space, the greenhouse conserves its original iron structure, greyish in colour and with a markedly French air. It is the headquarters of the boutique real estate agency The Sibarist, which specialises in unique properties.
ABOUT ART U READY
This is a platform to give visibility to artists with values, whose objectives are to improve society. Their projects for 2019-2020 are focused on making calls to action on current issues that concern us. They define themselves as a constantly evolving cell of ideas that fuses architecture, art, design, technology, education and awareness. They act as a catalyst for talent, a platform to give visibility to creators with a transversal and peripheral outlook, aligning values that improve society.
About ACCIONA
ACCIONA is a global group that develops and manages sustainable infrastructure solutions, especially renewable energy. Its activity covers the entire value chain of design, construction, operation and maintenance. ACCIONA's objective is to lead the transition to a low-carbon economy by providing technical excellence and innovation to design a better planet. The company achieved sales of 7,510 million euros in 2018, has a presence in more than 40 countries and carries out its business activities under the commitment to contribute to the economic and social development of the communities in which it operates.
3D printing, a sustainable and versatile technology
Large-scale 3D printing in concrete offers the possibility of building structural elements with total freedom of form, without the need for moulds or formwork, allowing complex shapes and design parts to be developed more efficiently. Introducing concrete as a material offers additional durability and strength, making it an ideal solution for use in architecture, urban planning and building. In addition, this technology reduces the amount of waste during manufacture by recycling raw materials and uses less energy and resources in the construction of building elements. ACCIONA has just opened a 3D printing centre in Dubai, as the city has set a target of 25% of its buildings to be made with 3D printing.
ACCIONA has achieved milestones such as the 3D printing of the world's first pedestrian walkway, located in Alcobendas (Madrid), or the first architectural piece of cultural heritage, the Romanesque arch of San Pedro de las Dueñas, in collaboration with the National Archaeological Museum of Spain (MAN). It also manufactured a replica of the 'Bear and the strawberry tree' of the Puerta del Sol in Madrid, which was installed in Guadalajara (Mexico) as a gift from the Madrid City Council on the occasion of the 2017 International Book Fair.
3D printing has become an ally of historical and cultural heritage. The possibility of obtaining exact replicas makes it possible to bring identical reproductions of the pieces to the public and avoid the deterioration of the originals. Likewise, the technology makes it possible to reproduce the pieces in their original location, ensuring the preservation of the originals in suitable facilities.
About THE SIBARIST
The Sibarist Property & Homes is a boutique real estate agency specialising in unique properties that showcase contemporary architecture and specialise in signature homes. They introduce art in all the projects they design and promote artistic projects with values that improve society through the ART U READY platform of which they are co-founders. Their lines of business are the purchase and sale of unique properties, search and management of special locations for events and filming, and they are creators of a collection of holiday homes.
The Sibarist Property & Homes and ACCIONA, as organisers and main sponsors, are driving this proposal.
ART U READY & THE SIBARIST PROPERTY & HOMES – PRESS CONTACT
Silvia Hengstenberg +34 685 14 73 12 – silvia.hengstenberg@thesibarist.com
SERGIO FEMAR CONTACT – ART U READY
Ana Crabiffosse +34 640 171 736 – www.artuready.es – info@artuready.es
GREENHOUSE THE SIBARIST – CONTACT THE GREENHOUSE
Tania Prada www.thesibarist.com – events@thesibarist.com