We talk about architecture and design with Mayice in the Brutalist Shoe Shop
Today we are with Mayice in a very special place. They are Marta Alonso and Imanol Calderón, product designers and architects whose studio has managed to position itself internationally as one of the most innovative. The space, an almost mystical place, with a history as peculiar as its unique appearance. It is a shoe shop project that never came to be, but was designed by the architect Francisco Alonso following the dream of its owner Manuel Losada, who wanted a space on a par with the best art galleries in the world for his shoe collections.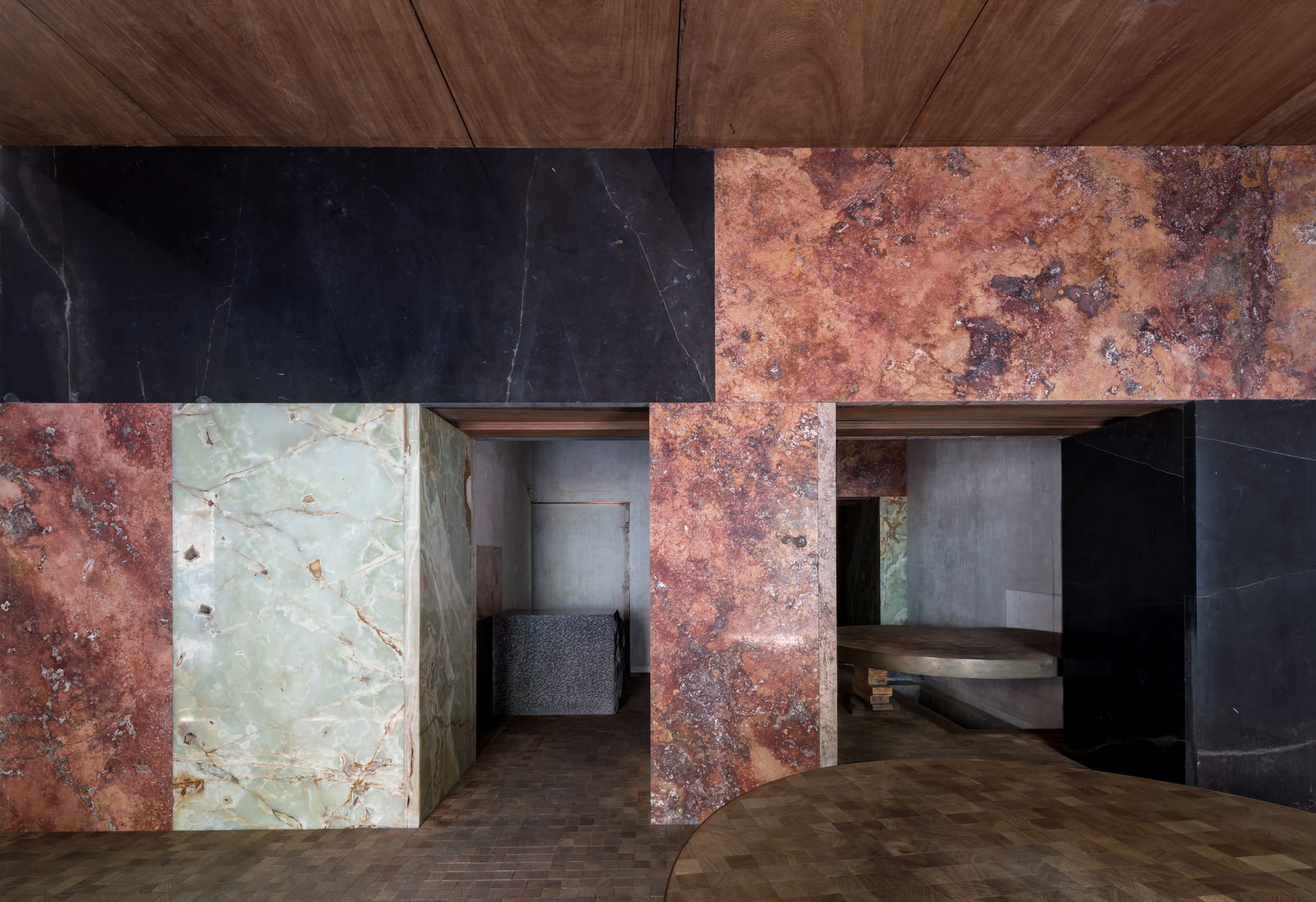 Marta and Imanol have been researching, creating and exhibiting their projects in different countries for a decade. Their latest exhibition was this year 2022 at the Salones del Mobile, Milan in Rossana Orlandi's space, which has been a recurring collaboration since 2017, and their latest awards have been the jury's mention for the best project for their space LZF Lamps "Utopia" and the AD 2021 award for New Campari Talent.
Today we have the pleasure of interviewing them in this very special space, in which Silvia Hengstenberg, founding partner of The Sibarist will chat with them about their architecture and their sculptural lamps.
For the occasion we have Javier de Paz, another architect and photographer specialising in architecture, who will be conducting this session and with the photographs of their lamps in this space taken by photographer Pablo Gómez Ogando.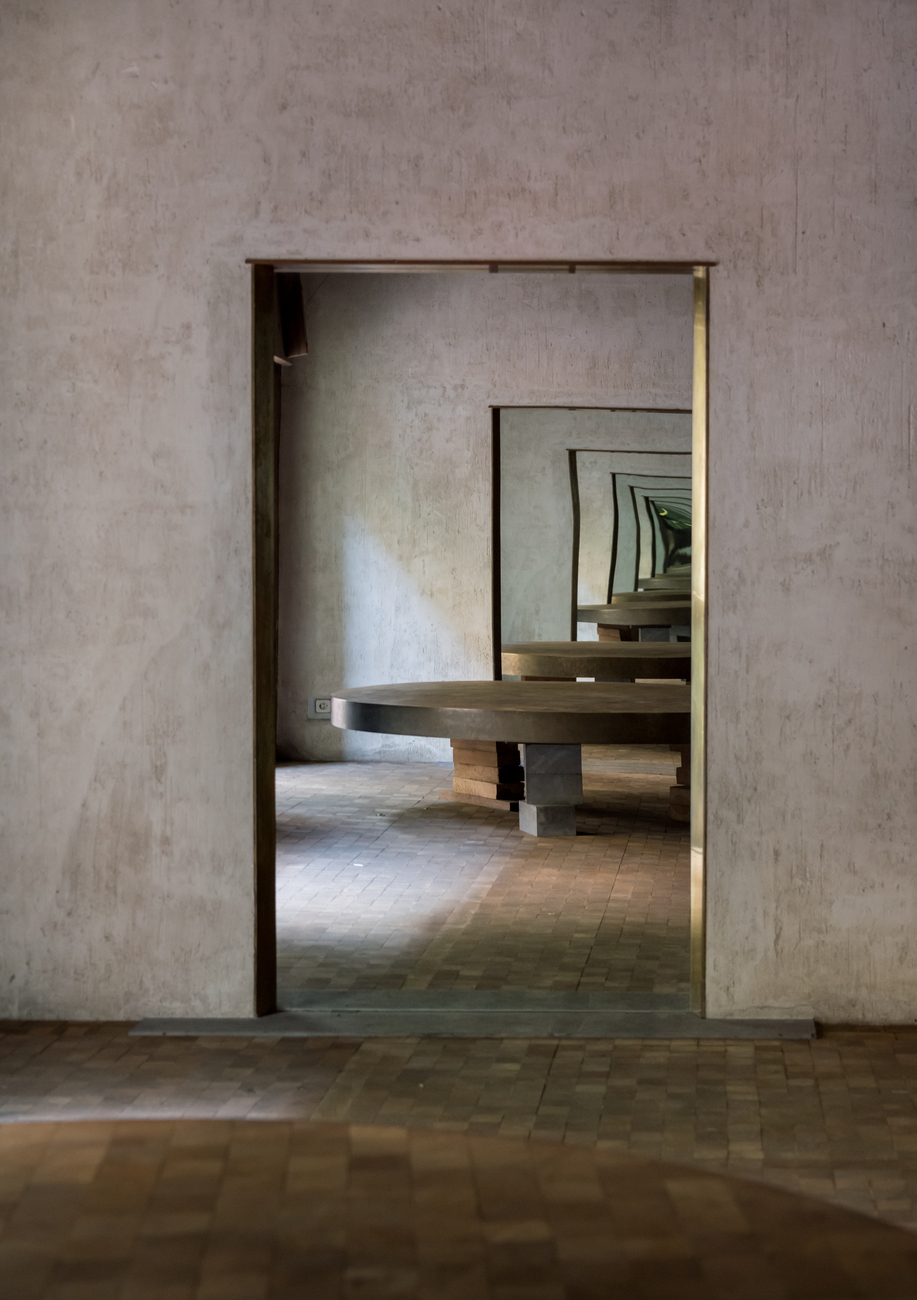 About the space , from your point of view as architects and designers
How would you define this place?
MS. An unknown jewel. Its architecture, the choice of materials, the details, the way of building, everything is a master class. It is a work of abstraction, a sublime work to contemplate and live forever, worthy of protecting and lasting over time. It is part of the heritage of Madrid, of our country and of Europe, of incalculable value. Not only for the value of the materials and the construction, but for the value of the work itself, a work of architectural art in capital letters.
The owner Manuel Losada and the architect Paco Alonso have created something unique and unrepeatable.
Can it be classified in any style?
MS. It has a very personal style, but perhaps the marble and wood, the textures, colours and finishes make us travel to Italy and remind us of Italian masters such as Carlo Scarpa or Piero Portaluppi, or even Adolf Loos, and this work is on the same level.
What does it transmit to you?
MS. Purity, honesty, elegance, sophistication.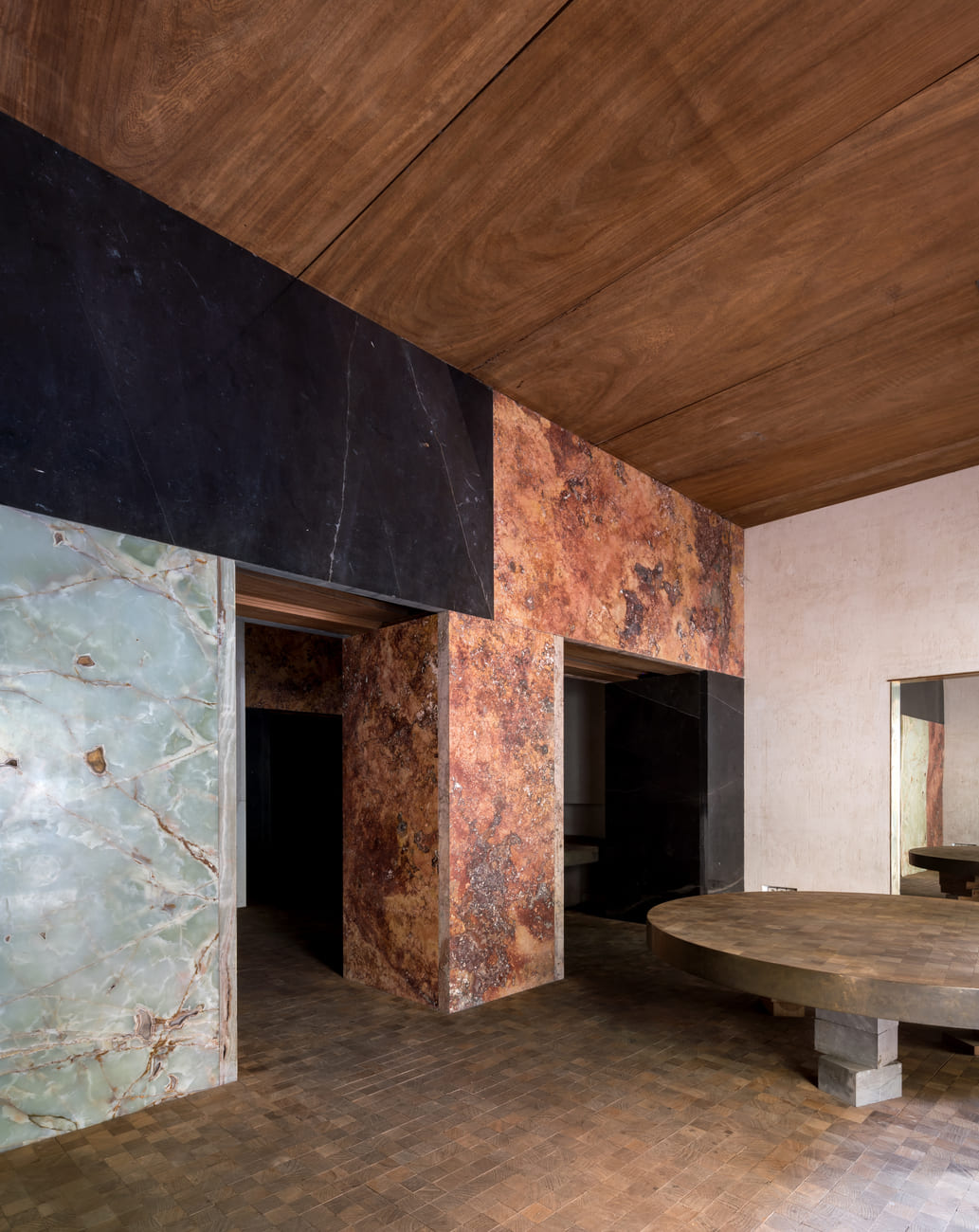 What surprises you the most or what would you highlight?
MS. The choice and use of materials, the way of building and the innovative details and exclusive solutions for this space.
The marbles have been cut in an unconventional way, achieving a large format and thickness, at the same time as the way they are laid makes these stones look light. T
All the colours and cuttings have a great harmony, order and proportion between them. The play of textures, colours, proportions and the dialogue with the mirrors is exceptional. It is a work that you can observe and experience and always discover something new, like a good jazz record. The façade facing the street, the form, harmonies, proportions, the union of the pieces in flared shapes, the light and dark, the clean and pure volumes transmit lightness, beauty, elegance, solemnity and sophistication. The detail of the granite steps is treated like a sculpture, half-sculpted. Every corner is designed, from the installations area with a staircase all in metal as if it were a Mondrian painting, to the switches embedded in the wall with flared holes and ceramic finish, or the detail of the solid wood door fittings, which make them rise from the floor when opened, or the marble and brass handles, with hand-turned threaded joints. Everything has been designed for the place, it is a project full of experiments and innovation. The solid wood ceilings and floors all come from the same tree. Every detail of this place has a great story behind it. It is a work that responds to the concept of new luxury with noble, honest materials and a masterful way of building.
If you had to choose a material from the space, which one would you choose and why?
MS. It would be very difficult to choose just one material, as everything is a whole, everything has been thought of as a whole.
Perhaps the marbles, the onyx stone, its thickness and the way it is cut and placed is impressive, I'm sure there are few stones cut like this and of these dimensions in the whole of Europe.
Your lamps seem to have been designed for a place like this, why do they fit so well in this space?
MS. We always look for places and architectures that dialogue with our work, with the luminaires or objects we create, we always imagine them in dialogue with the space.
The architecture of Manuel Losada's shoe shop, with the marble, its texture and colour, the use of the material, its purity, the lights and shadows, the spaces seemed perfect for us to carry out the photo shoot with No Title's crystal chandelier, as it integrates very well into this environment and atmosphere.
The dialogue between the No Title light and the location creates a warm atmosphere, the result of a contrast between the marble and dark wood with the transparency of the glass and warm light. The light of No Title illuminates the space in a natural way reminiscent of candlelight and is therefore a journey through time.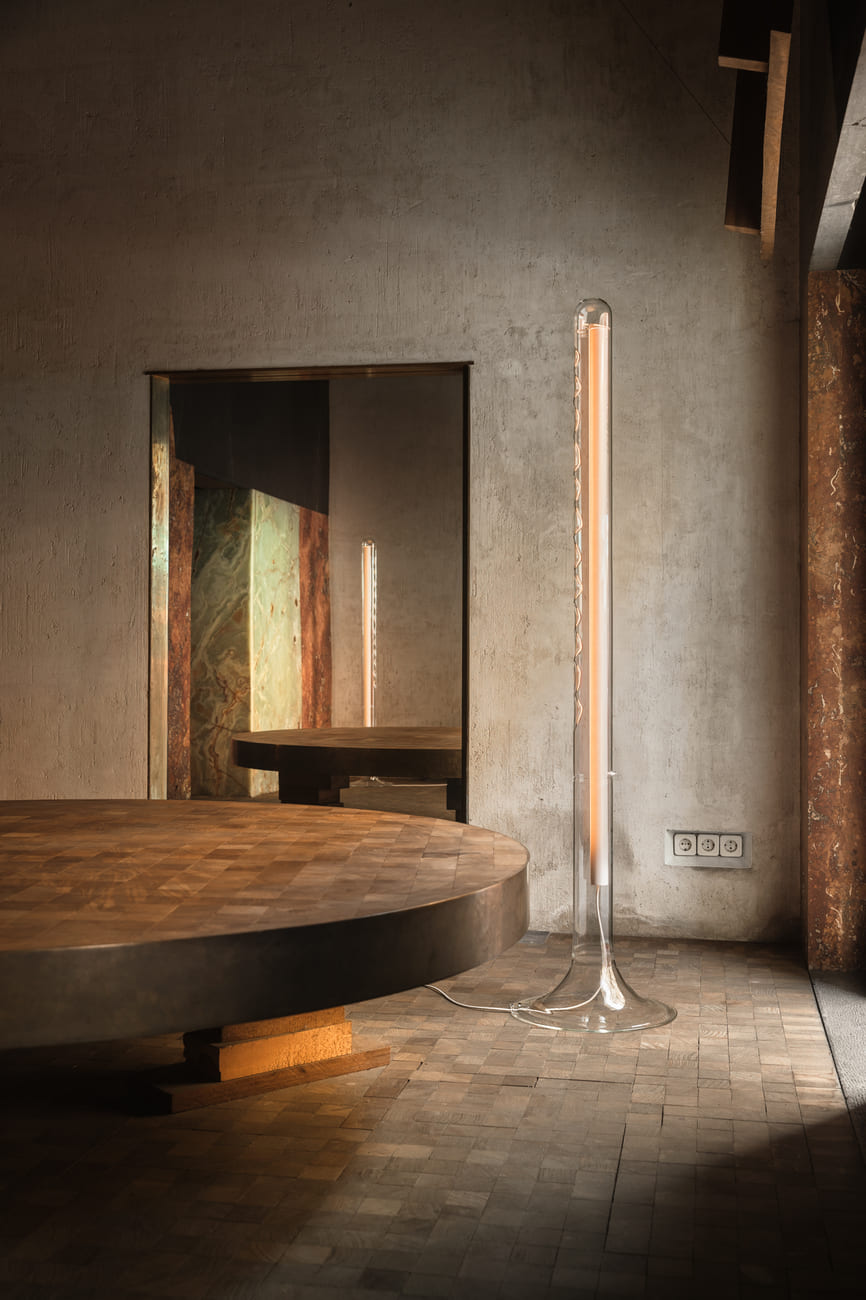 What do they have in common?
MS. We consider the way of using the material and taking it to its extreme, as well as the use of light and shadow.
The marble pieces in Manuel Losada's space have been selected and worked by the architect Paco Alonso with great thickness and format, worked in an unconventional way and when they are joined together there are no extra elements, everything is pure and seems light. In the one-piece No Title glass lamp, the union between the two pieces of glass is minimal, and inside is the light floating in a cylinder of painted glass that when illuminated looks like paper, creating light and dark, both parts, architecture and light dialogue with great subtlety. Perhaps the two works respond to the attitude of positivism of the figure of the creator who brings ideas to reality and matter, taking care of aesthetics, and of the client who supports him, who considers that the impossible may perhaps be possible.
What inspired you to create your No Title lamps, what did you want to achieve?
MS. "No Title is the result of an investigation into light and its reflections: a line of light is suspended in the air, generating different reflections on the glass that vary depending on the viewer's point of view. The result is three states, concave inflection, multiplication of reflections and line of light.
It is conceived in a single piece of glass with a circular section where inside it houses another glass tube painted in white where the light is housed, creating a paper-like appearance when illuminated, it is a form of expression that speaks of light, transparency, delicacy and fragility. Each piece is unique and numbered, handmade in Spain. It is currently part of the permanent collection at the Spazio Rossana Orlandi in Milan.
How would you define them as a whole, taking into account both the aesthetic result and the user experience? What emotion or sensation do they generate? What do people tell you?
MS. The words of Ana Domínguez, curator and journalist specialising in design, are the most beautiful words we have been able to receive about this work: "Mayice never ceases to surprise with their new incursions into the world of lighting, where they are already a point of reference. This latest "untitled" creation once again has that mysterious and enigmatic aspect of their designs. Like ethereal, elongated and gigantic candles, clean and simple, they are pieces that illuminate with delicacy and intrigue with plays of light and shadow, those chiaroscuros worthy of Caravaggio created by the reflections of the glass and the ingenious use of the inner tube. Technology and traditional craftsmanship come together here with that discreet and subtle way of doing things that is their sign of identity.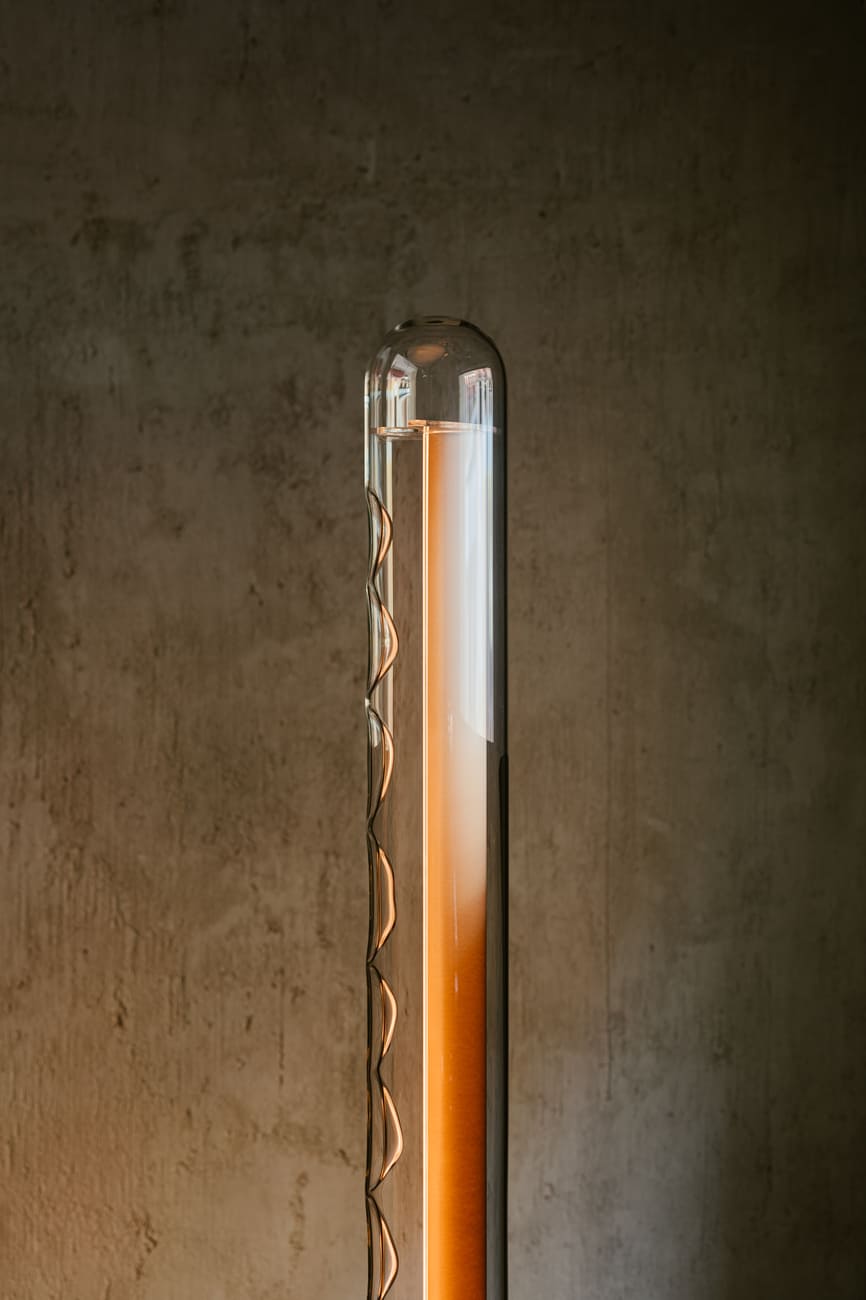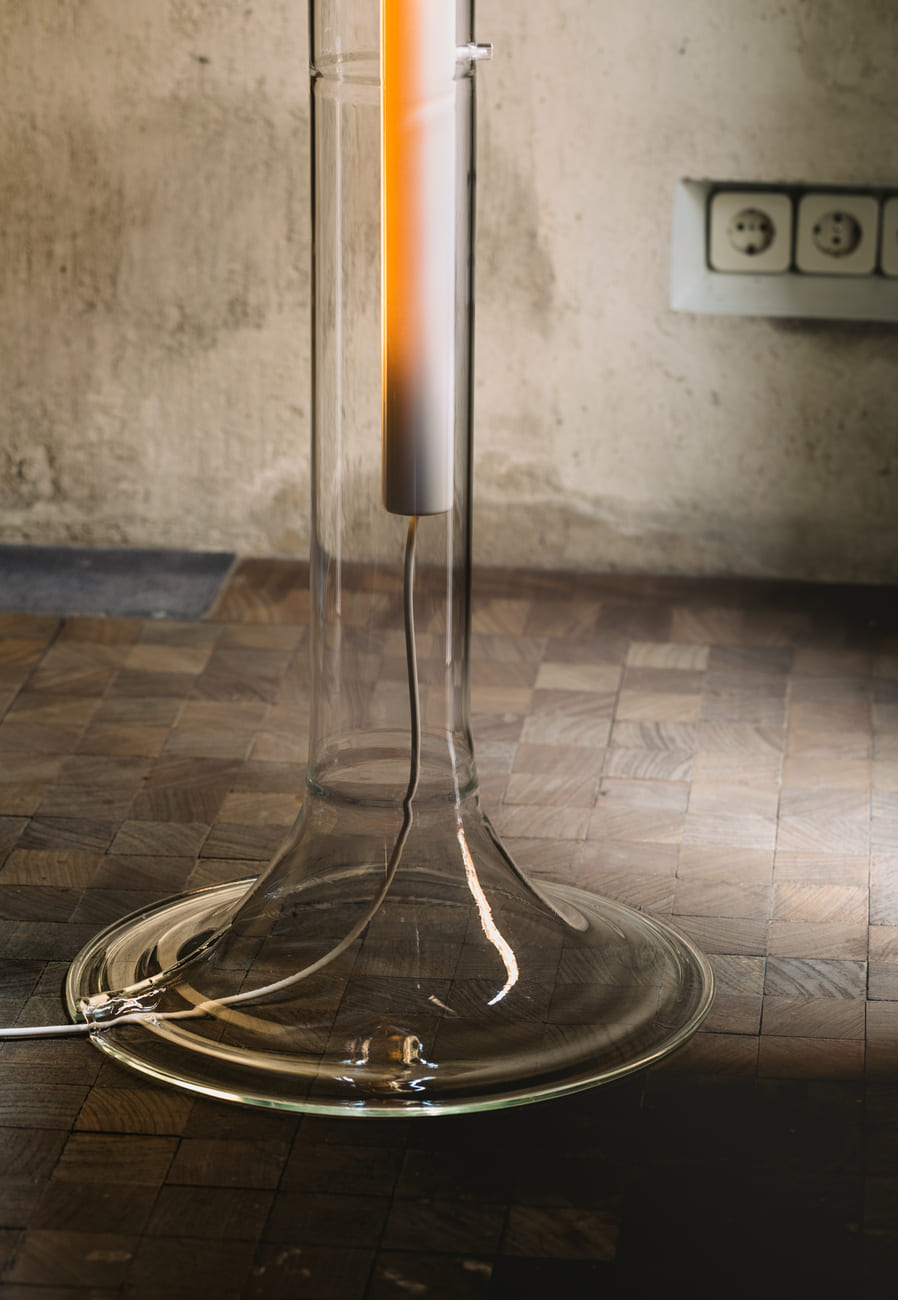 We know that it was a long research work to get to create these pieces. What factors/trades/technologies/materials/purposes… have been key to their creation?
MS. The work with glass and light that we have been developing since 2016 has been very important. Our work is based on observation. Since 2016, when we started working with Real Fábrica de Cristales glass, with reflection, refraction and the design and manufacture of light sources, our way of perceiving and analysing lighting has changed. The evolution and constant search for luminaires that accompany and illuminate spaces, creating an atmosphere of wellbeing and pleasure is a value that stands out in our philosophy.
How important is it to design light for a space?
MS. Light is everything. The success of a good project with good lighting has a very high percentage. A well-designed space with incorrect lighting can be a failure. Good lighting is essential for a project to work.
How does it influence our emotions?
MS. Light changes the mood. It can convey peace, it can be disturbing, or it can produce well-being. Nowadays light can cure people, without light there would be no life. In science, we are studying how to adapt to changing schedules or people coming out of a coma. The use of an adequate and controlled light, helps the recovery to live better, moreover, during the confinement, observing the light how it invaded our houses, at every moment of the day it informed us of the time or even the season. Light is everything.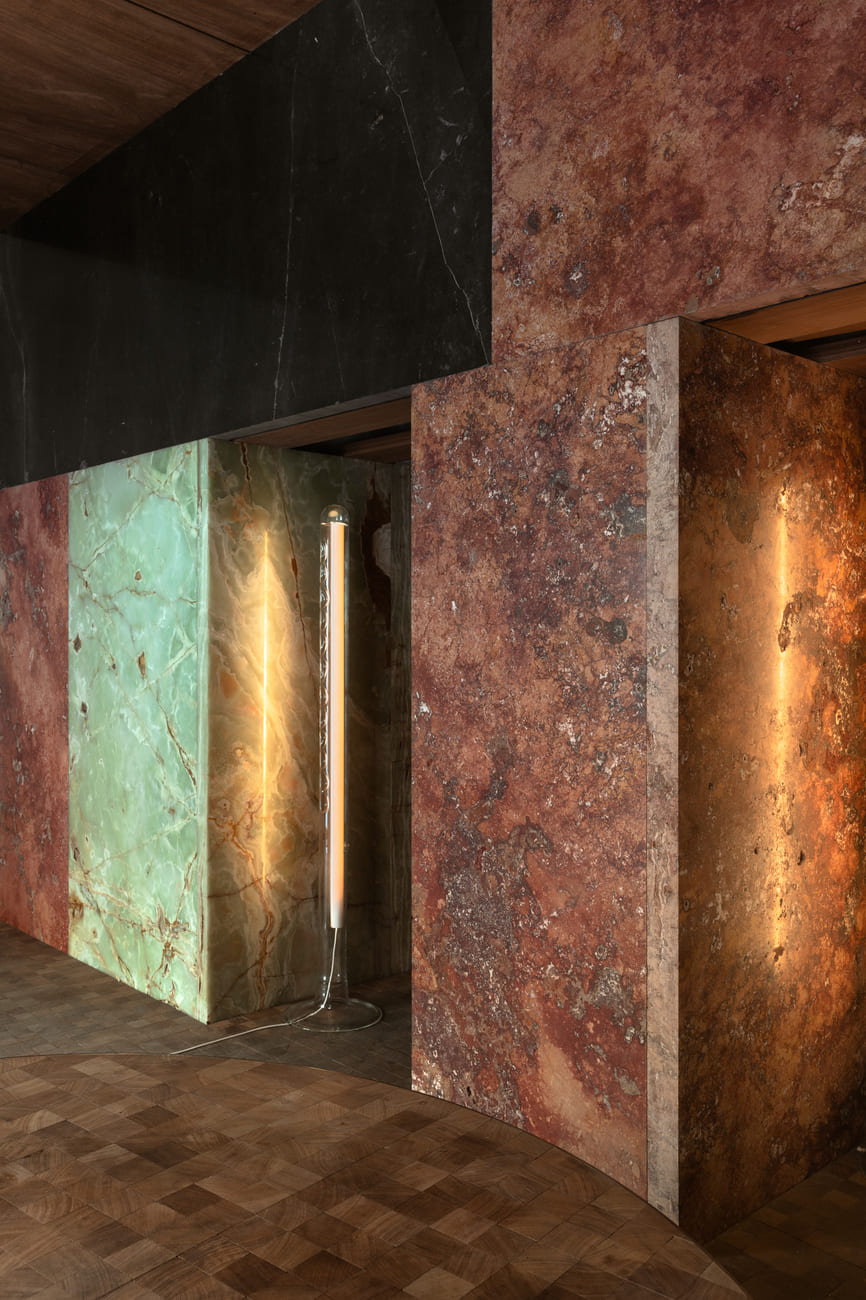 When it comes to commercial space, how can light make a difference?
MS. In commercial spaces, depending on the use of the space, the light has to accompany the experience.
A supermarket is not the same as a clothes shop or a perfume shop. Good and adequate lighting helps to communicate the product and accompanies the user experience. Investing in good lighting and taking the time to design that lighting is a sure value.
What aspects do you take into account when designing a product?
Is there an ethic behind each product? In these times when there is so much talk about sustainability, what is your opinion on this and how would you define your philosophy?
MS. All our designs are locally made, with a strong dialogue between craftsmanship and technology. We always try to push the properties of noble materials to the limit, giving value to the work of the masters who make each piece unique and human. We only manufacture to order. The pieces can be repaired and glass is an organic material that when broken returns to nature. Apart from these values, each design has a long work and development in the conceptual, abstract, harmonic and proportional part until the desired aesthetics, emotion and result is achieved. During the process, there is a lot of trial and error. We always consider that every design can evolve, just like people and times.
What is the key to your international success? You have been working with Rossana Orlandi for years, what has this collaboration meant for your studio?
MS. Success for us is being able to work on what we consider to be our best version, accepting failures and achievements. Working with Rossana Orlandi and her team is a unique and enriching experience. She has been our mentor and support since 2017. Her space is full of designers from all over the world, there is always a familiar and close treatment, and we have met people and discovered extraordinary and sublime work. We consider that interacting with people from different countries and with different points of view and ways of expressing ourselves, is the greatest gift.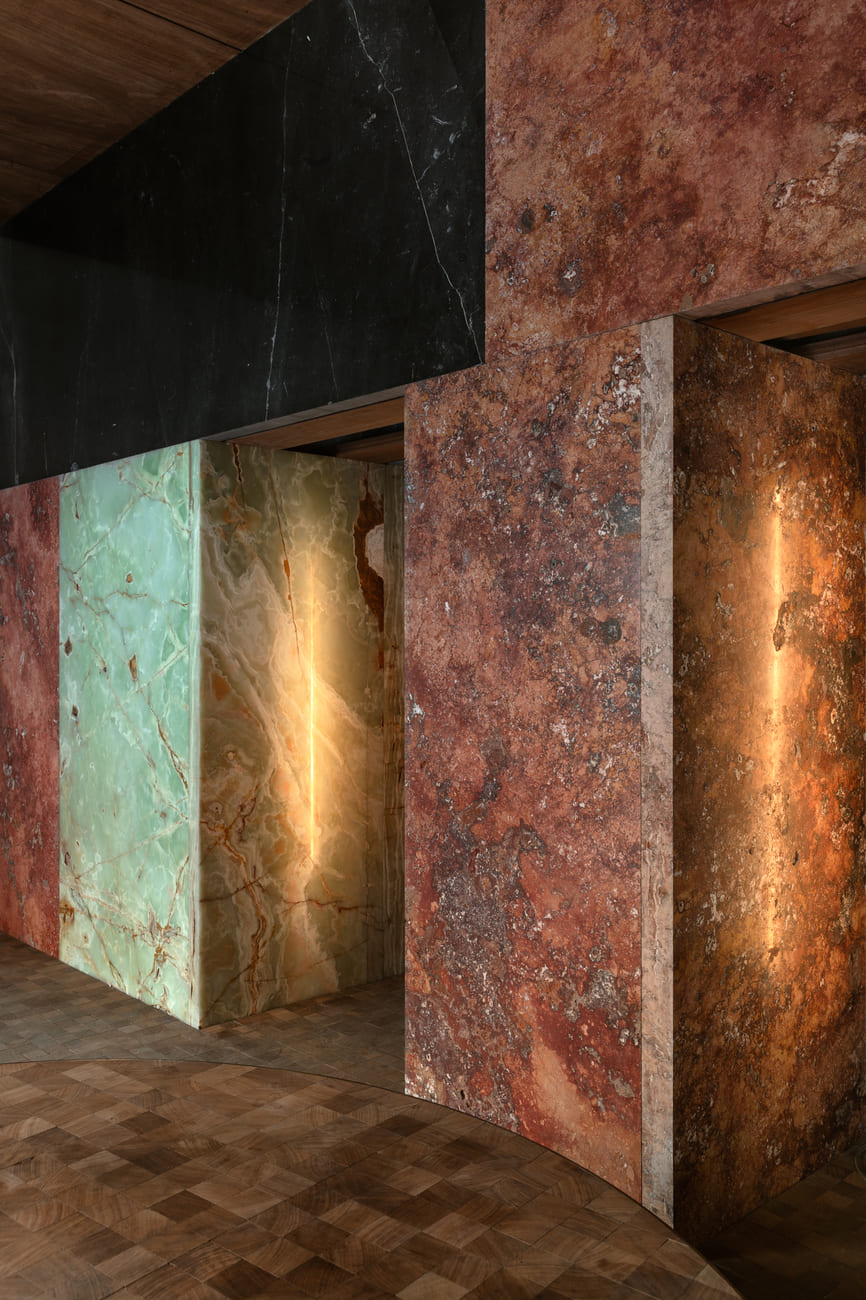 Special products require special places. In this case we are in a unique space, what future do you see for this space, as architects, would you change anything, what kind of pieces/products do you imagine?
MS. It's a space that shouldn't have any modifications. In Manuel Losada's shoe shop, which never opened, we imagine a luxury shop where there is little product on display, very well placed, looking for harmonies and proportions and with lighting that accompanies the place, indirect and hidden light.
It could be a limited edition bookshop or a luxury shoe shop. Let's imagine what those shops in Japan are like where there is almost nothing and you order everything online. Surely if this place were in Milan the Fondazione Prada would have already acquired it as an investment in heritage and art.
S. For me the feeling when I look at them is that they are much more than they appear at first glance. The first impression is of a sculptural piece, but when they are lit they provoke something that I find hypnotic. It is as if they somehow dialogue with the space itself, enhancing and enhancing the atmosphere that the place itself wants to recreate, without artifice. They are futuristic but at the same time have an ancestral energy. They blend into the environment and transport us to something essential. I have been lucky enough to see them in very different spaces and they always surprise me.