Around the (gastronomic) world from Madrid
You don't have to get on a plane and cross the globe to discover and enjoy some of the best (and most unknown) gastronomic delights in the world. The city of Madrid, with its many nooks and crannies, allows you to take a tour of some of the most international gastronomic proposals on the planet and enjoy a long and exciting journey without leaving the city centre.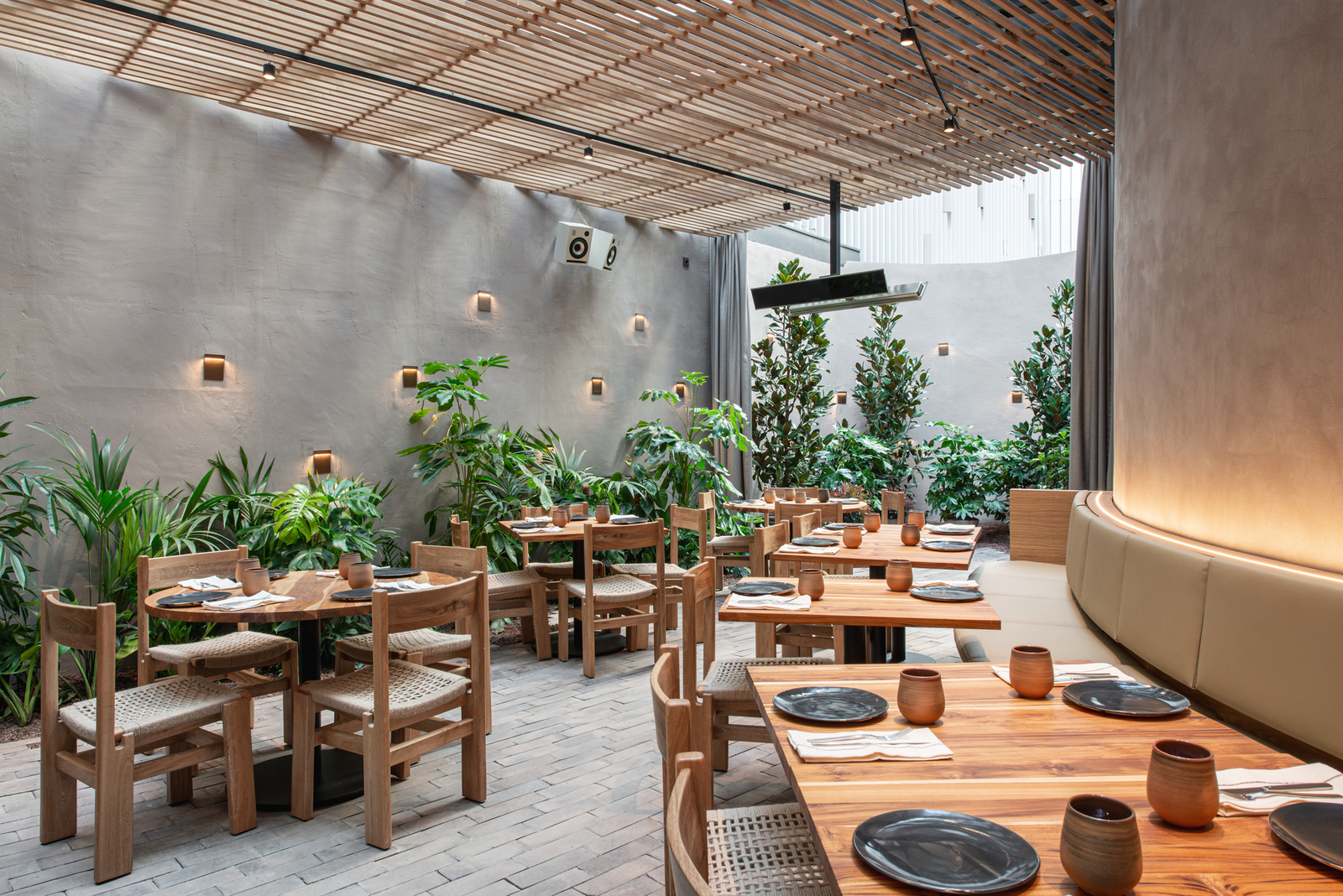 Some of the world's most exotic, tasty and comforting flavours are hidden in restaurants located in Madrid's most emblematic streets and neighbourhoods. One of the most surprising Japanese restaurants (with an infinite array of makis, nigiris, sashimis and temakis) on Calle Alcalá, which many Mexicans say "is the best Mexican restaurant in Madrid" just a few minutes from Puerta del Sol, the unknown gastronomy of a country like Georgia (with star dishes like 'Khachapuri') in a small and cosy bistro in the Chueca neighbourhood, the best pisco sours and authentic Peruvian ceviche in the middle of the Salamanca neighbourhood or the sophisticated Cantonese cuisine, with lacquered duck as the protagonist, in one of the busiest corners of the city. Take note of these restaurants that have become some of the favourites of world cuisine addicts. Which country do you want to travel to?
TICUÍ, the most authentic Mexican restaurant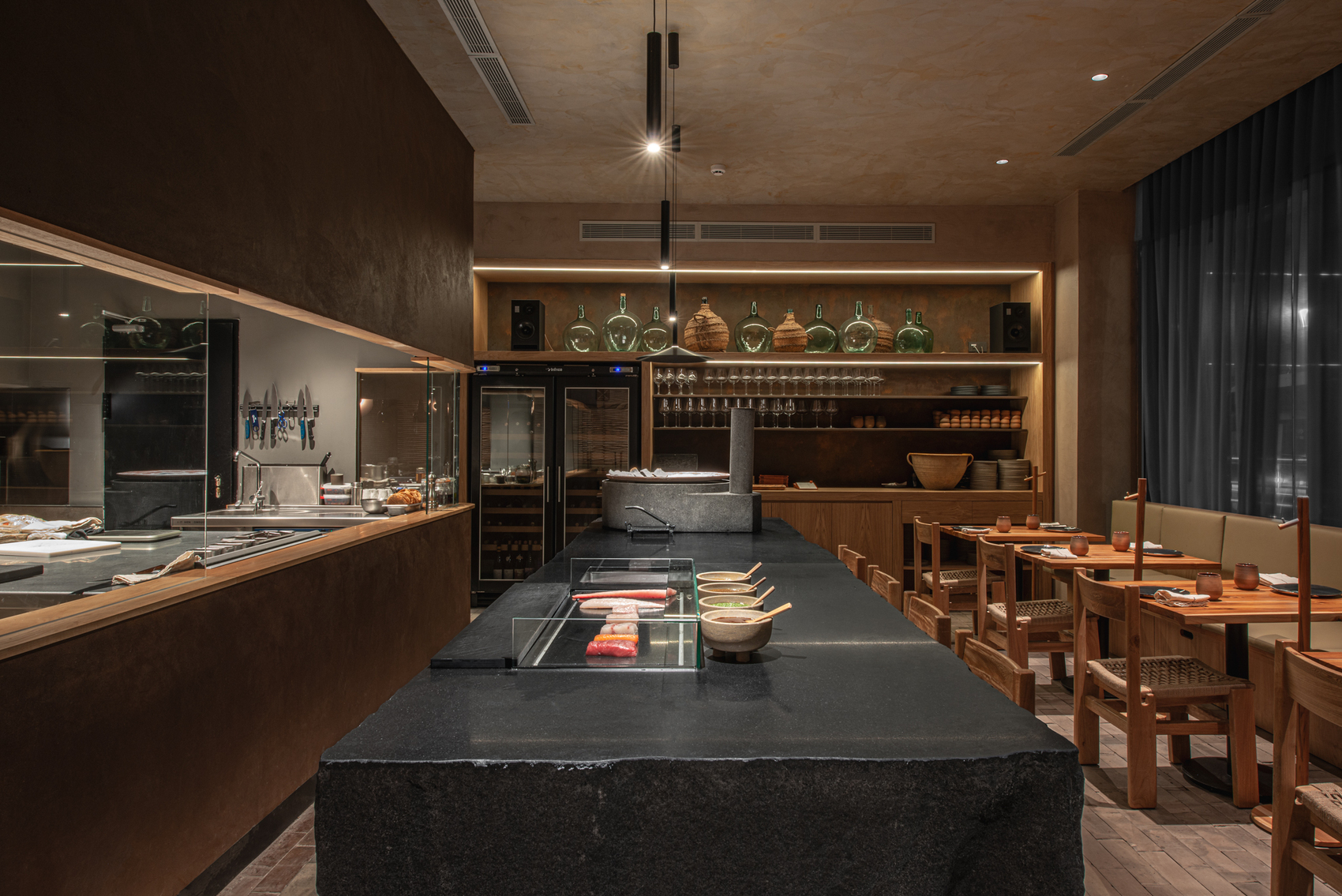 A comal brought from Oaxaca, where they make their homemade tortillas, welcomes the visitor to Ticuí, one of the most authentic Mexican restaurants in Madrid. This restaurant, set up by the renowned Punta Arena group (which is celebrating more than twenty years in business), offers diners an infallible connection between original Mexican flavours and the best Spanish ingredients. Its contemporary format, full of dishes perfect for sharing, and its sophisticated cocktail menu make for a winning duo. You should start with their homemade totopos accompanied by a delicious round of sauces, some of which are only suitable for spicy lovers. On their menu you will find such delicious dishes as their sea bream cured in salt, sugar and sake, with yuzu emulsion, trout roe and coriander sprouts, the "Kampachi", a fish similar to lemon fish and accompanied with macha, ponzu and apple or one of their ceviches such as sea bass with trout caviar and crispy toast. What would a Mexican meal be without their tacos? Served with homemade tortillas, you can enjoy a wide variety of tacos, including fish a la carte, cochinillo pibil, carnitas and suckling lamb, a tribute to the Spanish product. To the diner's surprise, elements such as the ceramics and crockery, glasses, napkins, chairs and tables that make up this photogenic restaurant come straight from Mexico. A trip to the Mexican Pacific is guaranteed here. Not a trace of jet lag.
QUISPE, the best of Peru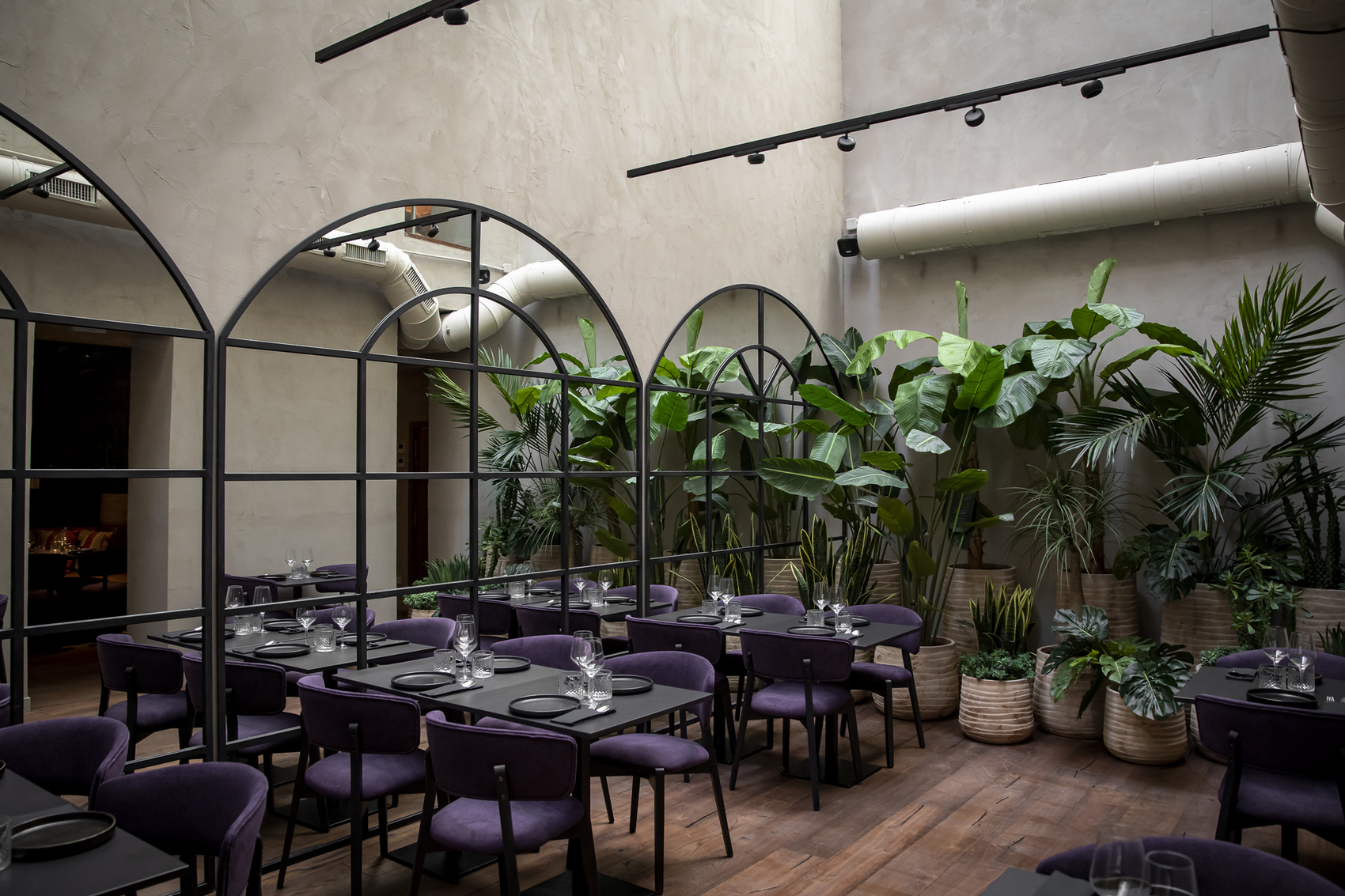 They have just moved from the Las Salesas neighbourhood, where they started in 2018, to the Salamanca neighbourhood, to open the doors of their new restaurant at number four on Calle Conde de Aranda. Its name, "Quispe", refers to the most common surname in Peru and in its menu you will find some of the most emblematic dishes of the tasty gastronomy of this Latin American country. The journey, this time, will have to begin with one of its original and varied pisco sours (from the classic to the surprising passion fruit). Its original and complete menu could not miss some of its star dishes such as the "classic ceviche" with cubes of wild sea bass marinated in its classic leche de tigre, its tirados such as the "Limeño" with wild sea bass marinated in leche de tigre with aji amarillo and rocoto pepper, quinoa pop and cucumber chalaquita or its prawn, octopus or spider crab & prawns causas. You'll also find nods to "Nikkei" cuisine (a mixture of Japanese and Peruvian gastronomy, an absolute explosion of flavour) with a selection of makis such as acebichado, the original vinicunka or batayaki, among others. As a main course? You can't leave without trying their chicharrón de corvina and crispy squid or their recipe for chaufa seafood rice stir-fried in a wok with octopus, prawns and squid, chifera sauce, tamarind, fried wantan strips and nori seaweed. After the last pisco sour, dessert. A tres leches, please.
NUNUKA, Georgian gastronomy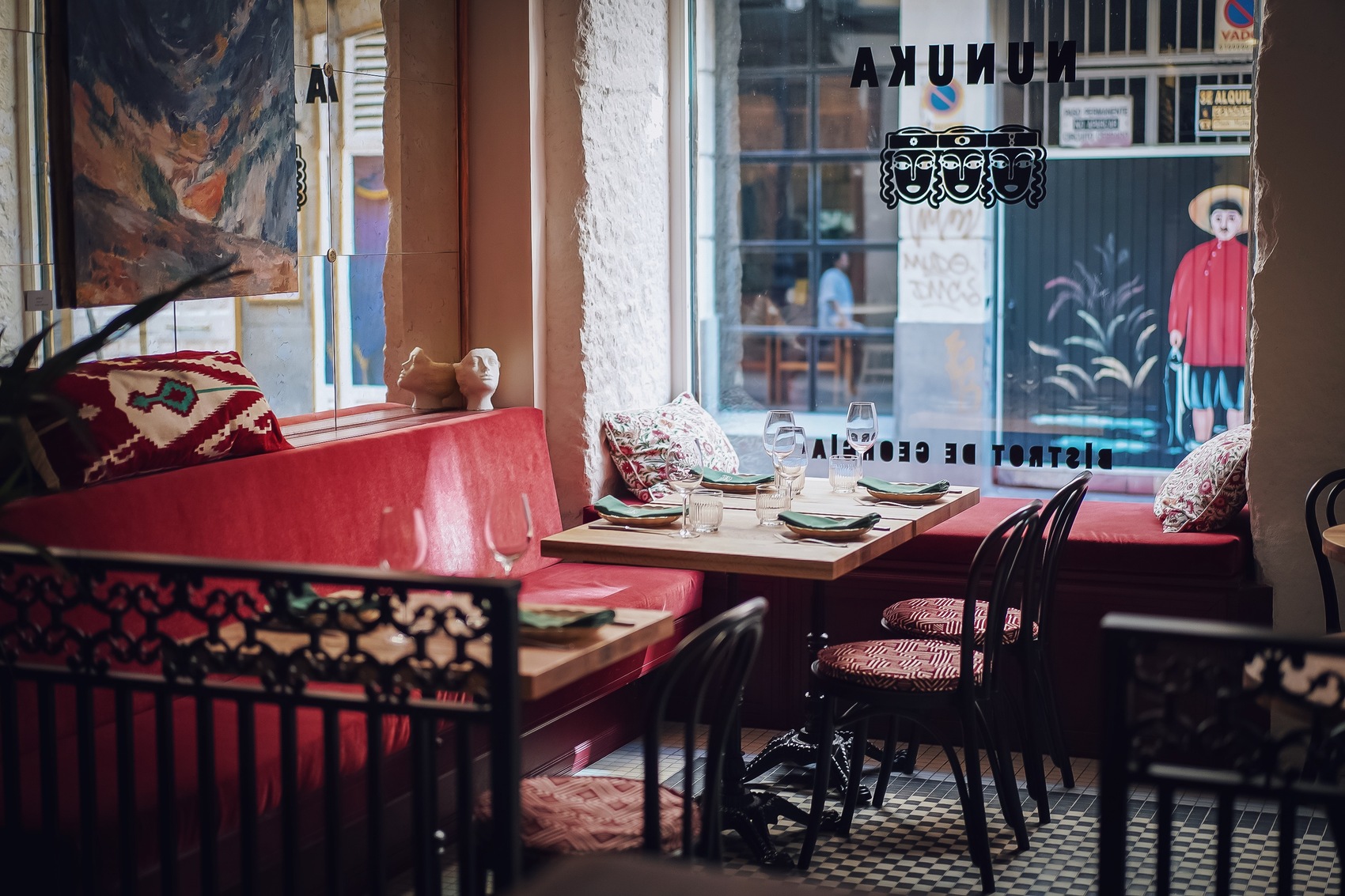 This small bistro, set up by Nino Kiltava, has arrived in the Chueca neighbourhood to discover (to the general public) the surprising Georgian cuisine and, at the same time, to reinvigorate it. A journey through some of the most traditional dishes of the original gastronomy of Georgia, a country that fuses Mediterranean and Middle Eastern flavours in its dishes with the use of spices as the absolute protagonists. Nunuka is also an exciting tribute to the most typical Georgian recipes that Nino's grandmother used to cook when she was a little girl. Her must-tries? You can't leave Nunuka without trying some of its star dishes such as "Khachapuri", a baked bread filled with cheese and egg yolk, or its "Khinkali", a baked dough filled with different ingredients such as minced meat and broth, a mixture of mushrooms and herbs or creamy ricotta cheese. Nunuka is one of those restaurants where the unpronounceable names of the dishes will raise many questions. Nunuka invites you to dive into Georgian history. As a starter you should try their "Badrijani Nigvzit", the traditional aubergine stuffed with walnut paste and spices in a light almond sauce, or their "Charkhali Tkemalshi", a light beetroot carpaccio with plum sauce and horseradish sauce. Wine also plays a starring role, with original and different proposals. Before leaving the table, ask for their homemade cakes.
DON LAY and Cantonese cuisine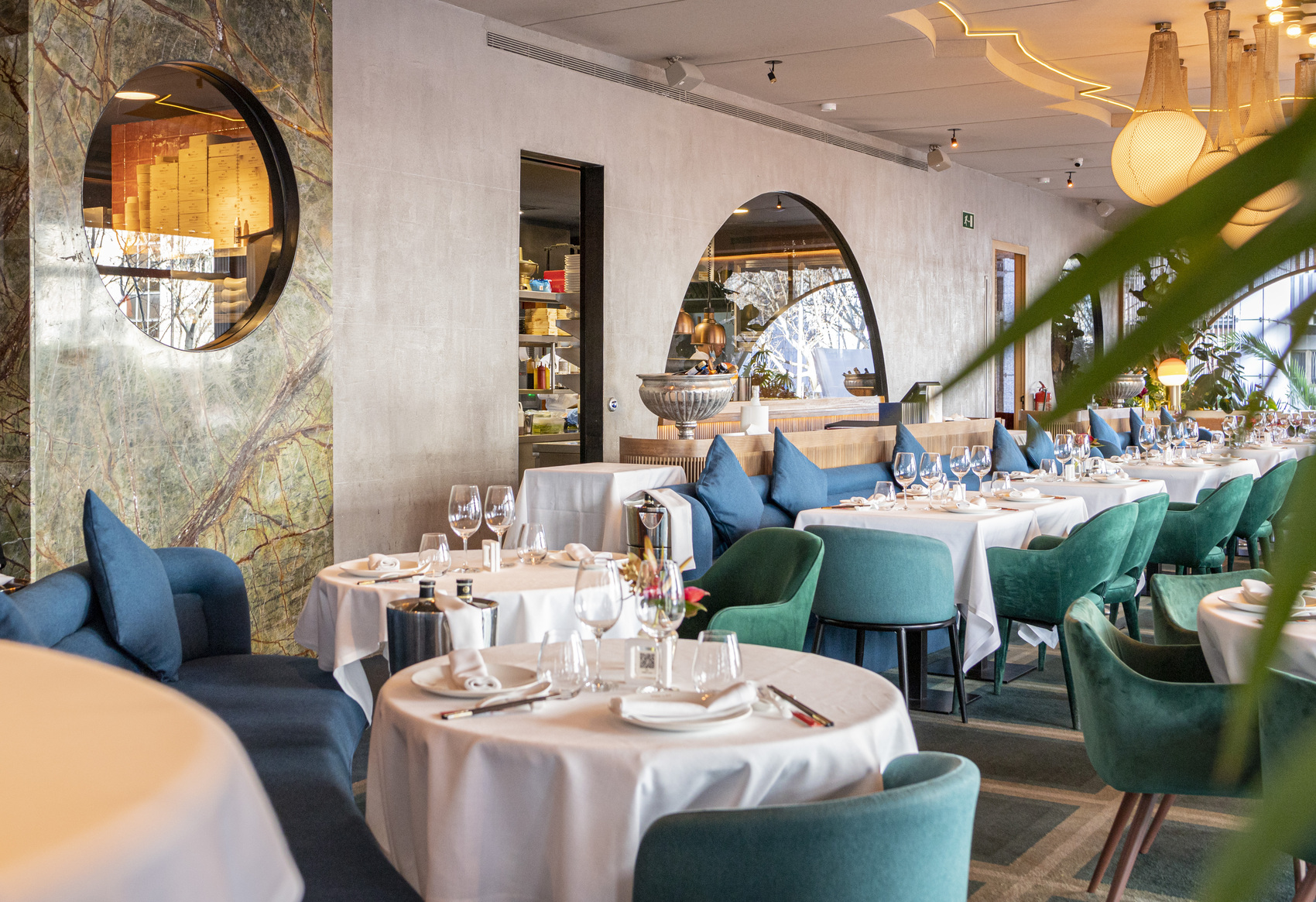 The story of Don Lay began more than seventeen years ago, on Madrid's Paseo de Extremadura. Nieves Ye and her father started a restaurant where diners could enjoy authentic Chinese food without leaving Madrid. Lovers of Cantonese cuisine continue to find refuge in Don Lay, now converted into a sophisticated restaurant located on the corner of Calle María de Molina and Calle Castelló in Madrid. The spacious premises, divided into two areas (bar and dining room), is the best place to enjoy classic dishes, already present in the first restaurant, such as its "laqueados". Duck, suckling pig or pork, according to the diner's taste. Its impotent bar gives centre stage to the "Dim Sums", the classic Cantonese dumpling stuffed with different ingredients. The Xiao Long Bao of free-range chicken with truffle oil or the Shanghai with pork loin, txangurro and chicken broth are some of the best options. Fish lovers will find their sea bass with steamed red and green pickled chilli peppers the perfect dish. You should also try their rice dishes, such as the Cantonese rice with marinated pork. One of the most photographed desserts in Madrid? You can't leave without trying (and taking a photo) of their swan-shaped dessert, an original hot puff pastry filled with pastry cream and served with biscuit ice cream.
HOTARU, a trip to Japan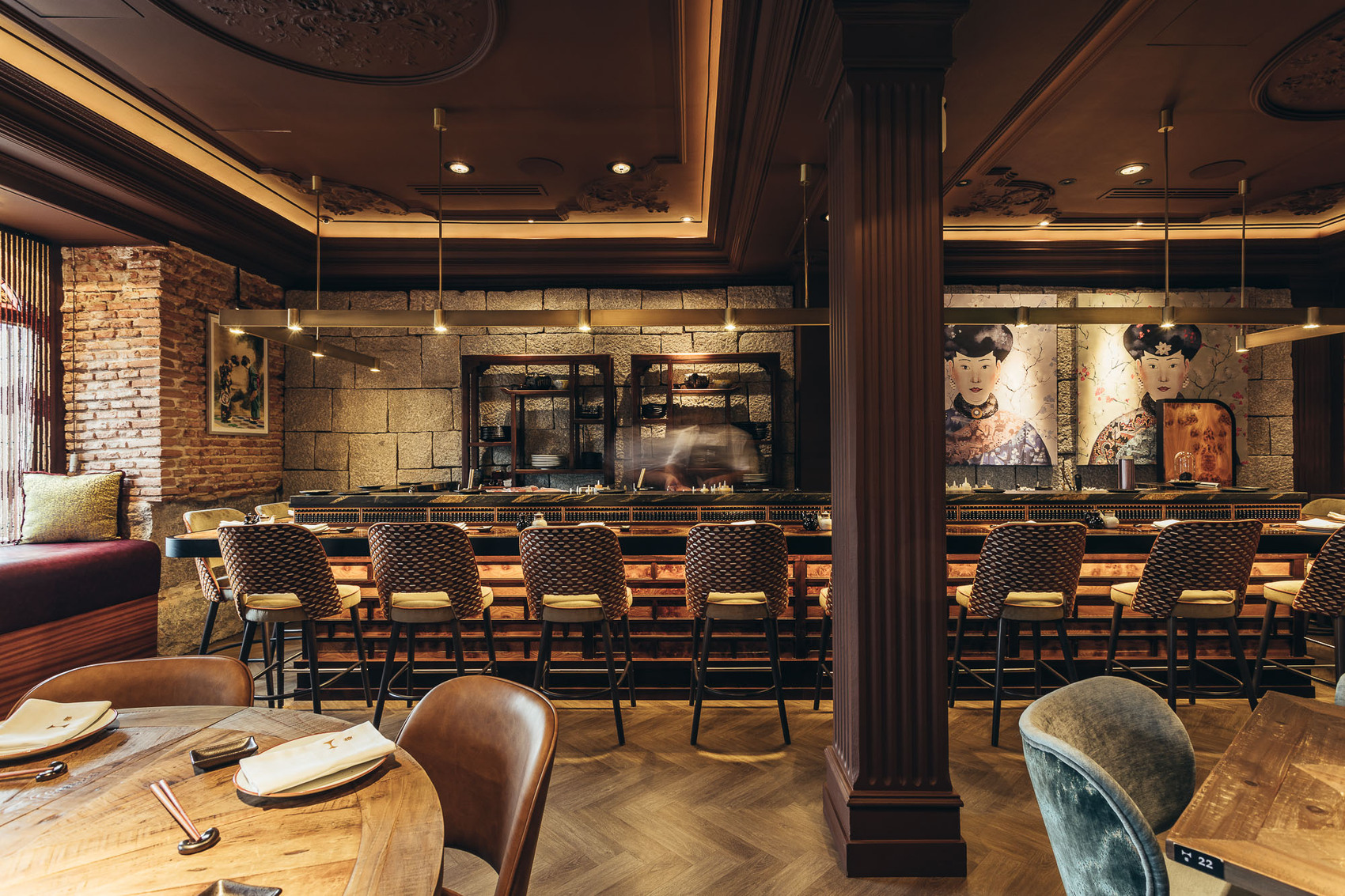 When a customer walks through the door of Hotaru ("firefly" in Japanese), the room comes to a standstill and the entire team shouts a resounding "welcome" in Japanese, in unison. Located in Madrid's Calle Alcalá, this restaurant has already become one of the essential stops for lovers of authentic (and more purist) Japanese cuisine. With a staging full of ceremonies and rituals, this restaurant manages to give all the importance to each of the ingredients they use. Here, the product is the absolute protagonist. A large bar, where exquisite cutting and preparation work is carried out, presides over a space that manages to transport the visitor to Japan from one of the most central and busy streets in the city of Madrid. This "Japanese-style" tribute should begin with their classic edamame, which are particularly tasty here. As starters you will find such recognisable dishes as their "Gyozas de short rib" (dumplings stuffed with rib meat, spring onion and sesame seeds), the classic miso soup or their tempura prawns. These will be followed by an array of makis (such as their "Red Dragon Roll" with tempura prawns, cucumber, avocado, kanikama, spicy mayo, red tobiko and sweet soy or their "Ryoshi roll" with king crab, tuna, ponzu reduction and coriander brutes), temakis, nigiris or sashimis (tuna, salmon, lemon fish, sea bass or butterfish, among others). Don't forget to order their menu of sakes and toast.
Editor: Álex de la Rosa
Álex is a journalist and a reference in the world of gastronomy, creator of the successful blog "Que no me la den con queso".