Bosco de lobos: a central Eden with Mediterranean dishes
In the courtyard of the Official College of Architects of Madrid, in an impressive building of cubic shapes and a garden
In this unique space, one of its best virtues is that it is hidden in the heart of Madrid, as it does not face the street. It is located in the courtyard of the Official College of Architects of Madrid, in an impressive building with cubic forms and a garden. An ideal place to have lunch in peace and quiet and/or consult the books in the library, to enjoy on the privileged terrace or in the main lounge.
There we find the kitchen, in the main dining room in full view of the diners, including the wood-fired oven where the tasty pizzas are prepared, one of its specialities, and Bosco de Lobos offers a good compendium of Italian specialities with great influence from the rest of the Mediterranean. This is done in a casual, urban format with an open kitchen.
You can consult its menu here, but we can tell you that it has a varied offer in which it will be difficult to choose just a couple of dishes, as it ranges from pastas such as pappardelle with meat ragout in red wine to tapas such as aubergine and parmigiano croquettes or corn pancakes with tuna sashimi and chipotle mayonnaise, to starters such as burrata with spinach and almonds, as well as appetising salads, and fish and meat dishes such as tuna and avocado tartar or veal carpaccio with Cipriani sauce. .. And let's not forget their pizzas! Of which we highlight the black one with pumpkin and goat's cheese.
This restaurant is part of En compañía de lobos, a project created in 2013 by Tomás Tarruella, which includes 9 restaurants in Barcelona, Madrid and Mallorca. Tarruella has been creating restaurants of different kinds for more than 20 years. Behind each of his restaurants there is a different concept:
"The starting point, their inspiration and cultural influences vary in each case, but they always share the same essence: premises with personality, careful attention to design and gastronomy, quality products presented in avant-garde ambiences and at a fair price.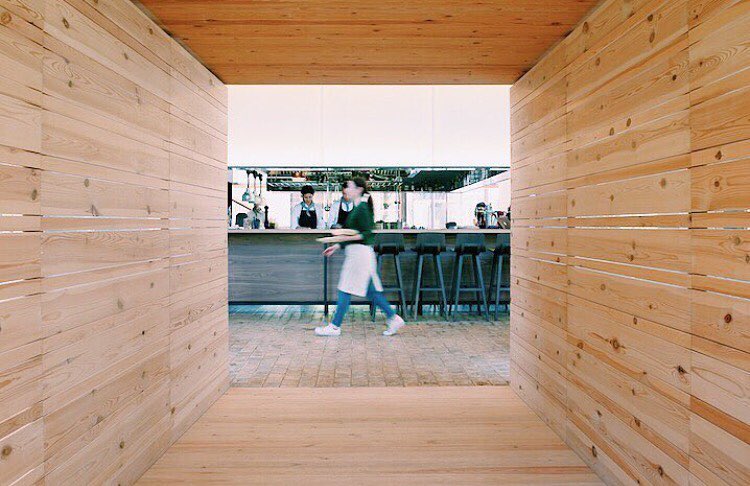 Photographs: Bosco de Lobos
Bosco de Lobos is more than a restaurant, it is a relatively hidden location where you can enjoy good food in peace and quiet at almost any time while surrounded by nature and enveloped by design and architecture. It is also ideal for relaxing with an after-work drink or indulging in brunch at the weekend.
What more could you ask of an establishment in the heart of the city?
Average price lunch-dinner à la carte: 25-40 €.
Address: Colegio Oficial de Arquitectos de Madrid. Calle de Hortaleza, 63. 28004, Madrid.
Telephone: 915 24 94 64