Fayer, Israeli restaurant and Argentinean grill
Two historically close-knit cultures meet on a different chart
Fayer, fire.
A PLACE WHERE ISRAEL AND ARGENTINA MEET
Two historically very close cultures meet in a menu that is different, fresh, exotic and very Mediterranean, to which the unmistakable grilled Argentinean meat cuts are added. The proposal led by chef Mariano Muñoz, both in the Buenos Aires and Madrid restaurants, speaks of a well understood fusion and of two cuisines that together add up to much more.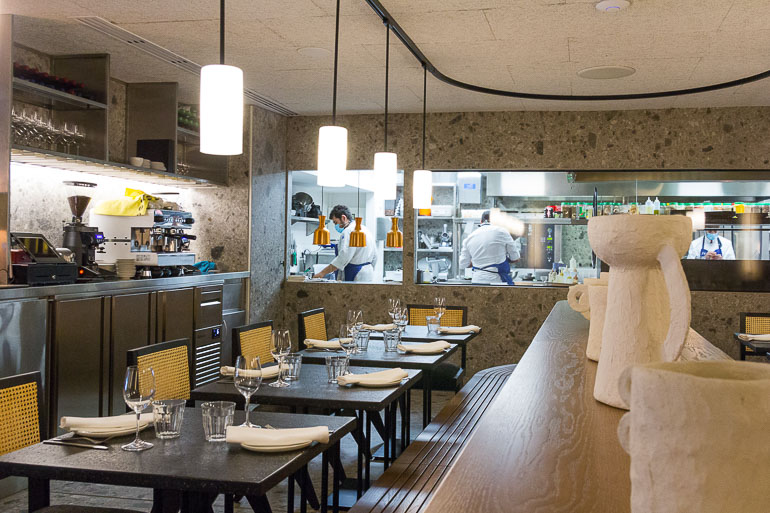 PHOTO: FAYER
SOPHISTICATED, CONTEMPORARY, WELCOMING AND ALWAYS CHEERFUL.
At Fayer the experience starts with an appetizer, a Jerusalem bagel made by themselves and a labneh sauce with zaatar and olive oil for dipping. Delicious.
On the menu, originally designed for sharing, we first find the mezze, a selection of Middle Eastern starters where the hummus is an explosion of flavours, the falafel is served with labneh and tahina and where we find a succulent babaganoush. In the oven part (tannur), Argentinian pastries could not be missing, where the empanadas criollas or the pastrón sandwich stand out.
Need a more refreshing option? Enjoy the sea bass ceviche Eilat style or the Fatoush salad.
THE GRILL
But if there's one iconic dish at Fayer that the waiter will recommend, it's the bone-in pastrón, a dish that takes a whopping 10 days to prepare, with a rack of beef ribs macerated with salt, sugar and a blend of 13 spices, then smoked for 8 hours and cooked at a low temperature for 24 hours. To go with it? We recommend the roasted leeks with muhamara or the Fayer cauliflower with herb tahuna and smoked tomato sauce, but you can also complete the meat dish with other grilled vegetables or classic fries.
In the grill section, the porteño cuts of ojo de bife with chimichurri or the entraña with salsa criolla won't disappoint you either. If you are more of a fish lover, you can choose the grilled catch of the day.
AND IF YOU LEAVE ROOM FOR DESSERT….
You can try the traditional Israeli baklava, an original chocolate hummus or finish with the Argentinian sweet par excellence, the pancake with dulce de leche.
In addition, we took some advice on the wine list and were able to try a red wine from the well-known area of Mendoza. They have an excellent range of fortified and sparkling wines, including Argentinian, Galician, and Tenerife wines…