Manolita Chen, an Asian fusion where the spectacle is served.
The legacy of a forerunning saga of Chinese catering in Spain
Manolita Chen, the legacy of a forerunner of the Chinese restaurant saga in Madrid
Manolita, Eva Chen's great-great aunt, was born in Vallecas and became a true star of variety shows in Spain in the 1950s and later, a revue star who founded the Teatro Chino in 1950 with Chen Tse-Ping and her brother, Eva's great-grandfather. Later, her grandfather set up the first chain of Chinese restaurants in Spain, La Gran Muralla. And her father went one step further with the Tao Group, adding up to eleven Asian restaurants that he turned into fashionable places, something previously unthinkable for a "Chinese place".
THE STAGE
Eva left her promising career at Repsol to continue the family legacy, first with La Pagoda and Duck&Sushi and now with Manolita Chen, where her grandfather opened La Gran Muralla.
The decoration is the work of the Alejandra Pombo interior design studio, which has created a tribute to Manolita and the world of feathers, curtains, fringes and uninhibited fantasy that she was and that now takes the form of an Asian fusion restaurant.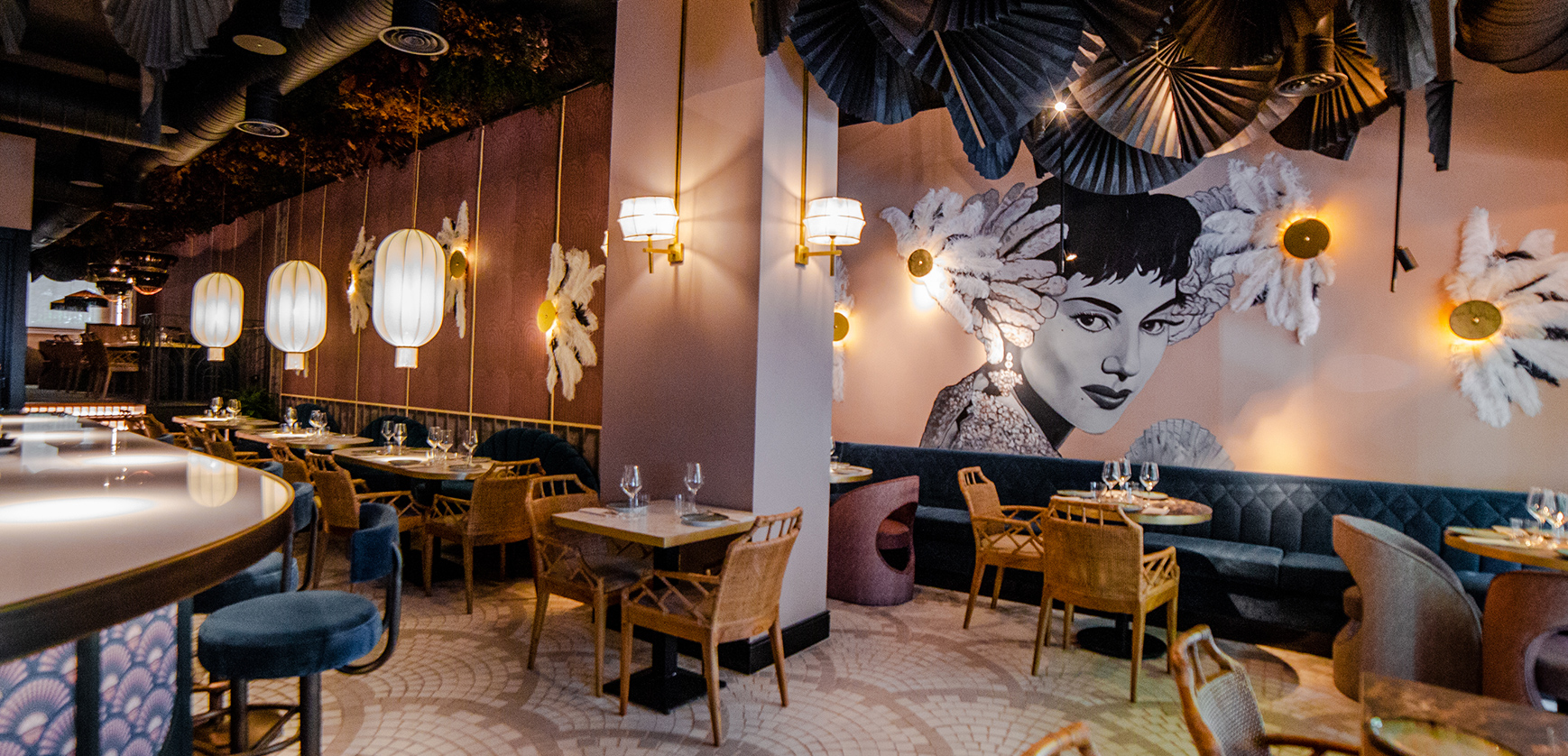 PHOTOGRAPHY: MANOLITA CHEN
THE PERFECT FUSION BETWEEN ASIA AND SPAIN
Here we find a compilation of dishes and flavours from different Asian countries from the personal perspective of Eva Chen and her husband: a menu where you won't find the traditional three-delicious rice but you will find fake bluefin tuna scrambled eggs or glass dim-sums stuffed with prawns.  It is a double adaptation: firstly, that which her relatives did by introducing Chinese flavours to Spanish palates, which at the time had little experience in exoticism, and then that which she puts into practice with fusion recipes and dishes that are now recognisable to everyone.
They have a long menu (in which we found continuous nods to the old theatre) and we couldn't make up our minds, as everything looked spectacular, so we let the waitress recommend it to us. She suggested we start with some prawn popcorn accompanied by a very mild mayo with a little sweet chilli, which really surprised us and which we think is a must in the restaurant. Addictive.
From the other starters we decided on their iconic duck gyozas with foie, a true definition of the fusion concept they work with. We were then offered a choice of a hot and cold dish to complete the menu for two people, and we opted (of course) for a tasty bluefin tuna tartar of the highest quality and a teppanyaki of Japanese grilled beef sirloin in cubes accompanied by bimi.
WE REACHED THE END OF THE SHOW
Have you left room for dessert? Manolita Chen also has a sweet section that will not leave you indifferent, let yourself fall in love with the mango and coconut cheesecake or the assortment of frozen mochis.
And if you prefer, get ready for an assortment of cocktails, where you will have to decide between the honeyed ones like Yuzu Manolita, with white tequila, yuzu, Aperol, tonic and matcha tea salt, or a non-alcoholic one like the Refresha-Lime, with lemon sorbet, coriander, cucumber, ginger and honey, ideal for the approaching summer.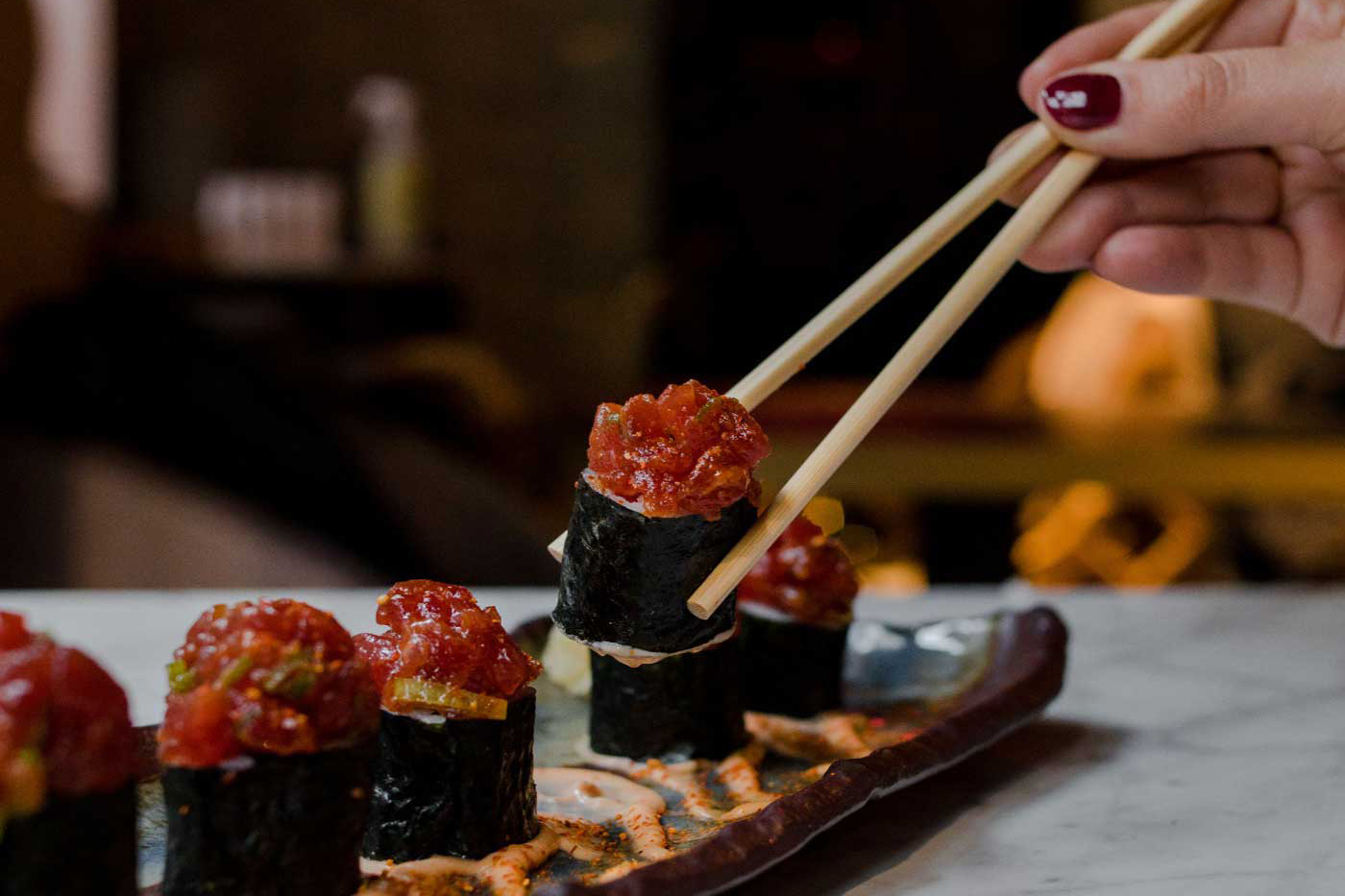 PHOTOGRAPHY: MANOLITA CHEN
Average price of à la carte food: 25-30 €.
Address: Castelló, 18
Telephone: 911 52 27 91