On Wednesdays, rice at the commercial café
We sat down at the table of this classic of the capital city
Original and traditional.
A DIFFERENT SEASONAL RICE DISH EVERY WEDNESDAY
The seasonal rice Wednesdays are back at the legendary Café Comercial and we hadn't tried them yet, so this month we didn't let the opportunity pass us by. An option to share that changes its recipe every month depending on the seasonality of the product. Pepe Roch, the chef in charge of the menu, proposed a tasty rice dish with razor clams and clams for this Christmas month of December.
If there were already reasons to come and enjoy the Café Comercial restaurant, this proposal, which takes place every Wednesday lunchtime, invites you to stop and sit at the table of this classic restaurant in the capital.

CAFÉ COMERCIAL, A CLASSIC AND FINE MENU WHERE QUALITY IS PARAMOUNT
In keeping with its philosophy of honest and traditional cuisine, the food menu at Café Comercial features cold meats, gildas, oysters and portions such as bravas with Madroño aioli and tiger mussels… and all the irresistible classics, of which we opted for some creamy croquettes made with milk from Guadarrama and a marriage of smoked and pickled sardines on tomato raf.
A local menu where you will find a 100% local cuisine made with local products (meat from La Finca, milk from Guadarrama, products from the Sierra … ). You can choose between snacks and other more elaborate meat and fish dishes such as their oxtail cannelloni with béchamel sauce and portobello or their skewered hake taquitos with fried garlic mousseline.
Let's not forget the sweet touch. We couldn't choose just one, so we opted for two absolutely sweet desserts: the cheesecake, which was a pure explosion of flavour, and the broken tempered chocolate tart, which was surprising in the mouth both for its melted texture in the centre and for the salty detail of the topping.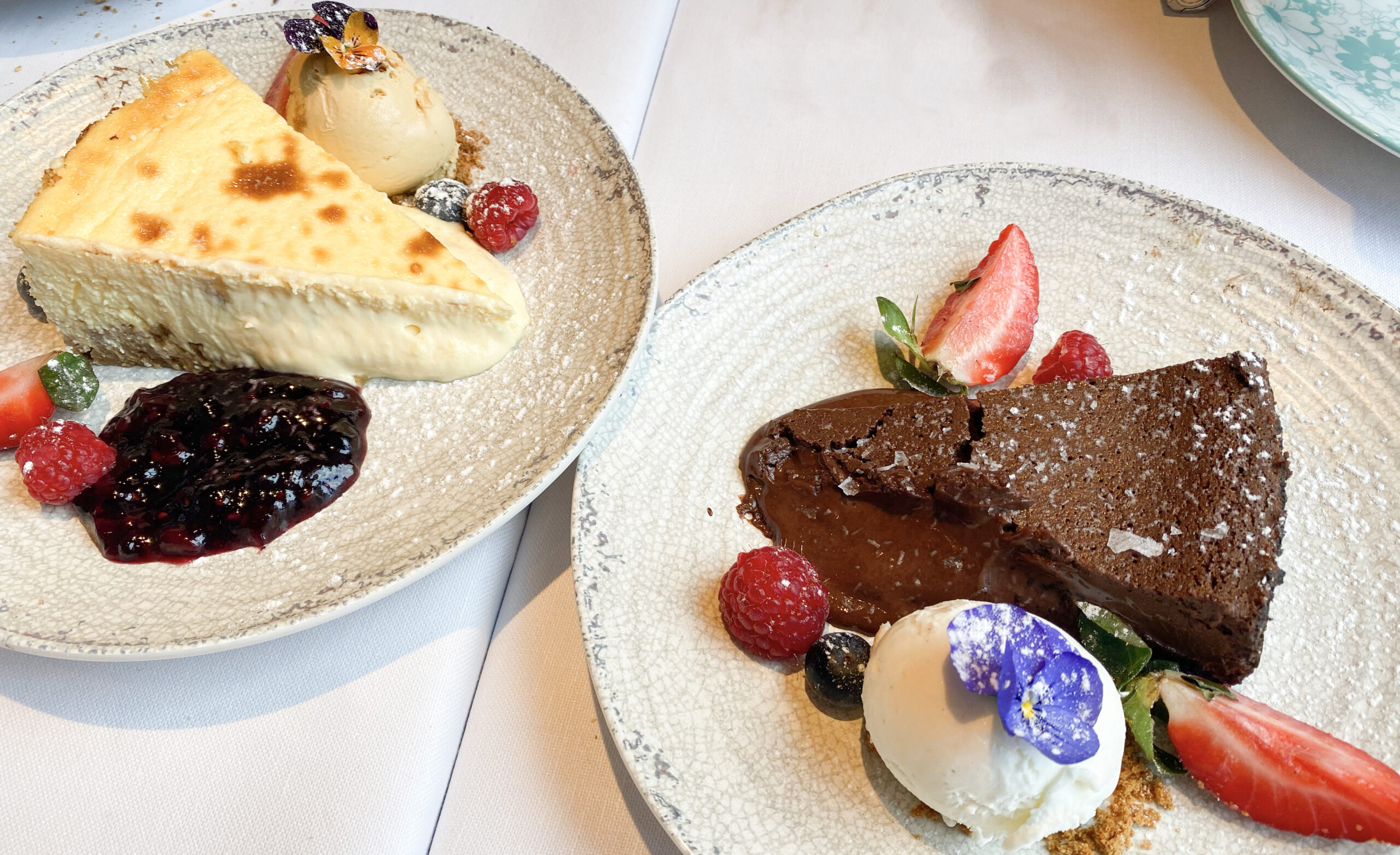 MUCH MORE THAN A RESTAURANT
For those who prefer a more informal snack at any time, its high tables (since, for the moment, we can't enjoy the bar) are the perfect place. Amongst its portions, the taquitos de merluza de pincho, Spanish omelette with different accompaniments or the now legendary bravas with alioli and the classic "El Comercial" salad stand out. Indispensable bar dishes that are maintained for their homemade flavour and the quality of their products.
Let yourself fall in love with its breakfasts and snacks (with its traditional chocolate with churros), its terrace and its selection of mixed drinks and cocktails? In addition, every Sunday you can enjoy its genuine brunch at Café Comercial, which for 28 euros includes, in addition to the essentials, a selection of Galician farm eggs to choose from and a main course with original proposals such as cheeseburger with cheddar and brioche bread.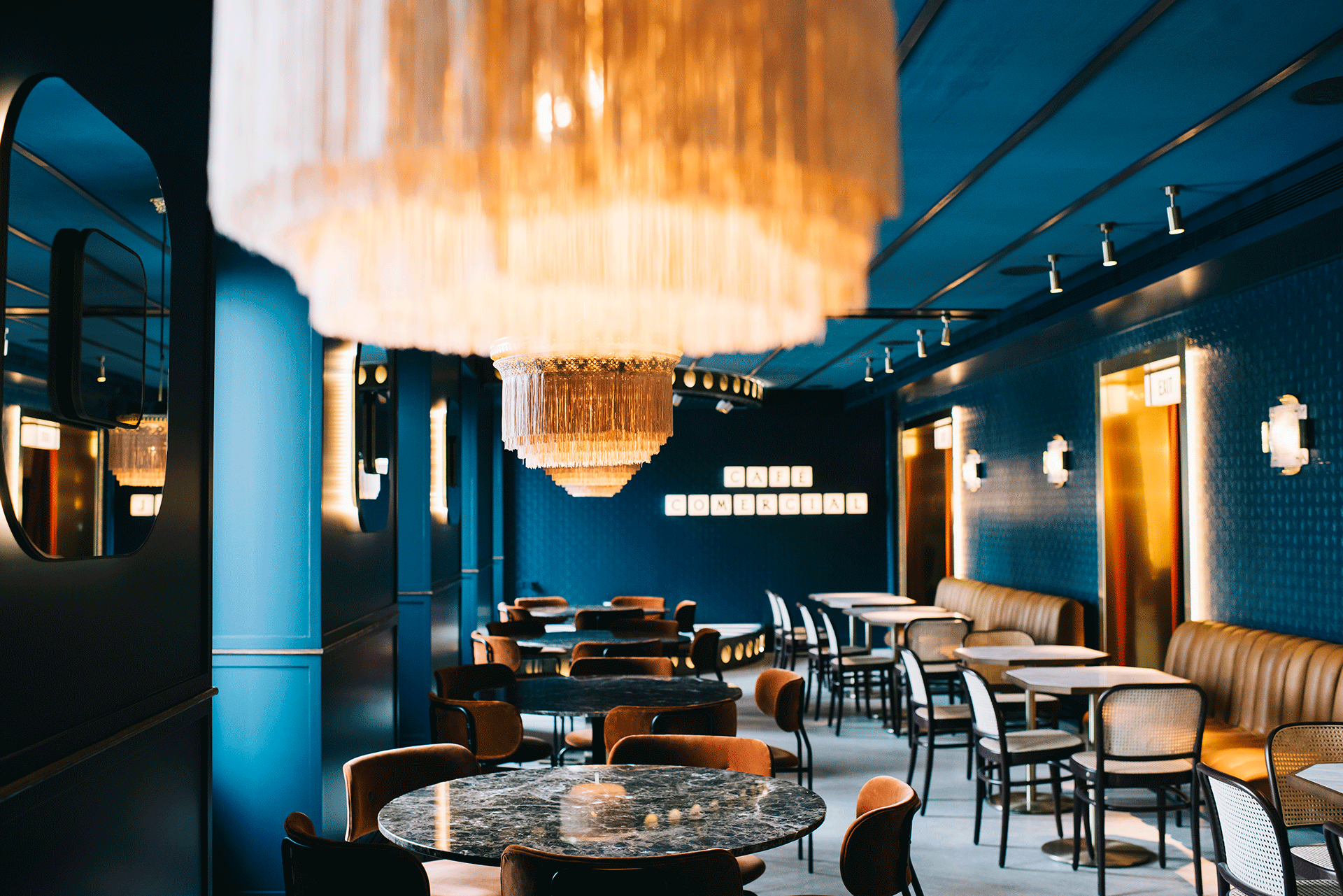 PHOTO: COMMERCIAL CAFÉ
Average price of à la carte food: 30 €.
Address: Glorieta de Bilbao, 7
Telephone: 91 088 25 25
Email: info@cafecomercialmadrid.com