A day of architecture, design and art with… Paco De Blas
A visit to the cultural manager's house designed by Alberto Campo Baeza
"A second skin for its owner. Here begins Campo Baeza's dance with architectural transparencies. A manifesto to his architecture. A house that lives for and to contemplate nature".

We are on the outskirts of Madrid, 40 minutes from the capital in the middle of nature.

The setting is a private housing estate immersed in a typical Madrid woodland, full of rockroses and holm oaks, and with exceptional views of the mountains.

We visit the refuge of the cultural manager and art curator Paco de Blas, and it is when we sit next to him on the top floor of his house that we understand why he chose this place and why his architect Alberto Campo Baeza decided to design it in this way.

More than specific spaces, Paco told the architect about the use he wanted to make of his house. His lifestyle, the need to live with art, his taste for reading, his passion for music and without having to worry about setting volume limits?

From there Campo Baeza designed this house and asked Paco to let him create freely.

The result is a rock in the landscape, far from the eyes, reserved and almost imperceptible from the outside.

Its shape reminds us of a boat floating in nature with discreet windows in its hull, like hatches, to maintain privacy, soundproofing and energy efficiency.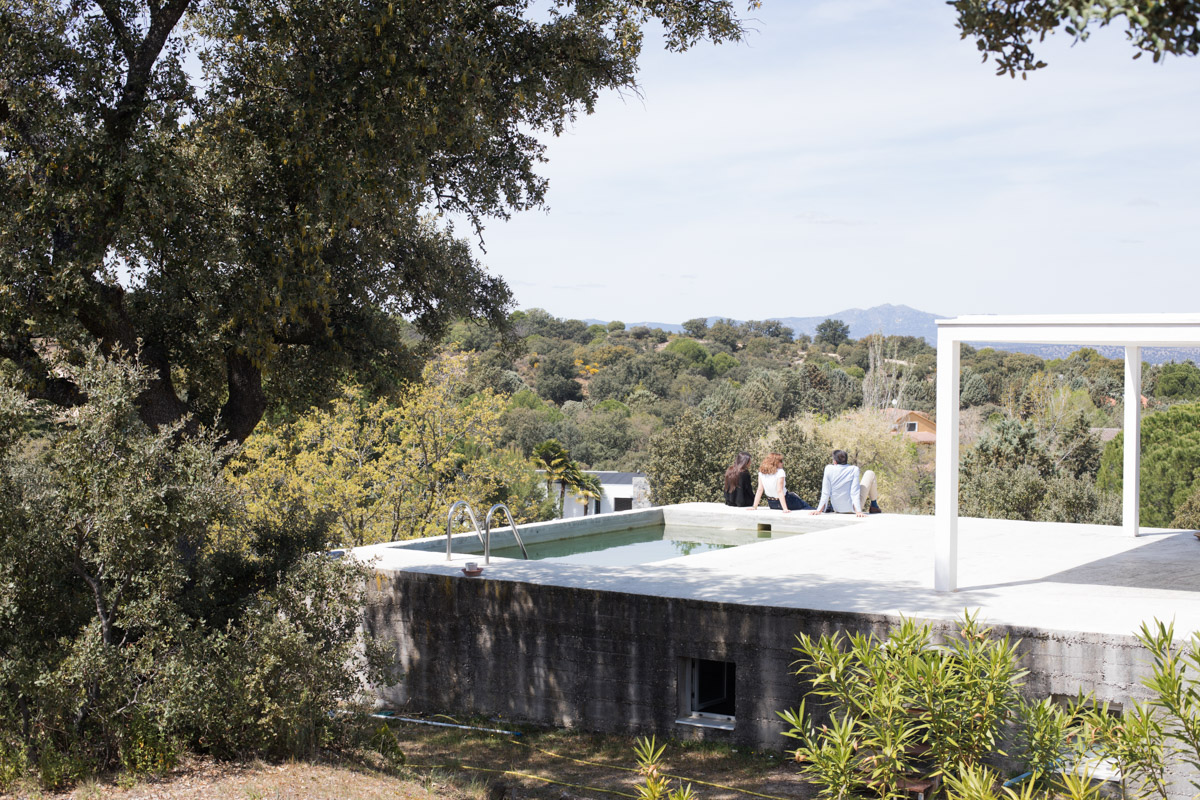 On the upper floor we have the roof where there is a glass box, which could well be the control bridge, where there is indoor and outdoor life, as it has an outdoor swimming pool and dining room with views, in addition to the glassed-in lounge.
The construction is located in nature as the main observer and admirer of the surroundings, but without going ashore so as not to be invaded by it or splashed by its waves. It lets it be and grow as it pleases, coexisting in a natural way.
It would make no sense for this house to have a green mantle for a garden, the result of man's manipulation. This boat sails on untouched, pure nature.
On the upper floor there is a clear game of putting nature inside and the interior space outside, through transparencies with which it masterfully achieves an optical effect of undefined limits.
This upper part is the perfect vantage point, which thanks to this design and the unevenness of the terrain, maximises and takes advantage of the best views that the plot has to offer.
There are two distinct areas in the life of this house. The more intimate and everyday, which is located on the main floor with a symmetrical distribution between both sides and whose living and dining room define the main life of the space.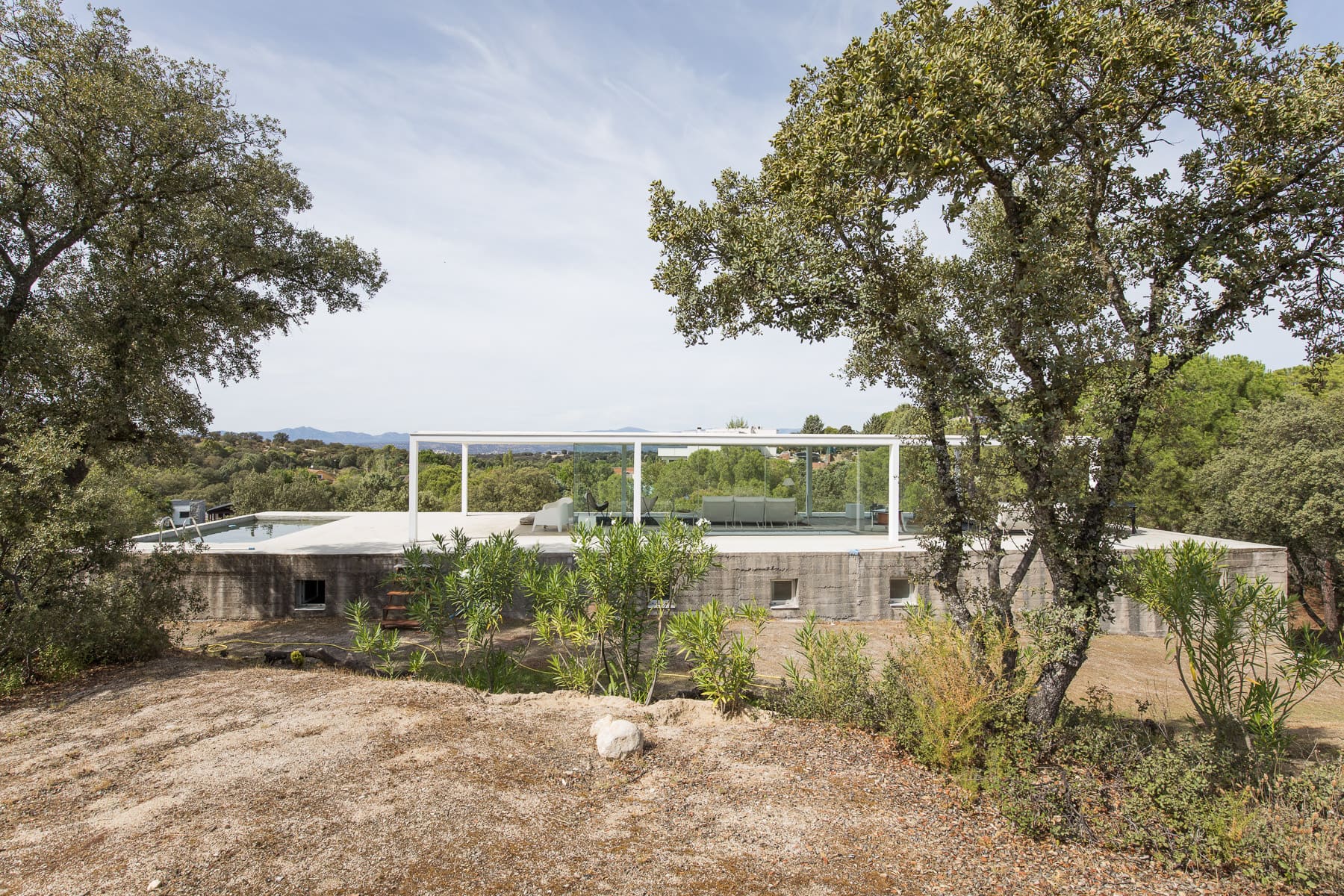 A social life, built around the table and surrounded by works of art and design, such as his unconditional pieces by Alvar Aalto, its functionality, comfort and design are a classic that he never tires of.

The art in his house is essential and changes according to his vital moment or link to certain artists, people and/or moments.

The house has separate areas for his great hobbies, reading and cinema. The space has two suites that are exactly the same, one at each end of the house. Each suite has its own bedroom, separate dressing room, bathroom and private living room. Currently Paco uses one private lounge in his master suite as an office and reading room and the other as a cinema room.

For a more conventional couple or family with a need for more rooms, both living rooms could be closed off, giving two extra rooms in the same space, making four in total.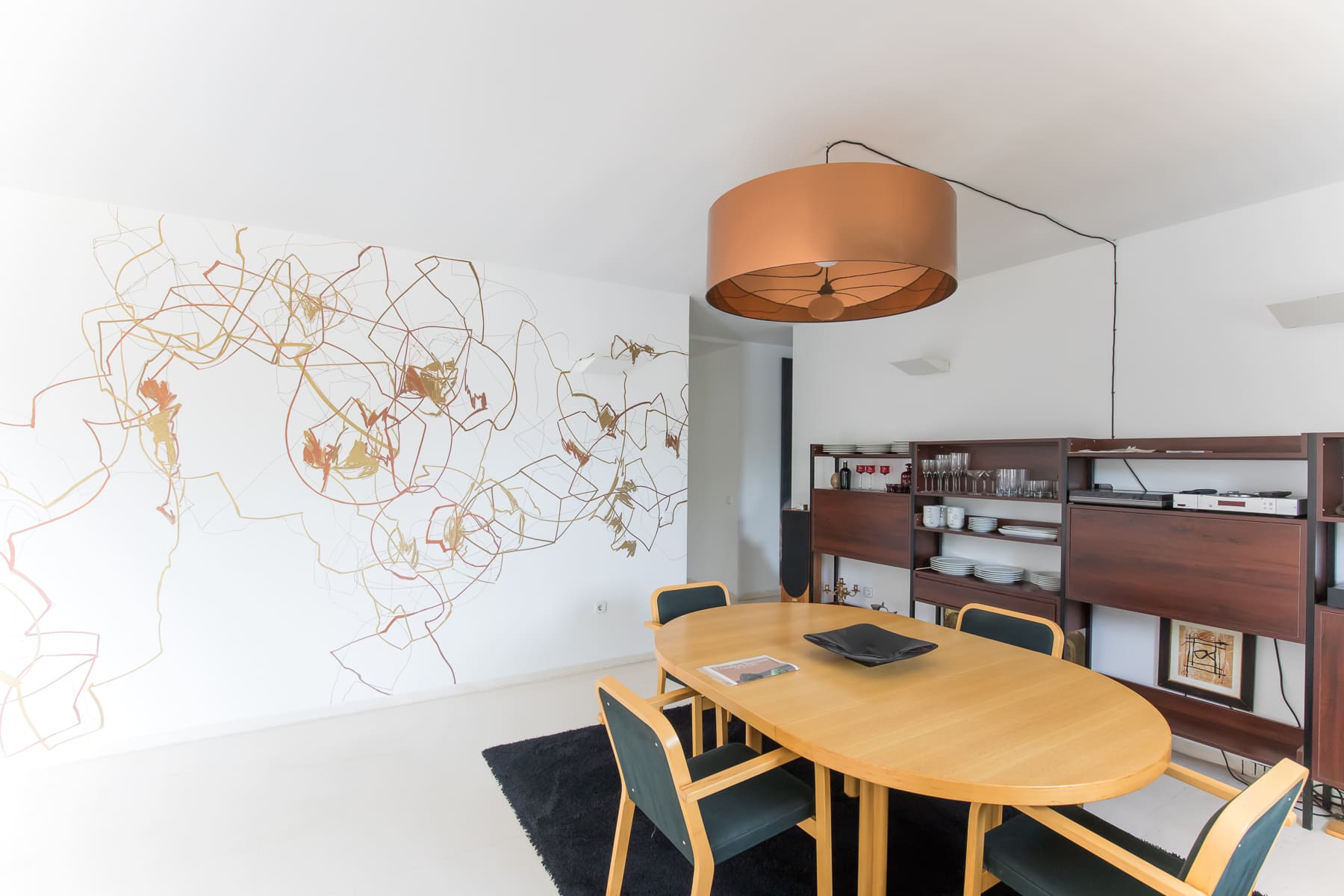 After 20 years the house that Campo Baeza designed for him is still his perfect house and that is not easy to say after living in a space.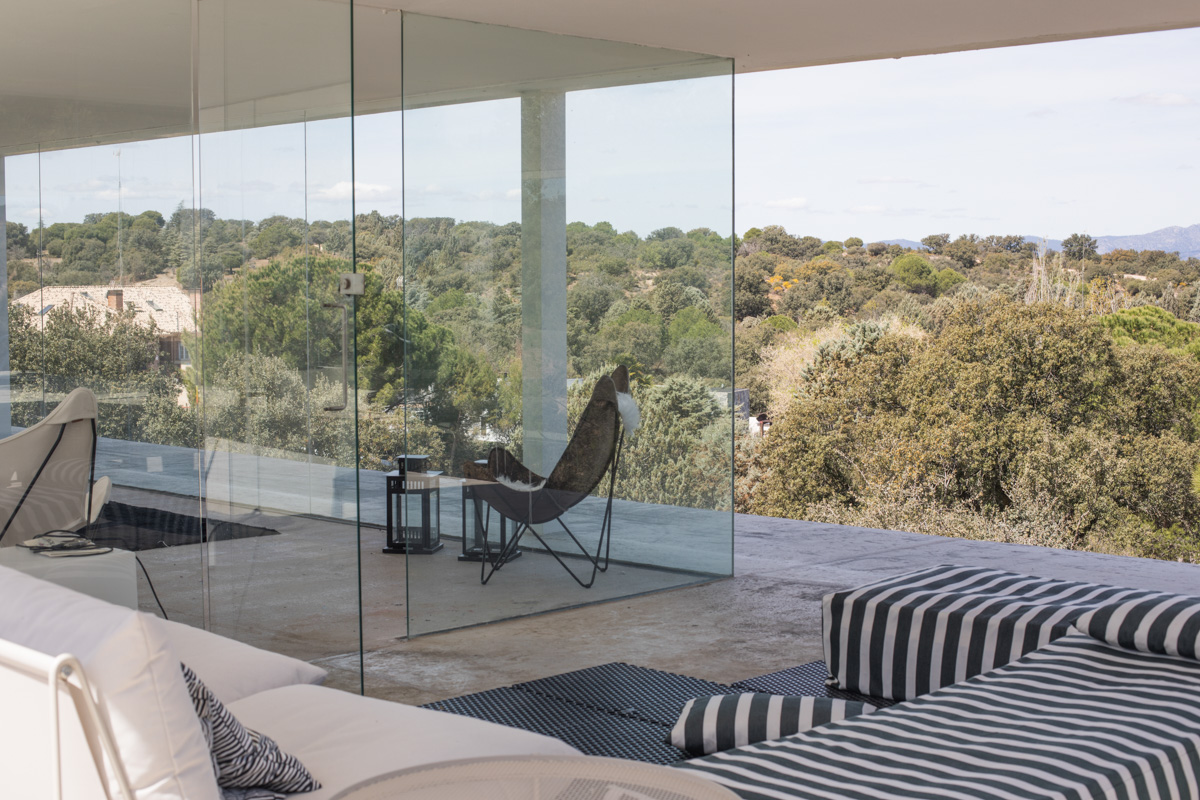 Now he is considering a change of life, a new stage that takes him to a more urban environment, which is why he is closing a cycle and therefore putting his unique refuge up for sale.
We go back to his social area, a space with art that Paco has been constantly changing over the years with different works and is the one that welcomes guests.
Even the works currently on display could be purchased with the property, because as Paco told us, art always changes in his life by the moment, he doesn't collect, he enjoys it for a while. It makes him happier than mere possession.
Paco is practical first and foremost and it is reflected in his house, he always looks ahead without getting attached to things… less probably to his Alvar Aalto furniture.
He likes to travel light.
Although he likes sobriety, with art we could say he is colourful and risk-taking.
TS. Paco, could you tell us about the works of art that are currently in your living room, whose works are they, what do they bring to you?
PB. At the moment there is a series by the Brazilian painter Yan Guaracy, created on the spiritual reality of the world of the orishás. It was a series painted in the house itself, which gives it a revitalising "artist's studio" feel.
TS. Regarding the mural that welcomes us, who is the artist, what did you want to achieve with this mural?
PB. The mural is by Antonio Macia who combines perfectly with the colour tone of the house. In a minimal environment, with rigorous architecture, I wanted to introduce an almost graffiti-like informalism, the most organic inspiration, as a contrast with the surroundings.
TS. Tell us about some of the works that could be acquired with the house.
PB. Yan Guaracy's works are for sale. It's a stage of the artist's life that is coming to an end and he wants to share.
(We can see them in the images of the living room, placed on the sofa).
TS. Could we say that this house is the one that has marked a before and after in Campo Baeza's architectural style? We know that this house has inspired larger works such as the Olnick Spanu house in NY or Casa del Infinito in Cádiz. Why will Casa de Blas always be special in your collection of projects?
PB. It is the canon, the perfect proportion, it is not subject to the programme of needs, but to the dynamics of the form itself.
TS. You who have enjoyed this house so much, what is your favourite time and place of the day in this place?
PB. It depends a lot on the seasonal cycles, but what the architect calls the belvedere, the glass part, is always an invitation to calm in front of the green ocean that stretches at your feet in winter and summer. We are in an oak grove.
TS. Do we set foot on land at any time during the day (use of the garden/field)?
PB. The house is completely linked to its surroundings, the inside-outside is an inevitable movement, in winter and summer. It was conceived to live "in" nature.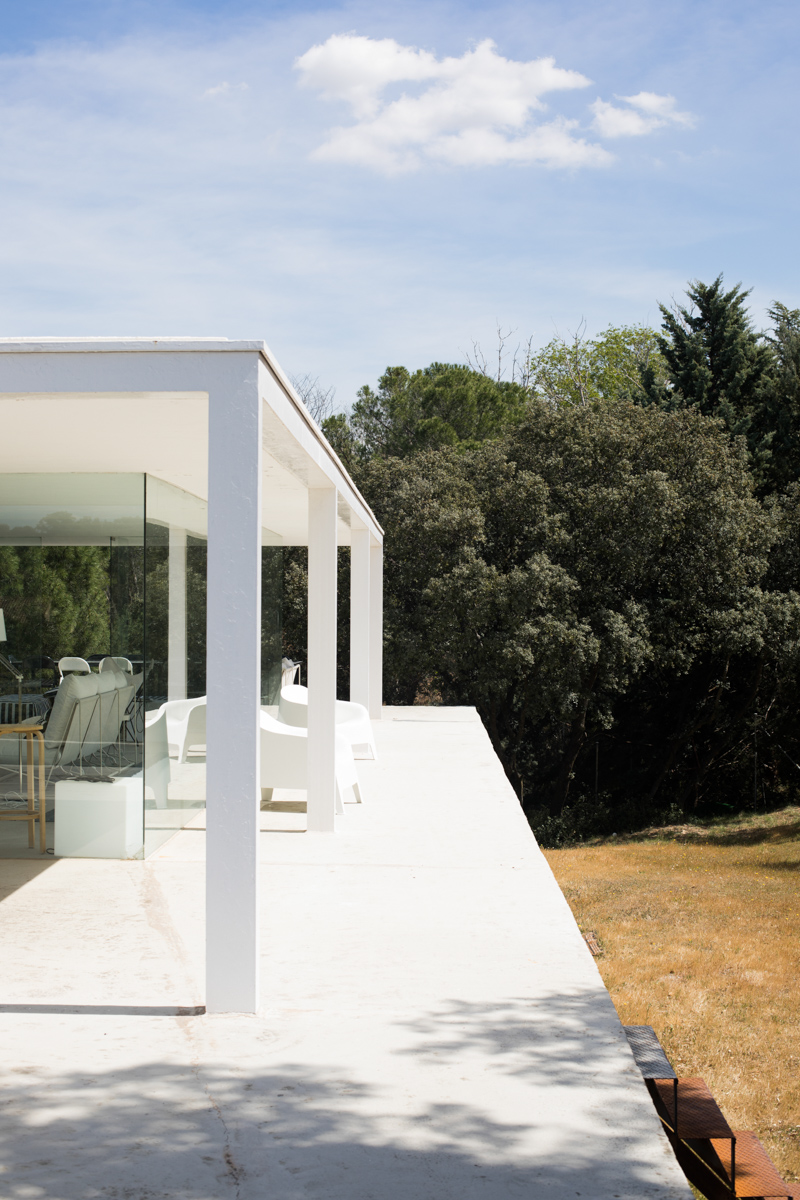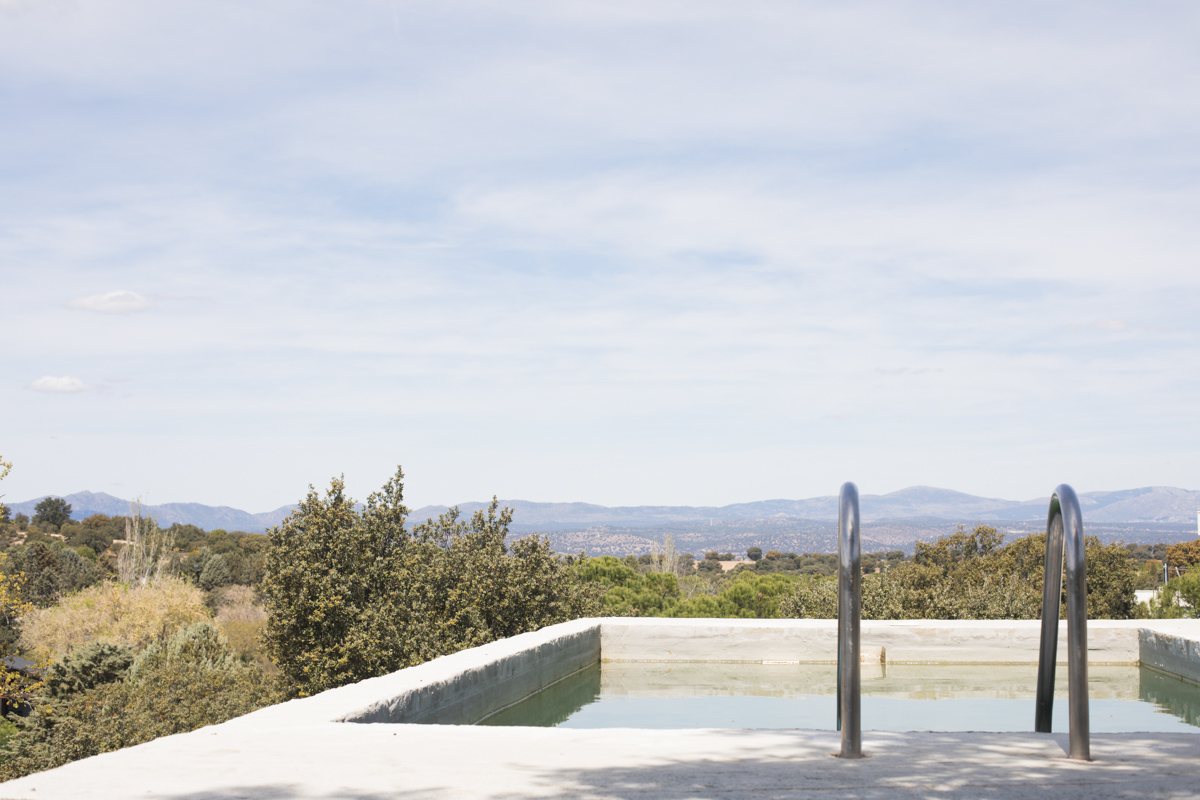 Photographs: Rebeca Patillas.