Joël Robuchon's elegant and sophisticated French gastronomy in Madrid
A unique space where different concepts coexist. An innovative gastronomic proposal designed for the relaxed enjoyment of diners. From the epitome of Joël Robuchon's creations, L'Atelier, to the most informal service, L'Ambassade, without forgetting to "descend" to an unprecedented experience, The Speakeasy.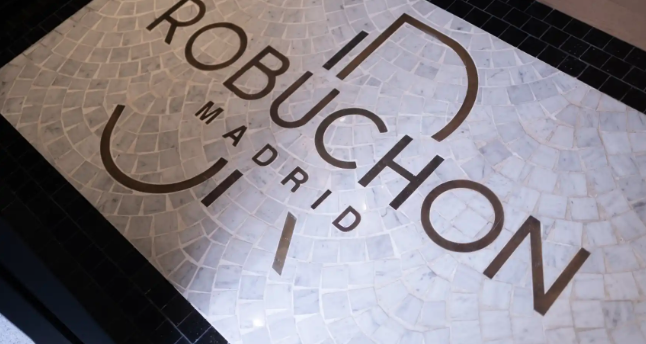 Last September, the Joël Robuchon group chose Madrid to present a new gastronomic concept made up of different spaces to offer infinite gastronomic possibilities distributed over the three floors of the historic Embassy building on Paseo de la Castellana.
The group, one of the world's most prestigious restaurant groups, has around thirty restaurants in Europe, North America and Asia, with a total of 27 Michelin stars. With this opening, the Robuchon Group continues its worldwide expansion, fulfilling one of the dreams of the prestigious French chef. These dreams were born here, precisely because he was in love with Spain, its products and cuisine, when he set up his summer residence in Calpe (Alicante). It was there that he discovered Nou Manolín, the source of inspiration for the creation of this new restaurant model.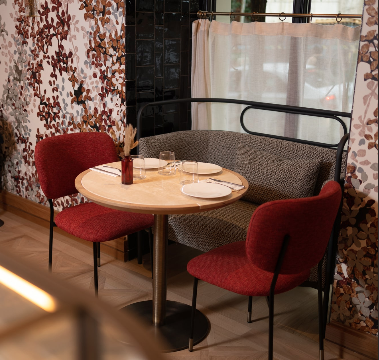 L'Ambassade occupies the ground floor of the building. It is a new concept created for Robuchon Madrid and consists of four of the six unique spaces developed for the capital, where customers can experience the many facets of Joël Robuchon's cuisine in a more informal atmosphere. First, in an open kitchen concept, an in-house Showcooking experience where you can experience the magic behind each dish. It is a front row seat to watch and enjoy live the preparation of the maison's various specialities.
On the same floor you will also find its own bakery where you can buy homemade bread and viennoiseries to take away; as well as the quiet Tapas Bar, at the entrance, where you can discover Joël Robuchon's unique vision of the Spanish gastronomic best-seller: tapas and taste the duck confit 'croquette', cecina de león with toasted almonds or a delicious gilt-head bream tartare with lime.
This is also home to the classic Tea Lounge, informal yet sophisticated, which pays homage to its predecessor, Embassy, which for nearly a century gave life to this venue and its own Salon de Thé in Taipei. Scones, sweet rolls with sultanas, served with a variety of jams and creams, and a varied selection of mini sandwiches and mini pâstisseries will be the ideal selection for two people who wish to enjoy tea time in a relaxed way, accompanied by an outdoor terrace, La Terrasse, located on the Paseo de Castellana.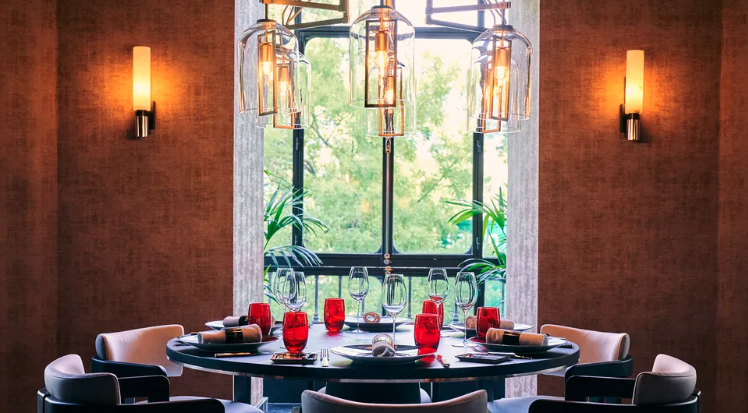 On the first floor, we find L'Atelier, a space for imagining, creating, developing new ideas and fusing different concepts. A place to enjoy a truly unique gastronomic experience, designed with meticulous attention to detail that allows a dynamic interaction between Chef, service team and diner, who will also have a privileged view of the creative process. The menu includes dishes from Joël Robuchon's legendary repertoire such as quail with foie gras and potato purée or sumptuous prawn ravioli with black truffle sauce, along with new additions inspired by the excellent national product such as crispy Segovian suckling pig with sweet potato garnish in textures. A wine list featuring France and Spain, with special attention to tradition, uniqueness and craftsmanship, with almost all producing countries.  Champagne, Burgundy and Loire will be essential on the French side for their elegance and versatility. While Galicia will be their Spanish counterpart, accompanied by the best of Rioja, Duero, Priorat and Andalusia. Dining and eating at L'Atelier is like entering the decoration of a theatre: the customers are the audience, the waiters are the actors and the kitchen is the stage.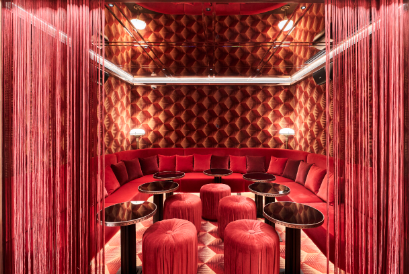 Le Speakeasy. Perhaps the most rogue of the spaces, it could not be anywhere else but in the basement. Its entrance is an elegant and sophisticated space, warm and "clandestine". It was created with the spirit of bringing together all lovers of gastronomy in a private and distinguished atmosphere, specialising in signature cocktails, where they can also enjoy nights of live music, thus culminating the Joël Robuchon experience with the best taste in their mouths.
Robuchon Madrid is a versatile and dynamic concept that offers a unique and different experience, thus providing a holistic vision of Joël Robuchon's cuisine. All in a living space, designed by the interior designer and architect Lázaro Rosa-Violán, where you will find details full of character and personality, unrepeatable elements, conceived and inspired by a new way of exploring gastronomy.
What will be your favourite space?
Paseo de la Castellana, 12
+34 914 538 728
reservascastellana@jrobuchon.com