Christmas table specials
Transforming the everyday into something special
Like every Christmas we want to celebrate life with the ones we love the most. This year it will be even more special, as we have every reason to do so and we are even more aware of the gift of being together with our loved ones.
In every celebration there is always a table around which we share those special moments. Everything counts in the atmosphere, from the cheerful background music we play, the candlelight, the good wine and if we are lucky enough to have a fireplace to warm our spirits, all the better.
In this article we want to show that we can turn everyday life into a special event. You just need a little imagination. We have travelled to Cantabria to Casa de Mareas to prepare Christmas by creating a beautiful table that we show you below.
We give you some recommendations:
Colour transmits joy and emotions, so let's choose those colours that remind us that it is Christmas and that we are celebrating.
In our case we have chosen red, the Christmas colour par excellence, and green, as a tribute to the place where we are. In this type of composition we incorporate others such as gold, ideal for celebrating special events and other toasted tones with complements such as candles and decorative ornaments.
Tablecloths
We have transformed an old Laura Ashley curtain into a cheerful floral tablecloth that gives it a cheerful touch. Recycling fabrics we have is always a good option. We have also added some rattan table mats which we have painted red to match everything else.
Tableware
Let's combine the crockery we have to give it some colour. Even if our crockery is a basic everyday one, if we combine it with some pieces that add colour, we will give a very effective touch to our table. In our case we have a basic off-white tableware from Ikea to which we added some pieces of old Portuguese tableware in the shape of leaves, very fashionable again, especially for garden tables in summer. Ours was bought years ago in Caldas de Raíña in Pinhal bordeirio. The bread plates are from Zara Home this season.
Napkins
The ideal would be to put some cloth napkins but another option is to put some good paper napkins in a colour that matches. In our case we didn't have cloth napkins and we chose red ones which we rolled up to give volume to the table.
Glassware
We have used the basic ones we had, adding water glass, wine glass and champagne glass. If we are going to serve several wines, the ideal is to add a glass for each type of wine we are going to taste. If you have coloured glassware, dare to use it as it can add personality to your table.
Cutlery
We have used everyday cutlery but using alternatives that add sophistication or colour to the table is always a good idea.
Decorative accessories
Candles, candlesticks and floral decorations always add to the warm and cosy look we are looking for. They can be natural plants, from the countryside, fruits… ours are from Casa Nativa, creativity to the power!
What do you think of the result?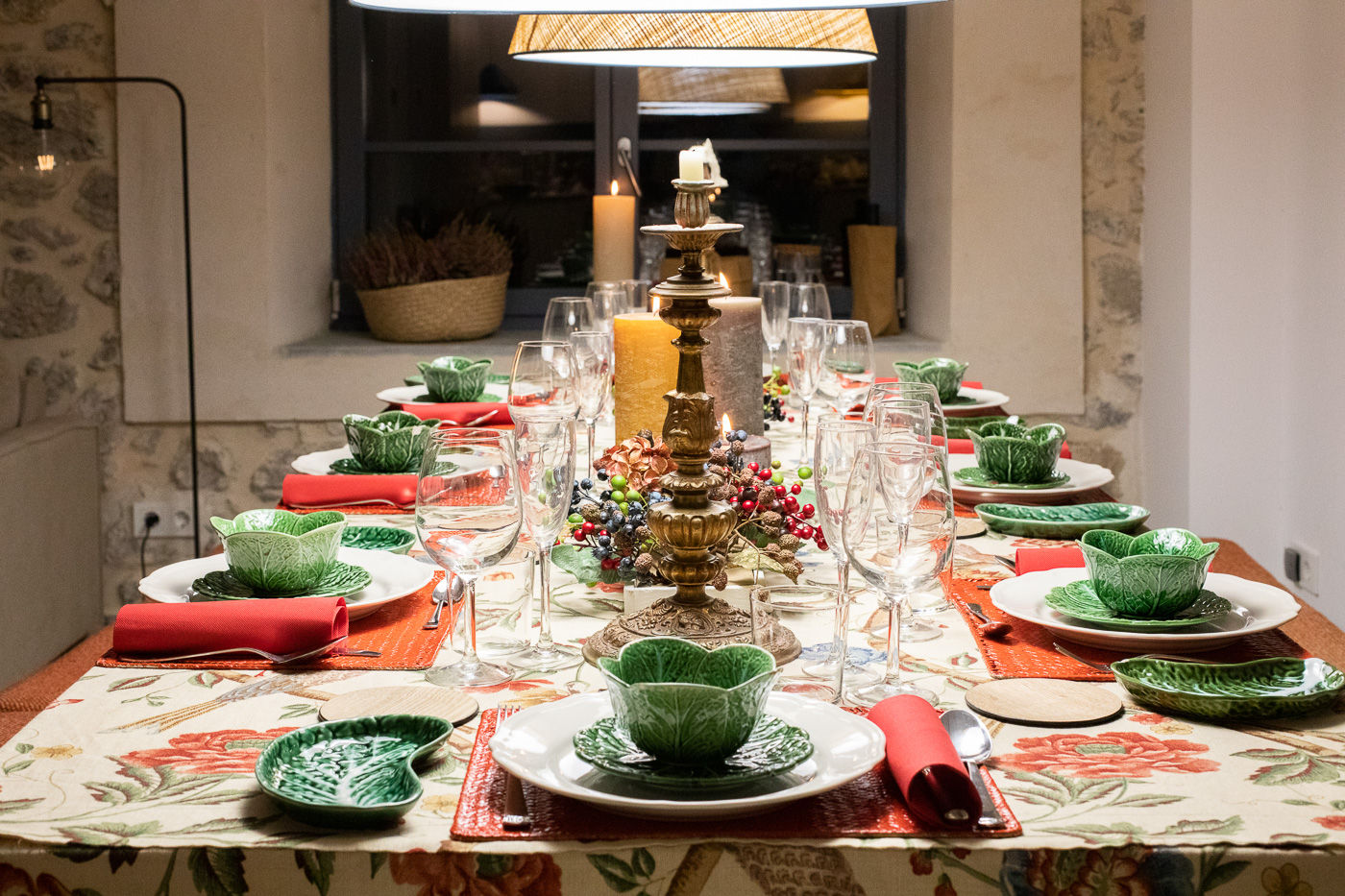 Photographs: Rebeca Patillas Sobrino.
Styling: Sylvia Girón.
Location: Casa de Mareas. Escalante (Cantabria).