About us
Homes that take care of you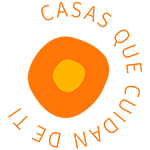 Homes that take care of you
Wellness has arrived at Real Estate. HEALTH and SUSTAINABILITY become two indivisible terms.
It is the home of now, which places the health of people and the planet at the center of design.
It is a responsible home with the planet, whose welfare principles are based on the 10 pillars of Wellness Real Estate, a movement that was born in the United States in 2014 that pays special attention to the following aspects: air, water, food, lighting, movement , thermal comfort, sound, materials, mind and community to have a positive impact on the health and well-being of its occupants.
We spend up to 90% of our lives indoors between our homes and workplaces. The COVID19 pandemic has shown us even more the importance of our homes and how they directly affect our physical and emotional health.
The objectives are: to minimize environmental impacts on health, reducing exposure to toxic substances, improve sleep, reduce stress and promote healthy and environmentally responsible homes.
We also claim design as an attribute that a house must incorporate, as a broad concept that encompasses beauty, art and well-being. Design can change your mood and your life.
We are interested in the circular economy in architecture. We want to raise awareness of how necessary it is to recycle and reuse construction materials, since this sector in Spain alone generates 45 million tons of waste annually, just over 1 million per inhabitant.
Continue reading
We also believe that the future is social and multigenerational, which is why we are committed to a type of house that goes further, especially when it is large, designed with private and communal spaces for work and leisure, suitable for a coliving concept whether it is shared with family, friends or like-minded people. Telecommuting has opened up new possibilities as it allows us to work offsite and get closer to a lifestyle we may have only dreamed of.
Our first HOMES THAT TAKE CARE OF YOU is a 16th century manor house renovated with these concepts and designed with 7 suites, several lounges and a coworking space with LIFI technology by Signify, located in Cantabria, which can be rented for travellers.
Under the distinctive HOMES THAT TAKE CARE OF YOU curated by The Sibarist, we aim to highlight and highlight properties that are incorporated into the real estate market that promote the wellbeing of people and the planet.